Abstract
Blood blister-like aneurysms (BBA) were described for the first time in the 1990s, as small hemispherical bulges arising from a very fragile arterial wall. Until 2008, it was thought that this type of aneurysm almost exclusively affected the internal carotid artery, in particular, its dorsal portion. Subsequently, it was discovered that a BBA may also be present on the anterior communicating artery and on the vessels of the posterior cranial fossa. However, we found no reports in English-language literature of BBA arising from the middle cerebral artery (MCA). In this article, we present three cases of MCA BBA and discuss the unique diagnostic and therapeutic aspects of this vascular lesion. In our retrospective, multicenter review of 1330 patients with non-traumatic subarachnoid hemorrhage admitted to our services from 2000 to 2013, we found three cases (all in men) of MCA BBA. The patients' outcome was assessed using the modified Rankin scale. All three patients underwent angio-computed tomography, which did not reveal any aneurysms. Digital subtraction angiography performed within 24–48 h after admission, in all cases, demonstrated a very small aneurysm (<2 mm), with a triangular shape and abroad base, at non-branching sites of MCA. All the aneurysms were treated: one by wrapping + clipping, one by wrapping + flow-diverter stent, and one with coils. At the time of surgery, the aneurysms appeared on the surface of the parent artery without any involvement of the branches. All presented as blister-like aneurysms that were thin-walled and lacked a surgical neck. At the time of discharge, the outcome was good in one patient and poor in the other two. Our cases demonstrate that BBA can also arise from the MCA, despite the lack of previous reports of this occurrence; a BBA should be suspected, particularly in cases of non-perimesencephalic subarachnoid hemorrhage in which the presence of a MCA aneurysm is suspected but not revealed by digital subtraction angiography or angio-computed tomography.
Access options
Buy single article
Instant access to the full article PDF.
USD 39.95
Price includes VAT (USA)
Tax calculation will be finalised during checkout.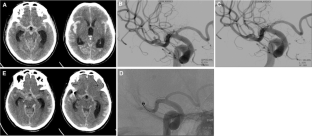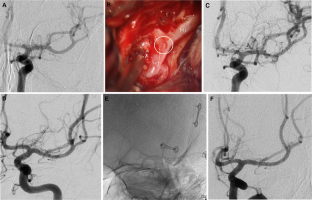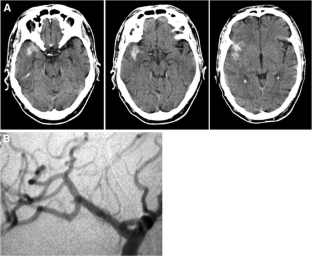 References
1.

Abe M, Tabuchi K, Yokoyama H, Uchino A (1998) Blood blisterlike aneurysms of the internal carotid artery. J Neurosurg 89(3):419–424

2.

Andaluz N, Zuccarello M (2008) Yield of further diagnostic work-up of cryptogenic subarachnoid hemorrhage based on bleeding patterns on computed tomographic scans. Neurosurgery 62(5):1040–1046, Discussion

3.

Andaluz N, Zuccarello M (2008) Blister-like aneurysms of the anterior communicating artery: a retrospective review of diagnosis and treatment in five patients. Neurosurgery 62(4):807–811, Discussion

4.

Başkaya MK, Ahmed AS, Ateş O, Niemann D (2008) Surgical treatment of blood blister-like aneurysms of the supraclinoid internal carotid artery with extracranial-intracranial bypass and trapping. Neurosurg Focus 4(2):E13

5.

Consoli A, Nappini S, Renieri L, Limbucci N, Ricciardi F, Mangiafico S (2012) Treatment of two blood blister-like aneurysms with flow diverter stenting. J Neurointerv Surg 4(3):e4

6.

Endo S, Ogiichi TM, Kurimoto T, Nishijima M, Takaku MA (1997) Pathological study of intracranial artery dissection with sub- arachnoid hemorrhage. Surg Cereb Stroke 25:169–76

7.

Ezaki Y, Takahata H, Kamada K, Baba S, Kaminogo M (2006) Aneurysmal embolization of a blisterlike aneurysm of the internal carotid artery: a case report and review of the literature. Surg Neurol 65(6):628–630, Discussion

8.

Garrett M, Spetzler RF (2012) Surgical treatment of blister-like aneurysms. World Neurosurg 77(1):76–77

9.

Gaughen JR, Raghavan JR, Jensen P, Hasan ME, Pfeffer D, Evans ANAJ (2010) Utility of CT angiography in the identification and characterization of supraclinoid internal carotid artery blister aneurysms. Am J Neuroradiol 31:640–64

10.

Gonzalez AM, Narata AP, Yilmaz H, Bijlenga P, Radovanovic I, Lovblad KO, Pereira VM (2013) Blood blister-like aneurysms: single center experience and systematic literature review. Eur J Radiol Oct 6

11.

Ihn YK, Kim SH, Sung JH, Kim T-G (2012) The efficacy of endovascular treatment of ruptured blood blister-like aneurysms using stent-assisted coil embolization. Interv Neuroradiol 18 (4):432–

12.

Ishikawa T, Nakamura N, Houkin K, Nomura M (1997) Pathological consideration of a "blister-like" aneurysm at the superior wall of the internal carotid artery: case report. Neurosurgery 40(2):403–405, Discussion

13.

Kim J-H, Kwon T-H, Kim J-H, Park Y-K, Chung H-S (2006) Internal carotid artery dorsal wall aneurysm with configurational change: are they all false aneurysms? Surg Neurol 66(4):441–443, Discussion

14.

Korja M, Rautio R, Valtonen S, Haapanen A (2008) Primary treatment of ruptured blood blister-like aneurysms with stent-assisted coil embolization: report of two cases. Acta Radiol 49(2):180–183

15.

McKinney AM, Palmer CS, Truwit CL, Karagulle A, Teksam M (2008) Detection of aneurysms by 64-section multidetector CT angiography in patients acutely suspected of having an intracranial aneurysm and comparison with digital sub-traction and 3D rotational angiography. Am J Neuroradiol 29:594–602

16.

McLaughlin N, Laroche M, Bojanowski MW (2010) Surgical management of blood blister-like aneurysms of the internal carotid artery. World Neurosurg 74(4–5):483–493

17.

Meling TR, Sorteberg A, Bakke SJ, Slettebø H, Hernesniemi J, Sorteberg W (2008) Blood blister-like aneurysms of the internal carotid artery trunk causing subarachnoid hemorrhage: treatment and outcome. J Neurosurg 108(4):662–671

18.

Molyneux A, Kerr R, Stratton I, Sandercock P, Clarke M, Shrimpton J, Holman R (2002) International Subarachnoid Aneurysm Trial (ISAT) of neurosurgical clipping versus endovascular coiling in 2143 patients with ruptured intracranial aneurysms: a randomised trial. Lancet 360:1267–74

19.

Park JH, Park IS, Han DH, Kim SH, Oh CW, Kim JE, Kim HJ, Han MH, Kwon OK (2007) Endovascular treatment of blood blister-like aneurysms of the internal carotid artery. J Neurosurg 106(5):812–819

20.

Peschillo S, Delfini R (2012) Endovascular neurosurgery in Europe and in Italy: what is in the future? World Neurosurg 77(2):248–51

21.

Sasaki O, Ogawa H, Koike T, Koizumi T, Tanaka R (1991) A clinicopathological study of dissecting aneurysms of the intracranial vertebral artery. J Neurosurg 75(6):874–882

22.

Shimizu H, Matsumoto Y, Tominaga T (2010) Non-saccular aneurysms of the supraclinoid internal carotid artery trunk causing subarachnoid hemorrhage: acute surgical treatments and review of literatures. Neurosurg Rev 33:205–216

23.

Sim SY, Shin YS, Cho KG, Kim SY, Kim SH, Ahn YH, Yoon SH, Cho KH (2006) Blood blister-like aneurysms at nonbranching sites of the internal carotid artery. J Neurosurg 105(3):400–405
Acknowledgment
The authors thank Antonio Santodirocco for the editing assistance.
Additional information
Comments
Mustafa K. Baskaya, Madison, USA
This report by Peschillo et al. is an important contribution to the literature in supporting the idea that BLA can occur at any intracranial arterial location. Although BLA are mostly located at the anteromedial aspect of the supraclinoid internal carotid artery (ICA), other reported localizations for BLA include the basilar artery1, the anterior communicating artery2, and the middle cerebral artery (MCA)3. This report also deserves special attention because it may shed light on the current nomenclature used to describe BLAs. Unfortunately, the term "blister" is commonly and mistakenly used for any aneursym at any location based on its size. Angiographic appearance, size, and location (non-branching side) are not suficient for an accurate diagnosis of BLAs. I have recently encountered a BLA of the MCA bifurcation and our initial impression was that this aneurysm was a ruptured saccular aneurysm4. On the other hand, I have also encountered aneurysms arising from the non-branching side of the supraclinoid ICA, which upon exploration, were actually true saccular aneurysms. In reality, these BLAs are different from saccular or dissecting aneurysms and their hallmark is the lack of any arterial wall.
Treatment of these aneurysms is challenging, regardless of the method used, but they are prone to grow and rupture without treatment. Treatment in the acute period after hemorrhage reduces the risk of re-bleeding, which is substantial in BLAs. The main goal of treatment should be to eliminate the diseased segment of the artery. Fundamentally, this goal can be achieved by open surgical or endovascular means. Surgical treatment options include trapping (with clipping, balloon occlusion, or coiling) with or without bypass, direct clipping, wrapping, clip placement with wrapping, and direct arterial suturing/stapling. Endovascular options include primary coil embolization with or without stents or flow diverting stents. In my opinion, ideal treatment should be trapping with bypass, which provides definite elimination of the diseased segment of the artery and restoration of flow. It is advisable, however, that an experienced cerebrovascular surgeon, with detailed knowledge of the vascular anatomy and familiarity with different bypass options, should perform this procedures.
References
1. Meckel S, Singh TP, Undren P, et al. Endovascular treatment using predominantly stent-assisted coil embolization and antiplatelet and anticoagulation management of ruptured blood blister-like aneurysms. Am J Neuroradiol. 2011;32:764–32:7
2. Andaluz N, Zuccarello M. Blister-like aneurysms of the anterior communicating artery: a retrospective review of diagnosis and treatment in five patients. Neurosurgery. 2008;62:807–62
3. Pistocchi S, Blanc R, Bartolini B, Piotin M. Flow diverters at and beyond the level of the circle of Willis for the treatment of intracranial aneurysms. Stroke. 2012;43:1032–1038
4. Cıkla U, Sadighi A, Bauer A, Başkaya M. Fatal ruptured blood blister-like aneurysm of middle cerebral artery associated with Ehlers–Danlos syndrome type VIII (periodontitis type). JNSR accepted manuscript ID 14-Jan-0011-R)
About this article
Cite this article
Peschillo, S., Missori, P., Piano, M. et al. Blister-like aneurysms of middle cerebral artery: a multicenter retrospective review of diagnosis and treatment in three patients. Neurosurg Rev 38, 197–203 (2015). https://doi.org/10.1007/s10143-014-0581-3
Received:

Revised:

Accepted:

Published:

Issue Date:
Keywords
Flow diverter stent

 Blister-like aneurysm

Middle cerebral artery

Endovascular treatment

Brain aneurysm