Abstract
Cerebral cavernous malformations are focal vascular abnormalities that show recurrent intralesional microhemorrhage and may cause focal deficits or seizures in affected patients. These lesions occur in both sporadic and inherited autosomal dominant form. Germline mutations in three different genes have been identified yet. One explanation for the unpredictable individual clinical course with wide variability of the number of developing cerebral cavernous malformations (CCMs) and their rate of progression within CCM families is thought to be based upon a "two-hit" mechanism. However, the direct influence of a heterozygous underlying germline mutation in combination with secondary somatic mutations on a patient's individual clinical course is hard to investigate in vivo. In this context, we present a rare and interesting case of monozygotic twins heterozygous for the CCM1 germline mutation c.730-1G>A and discuss their similar age and type of disease manifestation and their beginning divergent clinical course.
This is a preview of subscription content,
to check access.
Access this article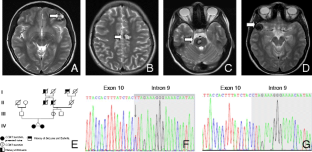 Similar content being viewed by others
References
Akers AL, Johnson E, Steinberg GK, Zabramski JM, Marchuk DA (2009) Biallelic somatic and germline mutations in cerebral cavernous malformations (CCMs): evidence for a two-hit mechanism of CCM pathogenesis. Hum Mol Genet 18(5):919–930

Bortolus R, Parazzini F, Chatenoud L, Benzi G, Bianchi MM, Marini A (1999) The epidemiology of multiple births. Hum Reprod Update 5(2):179–187

D'Angelo R, Scimone C, Rinaldi C, Trimarchi G, Italiano D, Bramanti P, Amato A, Sidoti (2012) A CCM2 gene polymorphisms in Italian sporadic patients with cerebral cavernous malformation: a case–control study. Int J Mol Med 29(6):1113–20

Gault J, Awad IA, Recksiek P, Shenkar R, Breeze R, Handler M, Kleinschmidt-DeMasters BK (2009) Cerebral cavernous malformations: somatic mutations in vascular endothelial cells. Neurosurgery 65(1):138–144, discussion 144–135

Gault J, Sain S, Hu LJ, Awad IA (2006) Spectrum of genotype and clinical manifestations in cerebral cavernous malformations. Neurosurgery 59(6):1278–1284, discussion 1284–1275

Gault J, Shenkar R, Recksiek P, Awad IA (2005) Biallelic somatic and germ line CCM1 truncating mutations in a cerebral cavernous malformation lesion. Stroke 36(4):872–874

Knudson AG Jr (1971) Mutation and cancer: statistical study of retinoblastoma. Proc Natl Acad Sci U S A 68(4):820–823

Kondziolka D, Lunsford LD, Kestle JR (1995) The natural history of cerebral cavernous malformations. J Neurosurg 83(5):820–824

Labauge P, Denier C, Bergametti F, Tournier-Lasserve E (2007) Genetics of cavernous angiomas. Lancet Neurol 6(3):237–244

McDonald DA, Shenkar R, Shi C, Stockton RA, Akers AL, Kucherlapati MH, Kucherlapati R, Brainer J, Ginsberg MH, Awad IA, Marchuk DA (2010) A novel mouse model of cerebral cavernous malformations based on the two-hit mutation hypothesis recapitulates the human disease. Hum Mol Genet 20(2):211–222

Otten P, Pizzolato GP, Rilliet B, Berney J (1989) 131 cases of cavernous angioma (cavernomas) of the CNS, discovered by retrospective analysis of 24,535 autopsies. Neurochirurgie 35(2):82–83, 128–131

Pagenstecher A, Stahl S, Sure U, Felbor U (2009) A two-hit mechanism causes cerebral cavernous malformations: complete inactivation of CCM1, CCM2 or CCM3 in affected endothelial cells. Hum Mol Genet 18(5):911–918

Revencu N, Vikkula M (2006) Cerebral cavernous malformation: new molecular and clinical insights. J Med Genet 43(9):716–721

Riant F, Bergametti F, Ayrignac X, Boulday G, Tournier-Lasserve E (2010) Recent insights into cerebral cavernous malformations: the molecular genetics of CCM. FEBS J 277(5):1070–1075

Rigamonti D, Hadley MN, Drayer BP, Johnson PC, Hoenig-Rigamonti K, Knight JT, Spetzler RF (1988) Cerebral cavernous malformations. Incidence and familial occurrence. N Engl J Med 319(6):343–347

Sure U, Butz N, Schlegel J, Siegel AM, Wakat JP, Mennel HD, Bien S, Bertalanffy H (2001) Endothelial proliferation, neoangiogenesis, and potential de novo generation of cerebrovascular malformations. J Neurosurg 94(6):972–977

Zabramski JM, Wascher TM, Spetzler RF, Johnson B, Golfinos J, Drayer BP, Brown B, Rigamonti D, Brown G (1994) The natural history of familial cavernous malformations: results of an ongoing study. J Neurosurg 80(3):422–432
Additional information
Comments
Ute Felbor, Greifswald, Germany
Damann and colleagues present an interesting case of monozygotic twins sharing a heterozygous CCM1/KRIT1 germline mutation with their mother. The mother remains asymptomatic so far while both twins developed symptoms at approximately the same age but with diverging clinical outcome. The authors suggest that Knudson's two-hit model might explain the observed incomplete penetrance in the mother and multifocality in the twins. However, this assumption points to the statistically rather unlikely occurrence of differing second hits within the CCM1 gene in each sibling. It will be interesting to see whether the technical limitations can be overcome to show somatic uniparental isodisomy in cerebral cavernous malformation tissues as has recently been shown for cutaneous glomuvenous malformations by Vikkula's group (Am J Hum Genet 92, 2013, 188–196).
Andreas Jödicke, Berlin, Germany
Damman and co-workers present a very interesting report on monozygotic twins with germline CCM1 mutation and cerebral cavernous malformation. Statistically, this combined event is exceptionally rare. They report a comparable onset of the disease in both twins which differed markedly from the disease profile of their mother. A two-hit model (Knudson) is discussed as the genetic basis for familial cavernomas with the second hit being acquired within cerebrovascular endothelial cells after conception. Identification of the second hit necessitates comparative genetic analysis of cavernoma tissue screened for mutations within the endothelial compartment distinct from the germline error. Since only one twin has been operated upon, inter-individual differences in cavernous malformation endothelium could not be studied. However, the comparable clinical course of both twins is striking and, therefore, this report adds a little piece to the puzzle of clinical proof of the two-hit hypothesis in familial cavernous malformations.
Kaoru Kurisu, Hiroshima, Japan
The authors reported a very rare case of CCM which observed in the both of the monozygotic twins at 0.75 per 100,000 births which is calculated by 0.3 × 0.25 %. Clinical manifestations on both cases are very similar not only in timing of the life course, but also the pattern of the symptomatic onset and clinical course. Analyses of clinical data and gene expression strongly suggest that, as authors are describing in the discussion, CCMs are mostly affected by germline mutations as well as additional modifying environmental factors in the presence of an identical genetic background. I do hope further observation of clinical courses of the twins can provide us the important information about this disease as autosomal dominant CCM disease.
Axel Pagenstecher, Marburg, Germany
This intriguing paper reports on two monozygous twins with a CCM1 mutation who developed clinical symptoms due to cavernomas at the same age. This clinical course is per se interesting since Knudson's two-hit hypothesis implies a stochastic occurrence of the second hit with the first hit being the loss of heterozygosity for CCM1. This would render simultaneous disease courses in different individuals extremely unlikely. This report, however, demonstrates impressively that "extremely unlikely" is not the same as "impossible." Several elaborate animal models have improved our understanding of the signaling pathways that are altered in endothelial cells harboring CCM mutations. The causes of the second hit and the predominant localization of CCMs in the CNS as well as the exact mechanism of CCM development, however, are still enigmatic and wait for elucidation.
About this article
Cite this article
Dammann, P., Hehr, U., Weidensee, S. et al. Two-hit mechanism in cerebral cavernous malformation? A case of monozygotic twins with a CCM1/KRIT1 germline mutation. Neurosurg Rev 36, 483–486 (2013). https://doi.org/10.1007/s10143-013-0456-z
Received:

Revised:

Accepted:

Published:

Issue Date:

DOI: https://doi.org/10.1007/s10143-013-0456-z
Keywords