Abstract
Dysembryoplastic neuroepithelial tumor (DNT) is a relatively newly described entity and is an important cause of intractable epilepsy. We report 32 cases of DNT who were operated and treated in our hospital over a period of 12 years. Immunostaining for various proliferative markers and tumor suppressor gene proteins was done to assess the proliferative potential of these tumors. The most common presentation was partial complex seizures followed by generalized tonic–clonic seizures, focal motor seizures, and myoclonus. The most common location was temporal lobe followed by frontal and in one patient lesion was multifocal. All patients were seizure free at the last postoperative follow-up which varies from 12 to 96 months with mean of 33.7 months. Microscopic examination showed classical histology comprising of intracortical multinodular microcystic lesions with floating neurons. Proliferative indices were very low (<1%) and tumor suppressor gene protein expression was not seen in the present study. Cortical dysplasia of the surrounding brain was observed in 37.3% of cases.
We're sorry, something doesn't seem to be working properly.
Please try refreshing the page. If that doesn't work, please contact support so we can address the problem.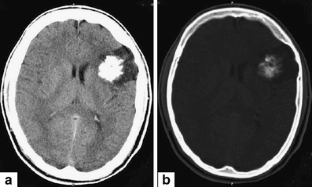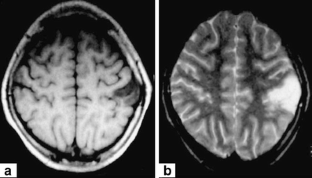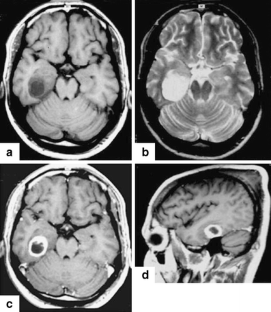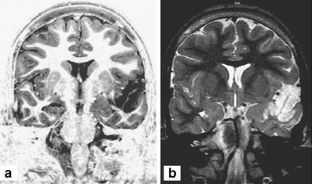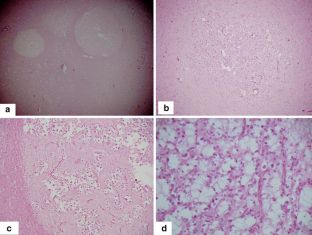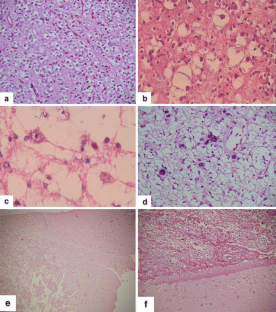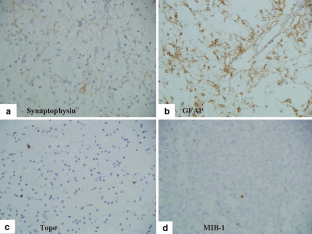 References
1.

Abe M, Tabuchi K, Tsuji T, Shiraishi T, Koga H, Takagi M (1995) Dysembryoplastic neuroepithelial tumor: report of three cases. Surg Neurol 43:240–245

2.

Baisden BL, Brat DJ, Melhem ER, Rosenblum MK, King AP, Burger PC (2001) Dysembryoplastic neuroepithelial tumor-like neoplasm of the septum pellucidum: a lesion often misdiagnosed as glioma: report of 10 cases. Am J Surg Pathol 2(5):494–499

3.

Bulakbasi N, Kocaoglu M, Sanal TH, Tayfun C (2007) Dysembryoplastic neuroepithelial tumors: proton MR spectroscopy, diffusion and perfusion characteristics. Neuroradiology 49:805–812

4.

Burel-Vandenbos F, Varlet P, Lonjon M, Chanalet S, Chatel M, Michiels JF (2007) Ependymal variant of dysembryoplastic neuroepithelial tumor. Ann Pathol 27:320–323

5.

Chan CH, Bittar RG, Davis GA, Kalnins RM, Fabinyi GCS (2006) Long-term seizure outcome following surgery for dysembryoplastic neuroepithelial tumor. J Neurosurg 104:62–69

6.

Cervera-Pierot P, Varlet P, Chodkiewicz JP, Daumas-Duport C (1997) Dysembryoplastic neuroepithelial tumors located in the caudate nucleus area: report of four cases. Neurosurgery 40:1065–1070

7.

Daumas-Duport C (1993) Dysembryoplastic neuroepithelial tumors. Brain Pathol 3:283–295

8.

Daumas-Duport C, Scheithauer BW, Chodkiewicz JP, Laws ER, Vedrenne C (1988) Dysembryoplastic neuroepithelial tumor: a surgically curable tumor of young patients with intractable partial seizures. Report of thirty-nine cases. Neurosurgery 23:545–556

9.

Daumas-Duport C, Varlet P, Bacha S, Beuvon F, Cervera-Pierot P, Chodkiewicz JP (1999) Dysembryoplastic neuroepithelial tumors: nonspecific histological forms—a study of 40 cases. J Neurooncol 41:267–280

10.

Daumas-Duport C, Pietsch T, Hawkins C, Shankar SK (2007) Dysembryoplastic neuroepithelial tumour. In: Louis DN, Oghaki H, Wiesttler D, Cavenee WK (eds) WHO classification of tumours of the central nervous system. WHO Press, Geneva, pp 99–102

11.

Duggal N, Taylor R, Zou GY, Hammond RR (2008) Dysembryoplastic neuroepithelial tumours: clinical, proliferative and apoptotic features. J Clin Pathol 61:127–131

12.

Fernandez C, Girard N, Paz Paredes A, Bouvier-Labit C, Lena G, Figarella-Branger D (2003) The usefulness of MR imaging in the diagnosis of dysembryoplastic neuroepithelial tumor in children: a study of 14 cases. Am J Neuroradiol 24:829–834

13.

Fujimoto K, Ohnishi H, Tsujimoto M, Hoshida T, Nakazato Y (2000) Dysembryoplastic neuroepithelial tumor of the cerebellum and brainstem. Case report. J Neurosurg 93:487–489

14.

Gonzales M, Dale S, Susman M, Nolan P, Ng WH, Maixner W, Laidlaw J (2007) Dysembryoplastic neuroepithelial tumor (DNT)-like oligodendrogliomas or Dnts evolving into oligodendrogliomas: two illustrative cases. Neuropathology 27:324–330

15.

Harter DH, Omeis I, Forman S, Braun A (2006) Endoscopic resection of an intraventricular dysembryoplastic neuroepithelial tumor of the septum pellucidum. Pediatr Neurosurg 42:105–107

16.

Hirose T, Scheithauer BW (1998) Mixed dysembryoplastic neuroepithelial tumor and ganglioglioma. Acta Neuropathol 95:649–654

17.

Hirose I, Scheithauer BW, Lopes BS, Vandenberg SR (1994) Dysembryoplastic neuroepithelial tumor (DNT): an immunohistochemical and ultra structural study. Neuropathol Exp Neurol 53:184–195

18.

Honavar M, Janota I, Polkey CE (1999) Histological heterogeneity of dysembryoplastic neuroepithelial tumour: identification and differential diagnosis in a series of 74 cases. Histopathology 34:342–356

19.

Ishizawa K, Terao S, Kobayashi K, Yoshida K, Hirose T (2007) A neuroepithelial tumor showing combined histological features of dysembryoplastic neuroepithelial tumor and pleomorphic xanthoastrocytoma—a case report and review of the literature. Clin Neuropathol 26:169–175

20.

Jensen RL, Caamano E, Jensen EM, Couldwell WT (2006) Development of contrast enhancement after long-term observation of a dysembryoplastic neuroepithelial tumor. J Neurooncol 78:59–62

21.

Josan V, Smith P, Kornberg A, Rickert C, Maixner W (2007) Development of a pilocytic astrocytoma in a dysembryoplastic neuroepithelial tumor. Case report. J Neurosurg 106(6 Suppl):509–512

22.

Koeller KK, Dillon WP (1992) MR appearance of dysembryoplastic neuroepithelial tumors (DNT). AJNR Am J Neuroradiol 13:1319–1325

23.

Kuroiwa T, Kishikawa T, Kato A, Ueno M, Kudo S, Tabuci K (1994) Dysembryoplastic neuroepithelial tumors: MR findings. J Comput Assist Tomogr 18:352–356

24.

Lellouch-Tubiana A, Bourgeois M, Vekemans M, Robain O (1995) Dysembryoplastic neuroepithelial tumors in two children with neurofibromatosis type 1. Acta Neuropathol 90:319–322

25.

Nakatuska M, Mizuno S, Kimura T, Hara K (2000) A case of an unclassified tumour closely resembling dysembryoplastic neuroepithelial tumour with rapid growth. Brain Tumour Pathol 7:41–45

26.

Parmar HA, Hawkins C, Ozelame R, Chuang S, Rutka J, Blaser S (2007) Fluid-attenuated inversion recovery ring sign as a marker of dysembryoplastic neuroepithelial tumors. J Comput Assist Tomogr 31:348–353

27.

Prayson RA, Estes ML, Morris HH (1993) Coexistence of neoplasia and cortical dysplasia in patients presenting with seizures. Epilepsia 34:609–615

28.

Prayson RA, Morris HH, Estes ML, Comair YG (1996) Dysembryoplastic neuroepithelial tumour: a clinicopathologic and immunohistochemical study of 11 tumours including MIB1 immunoreactivity. Clin Neuropathol 15:47–53

29.

Raymond AA, Halpin SFS, Alsamjari N, Cook MJ, Kitchen ND, Fish DR, Stevens JN, Harding BN, Scaravilli F, Kendall B, Shorvon SD, Kendall B, Shorvon SD Neville BGR (1994) Dysembryoplastic neuroepithelial tumor: feature in 16 patients. Brain 117:461–475

30.

Rushing EJ, Thompson LD, Mena H (2003) Malignant transformation of a dysembryoplastic neuroepithelial tumor after radiation and chemotherapy. Ann Diagn Pathol 7:240–244

31.

Sampetrean O, Maehara T, Arai N, Nemoto T (2006) Rapidly growing dysembryoplastic neuroepithelial tumor: case report. Neurosurgery 59:1337–1338

32.

Schittenhelm J, Mittelbronn M, Wolff M, Truebenbach J, Will BE, Meyermann R, Beschorner R (2007) Multifocal dysembryoplastic neuroepithelial tumor with signs of atypia after regrowth. Neuropathology 27:383–389

33.

Stanescu Cosson R, Varlet P, Beuvon F, Daumas Duport C, Devaux B, Chassoux F, Frédy D, Meder JF (2001) Dysembryoplastic neuroepithelial tumors: CT, MR findings and imaging follow-up: a study of 53 cases. J Neuroradiol 28:230–240

34.

Takahashi A, Hong SC, Seo DW, Hong SB, Lee M, Suh YL (2005) Frequent association of cortical dysplasia in dysembryoplastic neuroepithelial tumor treated by epilepsy surgery. Surg Neurol 64:419–427
Additional information
Comments
Carlo Schaller, Geneva, Switzerland
This is a clinicopathological study from the epilepsy surgical program at the All Indian Institute in New Delhi. Among the series of n = 330 epileptic patients, who were operated between 1995 and 2006, DNTs were found in n = 32. All patients had state-of-the-art diagnostic workup which included noninvasive diagnostics with scalp and video EEG and elaborate MRI. Twenty of the patients had additional SPECT imaging. Radical resection was performed in all, with n = 26 patients remaining seizure free without medication after a mean of 34-month follow-up time for the whole group. It is concluded that DNTs are a relatively recently described entity, requiring clear workup and long-term follow-up, where malignant transformation cannot be excluded.
The paper refers to an important issue in lesional epilepsy surgery.
The ongoing debate as to whether and where there is a linkage between malformations of corticoneural development, e.g., focal cortical dysplasias, and neuroglial tumors such as DNTs. The authors have performed an elaborate workup of their clinicopathological series of DNTs. Apart from excellent surgical results with 75% having remained completely seizure free, six other patients who suffered very rarely from auras or seizures had a good outcome as well. The importance of excellent presurgical epileptological workup, including intraoperative electrocorticography (ECoG) for delineation of the epileptogenic zone, cannot be overestimated, as with DNTs there is almost always involvement of neighboring gray and white matter. With epileptogenicity of scattered glioneural elements being postulated by various groups, the success of surgery depends on resection of these epileptogenic areas as well. In their series, no patient had invasive brain mapping. I personally prefer extraoperative mapping with intracranial electrodes over intraoperative ECoG whenever this is feasible due to the multiple factors which may disturb intraoperative recording. Furthermore, it would be interesting to know how they had dealt with epileptogenic areas which extended into eloquent cortex, e.g., did they perform multiple subpial transections? To my knowledge, there is no study yet comparing ECoG-guided lesional epilepsy surgery with and without multiple subpial transections in eloquent cortex.
Analysis of pathological specimens revealed only one case with increased microvascular proliferation and no increase of other proliferative indices such as MIB or p53 in any of the others. On the rare occasion of evidence for proliferation or of oligoastrocytic components, as it was reported by other groups as well, regular follow-up by MRI is certainly warranted. The authors are to be congratulated to their structured workup—this is the way it should be done in multidisciplinary diagnosis and treatment of epilepsy.
Basant K. Misra, Vrajesh Udani, Mumbai, India
Since the first pathologic description of DNTs by Daumas-Duport [2] in 1988, several large series have crystallized our knowledge of this developmental glioneuronal tumor. Though rare, it is the most common tumor in children and young adults with pharmaco-resistant epilepsy [7]. Large series [3, 11] have characterized the imaging and pathologic features of this tumor which in some atypical cases can be confused with other tumors especially the oligodendroglioma. MR techniques like magnetic resonance spectroscopy, diffusion-weighted imaging, and MR perfusion may help in differentiating these two tumors [1] as can cytogenetic analysis of resected tumor tissue [8].
What has become clear over the years is the high incidence (up to 69–83%) of associated peritumoral cortical dysplasia [9, 12], especially type 1 cortical dysplasia which can affect long-term seizure prognosis after resection. Extraoperative electrocorticography has confirmed that the ictal onset zone may in fact be from this peritumoral [10] location and functional imaging like the subtraction ictal SPECT coregistered with MRI (SISCOM) [13] also highlights the importance of the peritumoral area in the genesis of seizures. The earlier concept of doing only a lesionectomy for these patients is now slowly changing into an extended lesionectomy with additional removal of surrounding dysplastic tissue, identified by MR and intraoperative electrocorticography. Though initial studies suggested excellent seizure freedom rates after surgery, recent studies with longer follow-up [5] suggest that seizure freedom rates decline over time. Also, as DNTs can recur several years after surgery [5] and in fact may rarely undergo malignant transformation [4, 5], it is best to do total resection with a close surveillance over a long time.
In this issue, Sharma and colleagues have presented a series of 32 patients with pharmaco-resistant epilepsy due to DNTs. By and large, the results are consistent with the literature. Surgery was mainly in the adult years and there were no lesions in the parietal or occipital lobes. The high seizure freedom rates that were achieved could be partly attributed to the radical resection of the tumor and the surrounding area as well as the comparatively short follow-up. Though surrounding cortical dysplasia was seen in fewer patients, it seemed to play a role in the persistence of seizures in a few patients. Pathologic analysis of tumor tissue confirmed the low malignant potential of this tumor.
In summary, the biologic behavior of DNTs appears homogenous in the majority of patients over many continents. A consensus seems to have evolved now that extended lesionectomy [6] is the best surgical strategy in the long term.
References
1. Bulakbasi N, Kocaoglu M, Sanal TH, Tayfun C (2007) Dysembryoplastic neuroepithelial tumors: proton MR spectroscopy, diffusion and perfusion characteristics. Neuroradiology 49:805–812, Epub 2007
2. Daumas-Duport C, Scheithauer BW, Chodkiewicz JP, Laws ER Jr, Vedrenne C (1988) Dysembryoplastic neuroepithelial tumor: a surgically curable tumor of young patients with intractable partial seizures. Report of thirty-nine cases. Neurosurgery 23:545–556
3. Fernandez C, Girard N, Paz Paredes A, Bouvier-Labit C, Lena G, Figarella-Branger D (2003) The usefulness of MR imaging in the diagnosis of dysembryoplastic neuroepithelial tumor in children: a study of 14 cases. AJNR 24:829–834
4. Gonzales M, Dale S, Susman M, Nolan P, Ng WH, Maixner W, Laidlaw J (2007) Dysembryoplastic neuroepithelial tumor (DNT)-like oligodendrogliomas or Dnts evolving into oligodendrogliomas: two illustrative cases. Neuropathology 27:324–330
5. Nolan MA, Sakuta R, Chuang N, Otsubo H, Rutka JT, Snead OC 3rd, Hawkins CE, Weiss SK (2004) Dysembryoplastic neuroepithelial tumors in childhood: long-term outcome and prognostic features. Neurology 62:2270–2276
6. O'Brien DF, Farrell M, Delanty N, Traunecker H, Perrin R, Smyth MD, Park TS (2007) The Children's Cancer and Leukaemia Group guidelines for the diagnosis and management of dysembryoplastic neuroepithelial tumours. Br J Neurosurg 21:539–549
7. Pasquier B, Péoc' HM, Fabre-Bocquentin B, Bensaadi L, Pasquier D, Hoffmann D, Kahane P, Tassi L, Le Bas JF, Benabid AL (2002) Surgical pathology of drug-resistant partial epilepsy. A 10-year-experience with a series of 327 consecutive resections. Epileptic Disord 4:99–119
8. Prayson RA, Castilla EA, Hartke M, Pettay J, Tubbs RR, Barnett GH (2002) Chromosome 1p allelic loss by fluorescence in situ hybridization is not observed in dysembryoplastic neuroepithelial tumors. Am J Clin Pathol 118:512–517
9. Sakuta R, Otsubo H, Nolan MA, Weiss SK, Hawkins C, Rutka JT, Chuang NA, Snead OC 3rd (2005) Recurrent intractable seizures in children with cortical dysplasia adjacent to dysembryoplastic neuroepithelial tumor. J Child Neurol 20:377–384
10. Seo DW, Hong SBJ (2003) Epileptogenic foci on subdural recording in intractable epilepsy patients with temporal dysembryoplastic neuroepithelial tumor. J Korean Med Sci 18:559–565
11. Stanescu Cosson R, Varlet P, Beuvon F, Daumas-Duport C, Devaux B, Chassoux F, Frédy D, Meder JF (2001) Dysembryoplastic neuroepithelial tumors: CT, MR findings and imaging follow-up: a study of 53 cases. J Neuroradiol 28:230–240
12. Takahashi A, Hong SC, Seo DW, Hong SB, Lee M, Suh YL (2005) Frequent association of cortical dysplasia in dysembryoplastic neuroepithelial tumor treated by epilepsy surgery. Surg Neurol 64:419–427
13. Valenti MP, Froelich S, Armspach JP, Chenard MP, Dietemann JL, Kerhli P, Marescaux C, Hirsch E, Namer IJ (2002) Contribution of SISCOM imaging in the presurgical evaluation of temporal lobe epilepsy related to dysembryoplastic neuroepithelial tumors. Epilepsia 43:270–276
About this article
Cite this article
Sharma, M.C., Jain, D., Gupta, A. et al. Dysembryoplastic neuroepithelial tumor: a clinicopathological study of 32 cases. Neurosurg Rev 32, 161 (2009). https://doi.org/10.1007/s10143-008-0181-1
Received:

Revised:

Accepted:

Published:
Keywords
Epilepsy

DNET

Dysembryoplastic neuroepithelial tumor

Proliferative indices

Tumor suppressor gene

Epilepsy surgery