Abstract
Nuclear factor Y (NF-Y) is a heterotrimeric transcription factor complex. Each of the NF-Y subunits (NF-YA, NF-YB and NF-YC) in plants is encoded by multiple genes. Quantitative RT-PCR analysis revealed that five wheat NF-YC members (TaNF-YC5, 8, 9, 11 and 12) were upregulated by light in both the leaf and seedling shoot. Co-expression analysis of Affymetrix wheat genome array datasets revealed that transcript levels of a large number of genes were consistently correlated with those of the TaNF-YC11 and TaNF-YC8 genes in three to four separate Affymetrix array datasets. TaNF-YC11-correlated transcripts were significantly enriched with the Gene Ontology term photosynthesis. Sequence analysis in the promoters of TaNF-YC11-correlated genes revealed the presence of putative NF-Y complex binding sites (CCAAT motifs). Quantitative RT-PCR analysis of a subset of potential TaNF-YC11 target genes showed that ten out of the 13 genes were also light-upregulated in both the leaf and seedling shoot and had significantly correlated expression profiles with TaNF-YC11. The potential target genes for TaNF-YC11 include subunit members from all four thylakoid membrane-bound complexes required for the conversion of solar energy into chemical energy and rate-limiting enzymes in the Calvin cycle. These data indicate that TaNF-YC11 is potentially involved in regulation of photosynthesis-related genes.
Access options
Buy single article
Instant access to the full article PDF.
USD 39.95
Price excludes VAT (USA)
Tax calculation will be finalised during checkout.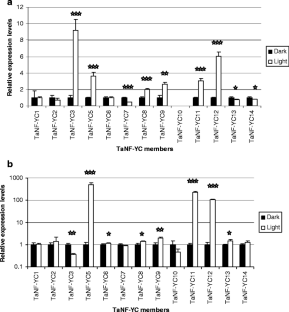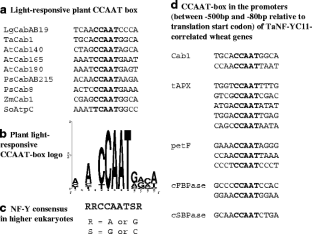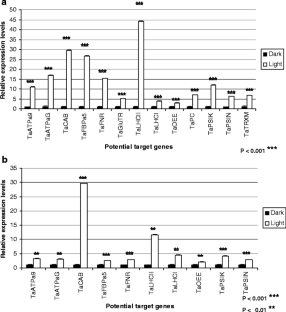 References
Aerts S, Thijs G, Coessens B, Staes M, Moreau Y, De Moor B (2003) Toucan: deciphering the cis-regulatory logic of coregulated genes. Nucleic Acids Res 31:1753–1764

Amunts A, Nelson N (2008) Functional organization of a plant Photosystem I: evolution of a highly efficient photochemical machine. Plant Physiol Biochem 46:228–237

Ashburner M, Ball CA, Blake JA, Botstein D, Butler H, Cherry JM, Davis AP, Dolinski K, Dwight SS, Eppig JT, Harris MA, Hill DP, Issel-Tarver L, Kasarskis A, Lewis S, Matese JC, Richardson JE, Ringwald M, Rubin GM, Sherlock G (2000) Gene ontology: tool for the unification of biology. The Gene Ontology Consortium. Nat Genet 25:25–29

Bae G, Choi G (2008) Decoding of light signals by plant phytochromes and their interacting proteins. Annu Rev Plant Biol 59:281–311

Baniulis D, Yamashita E, Zhang H, Hasan SS, Cramer WA (2008) Structure-function of the cytochrome b6f complex. Photochem Photobiol 84:1349–1358

Barber J (2002) Photosystem II: a multisubunit membrane protein that oxidises water. Curr Opin Struct Biol 12:523–530

Bassham JA, Krause GH (1969) Free energy changes and metabolic regulation in steady-state photosynthetic carbon reduction. Biochim Biophys Acta 189:207–221

Ben-Naim O, Eshed R, Parnis A, Teper-Bamnolker P, Shalit A, Coupland G, Samach A, Lifschitz E (2006) The CCAAT binding factor can mediate interactions between CONSTANS-like proteins and DNA. Plant J 46:462–476

Brazma A, Jonassen I, Vilo J, Ukkonen E (1998) Predicting gene regulatory elements in silico on a genomic scale. Genome Res 8:1202–1215

Bucher P (1990) Weight matrix descriptions of four eukaryotic RNA polymerase II promoter elements derived from 502 unrelated promoter sequences. J Mol Biol 212:563–578

Cai X, Ballif J, Endo S, Davis E, Liang M, Chen D, DeWald D, Kreps J, Zhu T, Wu Y (2007a) A putative CCAAT-binding transcription factor is a regulator of flowering timing in Arabidopsis. Plant Physiol 145:98–105

Cai Y-D, Jen C-H, Qian J, Qian Z, Muldoon M (2007b) Prediction of regulatory networks: identification of transcription factor-target relationship from gene ontology information and gene expression data. School of Mathematics. Manchester Institute for Mathematical Sciences, University of Manchester Manchester, UK

Chen M, Chory J, Fankhauser C (2004) Light signal transduction in higher plants. Annu Rev Genet 38:87–117

Chen NZ, Zhang XQ, Wei PC, Chen QJ, Ren F, Chen J, Wang XC (2007) AtHAP3b plays a crucial role in the regulation of flowering time in Arabidopsis during osmotic stress. J Biochem Mol Biol 40:1083–1089

Christie JM (2007) Phototropin blue-light receptors. Annu Rev Plant Biol 58:21–45

Cora D, Di Cunto F, Provero P, Silengo L, Caselle M (2004) Computational identification of transcription factor binding sites by functional analysis of sets of genes sharing overrepresented upstream motifs. BMC Bioinformatics 5:57

Cramer WA, Zhang H, Yan J, Kurisu G, Smith JL (2004) Evolution of photosynthesis: time-independent structure of the cytochrome b6f complex. Biochem 43:5921–5929

Crismani W, Baumann U, Sutton T, Shirley N, Webster T, Spangenberg G, Langridge P, Able JA (2006) Microarray expression analysis of meiosis and microsporogenesis in hexaploid bread wheat. BMC Genomics 7:267

Edwards D, Murray JA, Smith AG (1998) Multiple genes encoding the conserved CCAAT-box transcription factor complex are expressed in Arabidopsis. Plant Physiol 117:1015–1022

Elkon R, Linhart C, Sharan R, Shamir R, Shiloh Y (2003) Genome-wide in silico identification of transcriptional regulators controlling the cell cycle in human cells. Genome Res 13:773–780

Gautier L, Cope L, Bolstad BM, Irizarry RA (2004) affy-analysis of Affymetrix GeneChip data at the probe level. Bioinformatics 20:307–315

Harrison EP, Willingham NM, Lloyd JC, Raines CA (1997) Reduced sedoheptulose-1, 7-bisphosphatase levels in transgenic tobacco lead to decreased photosynthetic capacity and altered carbohydrate accumulation. Planta 204:27–36

Haverty PM, Hansen U, Weng Z (2004) Computational inference of transcriptional regulatory networks from expression profiling and transcription factor binding site identification. Nucleic Acids Res 32:179–188

Hudson GS, Evans JR, von Caemmerer S, Arvidsson YB, Andrews TJ (1992) Reduction of ribulose-1, 5-bisphosphate carboxylase/oxygenase content by antisense RNA reduces photosynthesis in transgenic tobacco plants. Plant Physiol 98:294–302

Irizarry RA, Bolstad BM, Collin F, Cope LM, Hobbs B, Speed TP (2003) Summaries of Affymetrix GeneChip probe level data. Nucleic Acids Res 31:e15

Jiao Y, Yang H, Ma L, Sun N, Yu H, Liu T, Gao Y, Gu H, Chen Z, Wada M, Gerstein M, Zhao H, Qu L-J, Deng XW (2003) A genome-wide analysis of blue-light regulation of Arabidopsis transcription factor gene expression during seedling development. Plant Physiol 133:1480–1493

Jiao Y, Ma L, Strickland E, Deng XW (2005) Conservation and divergence of light-regulated genome expression patterns during seedling development in rice and Arabidopsis. Plant Cell 17:3239–3256

Jordan MC, Somers DJ, Banks TW (2007) Identifying regions of the wheat genome controlling seed development by mapping expression quantitative trait loci. Plant Biotechnol J 5:442–453

Kagaya Y, Toyoshima R, Okuda R, Usui H, Yamamoto A, Hattori T (2005) LEAFY COTYLEDON1 controls seed storage protein genes through its regulation of FUSCA3 and ABSCISIC ACID INSENSITIVE3. Plant Cell Physiol 46:399–406

Kehoe DM, Degenhardt J, Winicov I, Tobin EM (1994) Two 10-bp regions are critical for phytochrome regulation of a Lemna gibba Lhcb gene promoter. Plant Cell 6:1123–1134

Kumimoto RW, Adam L, Hymus GJ, Repetti PP, Reuber TL, Marion CM, Hempel FD, Ratcliffe OJ (2008) The Nuclear Factor Y subunits NF-YB2 and NF-YB3 play additive roles in the promotion of flowering by inductive long-day photoperiods in Arabidopsis. Planta 228:709–723

Kusnetsov V, Landsberger M, Meurer J, Oelmuller R (1999) The assembly of the CAAT-box binding complex at a photosynthesis gene promoter is regulated by light, cytokinin, and the stage of the plastids. J Biol Chem 274:36009–36014

Lefebvre S, Lawson T, Zakhleniuk OV, Lloyd JC, Raines CA, Fryer M (2005) Increased sedoheptulose-1, 7-bisphosphatase activity in transgenic tobacco plants stimulates photosynthesis and growth from an early stage in development. Plant Physiol 138:451–460

Li QH, Yang HQ (2007) Cryptochrome signaling in plants. Photochem Photobiol 83:94–101

Liu G, Loraine AE, Shigeta R, Cline M, Cheng J, Valmeekam V, Sun S, Kulp D, Siani-Rose MA (2003a) NetAffx: Affymetrix probesets and annotations. Nucleic Acids Res 31:82–86

Liu R, McEachin RC, States DJ (2003b) Computationally identifying novel NF-kappa B-regulated immune genes in the human genome. Genome Res 13:654–661

Makino A, Mae T, Ohira K (1985) Photosynthesis and ribulose-1, 5-bisphosphate carboxylase/oxygenase in rice leaves from emergence through senescence. Quantitative analysis by carboxylation/oxygenation and regeneration of ribulose 1, 5-bisphosphate. Planta 166:414–420

Mantovani R (1998) A survey of 178 NF-Y binding CCAAT-boxes. Nucleic Acids Res 26:1135–1143

McCarty RE, Evron Y, Johnson EA (2000) The chloroplast ATP synthase: a rotary enzyme? Annu Rev Plant Physiol Plant Mol Biol 51:83–109

Mendoza M, Dubreucq B, Miquel M, Caboche M, Lepiniec L (2005) LEAFY COTYLEDON 2 activation is sufficient to trigger the accumulation of oil and seed specific mRNAs in Arabidopsis leaves. FEBS Lett 579:4666–4670

Miyoshi K, Ito Y, Serizawa A, Kurata N (2003) OsHAP3 genes regulate chloroplast biogenesis in rice. Plant J 36:532–540

Mott IW, Wang RRC (2007) Comparative transcriptome analysis of salt-tolerant wheat germplasm lines using wheat genome arrays. Plant Sci 173:327–339

Nagy F, Boutry M, Hsu MY, Wong M, Chua NH (1987) The 5'-proximal region of the wheat Cab-1 gene contains a 268-bp enhancer-like sequence for phytochrome response. EMBO J 6:2537–2542

Park S (2006) Recombinant AtNF-YA, a subunit of the Arabidopsis CCAAT-binding transcription factor, forms a protein-DNA complex with mammalian NF-YB and NF-YC. J Plant Biol 49:281–285

Parkinson H, Kapushesky M, Kolesnikov N, Rustici G, Shojatalab M, Abeygunawardena N, Berube H, Dylag M, Emam I, Farne A, Holloway E, Lukk M, Malone J, Mani R, Pilicheva E, Rayner TF, Rezwan F, Sharma A, Williams E, Bradley XZ, Adamusiak T, Brandizi M, Burdett T, Coulson R, Krestyaninova M, Kurnosov P, Maguire E, Neogi SG, Rocca-Serra P, Sansone SA, Sklyar N, Zhao M, Sarkans U, Brazma A (2009) ArrayExpress update—from an archive of functional genomics experiments to the atlas of gene expression. Nucleic Acids Res 37:D868–D872

Pfaffl MW (2001) A new mathematical model for relative quantification in real-time RT-PCR. Nucleic Acids Res 29:e45

Qin D, Wu H, Peng H, Yao Y, Ni Z, Li Z, Zhou C, Sun Q (2008) Heat stress-responsive transcriptome analysis in heat susceptible and tolerant wheat (Triticum aestivum L.) by using Wheat Genome Array. BMC Genomics 9:432

Raines CA, Harrison EP, Ölçer H, Lloyd JC (2000) Investigating the role of the thiol-regulated enzyme sedoheptulose-1, 7-bisphosphatase in the control of photosynthesis. Physiol Plant 110:303–308

Scheller HV, Jensen PE, Haldrup A, Lunde C, Knoetzel J (2001) Role of subunits in eukaryotic Photosystem I. Biochim Biophys Acta 1507:41–60

Sharan R, Ovcharenko I, Ben-Hur A, Karp RM (2003) CREME: a framework for identifying cis-regulatory modules in human-mouse conserved segments. Bioinformatics 19(Suppl 1):i283–i291

Sharkey T (1985) Photosynthesis in intact leaves of C3 plants: Physics, physiology and rate limitations. Bot Rev 51:53–105

Siefers N, Dang KK, Kumimoto RW, WEt B, Tayrose G, Holt BF 3rd (2009) Tissue-specific expression patterns of Arabidopsis NF-Y transcription factors suggest potential for extensive combinatorial complexity. Plant Physiol 149:625–641

Stephenson TJ, McIntyre CL, Collet C, Xue GP (2007) Genome-wide identification and expression analysis of the NF-Y family of transcription factors in Triticum aestivum. Plant Mol Biol 65:77–92

Tamoi M, Nagaoka M, Miyagawa Y, Shigeoka S (2006) Contribution of fructose-1, 6-bisphosphatase and sedoheptulose-1, 7-bisphosphatase to the photosynthetic rate and carbon flow in the Calvin cycle in transgenic plants. Plant Cell Physiol 47:380–390

Thirumurugan T, Ito Y, Kubo T, Serizawa A, Kurata N (2008) Identification, characterization and interaction of HAP family genes in rice. Mol Genet Genomics 279:279–289

Wan Y, Poole RL, Huttly AK, Toscano-Underwood C, Feeney K, Welham S, Gooding MJ, Mills C, Edwards KJ, Shewry PR, Mitchell RA (2008) Transcriptome analysis of grain development in hexaploid wheat. BMC Genomics 9:121

Warpeha KM, Upadhyay S, Yeh J, Adamiak J, Hawkins SI, Lapik YR, Anderson MB, Kaufman LS (2007) The GCR1, GPA1, PRN1, NF-Y signal chain mediates both blue light and abscisic acid responses in Arabidopsis. Plant Physiol 143:1590–1600

Wenkel S, Turck F, Singer K, Gissot L, Le Gourrierec J, Samach A, Coupland G (2006) CONSTANS and the CCAAT-box binding complex share a functionally important domain and interact to regulate flowering of Arabidopsis. Plant Cell 18:2971–2984

Xue GP, Loveridge CW (2004) HvDRF1 is involved in abscisic acid-mediated gene regulation in barley and produces two forms of AP2 transcriptional activators, interacting preferably with a CT-rich element. Plant J 37:326–339

Xue GP, McIntyre CL, Glassop D, Shorter R (2008a) Use of expression analysis to dissect alterations in carbohydrate metabolism in wheat leaves during drought-stress. Plant Mol Biol 67:197–214

Xue GP, McIntyre CL, Jenkins CL, Glassop D, van Herwaarden AF, Shorter R (2008b) Molecular dissection of variation in carbohydrate metabolism related to water-soluble carbohydrate accumulation in stems of wheat. Plant Physiol 146:441–454

Zelitch I (1975) Pathways of carbon fixation in green plants. Annu Rev Biochem 44:123

Zheng J, Wu J, Sun Z (2003) An approach to identify over-represented cis-elements in related sequences. Nucleic Acids Res 31:1995–2005

Zhou X, Su Z (2007) EasyGO: Gene Ontology-based annotation and functional enrichment analysis tool for agronomical species. BMC Genomics 8:246

Zuo KJ, Qin J, Zhao JY, Ling H, Zhang LD, Cao YF, Tang KX (2007) Over-expression GbERF2 transcription factor in tobacco enhances brown spots disease resistance by activating expression of downstream genes. Gene 391:80–90
Acknowledgement
This study was supported in part by the Australian Grains Research & Development Corporation.
Electronic supplementary materials
Below is the link to the electronic supplementary material.
About this article
Cite this article
Stephenson, T.J., McIntyre, C.L., Collet, C. et al. TaNF-YC11, one of the light-upregulated NF-YC members in Triticum aestivum, is co-regulated with photosynthesis-related genes. Funct Integr Genomics 10, 265–276 (2010). https://doi.org/10.1007/s10142-010-0158-3
Received:

Revised:

Accepted:

Published:

Issue Date:

DOI: https://doi.org/10.1007/s10142-010-0158-3
Keywords