Abstract
Purpose
We aimed to describe the findings of traumatic atlanto-occipital dislocation (AOD) on cervical spine CTs and differences leading to varying treatment of these patients.
Methods
We retrospectively identified 20 adult patients with AOD from cervical spine CTs demonstrating fracture or fracture dislocations over 19 years at 2 major trauma centers. Medical records were reviewed and craniovertebral junction (CVJ) metrics measured on CT. Intubation, Glasgow Coma Scale (GCS), additional injuries, occiput/atlas/axis fracture, concurrent atlantoaxial subluxation, vascular injury on CT angiography, and ligamentous injury on MRI were noted.
Results
Using the Traynelis Classification, eight patients had type 2 and eight patients type 3 AOD. Four of 5 patients who died within 14 days of CT had type 2 AOD. Three patients had medial/lateral AOD. Of the patients who survived initial injuries, a greater percentage who underwent surgical or halo fixation versus non-operatively treated patients had abnormal CVJ measurements including BDI (62.5% vs 0%), atlantoaxial subluxation (75% vs 14.3%), ligamentous injury (80% vs 66.7%), intubation (62.5% vs 28.6%), GCS<8 (62.5% vs 14.3%), and additional injuries (75% vs 71.4%) on presentation. MRI helped identify 2 cases of type 2 AOD and surgical decision making in 8 cases.
Conclusions
Types 2 and 3 were the most common, and type 2 is the deadliest type of AOD. A greater proportion of patients who undergo surgical or halo fixation have abnormal CT/MR findings with neurologic impairment at presentation. MRI aided detection of potentially missed type 2 AOD and was critical for surgical decision making.
Access options
Buy single article
Instant access to the full article PDF.
US$ 39.95
Tax calculation will be finalised during checkout.
Subscribe to journal
Immediate online access to all issues from 2019. Subscription will auto renew annually.
US$ 119
Tax calculation will be finalised during checkout.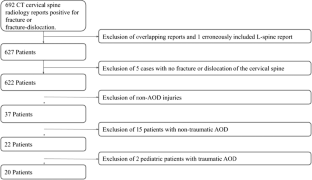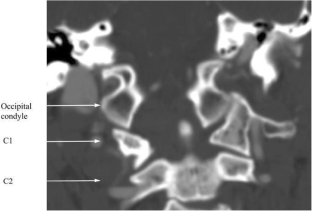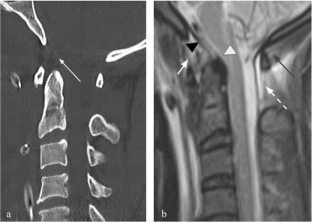 References
1.

Hall GC, Kinsman MJ, Nazar RG, Hruska RT, Mansfield KJ, Boakye M, Rahme R (2015) Atlanto-occipital dislocation. World J Orthop 6:236–243

2.

Radcliff K, Kepler C, Reitman C, Harrop J, Vaccaro A (2012) CT and MRI-based diagnosis of craniocervical dislocations: the role of the occipitoatlantal ligament. Clin Orthop Relat Res 470:1602–1613

3.

Payer M, Sottas CC (2005) Traumatic atlanto-occipital dislocation: presentation of a new posterior occipitoatlantoaxial fixation technique in an adult survivor: technical case report. Neurosurgery 56:E203 discussion E203

4.

Traynelis VC, Marano GD, Dunker RO, Kaufman HH (1986) Traumatic atlanto-occipital dislocation. Case report. J Neurosurg 65:863–870

5.

Khanpara SD, McCarty JL, Schmitt KM, Stark JR, West OC, Zhang X et al (2020) Atlanto-occipital distraction injuries in survivors: craniometrics and associated ligamentous, spinal cord, and blunt cerebrovascular injury. Emerg Radiol 28:83–92. https://doi.org/10.1007/s10140-020-01827-9

6.

Menon KV, Al Habsi I, Al GK (2018) Traumatic occipito-cervical dissociation in adults: a Middle Eastern cohort study. Eur J Orthop Surg Traumatol 28:381–387

7.

Horn EM, Feiz-Erfan I, Lekovic GP, Dickman CA, Sonntag VKH, Theodore N (2007) Survivors of occipitoatlantal dislocation injuries: imaging and clinical correlates. J Neurosurg: Spine. pp. 113–120. https://doi.org/10.3171/spi.2007.6.2.113

8.

Rojas CA, Bertozzi JC, Martinez CR, Whitlow J (2007) Reassessment of the craniocervical junction: Normal Values on CT. Am J Neuroradiol. pp. 1819–1823. https://doi.org/10.3174/ajnr.a0660

9.

Griffen MM, Frykberg ER, Kerwin AJ, Schinco MA, Tepas JJ, Rowe K, Abboud J (2003) Radiographic clearance of blunt cervical spine injury: plain radiograph or computed tomography scan? J Trauma 55:222–226 discussion 226–7

10.

Gire JD, Roberto RF, Bobinski M, Klineberg EO, Durbin-Johnson B (2013) The utility and accuracy of computed tomography in the diagnosis of occipitocervical dissociation. Spine J 13:510–519

11.

Chang W, Alexander MT, Mirvis SE (2009) Diagnostic determinants of craniocervical distraction injury in adults. AJR Am J Roentgenol 192:52–58

12.

Anderson PA, Montesano PX. Morphology and treatment of occipital condyle fractures. Spine . 1988;13: 731–736.

13.

Biffl WL, Moore EE, Offner PJ, Brega KE, Franciose RJ, Burch JM (1999) Therapeutic implications of a new grading scale in 100 blunt carotid arterial injuries. J Trauma: Inj Infect Crit Care. p. 201. 10.1097/00005373-199901000-00044

14.

Riascos R, Bonfante E, Cotes C, Guirguis M, Hakimelahi R, West C (2015) Imaging of atlanto-occipital and atlantoaxial traumatic injuries: what the radiologist needs to know. Radiographics. 35:2121–2134

15.

Turns JE, Shaffer MA, Doris PE (1984) The modified odontoid view: an alternative visualization of the atlantoaxial joint. J Emerg Med 1:321–325

16.

Website. [cited 25 Nov 2020]. Available: https://aospine.aofoundation.org/Structure/education/online-education/classifications/Pages/classifications.aspx

17.

Harris JH Jr, Carson GC, Wagner LK, Kerr N (1994) Radiologic diagnosis of traumatic occipitovertebral dissociation: 2. Comparison of three methods of detecting occipitovertebral relationships on lateral radiographs of supine subjects. AJR Am J Roentgenol 162:887–892

18.

Martinez-Del-Campo E, Kalb S, Soriano-Baron H, Turner JD, Neal MT, Uschold T et al (2016) Computed tomography parameters for atlantooccipital dislocation in adult patients: the occipital condyle-C1 interval. J Neurosurg Spine 24:535–545

19.

Kasliwal MK, Fontes RB, Traynelis VC (2016) Occipitocervical dissociation-incidence, evaluation, and treatment. Curr Rev Musculoskelet Med 9:247–254
Availability of data and material
Our database is accessible to all employees of the two tertiary centers from which electronic medical records were obtained.
Code availability
N/A
Funding
The dislocation database for this study was funded by GE Healthcare LLC.
Ethics declarations
Ethics approval
Approval was obtained from the institutional review board at our institution.
Consent to participate
Waived
Consent for publication
Waived
Conflict of interest
The authors declare that they have no conflict of interest. Bharti Khurana- GE Healthcare Research Support; Book Royalties, Cambridge University Press; Section Editor Royalities, UptoDate, Wolter Kluwer.
Additional information
Publisher's note
Springer Nature remains neutral with regard to jurisdictional claims in published maps and institutional affiliations.
About this article
Cite this article
Tang, A., Tobert, D., Kakarmath, S. et al. Radiological and clinical features of traumatic atlanto-occipital dislocation. Emerg Radiol (2021). https://doi.org/10.1007/s10140-021-01912-7
Received:

Accepted:

Published:
Keywords
Atlanto-occipital dislocation

Cervical spine CT

Craniovertebral junction measurements

Vascular injury

Ligamentous injury

Instrumented surgical fixation