Abstract
Purpose
A focused hip MRI (FHMR) for the detection of radiographically occult hip fractures was implemented in our emergency department (ED) in 2013. The goal of this study was to assess the clinical utility of this protocol.
Methods
We retrospectively reviewed radiology reports of 262 unique patients who underwent 263 FHMR (coronal T1, coronal STIR, axial T2 fat saturated) for suspected hip fracture in the ED from October 2013 to March 2020. Electronic medical records were reviewed for the ED course, follow-up imaging, and clinical management within 90 days.
Results
Seventy-one patients had one or more fractures identified by FHMR: one-third had proximal femoral fractures; two-third had pelvic fractures. Of these 71 patients, 53 (74%) had radiographically occult fractures, including 14 (20%) with occult proximal femoral fractures; 4 patients had fractures occult on CT. Nineteen patients with a suspected fracture on radiography were found to have no fracture on FHMR. Four fractures not reported on FHMR were later seen on follow-up imaging: these included 1 isolated greater trochanter, 1 additional ischial tuberosity, 1 additional superior pubic ramus, and 1 additional sacrum. All four fractures were treated non-operatively. Muscle/tendon injury was the most common type of injury, seen in 50% (130/262) patients with the most commonly torn tendons being the hamstring (44%; 15/34) followed by gluteus medius tendon (18%; 6/34). A full-hip or pelvis MRI was done after FHMR in only 5 patients, primarily for the purpose of better characterizing findings already identified on FHMR (2 for fracture, 2 for tendon injury, 1 for soft tissue metastasis). Only one of these five studies provided new information: ruling out a previously questioned fracture. Clinical management of the vast majority of patients was based solely on findings from the FHMR.
Conclusions
FHMR offers reliable identification of radiographically occult hip fractures and muscle/tendon injuries. The protocol is well trusted in guiding patient management in our ED.
Access options
Buy single article
Instant access to the full article PDF.
US$ 39.95
Tax calculation will be finalised during checkout.
Subscribe to journal
Immediate online access to all issues from 2019. Subscription will auto renew annually.
US$ 119
Tax calculation will be finalised during checkout.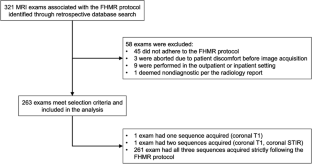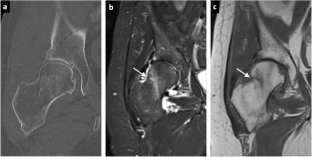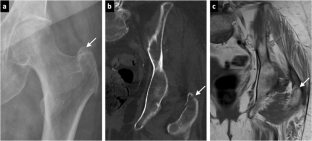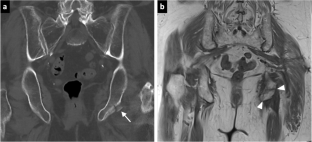 Ethics declarations
Conflict of interest
No relevant disclosure. Other declarations per specific authors are listed on the nonblinded title page. Ellen X. Sun: no relevant disclosure. Jacob C. Mandell: no relevant disclosure. Other affiliations to disclose: Book Royalties from the Cambridge University Press. Michael J. Weaver: no relevant disclosure. Vera L. Kimbrell: no relevant disclosure. Mitchel B. Harris: no relevant disclosure. Other affiliations to disclose: research support from GE Healthcare. Bharti Khurana: no relevant disclosure. Other affiliations to disclose: research support from GE Healthcare; Book Royalties from Cambridge University Press; Emergency Radiology section editor royalties from UpToDate; and grant support not relevant to this work: Stepping Strong Injury Prevention Innovation, BCRISP, and Innovation Discovery Grants, Mass General Brigham.
Ethics approval and consent to participate
This retrospective study was approved by the institutional review board with waiver of informed consent.
Consent for publication
Yes.
Additional information
Publisher's note
Springer Nature remains neutral with regard to jurisdictional claims in published maps and institutional affiliations.
Supplementary Information
About this article
Cite this article
Sun, E.X., Mandell, J.C., Weaver, M.J. et al. Clinical utility of a focused hip MRI for assessing suspected hip fracture in the emergency department. Emerg Radiol 28, 317–325 (2021). https://doi.org/10.1007/s10140-020-01870-6
Received:

Accepted:

Published:

Issue Date:
Keywords
Abbreviated MRI

Occult hip fracture

Occult proximal femoral fracture