Abstract
Objectives
Acute hemorrhage in the head and neck (AHNH) is life-threatening due to asphyxiation and hemorrhagic shock. When conservative measures fail, some patients benefit from endovascular therapy (EVT). While CTA is routinely used to localize bleeding and plan EVT in gastrointestinal hemorrhage, the diagnostic value of CTA in AHNH and role of CTA in treatment-planning are uncertain.
Methods
We retrospectively reviewed neck CTAs from June 2015 to October 2018 indicated for AHNH. When performed, digital subtraction angiography (DSA) findings and EVT were documented. Extravasation or pseudoaneurysm on DSA was considered positive for bleed localization.
Results
Thirty CTA exams were performed for AHNH in 18 patients (mean age = 56.6, male% = 55.6%). Eleven out of 30 exams (36.7%) had immediate DSA follow-up within 24 h. Etiologies of hemorrhage included malignancy 11/18 (61.1%) and coagulopathy (4/18, 22.2%) among others. CTA reports identified definite or possible source of bleeding in 7/30 (23.3%) exams. Seven out of 7 (100%) patients with definite or possible source of bleeding on CTA underwent DSA and 4/23 (17.4%) patients underwent DSA despite negative CTA. With DSA as the gold standard, CTA had a sensitivity of 70% and a specificity of 100%.
Conclusions
CTA has high specificity and reasonable sensitivity for detecting arterial source of bleeding in patients presenting with AHNH. Patients with negative CTA may avoid catheter angiography in most cases; however, false-negative CTA should not preclude angiography in high-risk patients.
This is a preview of subscription content, log in to check access.
Access options
Buy single article
Instant access to the full article PDF.
US$ 39.95
Price includes VAT for USA
Subscribe to journal
Immediate online access to all issues from 2019. Subscription will auto renew annually.
US$ 99
This is the net price. Taxes to be calculated in checkout.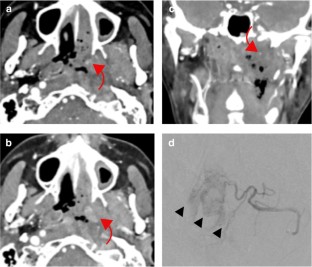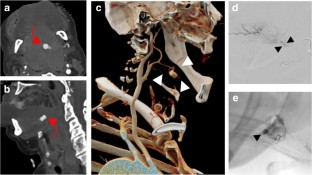 Abbreviations
AHNH:

Acute hemorrhage of the head and neck

DSA:

Digital subtraction angiography

EVT:

Endovascular therapy
References
1.

Hacein-Bey L, Daniels DL, Ulmer JL, Mark LP, Smith MM, Strottmann JM, Brown D, Meyer GA, Wackym PA (2002) The ascending pharyngeal artery: branches, anastomoses, and clinical significance. Am J Neuroradiol 23:1246–1256

2.

Pollice PA, Yoder MG (1997) Epistaxis: a retrospective review of hospitalized patients. Otolaryngol Neck Surg 117:49–53. https://doi.org/10.1016/S0194-59989770205-5

3.

Aassar OS, Friedman CM, White RI (1991) The natural history of epistaxis in hereditary hemorrhagic telangiectasia. Laryngoscope 101:977–980. https://doi.org/10.1288/00005537-199109000-00008

4.

Mok JSW, Marshall JN, Chan M, van Hasselt CA (1999) Percutaneous embolization to control intractable epistaxis in nasopharyngeal carcinoma. Head Neck 21:211–216. https://doi.org/10.1002/(SICI)1097-0347(199905)21:3<211::AID-HED5>3.0.CO;2-C

5.

Kakizawa H, Toyota N, Naito A, Ito K (2005) Endovascular therapy for management of oral hemorrhage in malignant head and neck tumors. Cardiovasc Intervent Radiol 28:722–729. https://doi.org/10.1007/s00270-004-0130-5

6.

Sesterhenn AM, Iwinska-Zelder J, Dalchow CV, Bien S, Werner JA (2006) Acute haemorrhage in patients with advanced head and neck cancer: value of endovascular therapy as palliative treatment option. J Laryngol Otol 120:117–124. https://doi.org/10.1017/S0022215105003178

7.

Noy D, Rachmiel A, Emodi O, Amsalem Y, Israel Y, Nagler RM (2017) Transarterial embolization in maxillofacial intractable potentially life-threatening hemorrhage. J Oral Maxillofac Surg 75:1223–1231. https://doi.org/10.1016/j.joms.2017.01.033

8.

Self EM, Bumpous J, Ziegler C, Wilson L, Potts K (2013) Risk factors for hemorrhage after chemoradiation for oropharyngeal squamous cell carcinoma. JAMA Otolaryngol Neck Surg 139:356–361. https://doi.org/10.1001/jamaoto.2013.103

9.

Pollei TR, Hinni ML, Moore EJ, Hayden RE, Olsen KD, Casler JD, Walter LC (2013) Analysis of postoperative bleeding and risk factors in transoral surgery of the oropharynx. JAMA Otolaryngol Neck Surg 139:1212–1218. https://doi.org/10.1001/jamaoto.2013.5097

10.

Chen Y-F, Tzeng I-H, Li Y-H, Lo YC, Lin WC, Chiang HJ, Chen RF, Shen WC (2009) Transcatheter arterial embolization in the treatment of maxillofacial trauma induced life-threatening hemorrhages. J Trauma Acute Care Surg 66:1425–1430. https://doi.org/10.1097/TA.0b013e3181842046

11.

Diaz-Daza O, Arraiza FJ, Barkley JM, Whigham CJ (2003) Endovascular therapy of traumatic vascular lesions of the head and neck. Cardiovasc Intervent Radiol 26:213–221. https://doi.org/10.1007/s00270-002-2619-0

12.

Cullen MM, Tami TA (1998) Comparison of internal maxillary artery ligation versus embolization for refractory posterior epistaxis. Otolaryngol Head Neck Surg 118:636–642. https://doi.org/10.1016/S0194-5998(98)70233-5

13.

Sokoloff J, Wickbom I, McDonald D, Brahme F, Goergen TG, Goldberger LE (1974) Therapeutic percutaneous embolization in intractable epistaxis. Radiology 111:285–287. https://doi.org/10.1148/111.2.285

14.

Elden L, Montanera W, Terbrugge K, Willinsky R, Lasjaunias P, Charles D (1994) Angiographic embolization for the treatment of epistaxis: a review of 108 cases. Otolaryngol Neck Surg 111:44–50. https://doi.org/10.1177/019459989411100110

15.

Dubel GJ, Ahn SH, Soares GM (2013) Transcatheter embolization in the management of epistaxis. Semin Interv Radiol 30:249–262. https://doi.org/10.1055/s-0033-1353478

16.

Chaloupka JC, Mangla S, Huddle DC, Roth TC, Mitra S, Ross DA, Sasaki CT (1999) Evolving experience with direct puncture therapeutic embolization for adjunctive and palliative management of head and neck hypervascular neoplasms. Laryngoscope 109:1864–1872. https://doi.org/10.1097/00005537-199911000-00028

17.

Elahi MM, Parnes LS, Fox AJ, Pelz DM, Lee DH (1995) Therapeutic embolization in the treatment of intractable epistaxis. Arch Otolaryngol Neck Surg 121:65–69. https://doi.org/10.1001/archotol.1995.01890010051009

18.

Gandhi D, Gemmete JJ, Ansari SA, Gujar SK, Mukherji SK (2008) Interventional neuroradiology of the head and neck. Am J Neuroradiol 29:1806–1815. https://doi.org/10.3174/ajnr.A1211

19.

Dobritz M, Engels H-P, Schneider A, Wieder H, Feussner H, Rummeny EJ, Stollfuss JC (2009) Evaluation of dual-phase multi-detector-row CT for detection of intestinal bleeding using an experimental bowel model. Eur Radiol 19:875–881. https://doi.org/10.1007/s00330-008-1205-5

20.

Strate L, Gralnek I (2016) ACG clinical guideline: management of patients with acute lower gastrointestinal bleeding. Am J Gastroenterol 111:459–474. https://doi.org/10.1038/ajg.2016.41

21.

Oakland K, Chadwick G, East JE, Guy R, Humphries A, Jairath V, McPherson S, Metzner M, Morris AJ, Murphy MF, Tham T, Uberoi R, Veitch AMC, Wheeler J, Regan C, Hoare J (2019) Diagnosis and management of acute lower gastrointestinal bleeding: guidelines from the British Society of Gastroenterology. Gut 68:776–789. https://doi.org/10.1136/gutjnl-2018-317807

22.

Singh-Bhinder N, Kim DH, Holly BP, Johnson PT, Hanley M, Carucci LR, Cash BD, Chandra A, Gage KL, Lambert DL, Levy AD, Oliva IB, Peterson CM, Strax R, Rybicki FJ, Dill KE (2017) ACR Appropriateness Criteria® nonvariceal upper gastrointestinal bleeding. J Am Coll Radiol 14:S177–S188. https://doi.org/10.1016/j.jacr.2017.02.038

23.

Wu L-M, Xu J-R, Yin Y, Qu X-H (2010) Usefulness of CT angiography in diagnosing acute gastrointestinal bleeding: a meta-analysis. World J Gastroenterol: WJG 16:3957–3963. https://doi.org/10.3748/wjg.v16.i31.3957

24.

Jacovides CL, Nadolski G, Allen SR, Martin ND, Holena DN, Reilly PM, Trerotola S, Braslow BM, Kaplan LJ, Pascual JL (2015) Arteriography for lower gastrointestinal hemorrhage: role of preceding abdominal computed tomographic angiogram in diagnosis and localization. JAMA Surg 150:650–656. https://doi.org/10.1001/jamasurg.2015.97

25.

Goodman DN, Hoh BL, Rabinov JD, Pryor JC (2003) CT angiography before embolization for hemorrhage in head and neck Cancer. Am J Neuroradiol 24:140–142

26.

Shukla PA, Zybulewski A, Kolber MK, Berkowitz E, Silberzweig J, Hayim M (2017) No catheter angiography is needed in patients with an obscure acute gastrointestinal bleed and negative CTA. Clin Imaging 43:106–109. https://doi.org/10.1016/j.clinimag.2017.02.006

27.

Lell MM, Hinkmann F, Nkenke E, Schmidt B, Seidensticker P, Kalender WA, Uder M, Achenbach S (2010) Dual energy CTA of the supraaortic arteries: technical improvements with a novel dual source CT system. Eur J Radiol 76:e6–e12. https://doi.org/10.1016/j.ejrad.2009.09.022

28.

Chen Y-F, Lo Y-C, Lin W-C, Lin CH, Chiang HJ, Chen JF, Shen WC (2010) Transarterial embolization for control of bleeding in patients with head and neck Cancer. Otolaryngol Neck Surg 142:90–94. https://doi.org/10.1016/j.otohns.2009.09.031

29.

Vilas Boas PP, de Castro-Afonso LH, Monsignore LM, Nakiri GS, de Mello-Filho FV, Abud DG (2017) Endovascular management of patients with head and neck cancers presenting with acute hemorrhage: a single-center retrospective study. Cardiovasc Intervent Radiol 40:510–519. https://doi.org/10.1007/s00270-016-1550-8

30.

Hayes SB, Johnson JN, Most Z, Elhammady MS, Yavagal D, Aziz-Sultan MA (2015) Transarterial embolization of intractable nasal and oropharyngeal hemorrhage using liquid embolic agents. J NeuroInterventional Surg 7:537–541. https://doi.org/10.1136/neurintsurg-2014-011101

31.

Chou W-C, Lu C-H, Lin G, Hong YS, Chen PT, Hsu HC, Chen JS, Yeh KY, Wang HM, Liaw CC (2007) Transcutaneous arterial embolization to control massive tumor bleeding in head and neck cancer: 63 patients' experiences from a single medical center. Support Care Cancer Off J Multinatl Assoc Support Care Cancer 15:1185–1190. https://doi.org/10.1007/s00520-007-0234-y

32.

Krol E, Brandt CT, Blakeslee-Carter J, Ahanchi SS, Dexter DJ, Karakla D, Panneton JM (2019) Vascular interventions in head and neck cancer patients as a marker of poor survival. J Vasc Surg 69:181–189. https://doi.org/10.1016/j.jvs.2018.04.058

33.

Wang B, Zu Q-Q, Liu X-L, Zhou CG, Xia JG, Zhao LB, Shi HB, Liu S (2016) Transarterial embolization in the management of intractable epistaxis: the angiographic findings and results based on etiologies. Acta Otolaryngol (Stockh) 136:864–868. https://doi.org/10.3109/00016489.2016.1164896

34.

Sautter NB, Smith TL (2016) Treatment of hereditary hemorrhagic telangiectasia-related epistaxis. Otolaryngol Clin N Am 49:639–654. https://doi.org/10.1016/j.otc.2016.02.010

35.

Xu L, Dahlstrom KR, Lairson DR, Sturgis EM (2019) Projected oropharyngeal carcinoma incidence among middle-aged US men. Head Neck 41:3226–3234. https://doi.org/10.1002/hed.25810

36.

Fakhry C, Zhang Q, Gillison ML, Nguyen-Tân PF, Rosenthal DI, Weber RS, Lambert L, Trotti AM III, Barrett WL, Thorstad WL, Yom SS, Wong SJ, Ridge JA, Rao SSD, Spencer S, Fortin A, Raben D, Harris J, le QT (2019) Validation of NRG oncology/RTOG-0129 risk groups for HPV-positive and HPV-negative oropharyngeal squamous cell cancer: implications for risk-based therapeutic intensity trials. Cancer 125:2027–2038. https://doi.org/10.1002/cncr.32025

37.

Muratori L, La Salvia A, Sperone P, Di Maio M (2019) Target therapies in recurrent or metastatic head and neck cancer: state of the art and novel perspectives. A systematic review. Crit Rev Oncol Hematol 139:41–52. https://doi.org/10.1016/j.critrevonc.2019.05.002

38.

Choudhri O, Schoen M, Mantha A, Feroze A, Ali R, Lawton MT, Do HM (2016) Increased risk for complications following diagnostic cerebral angiography in older patients: trends from the Nationwide Inpatient Sample (1999–2009). J Clin Neurosci 32:109–114. https://doi.org/10.1016/j.jocn.2016.04.007

39.

de Bonnecaze G, Gallois Y, Chaynes P, Bonneville F, Dupret-Bories A, Chantalat E, Serrano E (2017) Intractable epistaxis: which arteries are responsible? An angiographic study. Surg Radiol Anat SRA 39:1203–1207. https://doi.org/10.1007/s00276-017-1856-5

40.

Gold M (2016) Partially thrombosed internal maxillary pseudoaneurysm after gunshot wound. Craniomaxillofac Trauma Reconstr 9:335–337. https://doi.org/10.1055/s-0036-1582454
Ethics declarations
Conflict of interest
The authors declare that they have no conflict of interest.
IRB statement
This study was performed with IRB approval.
Additional information
Publisher's note
Springer Nature remains neutral with regard to jurisdictional claims in published maps and institutional affiliations.
Electronic supplementary material
Target vessels for endovascular therapy (EVT) in 10 treated patients. (DOCX 12 kb)
About this article
Cite this article
Travis Caton, M., Miskin, N. & Guenette, J.P. The role of computed tomography angiography as initial imaging tool for acute hemorrhage in the head and neck. Emerg Radiol (2020). https://doi.org/10.1007/s10140-020-01835-9
Received:

Accepted:

Published:
Keywords
Hemorrhage

Epistaxis

Computed tomography angiography

Angiography, digital subtraction

Carotid artery, external