Abstract
Purpose
To determine the negative predictive value of multidetector CT for radiographically occult fracture of the hip or pelvis in an elderly population presenting to the emergency department.
Methods
Two hundred thirty-seven elderly patients with suspected fracture were identified over a 5-year period with negative radiographs acquired in the emergency department followed by an index CT of the hip/pelvis within 24 h. There were 81 cases with a negative index CT, as determined by 2 musculoskeletal radiologists, and with some form of imaging follow-up (MRI, CT, or x-ray) performed within 18 months of the index CT. Follow-up imaging was reviewed by 2 musculoskeletal radiologists for the presence of fracture to determine the performance of the index CT. The electronic medical record was used to exclude the possibility of intervening trauma between the time of the index CT and follow-up imaging.
Results
There were 39 cases with follow-up imaging performed within 6 weeks of the negative index CT, and 42 with follow-up imaging within 6 weeks to 18 months of the negative index CT. Eight of 81 patients demonstrated a fracture on follow-up imaging, with 3 of 8 involving the femoral neck or intertrochanteric femur. The negative predictive value of the index CT for the detection of a radiographically occult hip or pelvic fracture was 90.1%. If considering only surgically relevant fractures (femoral neck and intertrochanteric fractures), the negative predictive value improved to 96.3%.
Conclusion
Computed tomography for occult hip fractures has a high negative predictive value but there are cases not detected with surgical implications.
Access options
Buy single article
Instant access to the full article PDF.
US$ 39.95
Tax calculation will be finalised during checkout.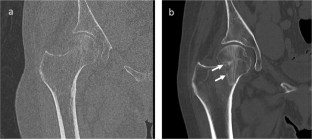 Data availability
All data is available in the manuscript.
References
1.

National Clinical Guideline Centre (UK) (2011) The management of hip Fracture in adults. Royal College of Physicians (UK), London

2.

The care of patients with fragility fracture (2007). British Orthopaedic Association

3.

Lorhan PH, Shelby EA (1964) Factors influencing mortality in hip fractures. Anesth Analg 43:539–543

4.

Kenzora JE, McCarthy RE, Lowell JD, Sledge CB (1984) Hip fracture mortality. Relation to age, treatment, preoperative illness, time of surgery, and complications. Clin Orthop Relat Res 45–56

5.

Lyons AR (1997) Clinical outcomes and treatment of hip fractures. Am J Med 103:51S–63S; discussion 63S-64S. https://doi.org/10.1016/s0002-9343(97)90027-9

6.

Cannon J, Silvestri S, Munro M (2009) Imaging choices in occult hip fracture. J Emerg Med 37:144–152. https://doi.org/10.1016/j.jemermed.2007.12.039

7.

Expert Panel on Musculoskeletal Imaging, Ross AB, Lee KS et al (2019) ACR Appropriateness Criteria® acute hip pain-suspected fracture. J Am Coll Radiol 16:S18–S25. https://doi.org/10.1016/j.jacr.2019.02.028

8.

Kellock TT, Khurana B, Mandell JC (2019) Diagnostic performance of CT for occult proximal femoral fractures: a systematic review and meta-analysis. AJR Am J Roentgenol 213:1324–1330. https://doi.org/10.2214/AJR.19.21510

9.

Thomas RW, Williams HLM, Carpenter EC, Lyons K (2016) The validity of investigating occult hip fractures using multidetector CT. Br J Radiol 89:20150250. https://doi.org/10.1259/bjr.20150250

10.

Rehman H, Clement RGE, Perks F, White T (2016) Imaging of occult hip fractures: CT or MRI? Injury 47:1297–1301. https://doi.org/10.1016/j.injury.2016.02.020

11.

Dunker D, Collin D, Göthlin JH, Geijer M (2012) High clinical utility of computed tomography compared to radiography in elderly patients with occult hip fracture after low-energy trauma. Emerg Radiol 19:135–139. https://doi.org/10.1007/s10140-011-1009-9

12.

Geijer M, Dunker D, Collin D, Göthlin JH (2012) Bone bruise, lipohemarthrosis, and joint effusion in CT of non-displaced hip fracture. Acta Radiol 53:197–202. https://doi.org/10.1258/ar.2011.110466

13.

Hakkarinen DK, Banh KV, Hendey GW (2012) Magnetic resonance imaging identifies occult hip fractures missed by 64-slice computed tomography. J Emerg Med 43:303–307. https://doi.org/10.1016/j.jemermed.2012.01.037

14.

Lubovsky O, Liebergall M, Mattan Y, Weil Y, Mosheiff R (2005) Early diagnosis of occult hip fractures MRI versus CT scan. Injury 36:788–792. https://doi.org/10.1016/j.injury.2005.01.024

15.

Mandell JC, Weaver MJ, Khurana B (2018) Computed tomography for occult fractures of the proximal femur, pelvis, and sacrum in clinical practice: single institution, dual-site experience. Emerg Radiol 25:265–273. https://doi.org/10.1007/s10140-018-1580-4

16.

Haubro M, Stougaard C, Torfing T, Overgaard S (2015) Sensitivity and specificity of CT- and MRI-scanning in evaluation of occult fracture of the proximal femur. Injury 46:1557–1561. https://doi.org/10.1016/j.injury.2015.05.006
Ethics declarations
Conflict of interest
Andrew Haims, Fracture Adjudication Committee member (consultant) Pfizer Inc.
Ethical approval
The IRB at our institution granted a waiver as this was a retrospective study.
Consent to participate
This was a retrospective study and was granted a waiver by our IRB.
Consent for publication
All authors consent to the publication of this manuscript.
Additional information
Publisher's note
Springer Nature remains neutral with regard to jurisdictional claims in published maps and institutional affiliations.
About this article
Cite this article
Haims, A.H., Wang, A., Yoo, B.J. et al. Negative predictive value of CT for occult fractures of the hip and pelvis with imaging follow-up. Emerg Radiol 28, 259–264 (2021). https://doi.org/10.1007/s10140-020-01834-w
Received:

Accepted:

Published:

Issue Date:
Keywords
Computerized tomography

Occult hip fracture