Abstract
Purpose
Newer classification systems for upper cervical spine trauma now include ligamentous injury in addition to fracture and dislocation patterns. Assessment of associated ligamentous injury, spinal cord injury (SCI), and blunt cerebrovascular injuries (BCVI) in patients with atlanto-occipital distraction injuries (AODI) are critical for management. We aim to determine the incidence of ligamentous injury, SCI, and BCVI in patients with AODI and assess how craniometrics perform in diagnosis of AODI.
Materials and methods
We performed an IRB-approved retrospective analysis of 35 cases of diagnosed AODI over a period of 8 years. Imaging was analyzed by two experienced neuroradiologists for craniometric measurements, ligamentous injury, SCI, and BCVI. Craniometric measurements were compared to 35 age-matched controls with normal atlanto-occipital joint.
Results
Out of 35 patients diagnosed with AODI, 27 were adults and 8 belonged to pediatric age group. The mean age of presentation was 29.4 years with a male/female ratio of 22:13. The basion-dental interval (70.4%) and the combined condylar sum (74.1%) were the most sensitive craniometric measurements for diagnosis of AODI. Alar ligament (83%) and the tectorial membrane (89%) injuries were most commonly injured ligaments. Three adult patients sustained SCI and 10 patients had BCVI. Majority of BCVI involved the internal carotid artery followed by the vertebral artery.
Conclusions
The combination of craniometric indices with assessment of ligamentous injuries provides higher diagnostic accuracy for AODI. Alar ligament and tectorial membrane injuries have high association with AODI. There is high association of SCI and BCVI in AODI survivors.
This is a preview of subscription content, log in to check access.
Access options
Buy single article
Instant access to the full article PDF.
US$ 39.95
Price includes VAT for USA
Subscribe to journal
Immediate online access to all issues from 2019. Subscription will auto renew annually.
US$ 99
This is the net price. Taxes to be calculated in checkout.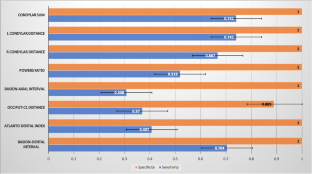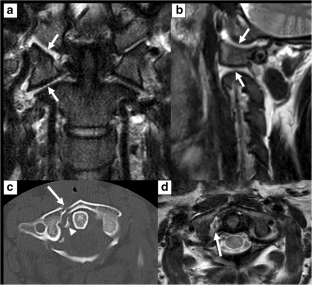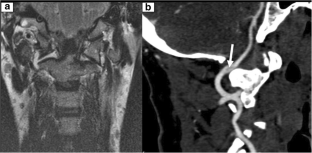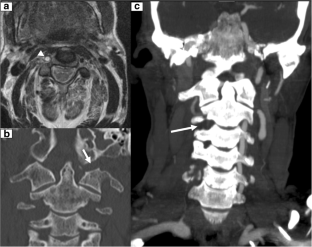 Abbreviations
AODI:

Atlanto-occipital dissociation injuries

SCI:

Spinal cord injury

BCVI:

Blunt cerebrovascular injury

NECT:

Non-enhanced CT

T2W:

T2-weighted

T1W:

T1-weighted
References
1.

Clark JG, Abdullah KG, Mroz TE, Steinmetz MP (2011) Biomechanics of the craniovertebral junction. Biomech Appl. https://doi.org/10.5772/21253

2.

Cooper Z, Gross JA, Lacey JM, Traven N, Mirza SK, Arbabi S (2010) Identifying survivors with traumatic craniocervical dissociation: a retrospective study. J Surg Res 160:3–8. https://doi.org/10.1016/j.jss.2009.04.004

3.

Traynelis VC, Marano GD, Dunker RO, Kaufman HH (1986) Traumatic atlanto-occipital dislocation. Case report. J Neurosurg 65:863–870. https://doi.org/10.3171/jns.1986.65.6.0863

4.

Rojas CA, Bertozzi JC, Martinez CR, Whitlow J (2007) Reassessment of the craniocervical junction: normal values on CT. Am J Neuroradiol 28:1819–1823. https://doi.org/10.3174/ajnr.A0660

5.

Gonzalez LF, Fiorella D, Crawford NR, Wallace RC, Feiz-Erfan I, Drumm D, Papadopoulos SM, Sonntag VKH (2004) Vertical atlantoaxial distraction injuries: radiological criteria and clinical implications. J Neurosurg Spine 1:273–280. https://doi.org/10.3171/spi.2004.1.3.0273

6.

Harris JH, Carson GC, Wagner LK (1994) Radiologic diagnosis of traumatic occipitovertebral dissociation: 1. Normal occipitovertebral relationships on lateral radiographs of supine subjects. AJR Am J Roentgenol 162:881–886. https://doi.org/10.2214/ajr.162.4.8141012

7.

Chang W, Alexander MT, Mirvis SE (2009) Diagnostic determinants of craniocervical distraction injury in adults. Am J Roentgenol 192:52–58. https://doi.org/10.2214/AJR.07.3993

8.

Biffl WL, Moore EE, Offner PJ, Brega KE, Franciose RJ, Burch JM (1999) Blunt carotid arterial injuries: implications of a new grading scale. J Trauma 47:845–853. https://doi.org/10.1097/00005373-199911000-00004

9.

Anderson PA, Montesano PX (1988) Morphology and treatment of occipital condyle fractures. Spine 13:731–736

10.

Dickman CA, Greene KA, Sonntag VK (1996) Injuries involving the transverse atlantal ligament: classification and treatment guidelines based upon experience with 39 injuries. Neurosurgery 38:44–50. https://doi.org/10.1097/00006123-199601000-00012

11.

Corcoran B, Linscott LL, Leach JL, Vadivelu S (2016) Application of normative occipital condyle–C1 interval measurements to detect atlanto-occipital injury in children. Am J Neuroradiol 37:958–962. https://doi.org/10.3174/ajnr.A4641

12.

Riascos R, Bonfante E, Cotes C, Guirguis M, Hakimelahi R, West C (2015) Imaging of atlanto-occipital and atlantoaxial traumatic injuries: what the radiologist needs to know. RadioGraphics 35:2121–2134. https://doi.org/10.1148/rg.2015150035

13.

Levine AM, Edwards CC (1985) The management of traumatic spondylolisthesis of the axis. JBJS 67:217–226

14.

Roy-Camille R, Saillant G, Judet T, de Botton G, Michel G (1980) Factors of severity in the fractures of the odontoid process (author's transl). Rev Chir Orthop Reparatrice Appar Mot 66:183–186

15.

aos_injury_classification_systems_poster_20200327_uppercervical.pdf

16.

Kasliwal MK, Fontes RB, Traynelis VC (2016) Occipitocervical dissociation—incidence, evaluation, and treatment. Curr Rev Musculoskelet Med 9:247–254. https://doi.org/10.1007/s12178-016-9347-6

17.

Tuli S, Tator CH, Fehlings MG, Mackay M (1997) Occipital condyle fractures. Neurosurgery 41:368–376; discussion 376-377. https://doi.org/10.1097/00006123-199708000-00006

18.

Werne S (1957) Studies in spontaneous atlas dislocation. Acta Orthop Scand 28:3–150. https://doi.org/10.3109/ort.1957.28.suppl-23.01

19.

Guigui P, Milaire M, Morvan G, Lassale B, Deburge A (1995) Traumatic atlantooccipital dislocation with survival: case report and review of the literature. Eur Spine J 4:242–247. https://doi.org/10.1007/BF00303419

20.

Imaizumi T, Sohma T, Hotta H et al (1995) Associated injuries and mechanism of atlanto-occipital dislocation caused by trauma. Neurol Med Chir (Tokyo) 35:385–391

21.

Adams VI (1992) Neck injuries: I. Occipitoatlantal dislocation—a pathologic study of twelve traffic fatalities. J Forensic Sci 37:556–564. https://doi.org/10.1520/JFS13262J

22.

Lopez AJ, Scheer JK, Leibl KE, Smith ZA, Dlouhy BJ, Dahdaleh NS (2015) Anatomy and biomechanics of the craniovertebral junction. Neurosurg Focus 38:E2. https://doi.org/10.3171/2015.1.FOCUS14807

23.

Joaquim AF, Patel AA (2014) Subaxial cervical spine trauma: evaluation and surgical decision-making. Glob Spine J 4:63–70. https://doi.org/10.1055/s-0033-1356764

24.

Biffl WL, Ray CE, Moore EE et al (2002) Treatment-related outcomes from blunt cerebrovascular injuries. Ann Surg 235:699–707

25.

Burlew CC, Biffl WL (2011) Imaging for blunt carotid and vertebral artery injuries. Surg Clin North Am 91:217–231. https://doi.org/10.1016/j.suc.2010.10.004

26.

Vilela MD, Kim LJ, Bellabarba C, Bransford RJ (2015) Blunt cerebrovascular injuries in association with craniocervical distraction injuries: a retrospective review of consecutive cases. Spine J 15:499–505. https://doi.org/10.1016/j.spinee.2014.10.012

27.

Kopelman TR, Leeds S, Berardoni NE, O'Neill PJ, Hedayati P, Vail SJ, Pieri PG, Feiz-Erfan I, Pressman MAS (2011) Incidence of blunt cerebrovascular injury in low-risk cervical spine fractures. Am J Surg 202:684–689. https://doi.org/10.1016/j.amjsurg.2011.06.033

28.

Cothren CC, Moore EE, Ray CE et al (2005) Screening for blunt cerebrovascular injuries is cost-effective. Am J Surg 190:849–854. https://doi.org/10.1016/j.amjsurg.2005.08.007
Ethics declarations
Conflict of interest
The authors declare that they have no conflict of interest.
Code availability (software application or custom code)
N/A
Additional information
Publisher's note
Springer Nature remains neutral with regard to jurisdictional claims in published maps and institutional affiliations.
About this article
Cite this article
Khanpara, S.D., McCarty, J.L., Schmitt, K.M. et al. Atlanto-occipital distraction injuries in survivors: craniometrics and associated ligamentous, spinal cord, and blunt cerebrovascular injury. Emerg Radiol (2020). https://doi.org/10.1007/s10140-020-01827-9
Received:

Accepted:

Published:
Keywords
Atlanto-occipital distraction injuries

craniocervical ligament injury

craniometric indices

spinal cord injury

blunt cerebrovascular injury