Abstract
Purpose
To evaluate the prevalence of epididymal injuries with scrotal trauma, review imaging appearance, clinical management, and outcomes.
Methods
In this retrospective study, the radiology report database was queried for scrotal ultrasounds containing keywords pertaining to trauma, from 1998 to 2019. Exams with no clinically documented trauma, exams with trauma > 1 year ago, and duplicate exams were excluded. Chart review was conducted for age, trauma mechanism, time interval between trauma and ultrasound, signs of infection, and clinical management. Reports were reviewed to record the presence of scrotal injury, traumatic epididymitis, or epididymal hematoma. Cases with epididymal injury underwent image review. Descriptive statistics, Fisher's exact test, and Mann-Whitney's U test were performed to evaluate for associations between clinical parameters and epididymal injury.
Results
Initial search yielded 385 exams. A total of 103 exams met inclusion criteria. Trauma mechanisms included straddle injury (35%), blunt scrotal trauma by ball or other object (29%), assault (28%), penetrating injury (4%), and fall (3%). Sixty-eight patients (66%) had scrotal injury on imaging. Twenty-six (25%) had epididymal injury. Thirteen were isolated to the epididymis, and 13 had associated testicular or extra-testicular findings. There were 12 cases of traumatic epididymitis and 14 epididymal hematomas. All epididymal injuries were managed non-operatively. A total of 7 were prescribed antibiotics, including 1 subject who otherwise had no evidence of infection.
Conclusion
Epididymal injury is encountered in 25% of scrotal ultrasounds for trauma evaluation. Traumatic epididymitis can be seen in 12%. It is important for radiologists to recognize this entity, as it can be mistaken for infection.
Access options
Buy single article
Instant access to the full article PDF.
USD 39.95
Price excludes VAT (USA)
Tax calculation will be finalised during checkout.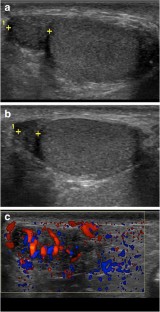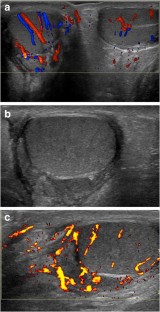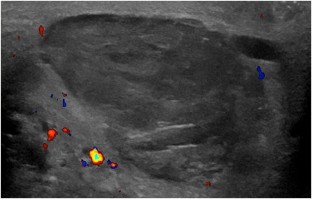 References
Grigorian A, Livingston JK, Schubl SD, Hasjim BJ, Mayers D, Kuncir E et al (2018) National analysis of testicular and scrotal trauma in the USA. Res Reports Urol. Dove Medical Press Ltd 10:51–56

McCormick CS, Dumais MG, Johnsen NV, Voelzke BB, Hagedorn JC (2020) Male genital trauma at a level 1 trauma center. World Journal of Urology. https://doi.org/10.1007/s00345-020-03115-0.

Buckley JC, McAninch JW (2006) Use of ultrasonography for the diagnosis of testicular injuries in blunt scrotal trauma. J Urol 175(1):175–178. https://doi.org/10.1016/S0022-5347(05)00048-0

Churukanti GR, Kim A, Rich DD, Schuyler KG, Lavien GD, Stein DM, Siddiqui MM (2016) Role of ultrasonography for testicular injuries in penetrating scrotal trauma. Urology 95:208–212. https://doi.org/10.1016/j.urology.2016.04.025

Rifkin MD, Kurtz AB, Goldberg BB (1954) Epididymis examined by ultrasound. Correlation with pathology. Radiology 151(1):187–190. https://doi.org/10.1148/radiology.151.1.6701313

Anatomy of the Testis | SEER Training 2020 [Internet]. [cited Apr 18]. Available from: https://training.seer.cancer.gov/testicular/anatomy/

Gordon LM, Stein SM, Ralls PW (1996) Traumatic epididymitis: evaluation with color Doppler sonography. Am J Roentgenol 166(6):1323–1325. https://doi.org/10.2214/ajr.166.6.8633441

Martinez-Pineiro L, Cerezo E, Cozar JM, Avellana JA, Moreno JA, Martinez-Pineiro JA (1992) Value of testicular ultrasound in the evaluation of blunt scrotal trauma without haematocele. Br J Urol 69(3):286–290. https://doi.org/10.1111/j.1464-410X.1992.tb15530.x

Lupetin AR, King W, Rich PJ, Lederman RB (1983) The traumatized scrotum. Ultrasound evaluation. Radiology 148(1):203–207. https://doi.org/10.1148/radiology.148.1.6856836

College of Radiology A. ACR–AIUM–SPR–SRU Practice Parameter for the Performance of Scrotal Ultrasound Examinations; ACR–AIUM–SPR–SRU practice parameter for the performance of scrotal ultrasound examinations

Hendry WF et al (2000) BJU Int. John Wiley & Sons, Ltd 86(3):344–348

Bhatt S, Dogra VS (2008) Role of US in testicular and scrotal trauma. Radiographics 28(6):1617–1629. https://doi.org/10.1148/rg.286085507

Epididymitis: an overview-American Family Physician [Internet]. [cited 2020 Apr 18]. Available from: https://www.aafp.org/afp/2016/1101/p723.html
Ethics declarations
This is a HIPAA-compliant, retrospective study approved by the Institutional Review Board. Informed consent was waived due to the retrospective nature of the study.
Conflict of interest
Lori M. Strachowski, MD, has received royalties from Elsevier and is a speaker for World Class CME. The remaining authors declare that they have no conflict of interest.
Additional information
Publisher's note
Springer Nature remains neutral with regard to jurisdictional claims in published maps and institutional affiliations.
About this article
Cite this article
Choi, H.H., Taliaferro, A.S., Strachowski, L.M. et al. How common are traumatic injuries to the epididymis? A study of prevalence, imaging appearance, and management implications. Emerg Radiol 28, 31–36 (2021). https://doi.org/10.1007/s10140-020-01814-0
Received:

Accepted:

Published:

Issue Date:

DOI: https://doi.org/10.1007/s10140-020-01814-0
Keywords