Abstract
Purpose
In the literature, no consensus exists about which CT protocol is to be adopted in patients who underwent high-energy blunt trauma. The aim of the study is to evaluate the additional value of the arterial phase in the CT assessment of vascular injuries of the liver.
Methods
Admission CT examinations for patients with traumatic injury of the liver due to high-energy blunt trauma, performed between 2011 and 2017 in two major trauma centres, were retrospectively reviewed. Images were analysed for presence or absence of liver parenchymal injury, intrahepatic contained vascular injuries and active bleeding in the arterial and portal venous phase of the CT study.
Results
Two hundred twelve patients have been identified. Parenchymal injuries were detected as isolated in 90.6% of cases, whereas they were associated with vascular injuries in 9.4% of cases: contained vascular injuries in 3.3% and active bleeding in 6.1%. Out of all parenchymal injuries detected on the CT portal venous phase, 90.5% were also detectable in the arterial phases (p < 0.0001). All of the contained vascular injuries were visible in the CT arterial phase, whereas they were detectable in 28.5% of cases also during the venous phase (p = 0.02). All 13 cases of active bleeding were detected on the CT venous phase, and 76.9% of these cases were also revealed in the arterial phase, thus confirming their arterial origin (p = 0.22).
Conclusion
The addiction of the arterial phase to the venous phase in the CT assessment of patients who underwent high-energy blunt trauma allows an accurate identification and characterization of traumatic vascular injuries, so distinguishing between patients suitable for conservative management and those requiring interventional or surgical treatment.
Access options
Buy single article
Instant access to the full article PDF.
US$ 39.95
Tax calculation will be finalised during checkout.
Subscribe to journal
Immediate online access to all issues from 2019. Subscription will auto renew annually.
US$ 119
Tax calculation will be finalised during checkout.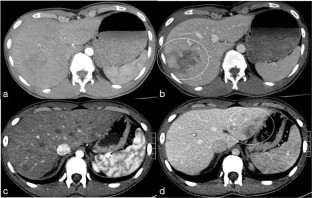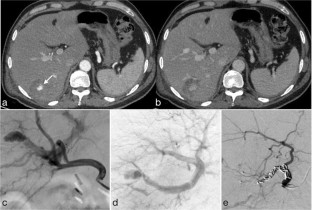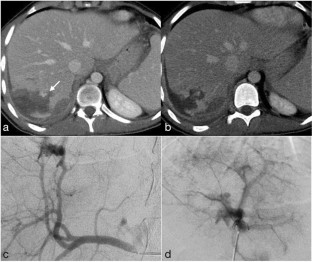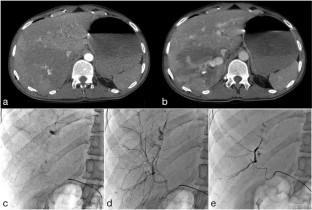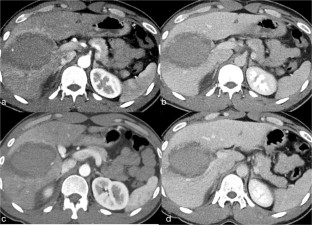 References
1.

Taourel P, Vernhet H, Suau A, Granier C, Lopez FM, Aufort S (2007) Vascular emergencies in liver trauma. Eur J Radiol 64(1):73–82

2.

Iacobellis F, Ierardi AM, Mazzei MA, Magenta Biasina A, Carrafiello G, Nicola R, Scaglione M (2016) Dual-phase CT for the assessment of acute vascular injuries in high-energy blunt trauma: the imaging findings and management implications. Br J Radiol 89(1061):20150952

3.

Cirocchi R, Trastulli S, Pressi E, Farinella E, Avenia S, Morales Uribe CH, Botero AM, Barrera LM (2015) Non-operative management versus operative management in high-grade blunt hepatic injury. Cochrane Database Syst Rev (8):CD010989

4.

Tugnoli G, Cinquantini F, Coniglio C, Biscardi A, Piccinini A, Gordini G, Di Saverio S (2015) "The best is nothing": non-operative management of hemodynamically stable grade V liver trauma. J Emerg Trauma Shock 8(4):239–240

5.

Barbier L, Calmels M, Lagadec M, Gauss T, Abback PS, Cauchy F, Ronot M, Soubrane O, Paugam-Burtz C (2018) Can we refine the management of blunt liver trauma? J Visc Surg

6.

Brillantino A, Iacobellis F, Festa P, Mottola A, Acampora C, Corvino F, Del Giudice S, Lanza M, Armellino M, Niola R, Romano L, Castriconi M, De Palma M, Noschese G (2019) Non-operative management of blunt liver trauma: safety, efficacy and complications of a standardized treatment protocol. Bull Emerg Trauma 7(1):49–54

7.

Graves JA, Hanna TN, Herr KD (2017) Pearls and pitfalls of hepatobiliary and splenic trauma: what every trauma radiologist needs to know. Emerg Radiol 24(5):557–568

8.

Boscak AR, Shanmuganathan K, Mirvis SE, Fleiter TR, Miller LA, Sliker C, Steenburg SD, Alexander M (2013) Optimizing trauma multidetector CT protocol for blunt splenic injury: need for arterial and portal venous phase scans. Radiology 268(1):79–88

9.

Melikian R, Goldberg S, Strife BJ, Halvorsen RA (2016) Comparison of MDCT protocols in trauma patients with suspected splenic injury: superior results with protocol that includes arterial and portal venous phase imaging. Diagn Interv Radiol 22(5):355–359

10.

Uyeda JW, LeBedis CA, Penn DR, Soto JA, Anderson SW (2014) Active hemorrhage and vascular injuries in splenic trauma: utility of the arterial phase in multidetector CT. Radiology 270(1):99–106

11.

Schueller G, Scaglione M, Linsenmaier U, Schueller-Weidekamm C, Andreoli C, De Vargas Macciucca M, Gualdi G (2015) The key role of the radiologist in the management of polytrauma patients: indications for MDCT imaging in emergency radiology. Radiol Med 120(7):641–654

12.

Soto JA, Anderson SW (2012) Multidetector CT of blunt abdominal trauma. Radiology. 265(3):678–693

13.

Beenen LF, Sierink JC, Kolkman S, Nio CY, Saltzherr TP, Dijkgraaf MG, Goslings JC (2014) Split bolus technique in polytrauma: a prospective study on scan protocols for trauma analysis. Acta Radiol 56(7):873–809

14.

Eichler K, Marzi I, Wyen H, Zangos S, Mack MG, Vogl TJ (2015) Multidetector computed tomography (MDCT): simple CT protocol for trauma patient. Clin Imaging 39(1):110–115

15.

Loupatatzis C, Schindera S, Gralla J, Hoppe H, Bittner J, Schröder R, Srivastav S, Bonel HM (2008) Whole-body computed tomography for multiple traumas using a triphasic injection protocol. Eur Radiol 18(6):1206–1214

16.

Nguyen D, Platon A, Shanmuganathan K, Mirvis SE, Becker CD, Poletti PA (2009) Evaluation of a single-pass continuous wholebody, 16-MDCT protocol for patients with polytrauma. Am J Roentgenol 192(1):3–10

17.

Yaniv G, Portnoy O, Simon D, Bader S, Konen E, Guranda L (2013) Revised protocol for whole-body CT for multi-trauma patients applying triphasic injection followed by a single-pass scan on a 64-MDCT. Clin Radiol 68(7):668–675

18.

Leung V, Jones H, Sastry A (2014) Can split bolus CT protocols prevent excess radiation dose in trauma CT? Clin Radiol 69:S23

19.

Scaglione M, Iaselli F, Sica G, Feragalli B, Nicola R (2015) Errors in imaging of traumatic injuries. Abdom Imaging 40(7):2091–2098

20.

Sica G, Guida F, Bocchini G, Codella U, Mainenti PP, Tanga M, Scaglione M (2012) Errors in imaging assessment of polytrauma patients. Semin Ultrasound CT MR 33(4):337–346

21.

Uyeda JW, Anderson SW, Sakai O, Soto JA (2010) CT angiography in trauma. Radiol Clin N Am 48(2):423–438 ix-x
Ethics declarations
Conflict of interest
The authors declare that they have no conflict of interest.
Ethical approval
All procedures performed in studies involving human participants were in accordance with the ethical standards of the institutional and/or national research committee and with the 1964 Helsinki declaration and its later amendments or comparable ethical standards.
Informed consent
Due to the retrospective nature of the study, an informed consent was not pursued.
Additional information
Publisher's note
Springer Nature remains neutral with regard to jurisdictional claims in published maps and institutional affiliations.
About this article
Cite this article
Iacobellis, F., Scaglione, M., Brillantino, A. et al. The additional value of the arterial phase in the CT assessment of liver vascular injuries after high-energy blunt trauma. Emerg Radiol 26, 647–654 (2019). https://doi.org/10.1007/s10140-019-01714-y
Received:

Accepted:

Published:

Issue Date:
Keywords
CT protocol

Blunt trauma

Liver trauma

Liver pseudoaneurysm

Active bleeding