Abstract
Objective
Determine the incidence of tibial neuropathy following talus fractures and CT's ability to stratify patients at risk for developing post-traumatic neuropathy.
Materials and methods
In this IRB-approved retrospective analysis, 71 talus fractures and 8 contralateral control ankle CTs were reviewed by one observer blinded to clinical information. CT evidence suggestive of tibial neurovascular bundle injury included nerve displacement, perineural fat effacement/edema, and bone touching nerve. The association between these CT findings and clinically evident tibial neuropathy was analyzed. A semi-quantitative likelihood score was assigned based on the degree of the CT findings around the nerve. Interobserver agreement was calculated between 2 other readers.
Results
Twenty-five percent of patients in this cohort had clinical evidence of tibial neuropathy. There was a high specificity (0.87–0.93) and negative predictive value (0.83–0.87), a moderate accuracy (0.80–0.82), but a lower sensitivity (0.33–0.56) associated with the CT findings. Among the CT findings, nerve displacement (p < 0.0001) and bone touching nerve (p = 0.01) were associated with tibial neuropathy. A likelihood score of 2–5 was associated (p = 0.007–0.015) with tibial neuropathy. The presence of tibial neuropathy and nerve recovery were not associated with hospital length of stay, while CT findings were. There was substantial agreement between the three readers: likelihood scores 2+ (k = 0.78) and 3+ (k = 0.72).
Conclusions
Tibial neuropathy occurs following talus fractures, and CT findings may help surgeons narrow down the number of patients requiring close neurological follow-up.
Access options
Buy single article
Instant access to the full article PDF.
US$ 39.95
Tax calculation will be finalised during checkout.
Subscribe to journal
Immediate online access to all issues from 2019. Subscription will auto renew annually.
US$ 119
Tax calculation will be finalised during checkout.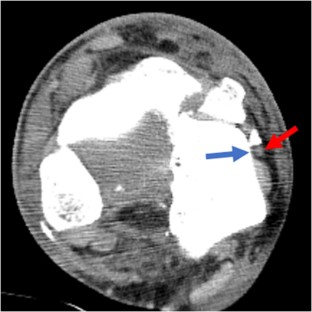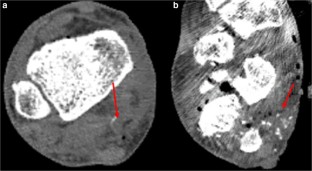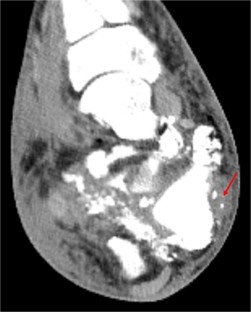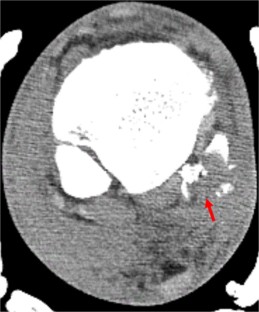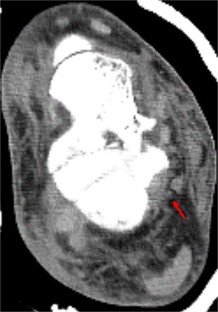 Abbreviations
CT:

Computed tomography

TN:

Tibial nerve

EMR:

Electronic medical records

LOS:

Length of stay
References
1.

Corey RM, Salazar DH (2017) Entrapment of the superficial peroneal nerve following a distal fibula fracture. Foot Ankle Spec 10:69–71

2.

Ellanti P, Mohamed KM, O'Shea K (2015) Superficial peroneal nerve incarceration in the fibular fracture site of a pronation external rotation type ankle fracture. Open Orthop J 9:214–217

3.

Haugsdal J, Dawson J, Phisitkul P (2013) Nerve injury and pain after operative repair of calcaneal fractures: a literature review. Iowa Orthop J 33:202–207

4.

Eastman JG, Firoozabadi R, Benirschke SK, Barei DP, Dunbar RP (2014) Entrapped posteromedial structures in pilon fractures. J Orthop Trauma 28:528–533

5.

Deng DF, Hamilton GA, Lee M, Rush S, Ford LA, Patel S (2012) Complications associated with foot and ankle arthroscopy. J Foot Ankle Surg 51:281–284

6.

Goss DA Jr, Reb CW, Philbin TM (2017) Anatomic structures at risk when utilizing an intramedullary nail for distal fibular fractures: a cadaveric study. Foot Ankle Int 38:916–920

7.

Iorio J, Criner K, Rehman S, Meizinger C, Haydel C (2014) Nerve and tendon injury with percutaneous fibular pinning: a cadaveric study. Injury 45:2051–2054

8.

Labronici PJ, Reder VR, de Araujo Marins Filho GF, Pires RE, Fernandes HJ, Mercadante MT (2016) Risk of injury to vascular-nerve bundle after calcaneal fracture: comparison among three techniques. Rev Bras Ortop 51:208–213

9.

Rbia N, van der Vlies CH, Cleffken BI, Selles RW, Hovius SER, Nijhuis THJ (2017) High prevalence of chronic pain with neuropathic characteristics after open reduction and internal fixation of ankle fractures. Foot Ankle Int 38:987–996

10.

Bhatia A, Bril V, Brull RT, Perruccio A, Wijeysundera D, Alvi S, Lau J, Gandhi R, Mahomed N, Davis AM (2016) Study protocol for a pilot, randomised, double-blinded, placebo controlled trial of perineural local anaesthetics and steroids for chronic post-traumatic neuropathic pain in the ankle and foot: the PREPLANS study. BMJ Open 6:e012293

11.

Girolami M, Galletti S, Montanari G, Mignani G, Schuh R, Ellis S, di Motta D, D'Apote G, Bevoni R (2013) Common peroneal nerve palsy due to hematoma at the fibular neck. J Knee Surg 26(Suppl 1):S132–S135

12.

Giuseffi SA, Bishop AT, Shin AY, Dahm DL, Stuart MJ, Levy BA (2010) Surgical treatment of peroneal nerve palsy after knee dislocation. Knee Surg Sports Traumatol Arthrosc 18:1583–1586

13.

Krych AJ, Giuseffi SA, Kuzma SA, Stuart MJ, Levy BA (2014) Is peroneal nerve injury associated with worse function after knee dislocation? Clin Orthop Relat Res 472:2630–2636

14.

Medina O, Arom GA, Yeranosian MG, Petrigliano FA, McAllister DR (2014) Vascular and nerve injury after knee dislocation: a systematic review. Clin Orthop Relat Res 472:2621–2629

15.

Samson D, Ng CY, Power D (2016) An evidence-based algorithm for the management of common peroneal nerve injury associated with traumatic knee dislocation. EFORT Open Rev 1:362–367

16.

Woodmass JM, Romatowski NP, Esposito JG, Mohtadi NG (2015) Longino PD. a systematic review of peroneal nerve palsy and recovery following traumatic knee dislocation. Knee Surg Sports Traumatol Arthrosc 23:2992–3002

17.

Kizilay YO, Aytan O (2017) Low-energy Hawkins type III talar neck fracture-dislocation with neurovascular and tendon entrapment in a pediatric patient. J Foot Ankle Surg 56:1288–1291

18.

Redfern DJ, Sauve PS, Sakellariou A (2003) Investigation of incidence of superficial peroneal nerve injury following ankle fracture. Foot Ankle Int 24:771–774

19.

Mitsiokapa EA, Mavrogenis AF, Antonopoulos D, Tzanos G, Papagelopoulos PJ (2012) Common peroneal nerve palsy after grade I inversion ankle sprain. J Surg Orthop Adv 21:261–265

20.

Nitz AJ, Dobner JJ, Kersey D (1985) Nerve injury and grades II and III ankle sprains. Am J Sports Med 13:177–182

21.

Ballard DH, Campbell KJ, Blanton LE, Williams JT, Sangster G, Hollister AM, Simoncini AA (2016) Tendon entrapments and dislocations in ankle and hindfoot fractures: evaluation with multidetector computed tomography. Emerg Radiol 23:357–363

22.

Fokin A Jr, Huntley SR, Summers SH, Lawrie CM, Miranda AD, Caban-Martinez AJ, Steinlauf SD (2016) Computed tomography assessment of peroneal tendon displacement and posteromedial structure entrapment in pilon fractures. J Orthop Trauma 30:627–633

23.

Golshani A, Zhu L, Cai C, Beckmann NM (2017) Incidence and association of CT findings of ankle tendon injuries in patients presenting with ankle and hindfoot fractures. AJR Am J Roentgenol 208:373–379

24.

Rosenberg ZS, Feldman F, Singson RD (1986) Peroneal tendon injuries: CT analysis. Radiology 161:743–748

25.

Rosenberg ZS, Feldman F, Singson RD, Price GJ (1987) Peroneal tendon injury associated with calcaneal fractures: CT findings. AJR Am J Roentgenol 149:125–129

26.

Thordarson DB, Shean CJ (2005) Nerve and tendon lacerations about the foot and ankle. J Am Acad Orthop Surg 13:186–196

27.

Tresley J, Subhawong TK, Singer AD, Clifford PD (2016) Incidence of tendon entrapment and dislocation with calcaneus and pilon fractures on CT examination. Skelet Radiol 45:977–988

28.

Crim J, Enslow M, Smith J (2013) CT assessment of the prevalence of retinacular injuries associated with hindfoot fractures. Skelet Radiol 42:487–492

29.

Kim DH, Ryu S, Tiel RL, Kline DG (2003) Surgical management and results of 135 tibial nerve lesions at the Louisiana State University Health Sciences Center. Neurosurgery. 53(5):1114–1124

30.

Dodd A, Lefaivre KA (2015) Outcomes of talar neck fractures: a systematic review and meta-analysis. J Orthop Trauma 29:210–215

31.

Hawkins LG (1970) Fractures of the neck of the talus. J Bone Joint Surg Am 52:991–1002

32.

Jordan RK, Bafna KR, Liu J, Ebraheim NA (2017) Complications of talar neck fractures by Hawkins classification: a systematic review. J Foot Ankle Surg 56:817–821
Ethics declarations
This was an IRB-approved study.
Conflict of interest
The authors declare that they have no conflict of interest.
Additional information
Publisher's note
Springer Nature remains neutral with regard to jurisdictional claims in published maps and institutional affiliations.
About this article
Cite this article
Singer, A.D., Huynh, T., Wong, P. et al. CT can stratify patients as low risk for tibial neuropathy following a talus fracture. Emerg Radiol 26, 541–548 (2019). https://doi.org/10.1007/s10140-019-01706-y
Received:

Accepted:

Published:

Issue Date:
Keywords
CT

Tibial nerve

Pain

Talus

Fracture