Abstract
Craniotomy and craniectomy are widely performed emergent neurosurgical procedures and are the prescribed treatment for a variety of conditions from trauma to cancer. It is vital for the emergency radiologist to be aware of expected neuroimaging findings in post-craniotomy and craniectomy patients in order to avoid false positives. It is just as necessary to be familiar with postsurgical complications in these patients to avoid delay in lifesaving treatment. This article will review the commonly encountered normal and abnormal findings in post-craniotomy and craniectomy patients. The expected postoperative CT and MRI appearance of these procedures are discussed, followed by complications. These include hemorrhage, tension pneumocephalus, wound/soft tissue infection, bone flap infection and extradural abscesses. Complications specifically related to craniectomies include extracranial herniation, external brain tamponade, paradoxical herniation, and trephine syndrome.
This is a preview of subscription content, log in to check access.
Access options
Buy single article
Instant access to the full article PDF.
US$ 39.95
Tax calculation will be finalised during checkout.
Subscribe to journal
Immediate online access to all issues from 2019. Subscription will auto renew annually.
US$ 99
Tax calculation will be finalised during checkout.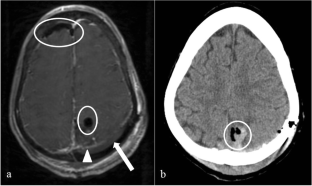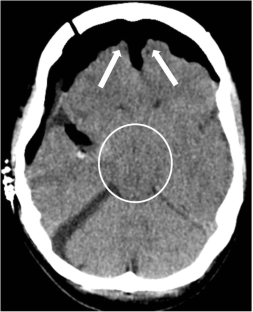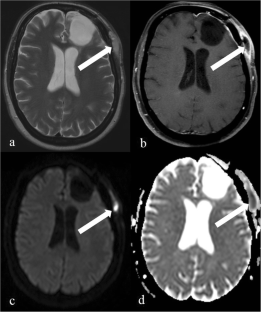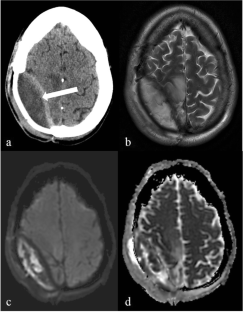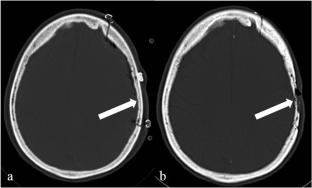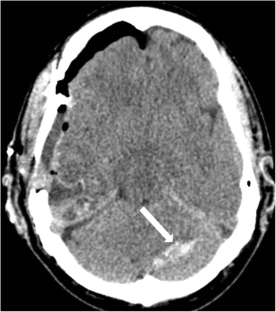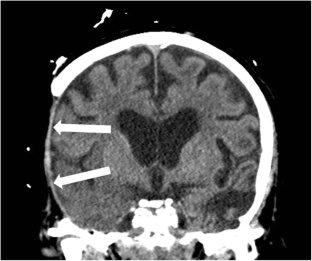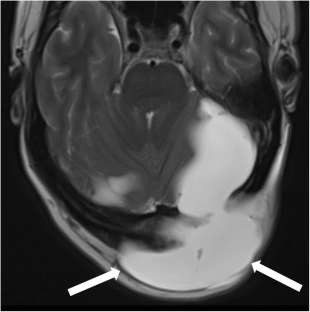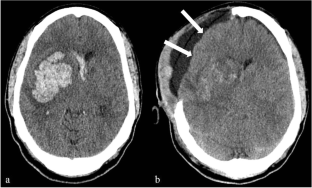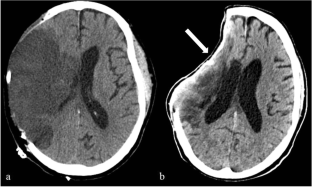 References
1.

Donovan DJ et al (2006) Cranial burr holes and emergency craniotomy: review of indications and technique. J Neurosurg 122(5):1113–1119

2.

Gooch MR, Gin GE, Kenning TJ, German JW (2009) Complications of cranioplasty following decompressive craniectomy: analysis of 62 cases. Neurosurg Focus 26(6):E9

3.

Lonjaret L, Guyonnet M, Berard E, Vironneau M, Peres F, Sacrista S, Ferrier A, Ramonda V, Vuillaume C, Roux FE, Fourcade O, Geeraerts T (2017) Postoperative complications after craniotomy for brain tumor surgery. Anaesth Crit Care Pain Med 36(4):213–218

4.

Sinclair AG, Scoffings DJ (2010) Imaging of the post-operative cranium. Radiographics 30(2):461–482

5.

Elster AD, DiPersio DA (1990) Cranial postoperative site: assessment with contrast-enhanced MR imaging. Radiology 174(1):93–98

6.

Sato N, Bronen RA, Sze G, Kawamura Y, Coughlin W, Putman CM, Spencer DD (1997) Postoperative changes in the brain: MR imaging findings in patients without neoplasms. Radiology 204(3):839–846

7.

Meyding-Lamadé U et al (1993) Accelerated methemoglobin formation: potential pitfall in early postoperative MRI. Neuroradiology 35(3):178–180

8.

Reasoner DK, Todd MM, Scamman FL, Warner DS (1994) The incidence of pneumocephalus after supra-tentorial craniotomy: observations on the disappearance of intracranial air. Anesthesiology 80(5):1008–1012

9.

Carrau RL et al (1991) Computerized tomography and magnetic resonance imaging following cranial base surgery. Laryngoscope 101(9):951–959

10.

Henegar MM, Moran CJ, Silbergeld DL (1996) Early postoperative magnetic resonance imaging following nonneoplastic cortical resection. J Neurosurg 84(2):174–179

11.

Michel SJ (2004) The Mount Fuji sign. Radiology 232(2):449–450

12.

Shi ZH, Xu M, Wang YZ, Luo XY, Chen GQ, Wang X, Wang T, Tang MZ, Zhou JX (2017) Post-craniotomy intracranial infection in patients with brain tumors: a retrospective analysis of 5723 consecutive patients. Br J Neurosurg 31(1):5–9

13.

Delgado-López PD, Martín-Velasco V, Castilla-Díez JM, Galacho-Harriero AM, Rodríguez-Salazar A (2009) Preservation of bone flap after craniotomy infection. Neurocirugia (Astur) 20(2):124–131

14.

Hlavin ML et al (1994) Intracranial suppuration: a modern decade of postoperative subdural empyema and epidural abscess. Neurosurgery 34(6):974–981

15.

Farrell CJ, Hoh BL, Pisculli ML, Henson JW, Barker FG II, Curry WT Jr (2008) Limitations of diffusion-weighted imaging in the diagnosis of postoperative infections. Neurosurgery 62(3):577–583

16.

Mollman HD, Haines SJ (1986) Risk factors for postoperative neurosurgical wound infection: a case-control study. J Neurosurg 64(6):902–906

17.

Lanzieri CF, Som PM, Sacher M, Solodnik P, Moore F (1986) The postcraniectomy site: CT appearance. Radiology 159(1):165–170

18.

Seifman MA, Lewis PM, Rosenfeld JV, Hwang PYK (2011) Postoperative intracranial haemorrhage: a review. Neurosurg Rev 34:393–407

19.

Jeon JS et al (2006) Immediate postoperative epidural hematomas adjacent to the craniotomy site. J Korean Neurosurg Soc 39(5):335–339

20.

Desai VR et al (2016) Incidence of intracranial hemorrhage after a cranial operation. Cureus 8(5):e616

21.

Pandey P, Madhugiri VS, Sattur MG, Devi B I (2008) Remote supratentorial extradural hematoma following posterior fossa surgery. Childs Nerv Syst 24(7):851–854

22.

Wolfsberger S, Gruber A, Czech T (2004) Multiple supra-tentorial epidural hematomas after posterior fossa surgery. Neurosurg Rev 27(2):128–132

23.

Fukamachi A, Koizumi H, Nukui H (1985) Postoperative intracerebral hemorrhages: a survey of computed tomographic findings after 1074 intracranial operations. Surg Neurol 23(6):575–580

24.

Heit JJ, Iv M, Wintermark M (2017) Imaging of intracranial hemorrhage. J Stroke 19(1):11–27

25.

Stiver SI (2009) Complications of decompressive craniectomy for traumatic brain injury. Neurosurg Focus 26(6):E7

26.

Chauhan NS, Banday IA, Morey P, Deshmukh A (2017) External brain tamponade: a rare complication of decompressive craniectomy. Intern Emerg Med 12:117–118

27.

Aarabi B, Hesdorffer DC, Ahn ES, Aresco C, Scalea TM, Eisenberg HM (2006) Outcome following decompressive craniectomy for malignant swelling due to severe head injury. J Neurosurg 104:469–479

28.

Akins PT, Guppy KH (2008) Sinking skin flaps, paradoxical herniation, and external brain tamponade: a review of decompressive craniectomy management. Neurocrit Care 9(2):269–276

29.

Han PY, Kim JH, Kang HI, Kim JS (2008) Syndrome of the sinking skin-flap secondary to the ventriculoperitoneal shunt after craniectomy. J Korean Neurosurg Soc 43(1):51–53
Ethics declarations
Conflict of interest
The authors declare that they have no conflict of interest.
About this article
Cite this article
Chughtai, K.A., Nemer, O.P., Kessler, A.T. et al. Post-operative complications of craniotomy and craniectomy. Emerg Radiol 26, 99–107 (2019). https://doi.org/10.1007/s10140-018-1647-2
Received:

Accepted:

Published:

Issue Date:
Keywords
Craniotomy

Tension pneumocephalus

Abscess

Trephine syndrome