Abstract
Acute neurovascular events, though rare, can complicate pregnancy and postpartum period. It is important to be aware of these clinical conditions for reducing maternal and fetal morbidity and mortality. In this review, we present a few important neurovascular emergencies and their imaging manifestations by various imaging modalities—computed tomography (CT), magnetic resonance imaging (MRI), and digital subtraction angiography (DSA)—which presented at our institution in the peripartum period.
Access options
Buy single article
Instant access to the full article PDF.
USD 39.95
Price includes VAT (USA)
Tax calculation will be finalised during checkout.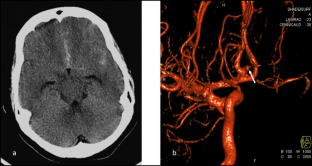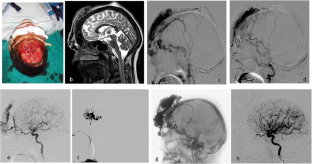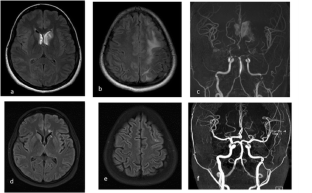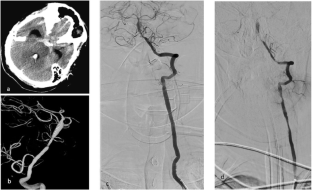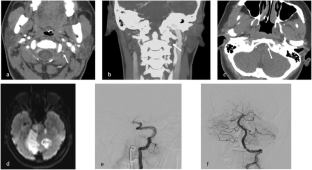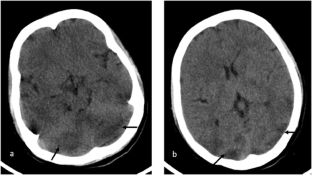 References
1.

Hosley C, McCullough L (2011) Acute neurological issues in pregnancy and the peripartum. Neurohospitalist 1(2):104–116

2.

American College of Obstetricians and Gynecologists' Committee on Health Care for Underserved Women (2016) Committee Opinion No. 656 Summary. Obstet Gynecol 127(2):418

3.

Shaw P, Duncan A, Vouyouka A, Ozsvath K (2011) Radiation exposure and pregnancy. J Vasc Surg 53(1):28S–34S

4.

He S, Mack W (2014) Considering radiation exposure during diagnostic and therapeutic procedures for arteriovenous malformations in the setting of pregnancy. World Neurosurg 81(1):22–24

5.

Agarwal N, Guerra J, Gala N et al (2014) Current treatment options for cerebral arteriovenous malformations in pregnancy: a review of the literature. World Neurosurg 81(1):83–90

6.

Delfyett W, Fetzer D (2012) Imaging of neurologic conditions during pregnancy and the perinatal period. Neurol Clin 30(3):791–822

7.

Dineen R, Banks A, Lenthall R (2005) Imaging of acute neurological conditions in pregnancy and the puerperium. Clin Radiol 60(11):1156–1170

8.

Liu X, Wang S, Zhao Y, Teo M, Guo P, Zhang D, Wang R, Cao Y, Ye X, Kang S, Zhao JZ (2014) Risk of cerebral arteriovenous malformation rupture during pregnancy and puerperium. Neurology 82(20):1798–1803

9.

Chowdhury F, Haque M, Kawsar K, Sarker M, Momtazul Haque A (2013) Surgical management of scalp arterio-venous malformation and scalp venous malformation: an experience of eleven cases. Indian J Plast Surg 46(1):98–107

10.

Ducros A (2012) Reversible cerebral vasoconstriction syndrome. Lancet Neurol 11(10):906–917

11.

Miller T, Shivashankar R, Mossa-Basha M, Gandhi D (2015) Reversible cerebral vasoconstriction syndrome, part 1: epidemiology, pathogenesis, and clinical course. Am J Neuroradiol 36(8):1392–1399

12.

Hauenstein E, Frank H, Bauer J, Schneider K, Fischer T (2010) Takayasu's arteritis in pregnancy: review of literature and discussion. J Perinat Med 38(1):55–62

13.

Cunningham T, Rajesh U (2012) Management of a pregnancy with underlying fibromuscular dysplasia with a history of stroke and carotid artery dissection. Arch Dis Child Fetal Neonatal Ed 97(Suppl 1):A54.2–A5A54

14.

Nolte J, Rutherford R, Nawaz S, Rosenberger A, Speers W, Krupski W (1995) Arterial dissections associated with pregnancy. J Vasc Surg 21(3):515–520

15.

Bhatia S, Kapoor A, Sharma A, Gupta R, Kataria S (2014) Cerebral encephalopathy with extrapontine myelinolysis in a case of postpartum hypernatremia. Indian J Radiol Imaging 24(1):57–60

16.

Shetty N, Achar S, Joseph T (2011) Posterior reversible encephalopathy syndrome at term pregnancy. Indian J Anaesth 55(4):399–401
Ethics declarations
Conflict of interest
The authors declare that they have no conflict of interest.
About this article
Cite this article
Bhattacharya, K., Pendharkar, H. Imaging of neurovascular emergencies in pregnancy and puerperium. Emerg Radiol 25, 435–440 (2018). https://doi.org/10.1007/s10140-018-1600-4
Received:

Accepted:

Published:

Issue Date:
Keywords
Peripartum

Neurovascular emergencies

Digital subtraction angiography