Abstract
Intracranial gas is commonly detected on neuroimaging. The recognition of this finding can at first blush be unsettling. Being able to localize this gas to a specific compartment: intraarterial, intravenous, intraparenchymal, subdural, epidural, subarachnoid and intraventricular, is the first step in determining the importance of the gas. Determination of the route of entry: through the skull, extension from a paranasal sinus or the mastoid air cells, via the spine, or trans-vascular, is the other important factor in determining potential consequences. Understanding these parameters allows for a confident determination of etiology. More importantly, it generally provides guidance as to what must be done: either to disregard (e.g., subarachnoid gas following lumbar puncture and intravenous gas following IV placement), obtain follow-up (e.g., postoperative gas), or administer emergent treatment (e.g., intraarterial gas and epidural abscess). In this review, we use gas location and route of entry to classify the various causes of pneumocephalus and provide examples of each of these etiologies.
This is a preview of subscription content,
to check access.
Access this article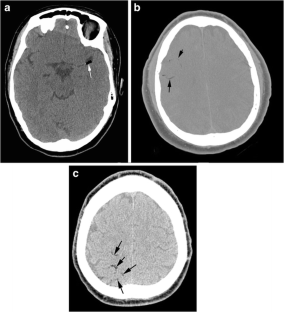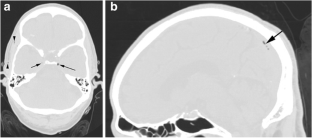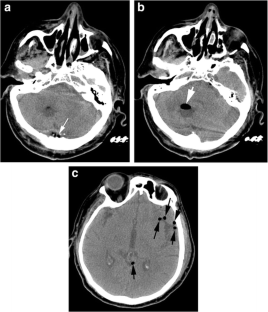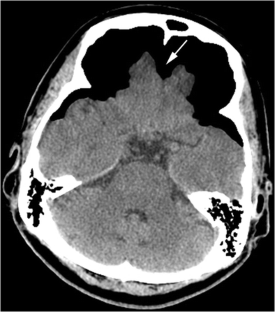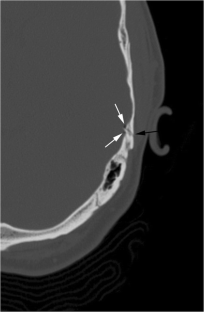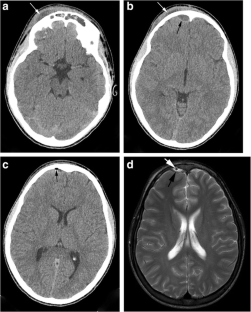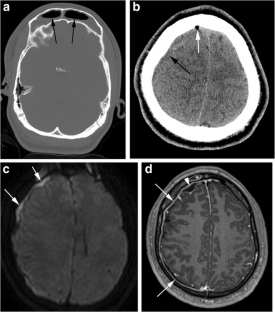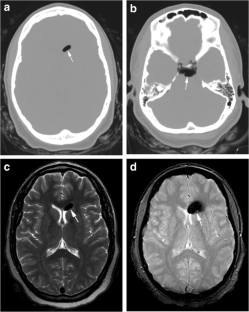 References
Osborn AG, Daines JH, Wing SD, Anderson RE (1978) Intracranial air on computerized tomography. J Neurosurg 48(3):355–359

McCarthy CJ, Behravesh S, Naidu SG, Oklu R (2017) Air embolism: diagnosis, clinical management and outcomes. Diagnostics (Basel) 7(1):5

Rocha RD, Azevedo AA, Falsarella PM, Rahal A Jr, Garcia RG (2015) Cerebral air embolism during CT-guided lung biopsy. Thorax 70(11):1099–1100

Mansour A, AbdelRaouf S, Qandeel M, Swaidan M (2005) Acute coronary artery air embolism following CT-guided lung biopsy. Cardiovasc Intervent Radiol 28(1):131–134

Akins PT, Amar AP, Pakbaz RS, Fields JD, SWIFT Investigators (2014) Complications of endovascular treatment for acute stroke in the SWIFT trial with solitaire and Merci devices. AJNR Am J Neuroradiol 35(3):524–528

Madden D, Ljubkovic M, Dujic Z (2015) Intrapulmonary shunt and SCUBA diving: another risk factor? Echocardiography 32(Suppl 3):S205–S210

Mirski MA, Lele AV, Fitzsimmons L, Toung TJ (2007) Diagnosis and treatment of vascular air embolism. Anesthesiology 106(1):164–177

Smith DJ (1996) Diagnosis and management of diving accidents. Med Sci Sports Exerc 28(5):587–590

Blanc P, Boussuges A, Henriette K, Sainty JM, Deleflie M (2002) Iatrogenic cerebral air embolism: importance of an early hyperbaric oxygenation. Intensive Care Med 28(5):559–563

Belton PJ, Nanda A, Alqadri SL, Khakh GS, Chandrasekaran PN, Newey C, Humphries WE (2017) Paradoxical cerebral air embolism causing large vessel occlusion treated with endovascular aspiration. J Neurointerv Surg 9(4):e10

Rubinstein D, Symonds D (1994) Gas in the cavernous sinus. AJNR Am J Neuroradiol 15(3):561–566

Tran P, Reed EJ, Hahn F, Lambrecht JE, McClay JC, Omojola MF (2010) Incidence, radiographical features, and proposed mechanism for pneumocephalus from intravenous injection of air. West J Emerg Med 11(2):180–185

Rubinstein D, Dangleis K, Damiano TR (1996) Venous air emboli identified on head and neck CT scans. J Comput Assist Tomogr 20(4):559–562

Pavlovich P, Looi A, Rootman J (2006) Septic thrombosis of the cavernous sinus: two different mechanisms. Orbit 25(1):39–43

Curnes JT, Creasy JL, Whaley RL, Scatliff JH (1987) Air in the cavernous sinus: a new sign of septic cavernous sinus thrombosis. AJNR Am J Neuroradiol 8(1):176–177

Minks DP, Porte M, Jenkins N (2013) Acute mastoiditis—the role of radiology. Clin Radiol 68(4):397–405

Levine SR, Twyman RE, Gilman S (1988) The role of anticoagulation in cavernous sinus thrombosis. Neurology 38(4):517–522

Zuurbier SM, Coutinho JM, Stam J, Canhão P, Barinagarrementeria F, Bousser MG, Ferro JM, ISCVT Investigators (2016) Clinical outcome of anticoagulant treatment in head or neck infection-associated cerebral venous thrombosis. Stroke 47(5):1271–1277

Sinclair AG, Scoffings DJ (2010) Imaging of the post-operative cranium. Radiographics 30(2):461–482

Toung TJ, McPherson RW, Ahn H, Donham RT, Alano J, Long D (1986) Pneumocephalus: effects of patient position on the incidence and location of aerocele after posterior fossa and upper cervical cord surgery. Anesth Analg 65(1):65–70

Reasoner DK, Todd MM, Scamman FL, Warner DS (1994) The incidence of pneumocephalus after supratentorial craniotomy. Observations on the disappearance of intracranial air. Anesthesiology 80(5):1008–1012

Ihab Z (2012) Pneumocephalus after surgical evacuation of chronic subdural hematoma: is it a serious complication? Asian J Neurosurg 7(2):66–74

Sarkiss CA, Soleymani T, Caplan JM, Dorsi MJ, Huang J (2013) Intracerebral abscess with dissecting pneumocephalus caused by a gas-producing gram-positive rod following craniotomy for glioblastoma multiforme resection. J Clin Neurosci 20(11):1625–1627

Dashti SR, Baharvahdat H, Spetzler RF, Sauvageau E, Chang SW, Stiefel MF, Park MS, Bambakidis NC (2008) Operative intracranial infection following craniotomy. Neurosurg Focus 24(6):E10

Michel SJ (2004) The Mount Fuji sign. Radiology 232(2):449–450

Pillai P, Sharma R, MacKenzie L, Reilly EF, Beery PR 2nd, Papadimos TJ, Stawicki SP (2017) Traumatic tension pneumocephalus—two cases and comprehensive review of literature. Int J Crit Illn Inj Sci 7(1):58–64

Lindner SA, Pollack IF, Abdel-Hamid H, Zuccoli G (2015) A rare cause of reversible ophthalmoplegia: tension pneumocephalus with brainstem compression. Neuroradiology 57(7):761–762

Steudel WI, Hacker H (1986) Prognosis, incidence and management of acute traumatic intracranial pneumocephalus. A retrospective analysis of 49 cases. Acta Neurochir 80(3–4):93–99

Ulano AC, Vedantham S, Takhtani D (2017) Revisiting the indirect signs of a temporal bone fracture: air, air, everywhere. Emerg Radiol 24(5):497–503

Rao V, Fredriksli O, Gulati S (2015) Post-traumatic epidural tension pneumocephalus: a case report. J Med Case Rep 9:151

Krischek B, Vescan A, Zweifel C, Zadeh G, Gentili F (2013) Endonasal endoscopic release of a delayed tension pneumocephalus after craniofacial resection of a tumor of the anterior skull base. J Neurol Surg A Cent Eur Neurosurg 74(Suppl 1):e271–e274

Eftekhar B, Ghodsi M, Nejat F, Ketabchi E, Esmaeeli B (2004) Prophylactic administration of ceftriaxone for the prevention of meningitis after traumatic pneumocephalus: results of a clinical trial. J Neurosurg 101(5):757–761

Durand B, Poje C, Dias M (1998) Sinusitis-associated epidural abscess presenting as posterior scalp abscess—a case report. Int J Pediatr Otorhinolaryngol 43(2):147–151

Byrne N, Plonsker JH, Tan LA, Byrne RW, Munoz LF (2017) Orbital cellulitis with pansinusitis and subdural empyema. J Emerg Med 52(2):e41–e43

Zhang Z, Fleisher-Black J, Goldstein D, Preblick C, Heller M (2015) Subdural empyema with pneumocephaly from acute mastoiditis in a healthy adult: a rare complication of a rare disease. Am J Emerg Med 33(8):1112.e3-4

Pradilla G, Ardila GP, Hsu W, Rigamonti D (2009) Epidural abscesses of the CNS. Lancet Neurol 8(3):292–300

Burns J, Scheinfeld MH (2013) Back to the scanner: expected and unexpected imaging findings following spinal puncture and access. Emerg Radiol 20(4):291–297

Aida S, Taga K, Yamakura T, Endoh H, Shimoji K (1998) Headache after attempted epidural block: the role of intrathecal air. Anesthesiology 88(1):76–81

Giraud P, Chauvet S (2013) Secondary pneumocephalus after lumbar puncture: an unusual complication of spontaneous intracranial hypotension? Clin Neurol Neurosurg 115(10):2204–2206

Dhamija B, Saxena A (2011) Pneumocephalus—a possible cause of post-spinal surgery confusion. J R Soc Med 104(2):81–83

Kara H, Akinci M, Degirmenci S, Bayir A, Ak A (2015) Traumatic pneumorrhachis: 2 cases and review of the literature. Am J Emerg Med 33(6):861.e1–861.e3

Velickovic IA, Pavlik R (2007) Pneumocephalus complicated by postdural puncture headache after unintentional dural puncture. Anesth Analg 104(3):747–748

Sherer DM, Onyeije CI, Yun E (1999) Pneumocephalus following inadvertent intrathecal puncture during epidural anesthesia: a case report and review of the literature. J Matern Fetal Med 8(3):138–140

Pirris SM, Nottmeier EW (2013) Symptomatic pneumocephalus associated with lumbar dural tear and reverse trendelenburg positioning: a case report and review of the literature. Case Rep Neurol Med 2013:792168

Schömig B, Seliger C, Schulte-Mattler W, Angstwurm K, Fuchs K, Bogdahn U, Schlachetzki F (2016) Clinical reasoning: pneumocephalus and pneumorrhachis in a 67-year-old man. Neurology 86(21):e218–e221

Kazimirko DN, Parker EE, Joyner DA, Berry TH, Taylor CS, Nichols TA, Khan MA (2016) An unusual cause of acute headache: subarachnoid free air secondary to spontaneous bronchopleurodurosubarachnoid fistula from a Pancoast tumor. Radiol Case Rep 11(3):238–241

Marchant B, Sheele JM (2013) A novel cause of pneumocephalus. J Emerg Med 44(6):e381–e383

Miyaji Y, Kurokawa T, Tanaka F, Koyama K (2013) Meningitis with pneumocephalus originating from a sacral pressure ulcer. Intern Med 52(18):2163–2164

Ani CC, Ismaila BO (2016) Tension pneumoventricle: a report of two cases. Niger J Clin Pract 19(4):559–562

Tsai JC, Cheng KY, Tsai ST, Tsai MJ (2017) Tension pneumoventricle and cerebrospinal fluid rhinorrhea. QJM 110(1):39–40

Gupta N, Rath GP, Mahajan C, Dube SK, Sharma S (2011) Tension pneumoventricle after excision of third ventricular tumor in sitting position. J Anaesthesiol Clin Pharmacol 27(3):409–411

Freyer M, Oberst G, Greiner S, Lechner M, Heckmann JG (2013) Pneumocephalus in pneumococcal meningitis. Age Ageing 42(6):815

Pantangi P, Cherian SV (2011) Pneumocephalus; a rare presentation of streptococcal meningitis. Intern Med 50(19):2249–2250

Guleria VS, Sharma A, Sharda C, Kumar V (2017) Pneumocephalus presenting as sudden thunderclap headache. Asian J Neurosurg 12(4):695–697

Goyal M, Sharma R, Berry M (1996) Diffuse pneumocephalus due to meningitis: CT findings. Pediatr Radiol 26(4):278–279

Klein MA, Kelly JK, Jacobs IG (1989) Diffuse pneumocephalus from Clostridium perfringens meningitis: CT findings. AJNR Am J Neuroradiol 10(2):447

Levin SN, Lyons JL (2018) Infections of the Nervous System. Am J Med 131(1):25–32
Ethics declarations
Conflict of interest
The authors declare that they have no conflict of interest.
About this article
Cite this article
Cunqueiro, A., Scheinfeld, M.H. Causes of pneumocephalus and when to be concerned about it. Emerg Radiol 25, 331–340 (2018). https://doi.org/10.1007/s10140-018-1595-x
Received:

Accepted:

Published:

Issue Date:

DOI: https://doi.org/10.1007/s10140-018-1595-x
Keywords