Abstract
Background
Despite advances in non-invasive radiological techniques for the treatment of intussusception, management of the entity still remains exclusively surgical in many developing countries, including Ethiopia. Fluoroscopic units are rare or mostly dysfunctional. Ultrasound scanners are more commonly available. Ultrasound-guided hydrostatic reduction (USGHR) was recently introduced to the main referral hospital in Ethiopia, and subsequently has been adopted as the initial management option for intussusception.
Purpose
The aim of this study was to evaluate our experience with USGHR in Ethiopia and measure the impact on patient care.
Methods
A prospective study was conducted between July 2014 and August 2015 on all pediatric patients, with US-confirmed intussusception, at the Tikur Anbessa Specialized Teaching Hospital in Addis Ababa, Ethiopia. All patients, excluding those with signs of peritonitis, bowel ischemia, or symptoms lasting longer than 4 days, were selected to undergo USGHR.
Results
A total of 53 children were diagnosed with intussusception, confirmed via ultrasound. Following exclusion criteria, USGHR was attempted in 47 of the patients. Forty-one of the 47 patients (87.2%) had successful reduction, resulting in a 77% overall rate of successful non-operative management in all patients with intussusception.
Conclusion
The rate of operative reduction of intussusception decreased by 77% following the introduction of USGHR as the initial non-surgical intervention. Therefore, we believe USGHR should be fully implemented in our hospital, and recommend that this study serves as an example to other institutions in our country as well as in other developing countries facing similar challenges.
Access options
Buy single article
Instant access to the full article PDF.
US$ 39.95
Tax calculation will be finalised during checkout.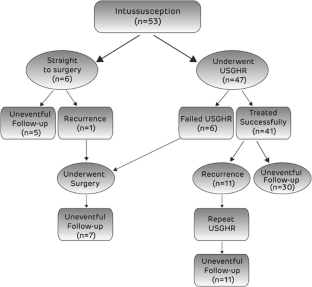 References
1.

del-Pozo G, Albillos JC, Tejedor D, Calero R, Rasero M, de-la-Calle U, López-Pacheco U (1999) Intussusception in children: current concepts in diagnosis and enema reduction. Radiographics 19(2):299–319

2.

Daneman A, Navarro O (2004) Intussusception. Part 2: an update on the evolution of management. Pediatr Radiol 34(2):97–108

3.

Ko HS, Schenk JP, Troger J, Rohrschneider WK (2007) Current radiological management of intussusception in children. Eur Radiol 17(9):2411–2421

4.

Kim YG, Choi BI, Yeon KM et al (1982) Diagnosis and treatment of childhood intussusception using real-time ultrasonography and saline enema: preliminary report. J Korean Soc Med Ultrasound 1:66–70

5.

Riebel TW, Nasir R, Weber K (1993) US-guided hydrostatic reduction of intussusception in children. Radiology 188(2):513–516

6.

Reijnen JA, Festen C, van Roosmalen RP (1990) Intussusception: factors related to treatment. Arch Dis Child 65(8):871–873

7.

Tareen F, Ryan S, Avanzini S, Pena V, Mc Laughlin D, Puri P (2011) Does the length of the history influence the outcome of pneumatic reduction of intussusception in children? Pediatr Surg Int 27(6):587–589

8.

Wood SK, Kim JS, Suh SJ, Paik TW, Choi SO (1992) Childhood intussusception: US-guided hydrostatic reduction. Radiology 182(1):77–80

9.

Betz BW, Hagedorn JE, Guikema JS, Banres CL (2013) Therapeutic enema for pediatric ileocolic intussusception: using a balloon catheter improves efficacy. Emerg Radiol 20:385–391

10.

Lawal TA, Atalabi OM, Adekanmi AJ, Ogundoyin OO (2009) Factors influencing the practice of hydrostatic reduction of intussusception amongst radiologists in a developing country. West African Journal of Ultrasound 10:1–4

11.

Meier DE, Coln CD, Rescorla FJ, OlaOlorun A, Tarpley JL (1996) Intussusception in children: international perspective. World J Surg 20(8):1035–1039

12.

Hadidi AT, El Shal N (1999) Childhood intussusception: a comparative study of nonsurgical management. J Pediatr Surg 34(2):304–307

13.

Mensah Y, Glover-Addy H, Etwire V, Appeadu-Mensah W, Twum M (2011) Ultrasound guided hydrostatic reduction of intussusception in children at Korle Bu Teaching Hospital: an initial experience. Ghana Med J 45(3):128–131

14.

Nayak D, Jagdish S (2008) Ultrasound guided hydrostatic reduction of intussusception in children by saline enema: our experience. Indian J Surg 70(1):8–13

15.

He N, Zhang S, Ye X, Zhu X, Zhao Z, Sui X (2014) Risk factors associated with failed sonographically guided saline hydrostatic intussusception reduction in children. J Ultrasound Med 33(9):1669–1675

16.

Hernandez JA, Swischuk LE, Angel CA (2004) Emerg Radiol 10:323–326

17.

Atalabi OM, Ogundoyin OO, Ogunlana DI, Onasanya OM, Lawal TA, Olarinoye AS (2007) Hydrostatic reduction of intussusception under ultrasound guidance: an initial experience in a developing country. Afr J Paediatr Surg 4(2):68–71

18.

Tander B, Baskin D, Candan M, Basak M, Bankoglu M (2007) Ultrasound guided reduction of intussusception with saline and comparison with operative treatment. Ulus Travma Acil Cerrahi Derg 13(4):288–293

19.

Bai YZ, Qu RB, Wang GD, Zhang KR, Li Y, Huang Y, Zhang ZB, Zhang SC, Zhang HL, Zhou X, Wang WL (2006) Ultrasound-guided hydrostatic reduction of intussusceptions by saline enema: a review of 5218 cases in 17 years. Am J Surg 192(3):273–275

20.

Ghribi A, Sahil S, Sghairoun N, Fitouri F, Gasmi M, Hamzaoui M (2014) Recurrent intussusception in infants. Int J Clin Pediatr 3(4):105–107

21.

Hsu WL, Lee HC, Yeung CY, Chan WT, Jiang CB, Sheu JC, Wang NL, Shih SL (2012) Recurrent intussusception: when should surgical intervention be performed? Pediatr Neonatol 53(5):300–303

22.

Niramis R, Watanatittan S, Kruatrachue A, Anuntkosol M, Buranakitjaroen V, Rattanasuwan T, Wongtapradit L, Tongsin A (2010) Management of recurrent intussusception: nonoperative or operative reduction? J Pediatr Surg 45(11):2175–2180
Ethics declarations
This was a cross-sectional prospective study, approved by the Institutional Review Board, performed over a 14-month period from July 2014 to August 2015. All parents or caretakers of the patients undergoing the procedure were informed about the procedure and requested to sign informed written consent in their local language.
Conflict of interest
The authors declare that they have no conflict of interest.
About this article
Cite this article
Wakjira, E., Sisay, S., Zember, J. et al. Implementing ultrasound-guided hydrostatic reduction of intussusception in a low-resource country in Sub-Saharan Africa: our initial experience in Ethiopia. Emerg Radiol 25, 1–6 (2018). https://doi.org/10.1007/s10140-017-1546-y
Received:

Accepted:

Published:

Issue Date:
Keywords
Intussusception

Intestinal obstruction

Hydrostatic reduction

Surgery