Abstract
The infectious and inflammatory diseases of the central nervous system (CNS) including the brain and spine can present with a wide spectrum of clinical symptoms, locations, and appearance. The purpose of this exhibit is to review the different patterns of their presentations, to illustrate their imaging characteristics and techniques, and to discuss their clinical features and pathology so that the correct diagnosis can be made and prompt intervention can be initiated on a timely fashion.
Access options
Buy single article
Instant access to the full article PDF.
US$ 39.95
Tax calculation will be finalised during checkout.
Subscribe to journal
Immediate online access to all issues from 2019. Subscription will auto renew annually.
US$ 119
Tax calculation will be finalised during checkout.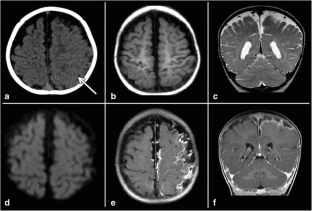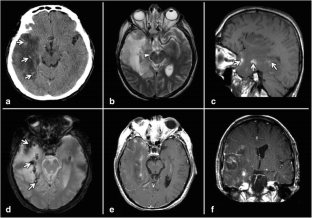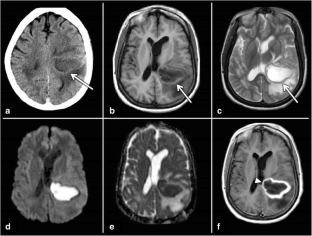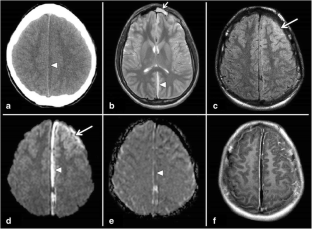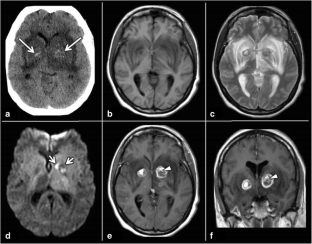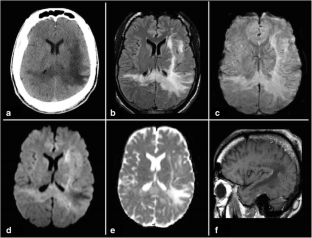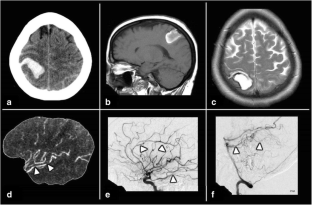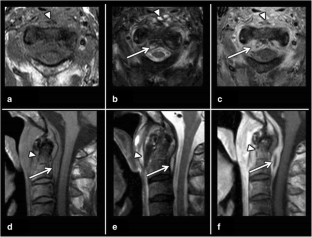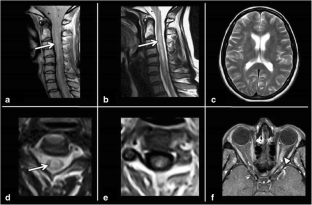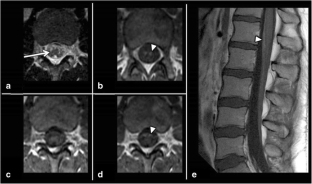 References
1.

Charles G. Prober, Nivedita S. Srinivas, Roshni Mathew Nelson Textbook of Pediatrics. Chapter 603, 2936–2948.e2

2.

Hazany S, Go JL, Law M (2004) Magnetic resonance imaging of infectious meningitis and ventriculitis in adults. Top Magn Reson Imaging 23(5):315–325

3.

Mohan S, Jain KK, Arabi M, Shah GV (2012) Imaging of meningitis and ventriculitis. Neuroimaging Clin N Am 22(4):557–583. doi:10.1016/j.nic.2012.04.003 Epub 2012 Sep 4. Review

4.

Chamberlain MC (2009) Leptomeningeal metastasis. Curr Opin Neurol Sep 4

5.

Leal T, Chang JE, Mehta M, Robins HI (2011) Leptomeningeal metastasis: challenges in diagnosis and treatment. Curr Cancer Ther Rev 7(4):319–327

6.

Smirniotopoulos JM, Murphy FM, Rushing EJ, Rees JH, Shroeder JW (2007) Patterns of contrast enhancement in the brain and meninges. Radiographics 27:525–551

7.

Tosaka M, Sato N, Fujimaki H, Tanaka Y, Kagoshima K, Takahashi A et al (2008) Diffuse pachymeningeal hyperintensity and subdural effusion/hematoma detected by fluid-attenuated inversion recovery MR imaging in patients with spontaneous intracranial hypotension. Am J Neuroradiol 29:1164–1170

8.

Osborn AG, Blaser S, Salzman KL (2004) Diagnostic imaging: brain. 1st ed. Salt Lake City: Amirsys. Intracranial hypotension; p. II-4–22 10

9.

Theil D, Arbusow V, Derfuss T, Strupp M, Pfeiffer M, Mascolo A, Brandt T (2001) Prevalence of HSV-1 LAT in human trigeminal, geniculate, and vestibular ganglia and its implication for cranial nerve syndromes. Brain Pathol 11:408–413

10.

Chow FC, Glaser CA, Sheriff H, Xia D, Messenger S, Whitley R et al (2015) Use of clinical and neuroimaging characteristics to distinguish temporal lobe herpes simplex encephalitis from its mimics. Clin Infect Dis 60(9):1377–1383

11.

Tüzün E, Dalmau J (2007) Limbic encephalitis and variants: classification, diagnosis and treatment. Neurologist 13(5)

12.

Horst U (2006) Serial MRI of limbic encephalitis. Neuroradiology 48(6):380–386

13.

Louis DN, Ohgaki H, Wiestler OD, Cavenee WK WHO classification of tumours of the central nervous system. 4th Edition Revised

14.

Haimes AB, Zimmerman RD, Morgello S et al (1989) MR imaging of brain abscesses. Am J Roentgenol 152(5):1073–1085

15.

Cartes-Zumelzu FW, Stavrou I, Castillo M, Eisenhuber E, Knosp E, Thurnher MM (2004) Diffusion-weighted imaging in the assessment of brain abscesses therapy. Am J Neuroradiol 25(8):1310–1317

16.

Brant WE, Helms CA (2007) Fundamentals of diagnostic radiology. Lippincott Williams & Wilkins

17.

Allen LM, Hasso AN, Handwerker J et al (2012) Sequence-specific MR imaging findings that are useful in dating ischemic stroke. Radiographics 32(5):1285–1297

18.

Karonen JO, Partanen PL, Vanninen RL et al (2001) Evolution of MR contrast enhancement patterns during the first week after acute ischemic stroke. Am J Neuroradiol 22(1):103–111

19.

Mattogno PP, Signorelli F, Visocchi M (2017) Intracranial subdural empyema: diagnosis and treatment update. J Neurosurg Sci

20.

Rich PM, Deasy NP, Jarosz JM (2000) Intracranial Dural Empyema. Br J Radiol 73(876):1329–1336

21.

Farrell CJ, Hoh BL, Pisculli ML, Henson JW, Barker FG 2nd, Curry WT Jr (2008) Limitations of diffusion-weighted imaging in the diagnosis of postoperative infections. Neurosurgery 62(3):577–583 discussion −83

22.

Tsuchiya K, Osawa A, Katase S, Fujikawa A, Hachiya J, Aoki S (2003) Diffusion-weighted MRI of subdural and epidural empyemas. Neuroradiology 45(4):220–223

23.

Graham DI, Gennareli TA (2000) Chapter 5, Pathology of brain damage after head injury. In: Cooper P, Golfinos G (eds) Head injury, 4th edn. Morgan Hill, New York

24.

Smith MH, Dormont RE, Prather GW (1951) Subdural effusions complicating bacterial meningitis. Pediatrics Vol 7 Issue 1

25.

Smith AB, Smirniotopoulos JG, Rushing EJ (2008) Central nervous system infections associated with human immunodeficiency virus infection: radiologic-pathologic correlation. RadioGraphics 28:2033–2058

26.

Lee GT, Antelo F, Mlikotic AA (2009) Cerebral toxoplasmosis. RadioGraphics 29:1200–1205

27.

Chong-Han CH, Cortez SC, Tung GA (2003) Diffusion-weighted MRI of cerebral toxoplasmosis abscess. Am J Roentgenol 181:1711–1714

28.

Garg RK, Sinha MK (2010) Multiple ring-enhancing lesions of the brain. J Postgrad Med 56:307–316

29.

Godi C, De Vita E, Tombetti E, Davagnanam I, Haddow L, Jager HR (2017) High B-value diffusion-weighted imaging in progressive multifocal leukoencephalopathy in HIV patients. European Radiology

30.

Schweitzer AD, Parikh NS, Askin G, et al (2017) Imaging characteristics associated with clinical outcomes in posterior reversible encephalopathy syndrome. Neuroradiology

31.

Raman R, Devaramane R, Jagadish GM, Chowdaiah S (2017) Various imaging manifestations of posterior reversible encephalopathy syndrome on magnetic resonance imaging. Pol J Radiol 82:64–70

32.

Sarbu N, Shih RY, Jones RV et al (2016) White matter diseases with radiologic-pathologic correlation. Radiographics 36(5):1426–1447

33.

Dutra LA, de Souza AW, Grinberg-Dias G, Barsottini OG, Appenzeller S (2007) Central nervous system vasculitis in adults: an update. Autoimmun Rev 16(2):123–131. doi:10.1016/j.autrev.2016.12.001 Epub 2017 Jan 11

34.

Zuccoli G, Pipitone N, Haldipur A, Brown RD Jr, Hunder G, Salvarani C (2011) Imaging findings in primary central nervous system vasculitis. Clin Exp Rheumatol 29(1 Suppl 64):S104–S109 Epub 2011 May 11

35.

Hajj-Ali RA (2010) Primary angiitis of the central nervous system: differential diagnosis and treatment. Best Pract Res Clin Rheumatol 24(3):413–426. doi:10.1016/j.berh.2009.12.003

36.

van den Wijngaard IR, Holswilder G, van Walderveen MA, Algra A, Wermer MJ, Zaidat OO, Boiten J (2016) Treatment and imaging of intracranial atherosclerotic stenosis: current perspectives and future directions. Brain Behav 6(11):e00536 eCollection 2016

37.

Berkhemer OA, Fransen PS, Beumer D, van den Berg LA, Lingsma HF, Yoo AJ et al (2015) A randomized trial of intraarterial treatment for acute ischemic stroke. N Engl J Med 372(1):11–20

38.

Hammad TA, Hajj-Ali RA (2013) Primary angiitis of the central nervous system and reversible cerebral vasoconstriction syndrome. Curr Atheroscler Rep 15(8):346. doi:10.1007/s11883-013-0346-4

39.

Numaguchi Y, Rigamonti D, Rothman MI et al (1993) Spinal epidural abscess: evaluation with gadolinium-enhanced MR imaging. Radiographics 13(3):545–559

40.

Holtås S, Heiling M, Lönntoft (1996) Spontaneous spinal epidural hematoma: findings at MR imaging and clinical correlation. Radiology 199:409–413

41.

Kim RY, Spencer SA, Meredith RF et al (1990) Extradural spinal cord compression: analysis of factors determining functional prognosis—prospective study. Radiology 176(1):279–282

42.

Schiff D, O'Neill BP, Wang CH, O'Fallon JR Neuroimaging and treatment implications of patients with multiple epidural spinal metastases. Cancer 83(8):1593–1601 m 1998

43.

Atlas SW (2009) Magnetic resonance imaging of the brain and spine. Lippincott Williams & Wilkins

44.

Lennon VA, Wingerchuk DM, Kryzer TJ et al (2004) A serum autoantibody marker of neuromyelitis optica: distinction from multiple sclerosis. Lancet 364(9451):2106–2112

45.

Wingerchuk DM, Lennon VA, Pittock SJ, Lucchinetti CF, Weinshenker BG (2006) Revised diagnostic criteria for neuromyelitis optica. Neurology 66(10):1485–1489

46.

Jasiak-Zatonska M, Kalinowska-Lyszczarz A, Michalak S, Kozubski W (2016) The immunology of neuromyelitis optica—current knowledge, clinical implications, controversies and future perspectives. Int J Mol Sci 17(3):273

47.

Scotti G, Gerevini S (2001) Diagnosis and differential diagnosis of acute transverse myelopathy. The role of neuroradiological investigations and review of the literature. Neurol Sci 22(Suppl 2):S69–S73

48.

Gorson KC, Ropper AH, Muriello MA, Blair R (1996) Prospective evaluation of MRI lumbosacral nerve root enhancement in acute Guillain-Barré syndrome. Neurology 47(3):813–817

49.

Fulbright RK, Erdum E, Sze G et al (1995) Cranial nerve enhancement in the Guillain-Barré syndrome. Am J Neuroradiol 16(4):923–925

50.

Berciano J (2011) Thickening and contrast enhancement of spinal roots on MR imaging in Guillain-Barré syndrome: thoughts on pathologic background. Am J Neuroradiol 32:E179. doi:10.3174/ajnr.A2754

51.

Byun WM, Park WK, Park BH, Ahn SH, Hwang MS, Chang JC (1998) Guillain-Barré syndrome: MR imaging findings of the spine in eight patients. Radiol 208(1):137–141

52.

Georgy BA, Snow RD, Hesselink JR (1996) MR imaging of spinal nerve roots: techniques, enhancement patterns, and imaging findings. Am J Radiol 166:173–179
Ethics declarations
Conflict of interest
The authors declare that they have no conflict of interests.
About this article
Cite this article
Rozell, J.M., Mtui, E., Pan, YN. et al. Infectious and inflammatory diseases of the central nervous system—the spectrum of imaging findings and differential diagnosis. Emerg Radiol 24, 619–633 (2017). https://doi.org/10.1007/s10140-017-1543-1
Received:

Accepted:

Published:

Issue Date:
Keywords
Infectious diseases

Inflammatory diseases

CNS

Brain and spine