Abstract
Acute ocular trauma accounts for a substantial number of emergency department visits in the USA, and represents a significant source of disability to patients; however, the orbits remain a potential blind spot for radiologists. The goal of this article is to review the relevant anatomy of the orbit and imaging findings associated with commonly encountered acute ocular traumatic pathology, while highlighting the salient information which should be reported to the ordering clinician. Topics discussed include trauma to the anterior and posterior chamber, lens dislocations, intraocular foreign bodies, and open and contained globe injuries.
Access options
Buy single article
Instant access to the full article PDF.
US$ 39.95
Tax calculation will be finalised during checkout.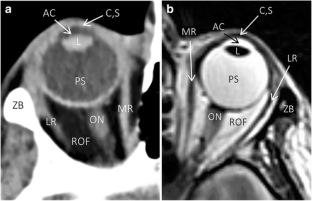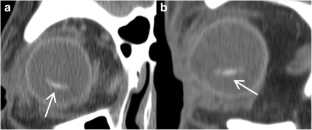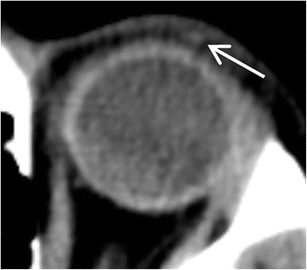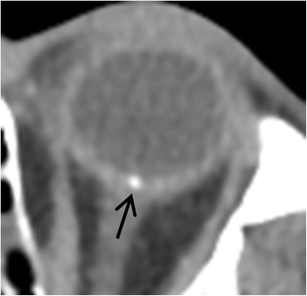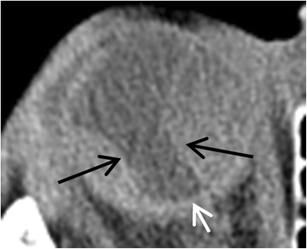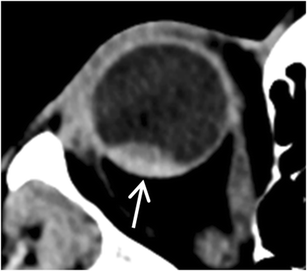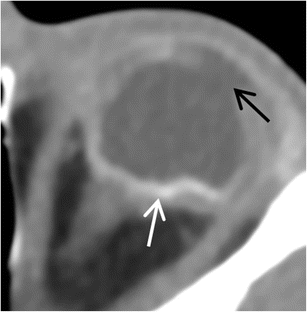 References
1.

Channa R et al (2016) Epidemiology of eye-related emergency department visits. JAMA Ophthalmol 134(3):312–319

2.

Kuhn F et al (2002) Epidemiology and socioeconomics. Ophthalmol Clin N Am 15(2):145–151

3.

Bahrami S, Yim CM (2009) Quality initiatives: blind spots at brain imaging. Radiographics 29(7):1877–1896

4.

Turvey TA, Golden BA (2012) Orbital anatomy for the surgeon. Oral Maxillofac Surg Clin North Am 24(4):525–536

5.

Hayreh SS (2006) Orbital vascular anatomy. Eye 20(10):1130–1144

6.

Rene C (2006) Update on orbital anatomy. Eye (Lond) 20(10):1119–1129

7.

Kubal WS (2008) Imaging of orbital trauma. Radiographics 28(6):1729–1739

8.

Bowling B (2016) Kanski's clinical ophthalmology: a systematic approach. Elsevier, London

9.

Weissman JL et al (1995) Enlarged anterior chamber: CT finding of a ruptured globe. Am J Neuroradiol 16(4):936–938

10.

Arey ML et al (2007) Computed tomography in the diagnosis of occult open-globe injuries. Ophthalmology 114(8):1448–1452

11.

Loporchio D et al (2016) Intraocular foreign bodies: a review. Surv Ophthalmol 61(5):582–596

12.

Koo L et al (2005) Gender differences in etiology and outcome of open globe injuries. J Trauma 59(1):175–178

13.

Yuan WH et al (2014) CT of globe rupture: analysis and frequency of findings. AJR Am J Roentgenol 202(5):1100–1107

14.

Patel SN et al (2012) Diagnostic value of clinical examination and radiographic imaging in identification of intraocular foreign bodies in open globe injury. Eur J Ophthalmol 22(2):259–268

15.

Fulcher TP, McNab AA, Sullivan TJ (2002) Clinical features and management of intraorbital foreign bodies. Ophthalmology 109(3):494–500

16.

Lakits A et al (1999) Orbital helical computed tomography in the diagnosis and management of eye trauma. Ophthalmology 106(12):2330–2335

17.

Gor DM et al (2001) Radiologic differentiation of intraocular glass: evaluation of imaging techniques, glass types, size, and effect of intraocular hemorrhage. AJR Am J Roentgenol 177(5):1199–1203

18.

Yamashita K et al (2007) An intraorbital wooden foreign body: description of a case and a variety of CT appearances. Emerg Radiol 14(1):41–43

19.

Ho VT, McGuckin JF, Smergel EM (1996) Intraorbital wooden foreign body: CT and MR appearance. Am J Neuroradiol 17(1):134–136

20.

Sung EK et al (2014) Injuries of the globe: what can the radiologist offer? Radiographics 34(3):764–776

21.

Johnston PB (1991) Traumatic retinal detachment. Br J Ophthalmol 75(1):18–21

22.

Joseph DP, Pieramici DJ, Beauchamp NJ Jr (2000) Computed tomography in the diagnosis and prognosis of open-globe injuries. Ophthalmology 107(10):1899–1906

23.

Li X, Zarbin MA, Bhagat N (2015) Pediatric open globe injury: a review of the literature. J Emerg Trauma Shock 8(4):216–223

24.

Bord SP, Linden J (2008) Trauma to the globe and orbit. Emerg Med Clin North Am 26(1):97–123 vi-vii

25.

Salvin JH (2007) Systematic approach to pediatric ocular trauma. Curr Opin Ophthalmol 18(5):366–372
Ethics declarations
Conflict of interest
The authors declare that they have no conflict of interest.
Additional information
The original version of this article was revised: The correct article title is: "Acute ocular traumatic imaging: what the radiologist should know".
An erratum to this article is available at https://doi.org/10.1007/s10140-017-1536-0.
About this article
Cite this article
Thelen, J., Bhatt, A.A. & Bhatt, A.A. Acute ocular traumatic imaging: what the radiologist should know. Emerg Radiol 24, 585–592 (2017). https://doi.org/10.1007/s10140-017-1528-0
Received:

Accepted:

Published:

Issue Date:
Keywords
Ocular trauma

Orbits

Anterior chamber

Lens dislocation

Intraocular foreign body

Retinal detachment

Choroidal detachment

Vitreous hemorrhage

Open-globe injury