Abstract
Gunshot injuries are the most common cause of penetrating brain injury (PBI) and carry a high morbidity and mortality. The incidence of PBI has increased over the last decade with an estimated 35,000 civilian deaths annually. Patients that survive to reach the hospital require rapid triage and imaging evaluation. CT findings in conjunction with the Glasgow Coma Scale are typically used to determine which patients are surgical candidates. Radiologists should be familiar with the various injury patterns and imaging findings which are poor prognostic indicators, notably brainstem, bilateral hemispheric, multilobar, or transventricular injuries. Post-traumatic complications, including intracranial infections, cerebrospinal fluid leaks, traumatic intracranial aneurysms, intraventricular hemorrhage, dural venous sinus thrombus, and bullet fragment migration, also have specific imaging features and serious treatment implications. In this article, we review the initial imaging evaluation of penetrating brain injury using computed tomography with and without angiography. We also describe the imaging features of various post-traumatic complications and their treatment implications. Finally, we discuss the clinical and imaging parameters that serve as important prognostic indicators and the surgical management.
Access options
Buy single article
Instant access to the full article PDF.
US$ 39.95
Tax calculation will be finalised during checkout.
Subscribe to journal
Immediate online access to all issues from 2019. Subscription will auto renew annually.
US$ 119
Tax calculation will be finalised during checkout.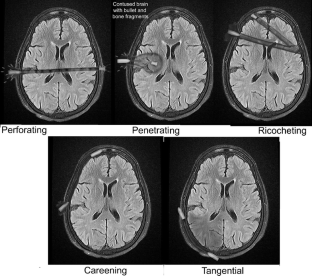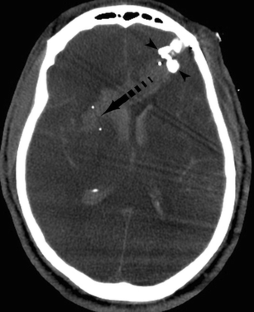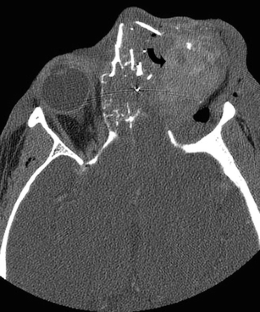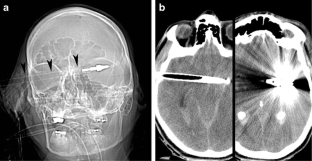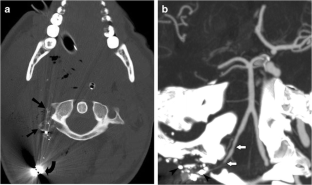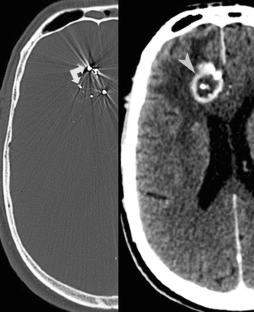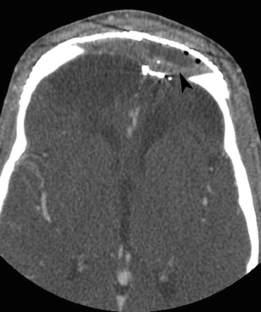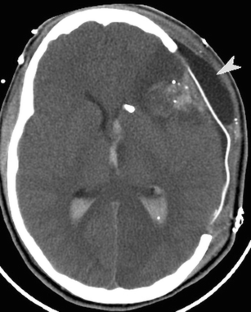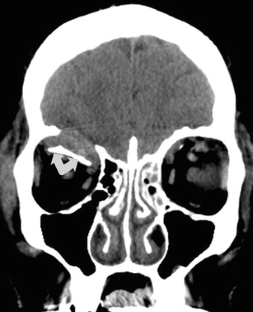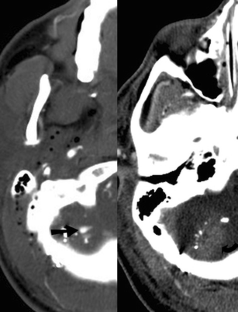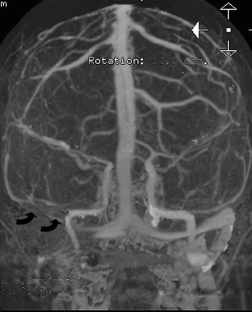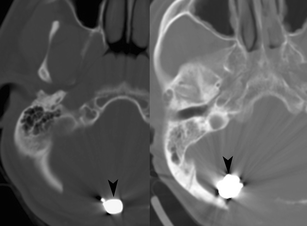 References
1.

Joseph B, Aziz H, Pandit V et al (2014) Improving survival rates after civilian gunshot wounds to the brain. J Am Coll Surg 218(1):58–65

2.

Wyck DWV, Grant GA, Lasowitz DT (2015) Penetrating traumatic brain injury: a review of current evaluation and management concepts. J Neurol Neurophysiol 6:336

3.

Thurman D (1999) Traumatic brain injury in the US: a report to congress. Center for Disease Control and Prevention. Accessed 10 Sept 2016. http://www.cdc.gov/traumaticbraininjury/pdf/tbi_in_the_us.pdf

4.

DiPoce J, Guelfguat M, DiPoce J (2012) Radiologic findings in cases of attempted suicide and other self-injurious behavior. Radiographics 32(7):2005–2024

5.

Stefanopoulos PK, Hadjigeorgiou GF, Filippakis K, Gyftokostas D (2014) Gunshot wounds: a review of ballistics related to penetrating trauma. Journal of Acute Disease 3(3):178–185

6.

Karger B (1995) Penetrating gunshots to the head and lack of immediate incapacitation. Int J Legal Med 108(2):53–61

7.

Young L, Rule GT, Bocchieri RT, Walilko TJ, Burns JM, Ling G (2015) When physics meets biology: low and high-velocity penetration, blunt impact, and blast injuries to the brain. Front Neurol 6:89

8.

Kim PE, Go JL, Zee CS (2002) Radiographic assessment of cranial gunshot wounds. Neuroimaging Clinics North America 12(2):229–248

9.

Temple N, Donald C, Skora A, Reed W (2015) Neuroimaging in adult penetrating brain injury: a guide for radiographers. Journal of Medical Radiation Sciences 62(2):122–131

10.

Wintermark M, Sanelli PC, Anzai Y, Tsiouris AJ, Whitlow CT (2015) Imaging evidence and recommendations for traumatic brain injury: conventional neuroimaging techniques. J Am Coll Radiol 12(2):e1–14

11.

Esposito DP, Walker JB (2009) Contemporary management of penetrating brain injury. Neurosurg Q 19:249–254

12.

Alvis-Miranda HR, Rubiano AM, Agrawal A, Rojas A, Moscote-Salazar LR, Satyarthee GD et al (2016) Craniocerebral gunshot injuries; a review of the current literature. Bull Emerg Trauma 4(2):65–74

13.

Kim TW, Lee JK, Moon KS, Kwak HJ, Joo SP, Kim JH et al (2007) Penetrating gunshot injuries to the brain. J Trauma 62(6):1446–1451

14.

Yu L, Leng S, McCollough CH (2012) Dual-energy CT-based monochromatic imaging. AJR 199(5 Suppl):S9–S15

15.

Rincon S, Gupta R (2016) Imaging of head trauma. Handb Clin Neurol 135:447–477

16.

Wada R, Aviv RI, Fox AJ, Sahlas DJ, Gladstone DJ, Tomlinson G, Symons SP (2007) CT angiography "spot sign" predicts hematoma expansion in acute intracerebral hemorrhage. Stroke 38(4):1257–1262

17.

Bodanapally UK, Shanmuganathan K, Boscak AR, Jaffray PM, Byl GVD, Roy AK et al (2014) Vascular complications of penetrating brain injury: comparison of helical CT angiography and conventional angiography. J Neurosurg 121(5):1275–1283

18.

Amirjamshidi A, Rahmat H, Abbassioun K (1996) Traumatic aneurysms and arteriovenous fistulas of intracranial vessels associated with penetrating head injuries occurring during war: principles and pitfalls in diagnosis and management. J Neurosurg 84(5):769–780

19.

Bodanapally UK, Saksobhavivat N, Shanmuganathan K, Aarabi B, Roy AK (2015) Arterial injuries after penetrating brain injury in civilians: risk factors on admission head computed tomography. J Neurosurg 122(1):219–226

20.

Rosenfeld JV, Bell RS, Armonda R (2015) Current concepts in penetrating and blast injury to the central nervous system. World J Surg 39:1352–1362

21.

Kazim SF, Shamim MS, Tahir MZ, Enam SA, Waheed S (2011) Management of penetrating brain injury. Journal of Emergencies, Trauma and Shock 4(3):395–402

22.

Hagan RE (1971) Early complications following penetrating wounds of the brain. J Neurosurg 34(2 Pt 1):132–141

23.

Lloyd KM, Delgaudio JM, Hudgins PA (2008) Imaging of skull base cerebrospinal fluid leaks in adults. Radiology 248(3):725–736

24.

Bhaisora KS, Behari S, Godbole C, Phadke RV (2016) Traumatic aneurysms of the intracranial and cervical vessels: a review. Neurol India 64(Suppl):S14–S23

25.

Radvany MG, Gailloud P (2010) Endovascular management of neurovascular arterial injuries in the face and neck. Semin Intervent Radiol 27(1):44–54

26.

Kim Y-S, Jung S-H, Lim D-H, Kim T-S, Kim J-H, Lee J-K (2015) Traumatic dural venous sinus injury. Korean Journal of Neurotrauma 11(2):118–123. doi:10.13004/kjnt.2015.11.2.118

27.

Leach JL, Fortuna RB, Jones BV, Gaskill-Shipley MF (2006) Imaging of cerebral venous thrombosis: current techniques, spectrum of findings, and diagnostic pitfalls. Radiographics 26(Suppl 1):S19–S41

28.

Poon CS, Chang JK, Swarnkar A, Johnson MH, Wasenko J (2007) Radiologic diagnosis of cerebral venous thrombosis: pictorial review. Am J Roentgenol 189:S64–S75

29.

Zafonte RD, Wantanabe T, Mann NR (1998) Moving bullet syndrome: a complication of penetrating brain injury. Arch Phys Med Rehabil 79(11):1469–1472

30.

Martins RS, Siqueira MG, Santos MT, Zanon-Collange N, Moraes OJ (2003) Prognostic factors and treatment of penetrating gunshot wounds to the head. Surg Neurol 60(2):98–104
Ethics declarations
Conflict of interest
The authors declare that they have no conflict of interest.
About this article
Cite this article
Vakil, M.T., Singh, A.K. A review of penetrating brain trauma: epidemiology, pathophysiology, imaging assessment, complications, and treatment. Emerg Radiol 24, 301–309 (2017). https://doi.org/10.1007/s10140-016-1477-z
Received:

Accepted:

Published:

Issue Date:
Keywords
Penetrating

Brain

Trauma

Gunshot

Injury