Abstract
Central venous catheters (CVCs) are associated with occlusive, infectious, and thrombotic complications. The aim of this study was to determine if internal CVC tip position was correlated with subsequent complications. This was an institutional review board approved single-center retrospective review of 169 consecutive patients who underwent placement of 203 semipermanent CVCs. Using post-placement chest X-rays, a de novo scale of internal catheter tip position was developed. Major complications were recorded. A logistic regression analysis was used to determine if catheter tip position predicted subsequent complications. There were 78 men and 91 women with a mean age of 48 ± 11 years. There were 21 catheter tips placed in the subclavian/innominate veins, 32 in the upper superior vena cava, 113 in the atriocaval junction, and 37 in the right atrium. There were 83 complications occurring in 61 (36.1 %) patients, including sepsis in 40 (23.7 %), venous thrombosis in 18 (10.7 %), catheter occlusion in 16 (9.5 %), internal catheter repositioning in 6 (3.6 %), pneumothorax in 2 (1.2 %), and death in 1 (0.6 %). An internal catheter tip position peripheral to the atriocaval junction resulted in a catheter that was more likely to undergo internal repositioning (p < 0.001) and venous thrombosis (p < 0.001). Patients with femoral catheters were more likely to develop sepsis (45 %) than patients whose catheters were inserted through the upper extremity veins (18 %) (p < 0.01). In conclusion, to reduce catheter-associated morbidity and potentially mortality, the internal catheter tip should be positioned at the atriocaval junction or within the right atrium and femoral insertion sites should be avoided whenever possible.
Access options
Buy single article
Instant access to the full article PDF.
US$ 39.95
Tax calculation will be finalised during checkout.
Subscribe to journal
Immediate online access to all issues from 2019. Subscription will auto renew annually.
US$ 119
Tax calculation will be finalised during checkout.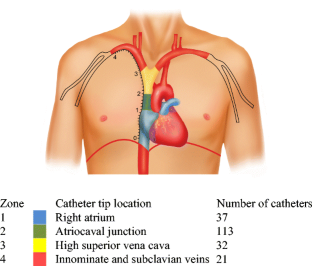 References
1.

Broviac JW, Cole JJ, Scribner BH (1973) A silicone rubber atrial catheter for prolonged parenteral alimentation. Surg Gynecol Obstet 136:602–606

2.

Hickman RO, Buckner CD, Clift RA et al (1979) A modified right atrial catheter for access to the venous system in marrow transplant recipients. Surg Gynecol Obstet 148:871–875

3.

McGee DC, Gould MK (2003) Preventing complications of central venous catheterization. N Engl J Med 348:1123–1133

4.

Ladefoged K, Jarnum S (1978) Long-term parenteral nutrition. BMJ 2:262–266

5.

Thomas JH, MacArthur RI, Pierce GE, Hermreck AS (1980) Hickman-Broviac catheters. Indications and results. Am J Surg 140:791–796

6.

Brennan MF (1981) Total parenteral nutrition in the cancer patient. N Engl J Med 305:375–382

7.

Ducatman BS, McMichan JC, Edwards WD (1985) Catheter-induced lesions of the right side of the heart. A one-year prospective study of 141 autopsies. JAMA 253:791–795

8.

Sheep RE, Guiney WB (1982) Fatal cardiac tamponade. Occurrence with other complications after left internal jugular vein catheterization. JAMA 248:1632–1635

9.

Barton BR, Hermann G, Weil R (1983) Cardiothoracic emergencies associated with subclavian hemodialysis catheters. JAMA 250:2660–2662

10.

Vesely TM (2003) Central venous catheter tip position: a continuing controversy. J Vasc Interv Radiol 14:527–534

11.

Food and Drug Administration Task Force (1989). Precautions necessary with central venous catheters. FDA Drug Bulletin 15–16

12.

Polderman KH, Girbes ARJ (2002) Central venous catheter use. Part 2: infectious complications. Intensive Care Med 28:18–28

13.

Gouttebel MC, Saint-Aubert B, Astre C, Joyeux H (1986) Total parenteral nutrition needs in different types of short bowel syndrome. Dig Dis Sci 31:718–723

14.

Messing B, Crenn P, Beau P et al (1999) Long-term survival and parenteral nutrition dependence in adult patients with the short bowel syndrome. Gastroenterology 117:1043–1050

15.

Vargas JH, Ament ME, Berquist WE (1987) Long-term home parenteral nutrition in pediatrics: ten years of experience in 102 patients. J Pediatr Gastroenterol Nutr 6:24–32

16.

Riella MC, Scribner BH (1976) Five years' experience with a right atrial catheter for prolonged parenteral nutrition at home. Surg Gynecol Obstet 143:205–208

17.

El Boghdadly SA, Cooke T, Russell LD (1983) Prolonged access to the venous system using the Hickman right atrial catheter. Ann R Coll Surg Engl 65:347–348

18.

Kuwahara T, Asanami S, Kubo S (1998) Experimental infusion phlebitis: tolerance osmolality of peripheral venous endothelial cells. Nutrition 14:496–501

19.

Bayer-Berger M, Chioléro R, Freeman J, Hirschi B (1989) Incidence of phlebitis in peripheral parenteral nutrition: effect of the different nutrient solutions. Clin Nutr 8:181–186

20.

Davies J, Catton J, Wood J et al (2003) Intravenous nutrition—peripheral or central administration? Br J Surg 90(S):90–91

21.

Zochios V, Umar I, Simpson N, Jones N (2014) Peripherally inserted central catheter (PICC)-related thrombosis in critically ill patients. J Vasc Access 15:329–337

22.

Grove JR, Pevec WC (2000) Venous thrombosis related to peripherally inserted central catheters. J Vasc Interv Radiol 11:837–840

23.

Nifong TP, McDevitt TJ (2011) The effect of catheter to vein ratio on blood flow rates in a simulated model of peripherally inserted central venous catheters. Chest 140:48–53

24.

Evans RS, Sharp JH, Linford LH et al (2010) Risk of symptomatic DVT associated with peripherally inserted central catheters. Chest 138:803–810

25.

Krasnow SH, Rhodes G, Boyer M et al (1985) Hickman catheter tip displacement. South Med J 78:1327–1329

26.

Merrer J, De Jonghe B, Golliot F et al (2001) Complications of femoral and subclavian venous catheterization in critically ill patients: a randomized controlled trial. JAMA 286:700–707
Ethics declarations
Conflict of interest
The authors declare that they have no conflict of interest.
Additional information
Robert Roller is deceased.
About this article
Cite this article
Ballard, D.H., Samra, N.S., Gifford, K.M. et al. Distance of the internal central venous catheter tip from the right atrium is positively correlated with central venous thrombosis. Emerg Radiol 23, 269–273 (2016). https://doi.org/10.1007/s10140-016-1393-2
Received:

Accepted:

Published:

Issue Date:
Keywords
Central venous catheter

Central venous catheter complications

Catheter-related thrombosis

Catheter-related sepsis