Abstract
The aims of this study are to evaluate diagnostic performance of conventional radiographs for wrist fractures using multidetector computerized tomography (MDCT) as a reference standard, to determine prevalence, demographic risk factors including age and sex, and associations among various wrist fractures. A retrospective study was performed, finding a total 455 patients (457 wrists) who had wrist trauma and who had undergone a radiography and subsequent MDCT examination during a 45-month period. The MDCT and radiographs of the patients were reviewed by two radiologists, and a consensus was obtained for the presence of fracture. Sensitivity, specificity, positive predictive value (PPV), and negative predictive value (NPV) of radiographs were calculated using MDCT findings as reference standard. The correlation of both age and sex between the presence of fracture was also analyzed. Of the 455 patients, 223 (49.0 %) had one or more fractures in wrist. A total of 302 (160 patients had one, 50 had two, 10 had three, and 3 had four) fractures were diagnosed in the wrist region. In 457 wrists, MDCT revealed 128 occult fractures missed by radiography. The overall sensitivity, specificity, PPV, and NPV of radiography for the detection of all wrist fractures were 57.8, 99.5, 87.4, and 97.4 %, respectively. The sensitivities of radiography ranged 0–41.2 % for other carpal bone except scaphoid (66 %) fractures and 66.7–80 % for the proximal metacarpus, distal ulna, and radius fractures. Wrist fractures appear to be overlooked on radiography. Further imaging should be warranted for patients who are clinically suspicious for wrist fracture in emergency rooms.
This is a preview of subscription content,
to check access.
Access this article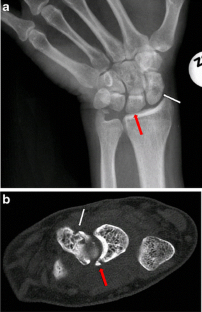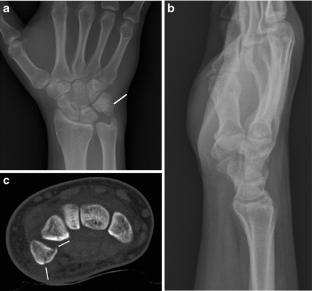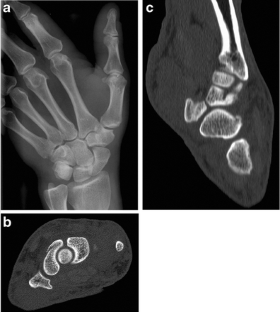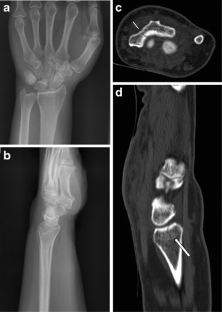 Similar content being viewed by others
References
Chung KC, Spilson SV (2001) The frequency and epidemiology of hand and forearm fractures in the United States. J Hand Surg [Am] 26(5):908–915

Kaewlai R, Avery LL, Asrani AV, Abujudeh HH, Sacknoff R, Novelline RA (2008) Multidetector CT of carpal injuries: anatomy, fractures, and fracture-dislocations. Radiographics 28(6):1771–1784

Geijer M, El-Khoury GY (2006) MDCT in the evaluation of skeletal trauma: principles, protocols, and clinical applications. Emerg Radiol 13(1):7–18

Obermann WR (1996) Wrist injuries: pitfalls in conventional imaging. Eur J Radiol 22(1):11–21

Welling RD, Jacobson JA, Jamadar DA, Chong S, Caoili EM, Jebson PJ (2008) MDCT and radiography of wrist fractures: radiographic sensitivity and fracture patterns. Am J Roentgenol 190(1):10–16

Kiuru MJ, Haapamaki VV, Koivikko MP, Koskinen SK (2004) Wrist injuries; diagnosis with multidetector CT. Emerg Radiol 10(4):182–185

Pierre-Jerome C, Moncayo V, Albastaki U, Terk MR (2010) Multiple occult wrist bone injuries and joint effusions: prevalence and distribution on MRI. Emerg Radiol 17(3):179–184

Brydie A, Raby N (2003) Early MRI in the management of clinical scaphoid fracture. Br J Radiol 76(905):296–300

Memarsadeghi M, Breitenseher MJ, Schaefer-Prokop C, Weber M, Aldrian S, Gäbler C, Prokop M (2006) Occult scaphoid fractures: comparison of multidetector CT and MR imaging—initial experience. Radiology 240(1):169–176

Platon A, Poletti PA, Van Aaken J, Fusetti C, Della Santa D, Beaulieu JY, Becker CD (2011) Occult fractures of the scaphoid: the role of ultrasonography in the emergency department. Skeletal Radiol 40(7):869–875

Hove LM (1999) Epidemiology of scaphoid fractures in Bergen, Norway. Scand J Plast Reconstr Surg Hand Surg 33(4):423–426

van Onselen EB, Karim RB, Hage JJ, Ritt MJ (2003) Prevalence and distribution of hand fractures. J Hand Surg (Br) 28(5):491–495

Low G, Raby N (2005) Can follow-up radiography for acute scaphoid fracture still be considered a valid investigation? Clin Radiol 60(10):1106–1110

Hunter JC, Escobedo EM, Wilson AJ et al (1997) MR imaging of clinically suspected scaphoid fractures. Am J Roentgenol 168:1287–1293

Hey HW, Chong AK, Murphy D (2011) Prevalence of carpal fracture in Singapore. J Hand Surg [Am] 36(2):278–283

Packer GJ, Shaheen MA (1993) Patterns of hand fractures and dislocations in a district general hospital. J Hand Surg (Br) 18(4):511–514

Duckworth AD, Jenkins PJ, Aitken SA, Clement ND, Court-Brown CM, McQueen MM (2012) Scaphoid fracture epidemiology. J Trauma 72(2):41–45

Diamantopoulos AP, Rohde G, Johnsrud I, Skoie IM, Hochberg M, Haugeberg G (2012) The epidemiology of low- and high-energy distal radius fracture in middle-aged and elderly men and women in Southern Norway. PLoS One 7(8):e43367

Ilica AT, Ozyurek S, Kose O, Durusu M (2011) Diagnostic accuracy of multidetector computed tomography for patients with suspected scaphoid fractures and negative radiographic examinations. Jpn J Radiol 29(2):98–103
Conflict of interest
The authors declare that they have no conflict of interest.
About this article
Cite this article
Balci, A., Basara, I., Çekdemir, E.Y. et al. Wrist fractures: sensitivity of radiography, prevalence, and patterns in MDCT. Emerg Radiol 22, 251–256 (2015). https://doi.org/10.1007/s10140-014-1278-1
Received:

Accepted:

Published:

Issue Date:

DOI: https://doi.org/10.1007/s10140-014-1278-1
Keywords