Abstract
The purpose of this study is to evaluate how body habitus affects reader confidence in diagnosing acute appendicitis and appendiceal visualization using 64 MDCT technology with and without oral contrast. We conducted a HIPAA compliant, IRB approved study of adult patients presenting to the Emergency Department with nontraumatic abdominal pain. Subjects were randomized to two groups: 64 MDCT scans performed with oral and intravenous contrast or scans performed solely with intravenous contrast. Three radiologists established their confidence about the presence of appendicitis as well as recording whether the appendix was visualized. Reader confidence in diagnosing acute appendicitis was compared between the two groups for the three readers. The impact of patient BMI and estimated intra-abdominal fat on reader confidence in diagnosing appendicitis was determined. Finally, a comparison of the effect of BMI and intra-abdominal fat on appendiceal visualization between the two groups was carried out. Three hundred three patients were enrolled in this study. There was a statistically significant difference in confidence based on BMI for reader 2, group 1 in diagnosing appendicitis. No further statistically significant differences in reader confidence for diagnosing appendicitis based on BMI or intra-abdominal fat were identified. There was no influence of BMI or intra-abdominal fat on appendiceal visualization. Increasing BMI was seen to improve reader confidence for one of three readers in patients that received both oral and intravenous contrast. No further effects of BMI or intra-abdominal fat on confidence in diagnosing or excluding appendicitis were seen. Neither BMI nor intra-abdominal fat were seen to influence appendiceal visualization.
Access options
Buy single article
Instant access to the full article PDF.
USD 39.95
Price excludes VAT (USA)
Tax calculation will be finalised during checkout.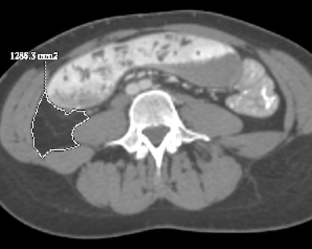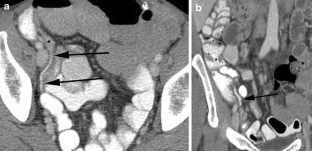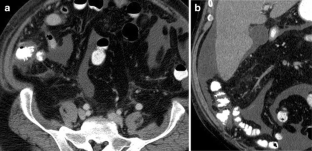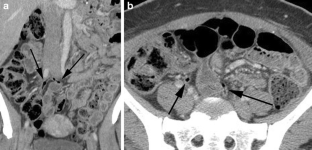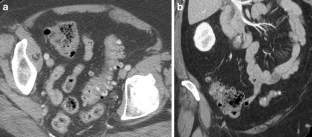 References
Ahn SH, Mayo-Smith WW, Murphy BL, Reinert SE, Cronan JJ (2002) Acute nontraumatic abdominal pain in adult patients: abdominal radiography compared with CT evaluation. Radiology 225:159–164

Rosen MP, Sands DZ, Longmaid HE 3rd, Reynolds KF, Wagner M, Raptopoulos V (2000) Impact of abdominal CT on the management of patients presenting to the emergency department with acute abdominal pain. AJR Am J Roentgenol 174:1391–1396

Marincek B (2002) Nontraumatic abdominal emergencies: acute abdominal pain: diagnostic strategies. Eur Radiol 12:2136–2150

Lee SY, Coughlin B, Wolfe JM, Polino J, Blank FS, Smithline HA (2006) Prospective comparison of helical CT of the abdomen and pelvis without and with oral contrast in assessing acute abdominal pain in adult Emergency Department patients. Emerg Radiol 12:150–157

Mun S, Ernst RD, Chen K, Oto A, Shah S, Mileski WJ (2006) Rapid CT diagnosis of acute appendicitis with IV contrast material. Emerg Radiol 12:99–102

Kim HC, Yang DM, Jin W, Park SJ (2008) Added diagnostic value of multiplanar reformation of multidetector CT data in patients with suspected appendicitis. Radiographics 28:393–405

Wolfe JM, Smithline H, Lee S, Coughlin B, Polino J, Blank F (2006) The impact of body mass index on concordance in the interpretation of matched noncontrast and contrast abdominal pelvic computed tomographic scans in ED patients with nontraumatic abdominal pain. Am J Emerg Med 24:144–148

Zangos S, Steenburg SD, Phillips KD et al (2007) Acute abdomen: added diagnostic value of coronal reformations with 64-slice multidetector row computed tomography. Acad Radiol 14:19–27

Anderson SW, Soto JA, Lucey BC et al (2009) Abdominal 64-MDCT for suspected appendicitis: the use of oral and IV contrast material versus IV contrast material only. AJR Am J Roentgenol 193(5):1282–1288

Miller KD, Jones E, Yanovski JA, Shankar R, Feuerstein I, Falloon J (1998) Visceral abdominal-fat accumulation associated with use of indinavir. Lancet 351:871–875

Hodel J, Zins M, Desmottes L et al (2009) Location of the transition zone in CT of small-bowel obstruction: added value of multiplanar reformations. Abdom Imaging 34:35–41

MacKenzie JD, Nazario-Larrieu J, Cai T et al (2007) Reduced-dose CT: effect on reader evaluation in detection of pulmonary embolism. AJR Am J Roentgenol 189:1371–1379

Taylor SA, Halligan S, Slater A et al (2006) Polyp detection with CT colonography: primary 3D endoluminal analysis versus primary 2D transverse analysis with computer-assisted reader software. Radiology 239:759–767

Giuliano V, Giuliano C, Pinto F, Scaglione M (2005) CT method for visualization of the appendix using a fixed oral dosage of diatrizoate—clinical experience in 525 cases. Emerg Radiol 11:281–285

Paulson EK, Harris JP, Jaffe TA, Haugan PA, Nelson RC (2005) Acute appendicitis: added diagnostic value of coronal reformations from isotropic voxels at multi-detector row CT. Radiology 235:879–885

Zamboni M, Turcato E, Armellini F et al (1998) Sagittal abdominal diameter as a practical predictor of visceral fat. Int J Obes Relat Metab Disord 22:655–660

Kharbanda AB, Taylor GA, Bachur RG (2007) Suspected appendicitis in children: rectal and intravenous contrast-enhanced versus intravenous contrast-enhanced CT. Radiology 243:520–526

Jacobs JE, Birnbaum BA, Macari M et al (2001) Acute appendicitis: comparison of helical CT diagnosis focused technique with oral contrast material versus nonfocused technique with oral and intravenous contrast material. Radiology 220:683–690

Keyzer C, Pargov S, Tack D, Créteur V, Bohy P, De Maertelaer V, Gevenois PA (2008) Normal appendix in adults: reproducibility of detection with unenhanced and contrast-enhanced MDCT. AJR Am J Roentgenol 191(2):507–514

Karabulut N, Boyaci N, Yagci B, Herek D, Kiroglu Y (2007) Computed tomography evaluation of the normal appendix: comparison of low-dose and standard-dose unenhanced helical computed tomography. J Comput Assist Tomogr 31:732–740

Ganguli S, Raptopoulos V, Komlos F, Siewert B, Kruskal JB (2006) Right lower quadrant pain: value of the nonvisualized appendix in patients at multidetector CT. Radiology 241:175–180
About this article
Cite this article
Anderson, S.W., Rhea, J.T., Milch, H.N. et al. Influence of body habitus and use of oral contrast on reader confidence in patients with suspected acute appendicitis using 64 MDCT. Emerg Radiol 17, 445–453 (2010). https://doi.org/10.1007/s10140-010-0875-x
Received:

Accepted:

Published:

Issue Date:

DOI: https://doi.org/10.1007/s10140-010-0875-x
Keywords
Computed tomography

Oral contrast

Appendicitis

Confidence