Abstract
Multidetector computed tomographic angiography (MDCTA) is the method of choice for evaluation of suspected acute pulmonary embolism (PE) in most patients because it is accurate and widely available. The use of computed tomography, including MDCTA for PE, has risen dramatically over the last several years with an attendant rise in radiation exposure. Many methods currently employed to reduce radiation dose may affect image quality and potentially affect diagnostic accuracy. Reducing Z-axis coverage would decrease radiation dose without any effect on image quality. This study was performed to assess the effect on the accuracy of MDCTA for suspected acute PE if the Z-axis coverage was reduced to the anatomic range from the top of the aortic arch through the heart. Two hundred ninety-five examinations were performed on a 64-detector-row MDCT and interpreted as positive for PE from July 2005 to February 2008. When the anatomic range of these data sets were retrospectively reduced and reinterpreted for PE, no case was interpreted as negative for PE. The Z-axis coverage was reduced by 37%. In the interest of keeping radiation doses as low as reasonably achievable, further research in this area is warranted.
Access options
Buy single article
Instant access to the full article PDF.
USD 39.95
Price excludes VAT (USA)
Tax calculation will be finalised during checkout.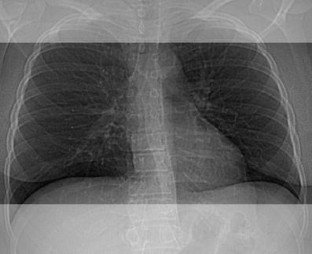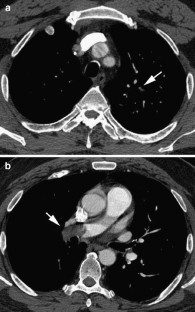 Abbreviations
CT:

Computed tomography

CTA:

Computed tomographic angiography

MDCT:

Multidetector computed tomography

MDCTA:

Multidetector computed tomographic angiography

PACS:

Picture archiving and communication system

PE:

Pulmonary embolism

TRO-CTA:

Triple rule out computed tomographic angiography
References
Remy-Jardin M, Pistolesi M, Goodman LR et al (2007) Management of suspected acute pulmonary embolism in the era of CT angiography: a statement from the Fleischner Society. Radiology 245(2):315–329. doi:10.1148/radiol.2452070397

Stein PD, Woodward PK, Weg JG et al (2007) Diagnostic pathways in acute pulmonary embolism: recommendations of the PIOPED II Investigators. Radiology 242(1):15–21. doi:10.1148/radiol.2421060971

Weiss CR, Scatarige JC, Diette GB et al (2006) CT pulmonary angiography is the first-line imaging test for acute pulmonary embolism: a survey of US clinicians. Acad Radiol 13(4):434–446. doi:10.1016/j.acra.2006.01.002

Winer-Muram HT, Rydberg J, Johnson MS et al (2004) Suspected acute pulmonary embolism: evaluation with multi-detector row CT versus digital subtraction pulmonary arteriography. Radiology 233:806–815. doi:10.1148/radiol.2333031744

Stein PD, Fowler SE, Goodman LR et al (2006) Multidetector computed tomography for acute pulmonary embolism. N Engl J Med 354(2):2318–2327. doi:10.1056/NEJMoa052367

Broder J, Warshauer DM (2006) Increasing utilization of computed tomography in the adult emergency department, 2000–2005. Emerg Radiol 13(1):25–30. doi:10.1007/s10140-006-0493-9

Broder J, Fordham LA, Warshauer DM (2007) Increasing utilization of computed tomography in the pediatric emergency department, 2006–2007. Emerg Radiol 14:227–232. doi:10.1007/s10140-007-0618-9

Brenner DJ, Hall EJ (2007) Computed tomography—an increasing source of radiation exposure. N Engl J Med 357:2277–2284. doi:10.1056/NEJMra072149

Donohoo JH, Mayo-Smith WW, Pezzullo JA et al (2008) Utilization patterns and diagnostic yield of 3421 consecutive multidetector row computed tomography pulmonary angiograms in a busy emergency department. J Comput Assist Tomogr 32(3):421–425. doi:10.1097/RCT.0b013e31812e6af3

Prologo JD, Gilkeson RC, Diaz M et al (2004) CT pulmonary angiography: a comparative analysis of the utilization patterns in emergency department and hospitalized patients between 1998 and 2003. AJR Am J Roentgenol 183(4):1093–1096

Burge AJ, Freeman KD, Klapper PJ et al (2008) Increased diagnosis of pulmonary embolism without a corresponding decline in mortality during the CT era. Clin Radiol 63(4):381–386. doi:10.1016/j.crad.2007.10.004

Kuiper JW, Geleijns J, Matheijssen NA et al (2003) radiation exposure of multi-row detector spiral computed tomography of the pulmonary arteries: comparison with digital subtraction angiography. Eur Radiol 13(7):1496–1500. doi:10.1007/s00330-002-1753-z

Heyer CM, Mohr PS, Lemburg SP et al (2007) Image quality and radiation exposure at pulmonary CT angiography with 100- or 120-kVp protocol: prospective randomized study. Radiology 245(2):577–583. doi:10.1148/radiol.2452061919

Hurwitz LM, Reiman RE, Yoshizumi TT et al (2007) Radiation dose from contemporary multidetector CT protocols with an anthropomorphic female phantom: implications for cancer induction. Radiology 245(3):742–750. doi:10.1148/radiol.2453062046

Kubo T, Pei-Jan PL, Wolfram S (2008) Radiation dose reduction in chest CT: a review. AJR Am J Roentgenol 190(2):335–343. doi:10.2214/AJR.07.2556

Tack D, De Maertelaer V, Petit W et al (2005) Multi-detector row CT pulmonary angiography: comparison of standard and simulated low-dose techniques. Radiology 236(1):318–325. doi:10.1148/radiol.2361040190

MacKenzie JD, Nazario-Larrieu J, Cai T et al (2007) Reduced-dose CT: effect on reader evaluation in detection of pulmonary embolism. AJR Am J Roentgenol 189(6):1371–1379. doi:10.2214/AJR.07.2686

Huda W, Ogden KM, Khorasani MR (2008) Converting dose-length product to effective dose at CT. Radiology 248(3):995–1003. doi:10.1148/radiol.2483071964

Patel H, Coughlin BF, LaFrance T, et al (2007) Comparison of full chest CTA with limited CTA and triple rule-out CTA for PE detection and effective dose implications. Proceedings of the Radiological Society of North America annual meeting 2007

Suh J, Cronan J (2008) Dots are not clots: the over-diagnosis and over-treatment of pulmonary embolism. Proceedings of the Radiological Society of North America annual meeting 2008

Prologo JD, Gilkeson RC, Diaz M et al (2005) The effect of single-detector CT versus MDCT on clinical outcomes in patients with suspected acute pulmonary embolism and negative results on CT pulmonary angiography. AJR Am J Roentgenol 184(4):1231–1235

Koo S, Kucher N, Nguyen PL et al (2004) The effect of excessive anticoagulation on mortality and morbidity in hospitalized patients with anticoagulant-related major hemorrhage. Arch Intern Med 164:1557–1560. doi:10.1001/archinte.164.14.1557

Oden A, Fahlen M (2002) Oral anticoagulation and risk of death: a medical record linkage study. BMJ 325:1073–1075. doi:10.1136/bmj.325.7372.1073

Takakuwa KM, Halpern EJ (2008) Evaluation of a "triple rule-out" coronary CT angiography protocol: use of 64-section CT in low-to-moderate risk emergency department patients suspected of having acute coronary syndrome. Radiology 248(2):438–446. doi:10.1148/radiol.2482072169
About this article
Cite this article
Kallen, J.A., Coughlin, B.F., O'Loughlin, M.T. et al. Reduced Z-axis coverage multidetector CT angiography for suspected acute pulmonary embolism could decrease dose and maintain diagnostic accuracy. Emerg Radiol 17, 31–35 (2010). https://doi.org/10.1007/s10140-009-0818-6
Received:

Accepted:

Published:

Issue Date:

DOI: https://doi.org/10.1007/s10140-009-0818-6
Keywords
Pulmonary embolism

CTA

Radiation dose

CT scan parameters