Abstract
There exists no systematic evaluation on the findings in multi-detector row computed tomography (MDCT) with portal phase enhancement in patients with mesenteric venous thrombosis (MVT). Patients with MVT between 2004 and 2006 were identified at Malmö University Hospital, Sweden. Thirty patients had MVT. Median age was 58 years (interquartile range, 46–72), and 57% (17) were men. MDCT with portal phase enhancement showed MVT in 19 out of 20 investigated patients at first evaluation, even though there was clinical suspicion in only one, and conservative management was possible in 19 (95%). Central and peripheral MVT was seen in 20 (100%) and six (30%) cases, respectively. Extra-hepatic and intra-hepatic portal and splenic vein thrombosis was seen in 17 (85%), nine (45%) and 15 (75%) cases, respectively. Venous collaterals were visible in 12 (60%) cases. The most frequent extra-vascular pathologies were mesenteric oedema (50%), ascites (40%), small bowel wall oedema (25%) and local small bowel wall dilatation (20%). The vascular findings in MVT are more pronounced than the intestinal findings in MDCT with portal phase enhancement, and evaluation of the mesenteric vessels should be included in routine MDCT scans for unclear acute abdomen.
Access options
Buy single article
Instant access to the full article PDF.
USD 39.95
Price excludes VAT (USA)
Tax calculation will be finalised during checkout.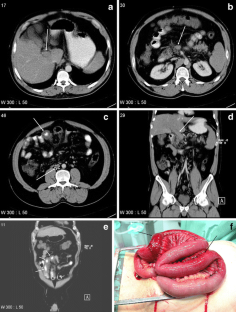 References
Acosta S, Ögren M, Sternby N-H, Bergqvist D, Björck M (2005) Mesenteric venous thrombosis with transmural intestinal infarction: a population-based study. J Vasc Surg 41:59–63. doi:10.1016/j.jvs.2004.10.011

Rhee RY, Gloviczki P, Mendonca CT, Petterson TM, Serry RD, Sarr MG et al (1994) Mesenteric venous thrombosis: still a lethal disease in the 1990s. J Vasc Surg 20:688–697 Review

Morasch M, Ebaugh J, Chiou A, Matsumara J, Pearce W, Yao J (2001) Mesenteric venous thrombosis: a changing clinical entity. J Vasc Surg 34:680–684. doi:10.1067/mva.2001.116965

Brunaud L, Antunes L, Collinet-Adler S, Marchal F, Ayav A, Bresler L, Boissel P (2001) Acute mesenteric venous thrombosis: case for nonoperative management. J Vasc Surg 34:673–679. doi:10.1067/mva.2001.117331

Horton K, Fishman E, Multidetector CT (2007) Angiography in the diagnosis of mesenteric ischemia. Radiol Clin North Am 45:275–288. doi:10.1016/j.rcl.2007.03.010

Levy A (2007) Mesenteric ischemia. Radiol Clin North Am 45:593–599. doi:10.1016/j.rcl.2007.04.012

Acosta S, Alhadad A, Svensson P, Ekberg O (2008) Epidemiology, risk and prognostic factors in mesenteric venous thrombosis. Br J Surg 10:1245–1251. doi:10.1002/bjs.6319

Chou CK, Mak CW, Tzeng YH, Liu KL, Chen JM (2004) CT of small bowel ischemia. Abdom Imaging 29:18–22. doi:10.1007/s00261-003-0073-3

Zhang J, Duan ZQ, Song QB, Yw L, Xin SJ, Zhang Q (2004) Acute mesenteric venous thrombosis: a better outcome achieved through improved imaging techniques and a changed policy of clinical management. Eur J Vasc Endovasc Surg 28:329–334. doi:10.1016/j.ejvs.2004.06.001

Orr DW, Harrison PM, Devlin J, Karani JB, Kane PA, Heaton ND, O'Grady JG, Henegan MA (2007) Chronic mesenteric venous thrombosis: evaluation and determinants of survival during long-term follow-up. Clin Gastroenterol Hepatol 5:80–86. doi:10.1016/j.cgh.2006.09.030

Arrivé Ö, Crema MD, Lewin M, Hoeffel C, Azizi L, Tubiana JM, Monnier-Cholley L (2007) Computed tomography features of acute thrombosis of central veins with perivenous inflammatory changes. J Comput Assist Tomogr 31:931–935. doi:10.1097/rct.0b013e31804713ee

Warshauer DM, Lee JKT, Mauro MA, White GCII (2001) Superior mesenteric vein thrombosis with radiologically occult cause: a retrospective study of 43 cases. AJR Am J Roentgenol 177:837–841

Menon NJ, Amin AM, Mohammed A, Hamilton G (2005) Acute mesenteric ischaemia. Acta Chir Belg 105:344–354

Yu CW, Lee WJ, Tsai YH, Liu KL, Chen SJ (2003) Demonstration of extensive mesenteric venous thrombosis and intestinal infarction with multi-detector row CT: value of curved planar reformations. Abdom Imaging 28:775–777. doi:10.1007/s00261-003-0053-7

Bradbury MS, Kavanaagh PV, Chen MY, Weber TM, Bechtold RE (2002) Noninvasive assessment of portomesenteric venous thrombosis: current concepts and imaging strategies. J Comput Assist Tomogr 26:392–404. doi:10.1097/00004728-200205000-00014

Bradbury MS, Kavanagh PV, Bechtold RE, Chen MY, Ott DJ, Regan JD, Weber TM (2002) Mesenteric venous thrombosis: diagnosis and non-invasive imaging. Radiographics 22:527–541
About this article
Cite this article
Acosta, S., Alhadad, A. & Ekberg, O. Findings in multi-detector row CT with portal phase enhancement in patients with mesenteric venous thrombosis. Emerg Radiol 16, 477–482 (2009). https://doi.org/10.1007/s10140-009-0807-9
Received:

Accepted:

Published:

Issue Date:

DOI: https://doi.org/10.1007/s10140-009-0807-9
Keywords