Abstract
Evolving multi-row detector computed tomography (MDCT) technology has resulted in increasing utility of CT angiography (CTA) in extremity vascular trauma diagnosis and characterization. Given the widespread availability as well as the ease of acquiring CTA in the trauma setting, CTA is increasingly being used as the initial diagnostic evaluation in extremity vascular trauma, replacing digital subtraction angiography in many institutions. One of the significant advantages of the application of 64-MDCT to extremity vascular trauma is the ability to integrate CTA into routine trauma torso protocols. This ultimately yields an efficient, tailored examination to evaluate the multi-trauma patient in a timely manner, a critical concern in this patient population. Although 64-MDCT offers increasing improvement in image quality, technical quality hinges on strict attention to protocol considerations in its implementation. This review article aims to detail the myriad injuries, which may be detected and characterized with CTA. Protocol considerations in the application of 64-MDCT technology to extremity vascular trauma are discussed, drawing from our experience in an urban, Level I trauma center. Finally, the advantages and techniques of integrating extremity CTA into torso trauma protocols will be described.
Access options
Buy single article
Instant access to the full article PDF.
USD 39.95
Price excludes VAT (USA)
Tax calculation will be finalised during checkout.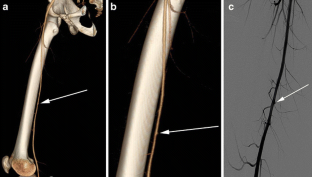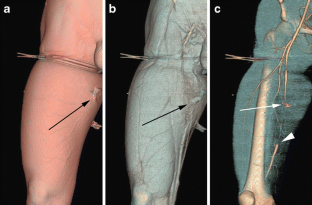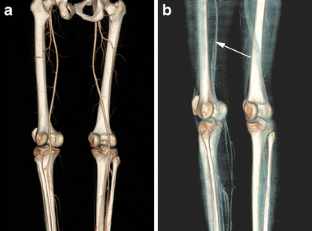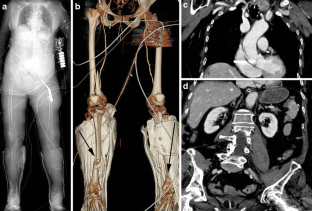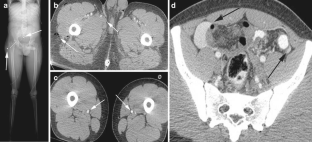 References
Soto JA, Munera F, Cardoso N et al (1999) Diagnostic performance of helical CT angiography in trauma to large arteries of the extremities. J Comput Assist Tomogr 23:188–196. doi:10.1097/00004728-199903000-00005

Fishman EK, Horton KM, Johnson PT (2008) Multidetector CT and three-dimensional CT angiography for suspected vascular trauma of the extremities. Radiographics 28(3):653–665. doi:10.1148/rg.283075050

Rieger M, Mallouhi A, Tauscher T et al (2006) Traumatic arterial injuries of the extremities: initial evaluation with MDCT angiography. AJR Am J Roentgenol 186:656–664. doi:10.2214/AJR.04.0756

McDonald EJ, Goodman PC, Winestock DP (1975) The clinical indications for arteriography in trauma to the extremity. Radiology 116:45–47

Geuder JW, Hobson RW 2nd, Padberg FT Jr et al (1985) The role of contrast arteriography in suspected arterial injuries of the extremities. Am Surg 51:89–93

Schwartz MR, Weaver FA, Bauer M et al (1993) Refining the indications for arteriography in penetrating extremity trauma: a prospective analysis. J Vasc Surg 17:116–122. doi:10.1067/mva.1993.42588

Sirinek KR, Gaskill HG 3rd, Dittman WI et al (1983) Exclusion angiography for patients with possible vascular injuries of the extremities: a better use of trauma center resources. Surgery 94(4):598–603

AbuRahma AF, Robinson PA, Boland JP et al (1993) Complications of arteriography in a recent series of 707 cases: factors affecting outcome. Ann Vasc Surg 7:122–129. doi:10.1007/BF02001005

Albrecht T, Foert E, Holtkamp R et al (2007) 16-MDCT angiography of aortoiliac and lower extremity arteries: comparison with digital subtraction angiography. AJR Am J Roentgenol 189(3):702–711. doi:10.2214/AJR.07.2333

Ota H, Takase K, Igarashi K et al (2004) MDCT compared with digital subtraction angiography for assessment of lower extremity arterial occlusive disease: importance of reviewing cross-sectional images. AJR Am J Roentgenol 182(1):201–209

Inaba K, Potzman J, Munera F et al (2006) Multi-slice CT angiography for arterial evaluation in the injured lower extremity. J Trauma 60:502–507. doi:10.1097/01.ta.0000204150.78156.a9

Busquets AR, Acosta JA, Colon E et al (2004) Helical computed tomographic angiography for the diagnosis of traumatic arterial injuries of the extremities. J Trauma 56:625–628. doi:10.1097/01.TA.0000053546.28739.CF

Soto JA, Munera F, Morales C et al (2001) Focal arterial injuries of the proximal extremities: helical CT arteriography as the initial method of diagnosis. Radiology 218:188–194

Anderson SW, Foster BR, Soto JA (2008) Upper extremity CT angiography in penetrating trauma: use of 64-section multidetector CT. Radiology 249(3):1064–1073. doi:10.1148/radiol.2493080652

Lell MM, Anders K, Uder M et al (2006) New techniques in CT angiography. Radiographics 26(suppl 1):S45–S62. doi:10.1148/rg.26si065508

Sabharwal R, Vladica P, Coleman P (2007) Multi-detector spiral CT renal angiography in the diagnosis of renal artery fibromuscular dysplasia. Eur J Radiol 61(3):520–527. doi:10.1016/j.ejrad.2006.10.005

Willmann JK, Wildermuth S (2005) Multidetector-row CT angiography of upper- and lower-extremity peripheral arteries. Eur Radiol 15(suppl 4):D3–D9. doi:10.1007/s10406-005-0132-7

Rubin GD (2001) Techniques for performing multidetector-row computed tomographic angiograpy. Tech Vasc Interv Radiol 4(1):2–14. doi:10.1053/tvir.2001.22966

Pieroni S (2009) Extremity CT angiography using 64-MDCT: applications in blunt and penetrating upper and lower extremity trauma. Radiographics (in press)

Foster BR, Anderson SW, Soto JA (2006) CT angiography of extremity trauma. Tech Vasc Interv Radiol 9(4):156–166. doi:10.1053/j.tvir.2007.02.009

Diehm N, Pena C, Benenati JF, Tsoukas AI, Katzen BT (2008) Adequacy of an early arterial phase low-volume contrast protocol in 64-detector computed tomography angiography for aortoiliac aneurysms. J Vasc Surg 47(3):492–498. doi:10.1016/j.jvs.2007.11.004

Fleischmann D (2005) How to design injection protocols for multiple detector-row CT angiography (MDCTA). Eur Radiol 15(suppl 5):E60–E65. doi:10.1007/s10406-005-0166-x

Kock MC, Dijkshoorn ML, Pattynama PM, Myriam Hunink MG (2007) Multi-detector row computer tomography angiography of peripheral arterial disease. Eur Radiol 17(12):3208–3222. doi:10.1007/s00330-007-0729-4

Hallett RL, Fleischmann D (2006) Tools of the trade for CTA: MDCT scanners and contrast medium injection protocols. Tech Vasc Interv Radiol 9(4):134–142. doi:10.1053/j.tvir.2007.02.006

Bae KT (2003) Peak contrast enhancement in CT and MR angiography: when does it occur and why? Pharmacokinetic study in a porcine model. Radiology 227:809. doi:10.1148/radiol.2273020102

Menzoian JO, Doyle JE, Cantelmo NL et al (1985) A comprehensive approach to extremity vascular trauma. Arch Surg 120:801–805

McCorkell SJ, Harley JD, Morishima MS et al (1985) Indications for angiography in extremity trauma. AJR Am J Roentgenol 145:1245–1247

Dennis JW, Frykberg ER, Veldenz HC, Huffman S, Menawat SS (1998) Validation of Nonoperative management of occult vascular injuries and accuracy of physical examination alone in penetrating extremity trauma: 5-to 10-year follow-up. J Trauma 44:243–252. doi:10.1097/00005373-199802000-00001 (discussion 242–243)

Gillespie DL, Woodson J, Kaufman J et al (1993) Role of arteriography for blunt or penetrating injuries in proximity to major vascular structures: an evolution in management. Ann Vasc Surg 7:145–149. doi:10.1007/BF02001008

Miller-Thomas MM, West OC, Cohen AM (2006) Diagnosing traumatic arterial injury in the extremities with CT angiography: pearls and pitfalls. Radiographics 25(suppl 1):S133–S142. doi:10.1148/rg.25si055511

Anderson SW, Lucey BC, Rhea JT, Soto JA (2007) 64 MDCT in multiple trauma patients: imaging manifestations and clinical implications of active extravasation. Emerg Radiol 14(3):151–159. doi:10.1007/s10140-007-0600-6

Gonzalez RP, Falimirski ME (1999) The utility of physical examination in proximity extremity trauma. Am Surg 65:784–789

Anderson SW, Soto JA, Lucey BC, Burke PA, Hirsch EF, Rhea JT (2008) Blunt trauma: feasibility and clinical utility of pelvic CT angiography performed with 64-detector row CT. Radiology 246(2):410–419. doi:10.1148/radiol.2462070082

Kertesz JL, Anderson SW, Murakami AM, Pieroni S, Rhea JT, Soto JA (2009) Detection of vascular injuries in patients with blunt pelvic trauma by using 64-channel multidetector CT. Radiographics 29(1):151–164. doi:10.1148/rg.291085508

Ashworth EM, Dalsing MC, Glover JL et al (1988) Lower extremity vascular trauma: A comprehensive, aggressive approach. J Trauma 28:329–336. doi:10.1097/00005373-198803000-00008

Brockmann C, Jochum S, Sadick M, Huck K, Ziegler P, Fink C, Schoenberg SO, Diehl SJ (2009) Dual-energy CT angiography in peripheral arterial occlusive disease. Cardiovasc Intervent Radiol (in press)

Frykberg ER, Crump JM, Vines FS et al (1989) A reassessment of the role of arteriography in penetrating proximity extremity trauma: a prospective study. J Trauma 29(8):1041–1050. doi:10.1097/00005373-198908000-00001

Moon SG, Hong SH, Choi JY, Jun WS, Kang HG, Kim HS, Kang HS (2008) Metal artifact reduction by the alteration of technical factors in multidetector computer tomography: a 3-dimensional quantitative assessment. J Comput Assist Tomogr 32(4):630–633

Martin ML, Tay KH, Flak B, Fry PD, Doyle DL, Taylor DC, Hsiang YN, Machan LS (2003) Multidetector CT angiography of the aortoiliac system and lower extremities: a prospective comparison with digital subtraction angiography. AJR Am J Roentgenol 180(4):1085–1091

Fleiter TR, Mervis S (2007) The role of 3D-CTA in the assessment of peripheral vascular lesions in trauma patients. Eur J Radiol 64(1):92–102. doi:10.1016/j.ejrad.2007.07.018
About this article
Cite this article
Shah, N., Anderson, S.W., Vu, M. et al. Extremity CT angiography: application to trauma using 64-MDCT. Emerg Radiol 16, 425–432 (2009). https://doi.org/10.1007/s10140-009-0805-y
Received:

Accepted:

Published:

Issue Date:

DOI: https://doi.org/10.1007/s10140-009-0805-y
Keywords
Extremity

Vascular

Trauma

CT angiography

Adult