Abstract
MR imaging and MR angiography have become first-line imaging techniques in assessment of the patient with suspected dissection of the carotid and vertebral arteries. This review describes the advantages of these two techniques for diagnosis and describes diagnostic pitfalls.
Access options
Buy single article
Instant access to the full article PDF.
US$ 39.95
Tax calculation will be finalised during checkout.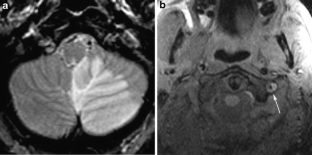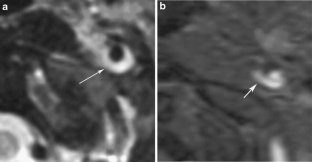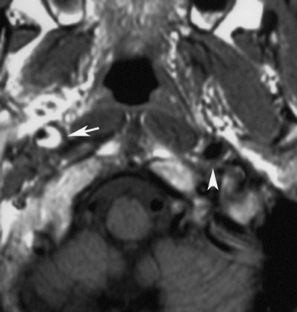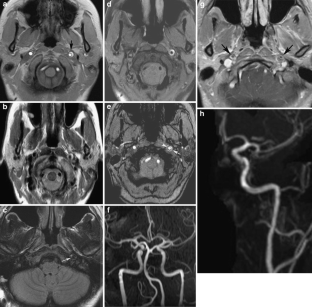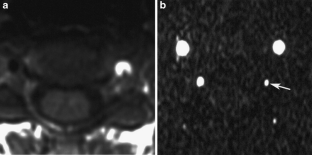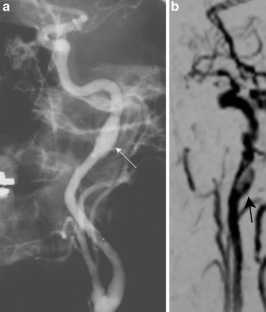 References
1.

Bogousslavsky J, Pierre P (1992) Ischemic stroke in patients under age 45. Neurol Clin 10:113–124

2.

Chandra A, Suliman A, Angle N (2007) Spontaneous dissection of the carotid and vertebral arteries: the 10-year UCSD experience. Ann Vasc Surg 21:178–185

3.

Arnold M, Bousser MG, Fahrni G et al (2006) Vertebral artery dissection: presenting findings and predictors of outcome. Stroke 37:2499–2503. doi:10.1161/01.STR.0000240493.88473.39

4.

Flis CM, Jäger HR, Sidhu PS (2007) Carotid and vertebral artery dissections: clinical aspects, imaging features and endovascular treatment. Eur Radiol 17:820–834. doi:10.1007/s00330-006-0346-7

5.

Schievink WI (2001) Spontaneous dissection of the carotid and vertebral arteries. N Engl J Med 344:898–906. doi:10.1056/NEJM200103223441206

6.

Caplan LR, Tettenborn B (1992) Vertebrobasilar occlusive disease: a review of selected aspects. Spontaneous dissection of extracranial and intracranial posterior circulation arteries. Cerebrovasc Dis 2:256–265. doi:10.1159/000109025

7.

Provenzale JM, Barboriak DP, Taveras JM (1995) Exercise-related dissection of craniocervical arteries: CT, MR, and angiographic findings. J Comput Assist Tomogr 19:268–276

8.

Rubinstein SM, Saskia M, Peerdeman SM, van Tulder MW, Riphagen I, Haldeman S (2005) A systematic review of the risk factors for cervical artery dissection. Stroke 36:1575–1580. doi:10.1161/01.STR.0000169919.73219.30

9.

Bassetti C, Carruzzo A, Sturzenegger M, Tuncdogan E (1996) Recurrence of cervical artery dissection: a prospective study of 81 patients. Stroke 27:1804–1807

10.

Kitanaka C, Tanaka J, Kuwahara M, Teraoka A (1994) Magnetic resonance imaging study of intracranial vertebrobasilar artery dissections. Stroke 25:571–575

11.

Goldberg HI, Grossman RI, Gomori JM, Asbury AK, Bilaniuk LT, Zimmerman RA (1986) Cervical internal carotid artery dissecting hemorrhage: diagnosis using MR. Radiology 158:157–161

12.

Hosoya T, Adachi M, Yamaguchi K, Haku T, Kayama T, Kato T (1999) Clinical and neuroradiological features of intracranial vertebrobasilar artery dissection. Stroke 30:1083–1090

13.

Levy C, Laissy JP, Raveau V et al (1994) Carotid and vertebral artery dissections: three-dimensional time-of-flight MR angiography and MR imaging versus conventional angiography. Radiology 190:97–103

14.

Houser OW, Mokri B, Sundt TM Jr, Baker HL Jr, Reese DF (1984) Spontaneous cervical cephalic arterial dissection and its residuum: angiographic spectrum. AJNR Am J Neuroradiol 5:27–34

15.

Shin JH, Suh DC, Choi CG, Lee HK (2000) Vertebral artery dissection: spectrum of imaging findings with emphasis on angiography and correlation with clinical presentation. Radiographics 20:1687–1696

16.

Benninger DH, Georgiadis D, Gandjour J, Baumgartner W (2006) Accuracy of color duplex ultrasound diagnosis of spontaneous carotid dissection causing ischemia. Stroke 37:377–381. doi:10.1161/01.STR.0000198811.65068.16

17.

Malhotra AK, Camacho M, Ivatury RR et al (2007) Computed tomographic angiography for the diagnosis of blunt carotid/vertebral artery injury: a note of caution. Ann Surg 246:632–642. doi:10.1097/SLA.0b013e3181568cab

18.

Yang CW, Carr JC, Futterer SF et al (2005) Contrast-enhanced MR angiography of the carotid and vertebrobasilar circulations. AJNR Am J Neuroradiol 26:2095–2101

19.

Leclerc X, Lucas C, Godefroy O et al (1999) Preliminary experience using contrast-enhanced MR angiography to assess vertebral artery structure for the follow-up of suspected dissection. AJNR Am J Neuroradiol 20:1482–1490

20.

Rizzo L, Crasto SG, Savio D et al (2006) Dissection of cervicocephalic arteries: early diagnosis and follow-up with magnetic resonance imaging. Emerg Radiol 12:254–265. doi:10.1007/s10140-006-0476-x

21.

Shah GV, Quint DJ, Trobe JD (2004) Magnetic resonance imaging of suspected cervicocranial arterial dissections. J Neuroophthalmol 24:315–318. doi:10.1097/00041327-200412000-00009

22.

Biffl WL, Ray CE Jr, Moore EE, Mestek M, Johnson JL, Burch JM (2002) Noninvasive diagnosis of blunt cerebrovascular injuries: a preliminary report. J Trauma 53:850–856. doi:10.1097/00005373-200211000-00008

23.

Heinz ER, Yeates AE, Djang WT (1989) Significant extracranial carotid stenosis: detection on routine cerebral MR images. Radiology 170:843–848

24.

Bloem BR, Lammers GJ, Buchem MA (1999) Magnetic resonance imaging and vertebral artery dissection. J Neurol Neurosurg Psychiatry 67:691–692

25.

Kirsch E, Kaim A, Engelter S et al (1998) MR angiography in internal carotid artery dissection: Improvement of diagnosis by selective demonstration of the intramural haematoma. Neuroradiology 40:704–709. doi:10.1007/s002340050668

26.

De Marco JK, Schonfeld S, Keller I, Bernstein MA (2001) Contrast-enhanced MR Angiography with commercially available triggering mechanisms and elliptic centric phase encoding. AJR Am J Roentgenol 176:221–227

27.

Phan T, Huston J III, Bernstein MA, Riederer SJ, Brown RD (2001) contrast-enhanced magnetic resonance angiography of the cervical vessels; experience with 422 patients. Stroke 32:2282–2286. doi:10.1161/hs1001.096046

28.

Nogueira TE, Chambers AA, Brueggemeyer MT, Miller TJ (1997) Dual origin of the vertebral artery mimicking dissection. AJNR Am J Neuroradiol 18:382–384

29.

Gailloud P, Carpenter J, Heck DV, Murphy KJ (2004) Pseudofenestration of the cervical internal carotid artery: a pathologic process that simulates an anatomic variant. AJNR Am J Neuroradiol 25:421–424

30.

Iu PP, Lam HS (2001) Migrainous spasm simulating carotid dissection: a pitfall in MR arteriographic findings. AJNR Am J Neuroradiol 22:1550–1552

31.

Múnera F, Soto JA, Palacio D, Velez SM, Medina E (2000) Diagnosis of arterial injuries caused by penetrating trauma to the neck: comparison of helical CT angiography and conventional angiography. Radiology 216:356–362

32.

Khan R, Smith JK, Castillo M (2002) False-negative contrast MRA in the setting of carotid artery dissection. Emerg Radiol 9:320–322
About this article
Cite this article
Provenzale, J.M. MRI and MRA for evaluation of dissection of craniocerebral arteries: lessons from the medical literature. Emerg Radiol 16, 185–193 (2009). https://doi.org/10.1007/s10140-008-0770-x
Received:

Accepted:

Published:

Issue Date:
Keywords
Magnetic resonance imaging

Magnetic resonance angiography

Dissection

Carotid artery

Vertebral artery