Abstract
Cardiac imaging is feasible with multi-detector row (MDCT) scanners. Coronary arterial anatomy and both non-calcified and calcified plaques are depicted at CT coronary angiography. Vessel wall pathology and luminal diameter are depicted, and secondary myocardial changes may also be seen. Diagnostic capacity has increased with technological advancement, and preliminary investigations confirm the utility of 64-MDCT in low- and intermediate-risk patients who present to the emergency department with acute chest pain. The clinical indications, 64-MDCT technique, and MDCT findings in coronary artery disease are reviewed.
Access options
Buy single article
Instant access to the full article PDF.
USD 39.95
Price excludes VAT (USA)
Tax calculation will be finalised during checkout.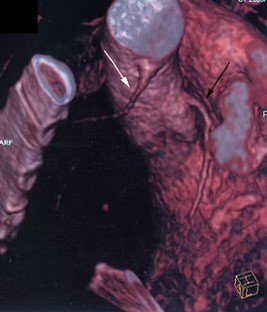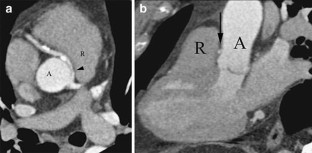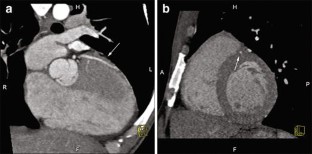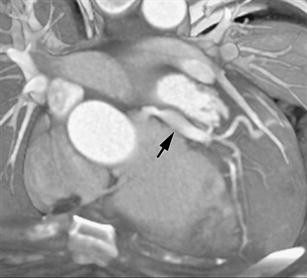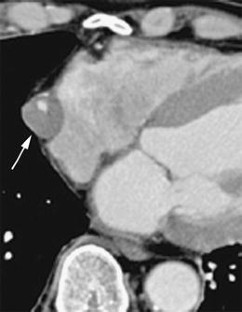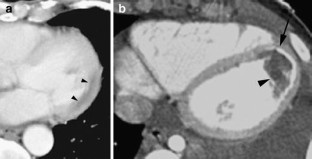 References
Achenbach S, Anders K, Kalender WA (2008) Dual-source cardiac computed tomography: image quality and dose considerations. Eur Radiol 18:1188–1198 doi:10.1007/s00330-008-0883-3

Collins J (2007) Image quality and radiation dose at coronary CT angiography. Appl Radiol 36(Suppl):42–55 (Dec)

McCollough CH, Primak AN, Saba O et al (2007) Dose performance of a 64-channel dual-source CT scanner. Radiology 243(3):775–784 doi:10.1148/radiol.2433061165

Ladapo JA, Hoffmann U, Bamberg F, Nagurney JT, Cutler DM, Weinstein MC et al (2008) Cost-effectiveness of coronary MDCT in the triage of patients with acute chest pain. AJR Am J Roentgenol 191:455–463 doi:10.2214/AJR.07.3611

Heffernan EJ, Dodd JD, Malone DE (2008) Cardiac multidetector CT: technical and diagnostic evaluation with evidence-based practice techniques. Radiology 248:366–377 doi:10.1148/radiol.2482070356

Vanhoenacker PK, Decramer I, Bladt O, Sarno G, Bevernage C, Wijns W (2007) Detection of non-ST-elevation myocardial infarction and unstable angina in the acute setting: meta-analysis of diagnostic performance of multi-detector computed tomographic angiography. BMC Cardiovasc Disord 7:39 (Dec 19)

Raff GL, Gallagher MJ, O'Neill WW, Goldstein JA (2005) Diagnostic accuracy of noninvasive coronary angiography using 64-slice spiral computed tomography. J Am Coll Cardiol 46(3):552–557 doi:10.1016/j.jacc.2005.05.056

Ong TK, Chin SP, Liew CK et al (2006) Accuracy of 64-row multidetector computed tomography in detecting coronary artery disease in 134 symptomatic patients: influence of calcification. Am Heart J 151(6):1323.e1–1323.e6

Mollet NR, Cademartiri F, van Mieghem CA et al (2005) High-resolution spiral computed tomography coronary angiography in patients referred for diagnostic conventional coronary angiography. Circulation 112(15):2318–2323 doi:10.1161/CIRCULATIONAHA.105.533471

Brodoefel H, Reimann A, Burgstahler C et al (2008) Noninvasive coronary angiography using 64-slice spiral computed tomography in an unselected patient collective: effect of heart rate, heart rate variability and coronary calcifications on image quality and diagnostic accuracy. Eur J Radiol 66(1):134–141 doi:10.1016/j.ejrad.2007.05.013

Hausleiter J, Meyer T, Hadamitzky M et al (2007) Non-invasive coronary computed tomographic angiography for patients with suspected coronary artery disease: the Coronary Angiography by Computed Tomography with the Use of a Submillimeter Resolution (CACTUS) Trial. Eur Heart J 28(24):3034–3041 doi:10.1093/eurheartj/ehm150

Dorgelo J, Willems TP, van Ooijen PM et al (2005) A 16-slice multidetector computed tomography protocol for evaluation of the gastroepiploic artery grafts in patients after coronary artery bypass surgery. Eur Radiol 15(9):1994–1999 doi:10.1007/s00330-005-2766-1

Cademartiri F, Luccichenti G, Marano R, Pavone P (2004) Techniques for optimisation of coronary artery opacification in non-invasive angiography with a 16-row multislice computed tomography. Radiol Med (Torino) 107(1–2):24–34

Cademartiri F, Nieman K, van der Lugt A et al (2004) Intravenous contrast material administration at 16-detector row helical CT coronary angiography: test bolus versus bolus-tracking technique. Radiology 233(3):817–823 doi:10.1148/radiol.2333030668

Leschka S, Husmann L, Desbiolles LM et al (2006) Optimal image reconstruction intervals for non-invasive coronary angiography with 64-slice CT. Eur Radiol 16(9):1964–1972 doi:10.1007/s00330-006-0262-x

White CS, Kuo D (2007) Chest pain in the emergency department: role of multidetector CT. Radiology 245(3):672–681 doi:10.1148/radiol.2453061481

Runza G, La Grutta L, Alaimo V et al (2007) Comprehensive cardiovascular ECG-gated MDCT as a standard diagnostic tool in patients with acute chest pain. Eur J Radiol 64(1):41–47 doi:10.1016/j.ejrad.2007.06.020

Gallagher MJ, Raff GL (2008) Use of multislice CT for the evaluation of emergency room patients with chest pain: the so-called "triple rule-out". Catheter Cardiovasc Interv 71(1):92–99 doi:10.1002/ccd.21398

Litmanovitch D, Zamboni GA, Hauser TH et al (2008) ECG-gated chest CT angiography with 64-MDCT and tri-phasic IV contrast administration regimen in patients with acute non-specific chest pain. Eur Radiol 18(2):308–317 doi:10.1007/s00330-007-0739-2

Cademartiri F, Mollet N, Lemos PA et al (2004) Standard versus user-interactive assessment of significant coronary stenoses with multislice computed tomography coronary angiography. Am J Cardiol 94(12):1590–1593 doi:10.1016/j.amjcard.2004.08.051

Ferencik M, Ropers D, Abbara S et al (2007) Diagnostic accuracy of image postprocessing methods for the detection of coronary artery stenoses by using multidetector CT. Radiology 243(3):696–702 doi:10.1148/radiol.2433060080

Leschka S, Alkadhi H, Plass A et al (2005) Accuracy of MSCT coronary angiography with 64-slice technology: first experience. Eur Heart J 26(15):1482–1487 doi:10.1093/eurheartj/ehi261

Leber AW, Knez A, von Ziegler F et al (2005) Quantification of obstructive and nonobstructive coronary lesions by 64-slice computed tomography: a comparative study with quantitative coronary angiography and intravascular ultrasound. J Am Coll Cardiol 46(1):147–154 doi:10.1016/j.jacc.2005.03.071

Moselewski F, Ropers D, Pohle K et al (2004) Comparison of measurement of cross-sectional coronary atherosclerotic plaque and vessel areas by 16-slice multidetector computed tomography versus intravascular ultrasound. Am J Cardiol 94(10):1294–1297 doi:10.1016/j.amjcard.2004.07.117

Caussin C, Daoud B, Ghostine S et al (2005) Comparison of lumens of intermediate coronary stenosis using 16-slice computed tomography versus intravascular ultrasound. Am J Cardiol 96(4):524–528 doi:10.1016/j.amjcard.2005.04.013

Cury RC, Pomerantsev EV, Ferencik M et al (2005) Comparison of the degree of coronary stenoses by multidetector computed tomography versus by quantitative coronary angiography. Am J Cardiol 96(6):784–787 doi:10.1016/j.amjcard.2005.05.020

Scanlon PJ, Faxon DP, Audet AM et al (1999) ACC/AHA guidelines for coronary angiography. A report of the American College of Cardiology/American Heart Association Task Force on Practice Guidelines (Committee on Coronary Angiography). J Am Coll Cardiol 33(6):1756–1824 doi:10.1016/S0735-1097(99)00126-6

Austen WG, Edwards JE, Frye RL et al (1975) A reporting system on patients evaluated for coronary artery disease. Report of the Ad Hoc Committee for Grading of Coronary Artery Disease, Council on Cardiovascular Surgery, American Heart Association. Circulation 51(4)(Suppl):5–40

Datta J, White CS, Gilkeson RC et al (2005) Anomalous coronary arteries in adults: depiction at multi-detector row CT angiography. Radiology 235(3):812–818 doi:10.1148/radiol.2353040314

Danias PG, Stuber M, McConnell MV, Manning WJ (2001) The diagnosis of congenital coronary anomalies with magnetic resonance imaging. Coron Artery Dis 12(8):621–626 doi:10.1097/00019501-200112000-00005

Rigatelli G, Docali G, Rossi P et al (2003) Congenital coronary artery anomalies angiographic classification revisited. Int J Cardiovasc Imaging 19(5):361–366 doi:10.1023/A:1025806908289

Engel HJ, Torres C, Page HL (1975) Major variations in anatomical origin of the coronary arteries: angiographic observations in 4250 patients without associated congenital heart disease. Cathet Cardiovasc Diagn 1:157–169 doi:10.1002/ccd.1810010205

Trivellato M, Angelini P, Leachman RD (1980) Variations in coronary artery anatomy: Normal versus abnormal. Cardiovasc Dis 7(4):357–370

Hague C, Andrews G, Forster B (2004) MDCT of a malignant anomalous right coronary artery. AJR Am J Roentgenol 182:617–618

Smith SC Jr, Dove JT, Jacobs AK et al (2001) ACC/AHA guidelines for percutaneous coronary intervention (revision of the 1993 PTCA guidelines)—executive summary: a report of the American College of Cardiology/American Heart Association task force on practice guidelines (Committee to revise the 1993 guidelines for percutaneous transluminal coronary angioplasty) endorsed by the Society for Cardiac Angiography and Interventions. Circulation 103(24):3019–3041

Funabashi N, Asano M, Komuro I (2005) Large collateral conus branch to the left anterior descending branch of the coronary artery in a subject with angina pectoris demonstrated by multislice computed tomography. Int J Cardiol 103(1):105–106 doi:10.1016/j.ijcard.2004.06.017

Leber AW, Knez A, Becker A et al (2005) Visualising noncalcified coronary plaques by CT. Int J Cardiovasc Imaging 21(1):55–61 doi:10.1007/s10554-004-5337-7

Leber AW, Knez A, White CW et al (2003) Composition of coronary atherosclerotic plaques in patients with acute myocardial infarction and stable angina pectoris determined by contrast-enhanced multislice computed tomography. Am J Cardiol 91(6):714–718 doi:10.1016/S0002-9149(02)03411-2

Inoue F, Sato Y, Matsumoto N, Tani S, Uchiyama T (2004) Evaluation of plaque texture by means of multislice computed tomography in patients with acute coronary syndrome and stable angina. Circ J 68(9):840–844 doi:10.1253/circj.68.840

Achenbach S, Moselewski F, Ropers D et al (2004) Detection of calcified and noncalcified coronary atherosclerotic plaque by contrast-enhanced, submillimeter multidetector spiral computed tomography: a segment-based comparison with intravascular ultrasound. Circulation 109(1):14–17 doi:10.1161/01.CIR.0000111517.69230.0F

Nikolaou K, Becker CR, Muders M et al (2004) Multidetector-row computed tomography and magnetic resonance imaging of atherosclerotic lesions in human ex vivo coronary arteries. Atherosclerosis 174(2):243–252

Becker CR, Nikolaou K, Muders M et al (2003) Ex vivo coronary atherosclerotic plaque characterization with multi-detector-row CT. Eur Radiol 13(9):2094–2098 doi:10.1007/s00330-003-1889-5

Leber AW, Knez A, Becker A et al (2004) Accuracy of multidetector spiral computed tomography in identifying and differentiating the composition of coronary atherosclerotic plaques: a comparative study with intracoronary ultrasound. J Am Coll Cardiol 43(7):1241–1247 doi:10.1016/j.jacc.2003.10.059

Schroeder S, Kuettner A, Wojak T et al (2004) Non-invasive evaluation of atherosclerosis with contrast enhanced 16 slice spiral computed tomography: results of ex vivo investigations. Heart 90(12):1471–1475 doi:10.1136/hrt.2004.037861

Schroeder S, Flohr T, Kopp AF et al (2001) Accuracy of density measurements within plaques located in artificial coronary arteries by X-ray multislice CT: results of a phantom study. J Comput Assist Tomogr 25(6):900–906 doi:10.1097/00004728-200111000-00013

Caussin C, Ohanessian A, Ghostine S et al (2004) Characterization of vulnerable nonstenotic plaque with 16-slice computed tomography compared with intravascular ultrasound. Am J Cardiol 94(1):99–104 doi:10.1016/j.amjcard.2004.03.036

Achenbach S, Ropers D, Hoffmann U et al (2004) Assessment of coronary remodeling in stenotic and nonstenotic coronary atherosclerotic lesions by multidetector spiral computed tomography. J Am Coll Cardiol 43(5):842–847 doi:10.1016/j.jacc.2003.09.053

Schoenhagen P, Ziada KM, Kapadia SR, Crowe TD, Nissen SE, Tuzcu EM (2000) Extent and direction of arterial remodeling in stable versus unstable coronary syndromes: an intravascular ultrasound study. Circulation 101(6):598–603

Hoffman U, Pena AJ, Moselewski F et al (2006) MDCT in early triage of patients with acute chest pain. AJR Am J Roentgenol 187:1240–1247 doi:10.2214/AJR.05.2240

Gallagher MJ, Ross MA, Raff GL, Goldstein JA, O'Neill WW, O'Neil B (2007) The diagnostic accuracy of 64-slice computed tomography coronary angiography compared with stress nuclear imaging in emergency department low-risk chest pain patients. Ann Emerg Med 49:125–136 doi:10.1016/j.annemergmed.2006.06.043

Goldstein JA, Gallagher MJ, O'Neill WW, Ross MA, O'Neil BJ, Raff GL (2007) A randomized controlled trial of multi-slice coronary computed tomography for evaluation of acute chest pain. J Am Coll Cardiol 49:863–871 doi:10.1016/j.jacc.2006.08.064

Rubinshtein R, Halon DA, Gaspar T et al (2007) Usefulness of 64-slice cardiac computed tomographic angiography for diagnosing acute coronary syndromes and predicting clinical outcome in emergency department patients with chest pain of uncertain origin. Circulation 115:1762–1768 doi:10.1161/CIRCULATIONAHA.106.618389

Rubinshtein R, Halon DA, Gaspar T et al (2007) Impact of 64-slice cardiac computed tomographic angiography on clinical decision-making in emergency department patients with chest pain of possible myocardial ischemic origin. Am J Cardiol 100:1522–1526 doi:10.1016/j.amjcard.2007.06.052

Hoffmann U, Nagurney JT, Moselewski F et al (2006) Coronary multidetector computed tomography in the assessment of patients with acute chest pain. Circulation 114:2251–2260 doi:10.1161/CIRCULATIONAHA.106.634808

Johnson TR, Nikolaou K, Becker A et al (2008) Dual-source CT for chest pain assessment. Eur Radiol 18(4):773–780 doi:10.1007/s00330-007-0803-y

Kuettner A, Beck T, Drosch T et al (2005) Image quality and diagnostic accuracy of non-invasive coronary imaging with 16 detector slice spiral computed tomography with 188 ms temporal resolution. Heart 91(7):938–941 doi:10.1136/hrt.2004.044735

Kuettner A, Kopp AF, Schroeder S et al (2004) Diagnostic accuracy of multidetector computed tomography coronary angiography in patients with angiographically proven coronary artery disease. J Am Coll Cardiol 43(5):831–839 doi:10.1016/j.jacc.2003.05.015

Heuschmid M, Kuettner A, Schroeder et al (2005) ECG-gated 16-MDCT of the coronary arteries: assessment of image quality and accuracy in detecting stenoses. AJR Am J Roentgenol 184(5):1413–1419

Burgstahler C, Beck T, Kuettner A et al (2005) Image quality and diagnostic accuracy of 16-slice multidetector spiral computed tomography for the detection of coronary artery disease in elderly patients. J Comput Assist Tomogr 29(6):734–738 doi:10.1097/01.rct.0000181720.95146.d4

Burgstahler C, Beck T, Kuettner A et al (2006) Image quality and diagnostic accuracy of 16-slice multidetector computed tomography for the detection of coronary artery disease in obese patients. Int J Obes Lond 30(3):569–573 doi:10.1038/sj.ijo.0803157

Frazier AA, Qureshi F, Read KM, Gilkeson RC, Poston RS, White CS (2005) Coronary artery bypass grafts: assessment with multidetector CT in the early and late postoperative settings. Radiographics 25(4):881–896 doi:10.1148/rg.254045151

Martuscelli E, Romagnoli A, D'Eliseo A (2004) Evaluation of venous and arterial conduit patency by 16-slice spiral computed tomography. Circulation 110(20):3234–3238 doi:10.1161/01.CIR.0000147277.52036.07

Salm LP, Bax JJ, Jukema JW et al (2005) Comprehensive assessment of patients after coronary artery bypass grafting by 16-detector-row computed tomography. Am Heart J 150(4):775–781 doi:10.1016/j.ahj.2004.11.029

Schlosser T, Konorza T, Hunold P, Kuhl H, Schmermund A, Barkhausen J (2004) Noninvasive visualization of coronary artery bypass grafts using 16-detector row computed tomography. J Am Coll Cardiol 44(6):1224–1229 doi:10.1016/j.jacc.2003.09.075

Willmann JK, Weishaupt D, Kobza R et al (2004) Coronary artery bypass grafts: ECG-gated multi-detector row CT angiography—influence of image reconstruction interval on graft visibility. Radiology 232(2):568–577 doi:10.1148/radiol.2322030788

Ohnesorge BM, Hofmann LK, Flohr TG, Schoepf UJ (2005) CT for imaging coronary artery disease: defining the paradigm for its application. Int J Cardiovasc Imaging 21(1):85–104 doi:10.1007/s10554-004-5346-6

Gaspar T, Halon DA, Lewis BS et al (2005) Diagnosis of coronary in-stent restenosis with multidetector row spiral computed tomography. J Am Coll Cardiol 46(8):1573–1579 doi:10.1016/j.jacc.2005.07.049

Hong C, Chrysant GS, Woodard PK, Bae KT (2004) Coronary artery stent patency assessed with in-stent contrast enhancement measured at multi-detector row CT angiography: initial experience. Radiology 233(1):286–291 doi:10.1148/radiol.2331031564

Mahnken AH, Buecker A, Wildberger JE et al (2004) Coronary artery stents in multislice computed tomography: in vitro artifact evaluation. Invest Radiol 39(1):27–33 doi:10.1097/01.rli.0000095471.91575.18

Cademartiri F, Runza G, Mollet NR et al (2005) Influence of increasing convolution kernel filtering on plaque imaging with multislice CT using an ex-vivo model of coronary angiography. Radiol Med (Torino) 110(3):234–240

Cademartiri F, La Grutta L, Runza G et al (2007) Influence of convolution filtering on coronary plaque attenuation values: observations in an ex vivo model of multislice computed tomography coronary angiography. Eur Radiol 17(7):1842–1849 doi:10.1007/s00330-006-0548-z

Seifarth H, Raupach R, Schaller S et al (2005) Assessment of coronary artery stents using 16-slice MDCT angiography: evaluation of a dedicated reconstruction kernel and a noise reduction filter. Eur Radiol 15(4):721–726 doi:10.1007/s00330-004-2594-8

Maintz D, Seifarth H, Flohr T et al (2003) Improved coronary artery stent visualization and in-stent stenosis detection using 16-slice computed-tomography and dedicated image reconstruction technique. Invest Radiol 38(12):790–795

Hoffmann U, Millea R, Enzweiler C et al (2004) Acute myocardial infarction: contrast-enhanced multi-detector row CT in a porcine model. Radiology 231(3):697–701 doi:10.1148/radiol.2313030132

Koyama Y, Mochizuki T, Higaki J (2004) Computed tomography assessment of myocardial perfusion, viability, and function. J Magn Reson Imaging 19(6):800–815 doi:10.1002/jmri.20067

White RD (2004) MR and CT assessment for ischemic cardiac disease. J Magn Reson Imaging 19(6):659–675 doi:10.1002/jmri.20068

Setser RM, O'Donnell TP, Smedira NG et al (2005) Coregistered MR imaging myocardial viability maps and multi-detector row CT coronary angiography displays for surgical revascularization planning: initial experience. Radiology 237(2):465–473 doi:10.1148/radiol.2372040236

Nikolaou K, Knez A, Sagmeister S et al (2004) Assessment of myocardial infarctions using multidetector-row computed tomography. J Comput Assist Tomogr 28(2):286–292 doi:10.1097/00004728-200403000-00021

Gosalia A, Haramati LB, Sheth MP, Spindola-Franco H (2004) CT detection of acute myocardial infarction. AJR Am J Roentgenol 182(6):1563–1566

Konen E, Merchant N, Gutierrez C et al (2005) True versus false left ventricular aneurysm: differentiation with MR imaging—initial experience. Radiology 236(1):65–70 doi:10.1148/radiol.2361031699

Kido T, Kurata A, Higashino H et al (2007) Cardiac imaging using 256-detector row four-dimensional CT: preliminary clinical report. Radiat Med 25(1):38–44 doi:10.1007/s11604-006-0097-z

Achenbach S, Ropers D, Kuettner A et al (2006) Contrast-enhanced coronary artery visualization by dual-source computed tomography—initial experience. Eur J Radiol 57(3):331–335 doi:10.1016/j.ejrad.2005.12.017

Ropers U, Ropers D, Pflederer T et al (2007) Influence of heart rate on the diagnostic accuracy of dual-source computed tomography coronary angiography. J Am Coll Cardiol 50(25):2393–2398 doi:10.1016/j.jacc.2007.09.017
About this article
Cite this article
Pannu, H.K., Johnson, P.T. & Fishman, E.K. 64 Slice multi-detector row cardiac CT. Emerg Radiol 16, 1–10 (2009). https://doi.org/10.1007/s10140-008-0760-z
Received:

Accepted:

Published:

Issue Date:

DOI: https://doi.org/10.1007/s10140-008-0760-z
Keywords
Computed tomography

Coronary artery

Cardiac imaging