Abstract
The aim of this study was to evaluate a non-enhanced ultra-low-dose (ULD) abdominal–pelvic multi-detector row computerized tomography (MDCT) to assess patients with acute abdominal pain who would otherwise undergo three-view abdominal X-ray series. Institutional review board approval was obtained with waiver of informed consent. This study was Health Insurance Portability and Accountability Act-compliant. One hundred and sixty-three patients (mean age, 51 years; range, 19–82 years, M/F = 110:53) who underwent ULD MDCT were included in the study. Two subspecialty radiologists independently reviewed the images for abnormal findings and image quality parameters. The effective radiation dose was calculated for each patient and compared to standard-dose computed tomography (CT) scans of 50 matched controls. Findings were confirmed by reviewing the patients' medical records, and statistical analysis was performed. ULD MDCT showed a high sensitivity (100%), specificity (98.5%), and positive predictive value (91.7%) for detection of free air, stones, and intestinal obstruction. For other sources of abdominal pain, the overall sensitivity, specificity, and positive predictive value were 86%, 96%, and 95%, respectively. Mean effective radiation dose from this study was 2.10 mSv (range of 0.67 to 6.64 mSv) with a 78% mean dose reduction compared to standard-dose CT. There was good inter-observer agreement (=0.4 to 0.81). ULD abdominal–pelvic MDCT provides rapid and reasonably accurate diagnostic information in patients with acute abdominal pain at a very low radiation dose.
Access options
Buy single article
Instant access to the full article PDF.
USD 39.95
Price excludes VAT (USA)
Tax calculation will be finalised during checkout.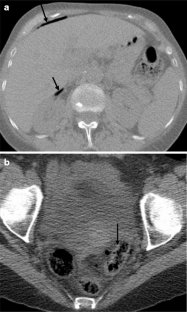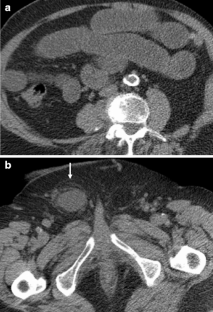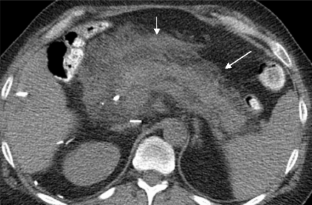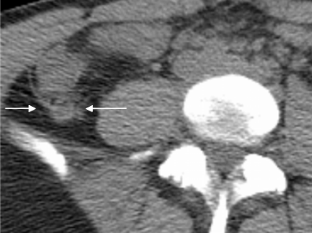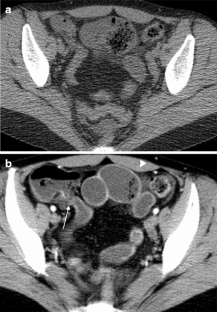 References
MacKersie AB, Lane MJ, Gerhardt RT et al (2005) Nontraumatic acute abdominal pain: unenhanced helical CT compared with three-view acute abdominal series. Radiology 237:114–122 doi:10.1148/radiol.2371040066

Kluner C, Hein PA, Gralla O et al (2006) Does ultra-low-dose CT with a radiation dose equivalent to that of KUB suffice to detect renal and ureteral calculi? J Comput Assist Tomogr 30:44–50 doi:10.1097/01.rct.0000191685.58838.ef

Knopfle E, Hamm M, Wartenberg S, Bohndorf K (2003) CT in ureterolithiasis with a radiation dose equal to intravenous urography: results in 209 patients. Rofo 175:1667–1672

Levine JA, Neitlich J, Verga M, Dalrymple N, Smith RC (1997) Ureteral calculi in patients with flank pain: correlation of plain radiography with unenhanced helical CT. Radiology 204:27–31

Rogalla P, Kluner C, Taupitz M (2004) Ultra-low-dose CT to search for stones in kidneys and collecting system. Aktuelle Urol 35:307–309 doi:10.1055/s-2004-830031

Tack D, Sourtzis S, Delpierre I, de Maertelaer V, Gevenois PA (2003) Low-dose unenhanced multidetector CT of patients with suspected renal colic. Am J Roentgenol 180:305–311

Diel J, Perlmutter S, Venkataramanan N, Mueller R, Lane MJ, Katz DS (2000) Unenhanced helical CT using increased pitch for suspected renal colic: an effective technique for radiation dose reduction? J Comput Assist Tomogr 24:795–801 doi:10.1097/00004728-200009000-00023

Hamm M, Knopfle E, Wartenberg S, Wawroschek F, Weckermann D, Harzmann R (2002) Low dose unenhanced helical computerized tomography for the evaluation of acute flank pain. J Urol 167:1687–1691 doi:10.1016/S0022-5347(05)65178-6

Kim BS, Hwang IK, Choi YW et al (2005) Low-dose and standard-dose unenhanced helical computed tomography for the assessment of acute renal colic: prospective comparative study. Acta Radiol 46:756–763 doi:10.1080/02841850500216004

Liu W, Esler SJ, Kenny BJ, Goh RH, Rainbow AJ, Stevenson GW (2000) Low-dose nonenhanced helical CT of renal colic: assessment of ureteric stone detection and measurement of effective dose equivalent. Radiology 215:51–54

Meagher T, Sukumar VP, Collingwood J et al (2001) Low dose computed tomography in suspected acute renal colic. Clin Radiol 56:873–876 doi:10.1053/crad.2001.0842

Poletti PA, Platon A, Rutschmann OT, Schmidlin FR, Iselin CE, Becker CD (2007) Low-dose versus standard-dose CT protocol in patients with clinically suspected renal colic. Ajr 188:927–933 doi:10.2214/AJR.06.0793

Cohnen M, Vogt C, Beck A et al (2004) Feasibility of MDCT Colonography in ultra-low-dose technique in the detection of colorectal lesions: comparison with high-resolution video colonoscopy. Am J Roentgenol 183:1355–1359

Gergely I, Neumann C, Reiger F, Dorffner R (2005) Lung nodule detection with ultra-low-dose CT in routine follow-up of cancer patients. RoFo 177:1077–1083

European Study Group of Physicists. European Guidelines on Quality Criteria for Computed Tomography EUR 16262 EN; 1999. Available at: http://www.drs.dk/guidelines/ct/quality/mainindex.htm. Accessed on 06/20/2008

Lane MJ, Liu DM, Huynh MD, Jeffrey RB Jr, Mindelzun RE, Katz DS (1999) Suspected acute appendicitis: nonenhanced helical CT in 300 consecutive patients. Radiology 213:341–346

Rao PM (1999) CT of diverticulitis and alternative conditions. Semin Ultrasound CT MR 20:86–93 doi:10.1016/S0887-2171(99)90040-9

Smith RC, Levine J, Dalrymple NC, Barish M, Rosenfield AT (1999) Acute flank pain: a modern approach to diagnosis and management. Semin Ultrasound CT MR 20:108–135 doi:10.1016/S0887-2171(99)90042-2

Rosen MP, Sands DZ, Longmaid HE 3rd, Reynolds KF, Wagner M, Raptopoulos V (2000) Impact of abdominal CT on the management of patients presenting to the emergency department with acute abdominal pain. Am J Roentgenol 174:1391–1396

Ahn SH, Mayo-Smith WW, Murphy BL, Reinert SE, Cronan JJ (2002) Acute nontraumatic abdominal pain in adult patients: abdominal radiography compared with CT evaluation. Radiology 225:159–164 doi:10.1148/radiol.2251011282

Kalra MK, Maher MM, D, Souza RV et al (2005) Detection of urinary tract stones at low-radiation-dose CT with z-axis automatic tube current modulation: phantom and clinical studies. Radiology 235:523–529 doi:10.1148/radiol.2352040331

International Commission on Radiological Protection (ICRP) (1993) Publication 62: radiological protection in biomedical research. Pergamon, Oxford

Aroua A, Besancon A, Buchillier-Decka I et al (2004) Adult reference levels in diagnostic and interventional radiology for temporary use in Switzerland. Radiat Prot Dosimetry 111:289–295 doi:10.1093/rpd/nch343
Additional information
No financial grants were received for this study.
About this article
Cite this article
Udayasankar, U.K., Li, J., Baumgarten, D.A. et al. Acute abdominal pain: value of non-contrast enhanced ultra-low-dose multi-detector row CT as a substitute for abdominal radiographs. Emerg Radiol 16, 61–70 (2009). https://doi.org/10.1007/s10140-008-0743-0
Received:

Accepted:

Published:

Issue Date:

DOI: https://doi.org/10.1007/s10140-008-0743-0
Keywords