Abstract
Acetabular fractures that are radiographically occult are associated with insufficiency fractures, stress fractures, and fractures secondary to steroid-induced osteoporosis, usually affecting older patients after low-energy trauma. Occult acetabulum fractures in young patients are extremely rare. We discuss herein a case of an occult acetabulum fracture after high-energy trauma, in a young patient. This case illustrates the need for further diagnostic studies such as computed tomography, magnetic resonance imaging, or bone scanning when, despite negative radiographic findings, groin pain is persistent.
Access options
Buy single article
Instant access to the full article PDF.
US$ 39.95
Tax calculation will be finalised during checkout.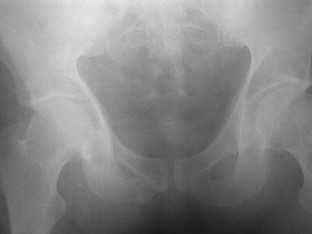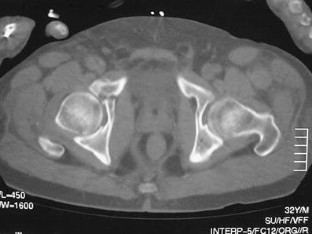 References
1.

Liebergall M, Mosheiff R, Goldvirt Matan Y et al (1999) Acetabular fractures: clinical outcome of surgical treatment. Clin Orthop 366:205–216

2.

Borrelli J Jr, Koval KJ, Helfet DL (1998) Pelvis and acetabulum. In: Koval KJ, Zuckerman JD (eds) Fractures in the elderly. Lippincott-Raven, Philadelphia, pp 159–174

3.

Borrelli J, Goldfarb C, Catalano L, Evanoff B (2002) Assessment of articular fragment displacement in acetabular fractures: a comparison of computerized tomography and plain radiographs. J Orthop Trauma 16(7):449–456

4.

Rommens PM, Hessmann MH, Gercek E (2002) An unexpected pelvic and acetabular fracture. Osteo Trauma Care 10:50–53

5.

Otte MT, Helms CA, Fritz RC (1997) MR imaging of supra-acetabular insufficiency fractures. Skeletal Radiol 26:279–283

6.

Pollet V, Bellemans M, Damry N et al (1999) Stress fracture of the acetabular roof. Case report and value of MRI. Acta Orthop Belg 65:517–520

7.

Schachter A, Roberts C, Seligson D (2003) Occult bilateral acetabular fractures associated with high-energy trauma and osteoporosis. J Orthop Trauma 17(5):386–389

8.

Mandelbaum BR, Gagid D, Fishman FK et al (1987) Multiplanar computed tomography: a multidimensional tool for evaluation and treatment of acetabular fractures. J Comput Assist Tomogr 11:167–173

9.

White MSI (1991) Three-dimensional computed tomography in the assessment of fractures of the acetabulum. Injury 22:13–19

10.

Stevens SCC, Male TA, Turner JH (1999) Pelvic fractures diagnosed by bone scintigraphy in patients with normal radiographs after a fall. Med J Aust 171:476–478
About this article
Cite this article
Mouzopoulos, G., Lasanianos, N., Mouzopoulos, D. et al. Occult acetabulum fracture. A case report. Emerg Radiol 15, 437–439 (2008). https://doi.org/10.1007/s10140-007-0694-x
Received:

Accepted:

Published:

Issue Date:
Keywords