Abstract
This pictorial review discusses multi-detector computed tomography (MDCT) cases of non-vascular traumatic chest injuries, with a brief clinical and epidemiological background of each of the pathology. The purpose of this review is to familiarize the reader with common and rare imaging patterns of chest trauma and substantiate the advantages of MDCT as a screening and comprehensive technique for the evaluation of these patients. Images from a level 1 trauma center were reviewed to illustrate these pathologies. Pulmonary laceration, pulmonary hernia, and their different degrees of severity are illustrated as examples of parenchymal traumatic lesions. Pleural space abnormalities (pneumothorax and hemothorax) and associated complications are shown. Diaphragmatic rupture, fracture of the sternum, sternoclavicular dislocation, fracture of the scapula, rib fracture, and flail chest are shown as manifestations of blunt trauma to the chest wall. Finally, direct and indirect imaging findings of intrathoracic airway rupture and post-traumatic foreign bodies are depicted. The advantage of high quality reconstructions, volume rendered images, and maximal intensity projection for the detection of severe complex traumatic injuries is stressed. The limitations of the initial chest radiography and the benefits of MDCT authenticate this imaging technique as the best modality in the diagnosis of chest trauma.
Access options
Buy single article
Instant access to the full article PDF.
USD 39.95
Price excludes VAT (USA)
Tax calculation will be finalised during checkout.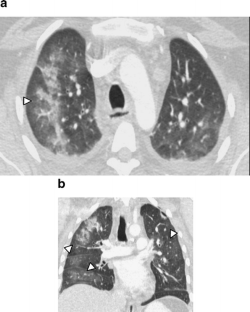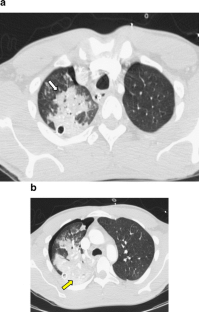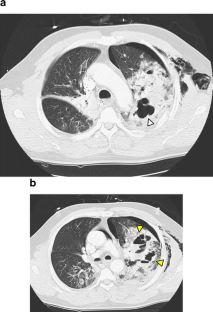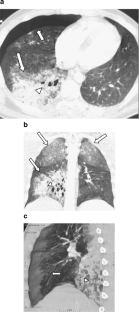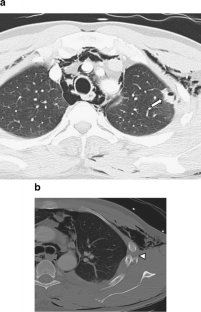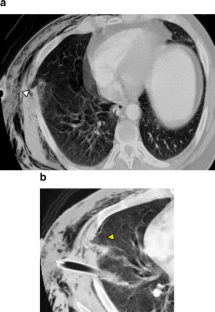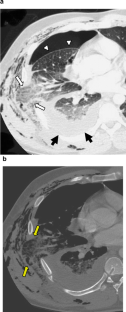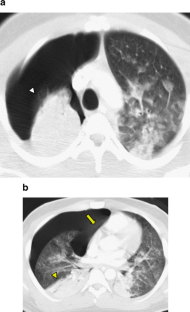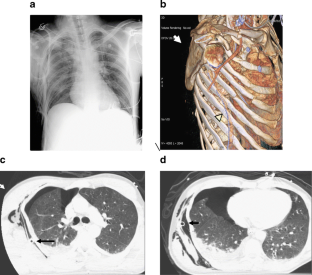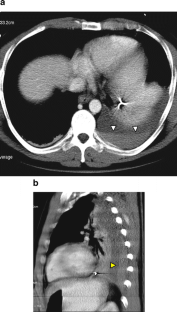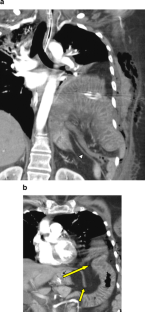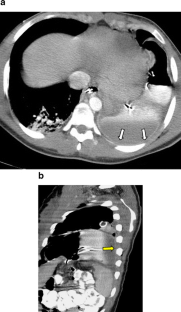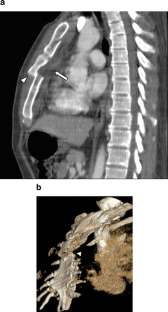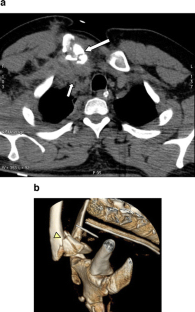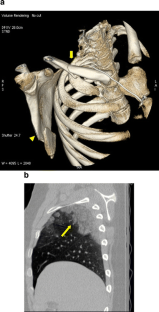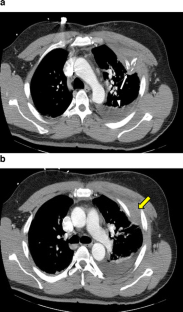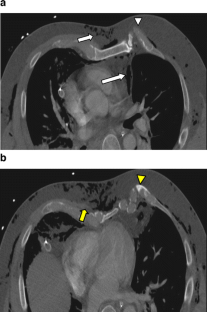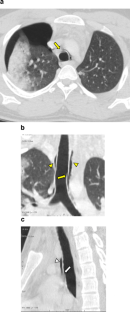 References
Omert L, Yeaney WW, Protetch J (2001) Efficacy of thoracic computerized tomography in blunt chest trauma. Am Surg 67:660–664

Exadaktylos AK, Sclabas G, Schmid SW, Schaller B, Zimmermann H (2001) Do we really need routine computed tomographic scanning in the primary evaluation of blunt chest trauma in patients with "normal" chest radiograph? J Trauma 51:1173–1176

Kanz KG, Korner M, Linsenmaier U et al (2004) [Priority-oriented shock trauma room management with the integration of multiple-view spiral computed tomography]. Unfallchirurg 107:937–944

Miller LA (2006) Chest wall, lung, and pleural space trauma. Radiol Clin North Am 44:213–224

Mullinix AJ, Foley WD (2004) Multidetector computed tomography and blunt thoracoabdominal trauma. J Comput Assist Tomogr 28(Suppl 1):S20–S27

Kang EY, Muller NL (1996) CT in blunt chest trauma: pulmonary, tracheobronchial, and diaphragmatic injuries. Semin Ultrasound CT MR 17:114–118

Shanmuganathan K, Mirvis SE (1999) Imaging diagnosis of nonaortic thoracic injury. Radiol Clin North Am 37:533–551

Wanek S, Mayberry JC (2004) Blunt thoracic trauma: flail chest, pulmonary contusion, and blast injury. Crit Care Clin 20:71–81

Zinck SE, Primack SL (2000) Radiographic and CT findings in blunt chest trauma. J Thorac Imaging 15:87–96

Mayberry JC (2000) Imaging in thoracic trauma: the trauma surgeon's perspective. J Thorac Imaging 15:76–86

Wagner RB, Crawford WO Jr, Schimpf PP (1988) Classification of parenchymal injuries of the lung. Radiology 167:77–82

Francois B, Desachy A, Cornu E, Ostyn E, Niquet L, Vignon P (1998) Traumatic pulmonary hernia: surgical versus conservative management. J Trauma 44:217–219

Lang-Lazdunski L, Bonnet PM, Pons F, Brinquin L, Jancovici R (2002) Traumatic extrathoracic lung herniation. Ann Thorac Surg 74:927–929

Shorr RM, Crittenden M, Indeck M, Hartunian SL, Rodriguez A (1987) Blunt thoracic trauma. Analysis of 515 patients. Ann Surg 206:200–205

Tekinbas C, Eroglu A, Kurkcuoglu IC, Turkyilmaz A, Yekeler E, Karaoglanoglu N (2003) [Chest trauma: analysis of 592 cases]. Ulus Travma Acil Cerrahi Derg 9:275–280

Farooq U, Raza W, Zia N, Hanif M, Khan MM (2006) Classification and management of chest trauma. J Coll Physicians Surg Pak 16:101–103

Trupka A, Waydhas C, Hallfeldt KK, Nast-Kolb D, Pfeifer KJ, Schweiberer L (1997) Value of thoracic computed tomography in the first assessment of severely injured patients with blunt chest trauma: results of a prospective study. J Trauma 43:405–411 (discussion 411–402)

Ball CG, Kirkpatrick AW, Laupland KB et al (2005) Incidence, risk factors, and outcomes for occult pneumothoraces in victims of major trauma. J Trauma 59:917–924 (discussion 924–915)

Ball CG, Kirkpatrick AW, Laupland KB et al (2005) Factors related to the failure of radiographic recognition of occult posttraumatic pneumothoraces. Am J Surg 189:541–546 (discussion 546)

Bridges KG, Welch G, Silver M, Schinco MA, Esposito B (1993) CT detection of occult pneumothorax in multiple trauma patients. J Emerg Med 11:179–186

Mirvis SE (2005) Imaging of acute thoracic injury: the advent of MDCT screening. Semin Ultrasound CT MR 26:305–331

Thoongsuwan N, Kanne JP, Stern EJ (2004) Imaging of blunt chest trauma. RSNA 2004 Syllabus, pp 71–79

Shanmuganathan K, Killeen K, Mirvis SE, White CS (2000) Imaging of diaphragmatic injuries. J Thorac Imaging 15:104–111

Rees O, Mirvis SE, Shanmuganathan K (2005) Multidetector-row CT of right hemidiaphragmatic rupture caused by blunt trauma: a review of 12 cases. Clin Radiol 60:1280–1289

Bergin D, Ennis R, Keogh C, Fenlon HM, Murray JG (2001) The "dependent viscera" sign in CT diagnosis of blunt traumatic diaphragmatic rupture. AJR Am J Roentgenol 177:1137–1140

Worthy SA, Kang EY, Hartman TE, Kwong JS, Mayo JR, Muller NL (1995) Diaphragmatic rupture: CT findings in 11 patients. Radiology 194:885–888

Cantwell CP (2006) The dependent viscera sign. Radiology 238:752–753

Hayes CW, Conway WF, Walsh JW, Coppage L, Gervin AS (1991) Seat belt injuries: radiologic findings and clinical correlation. Radiographics 11:23–36

Collins J (2000) Chest wall trauma. J Thorac Imaging 15:112–119

von Garrel T, Ince A, Junge A, Schnabel M, Bahrs C (2004) The sternal fracture: radiographic analysis of 200 fractures with special reference to concomitant injuries. J Trauma 57:837–844

Kehdy F, Richardson JD (2006) The utility of 3-D CT scan in the diagnosis and evaluation of sternal fractures. J Trauma 60:635–636

Sy MH, Ndiaye A, Dieme C et al (2004) [Sternoclavicular dislocations: clinical and therapeutic study. A report of 9 cases]. Dakar Med 49:211–214

Mingoli A, Assenza M, Petroni R et al (2004) Large extrapleural hematoma in an anticoagulated patient after a thoracic blunt trauma. Ann Ital Chir 75:83–85 (discussion 86)

Wintermark M, Schnyder P, Wicky S (2001) Blunt traumatic rupture of a mainstem bronchus: spiral CT demonstration of the "fallen lung" sign. Eur Radiol 11:409–411

Scaglione M, Romano S, Pinto A, Sparano A, Scialpi M, Rotondo A (2006) Acute tracheobronchial injuries: Impact of imaging on diagnosis and management implications. Eur J Radiol 59: 336–343

Lim KE, Liu YC, Hsu YY (2004) Tracheal injury diagnosed with three-dimensional imaging using multidetector row computed tomography. Chang Gung Med J 27:217–221

Baisi A, Nosotti M, Cioffi U et al (2003) Diagnosis of complete mainstem bronchus avulsion by 3-dimensional spiral CT scan of the chest. Minerva Chir 58:587–589
Electronic supplementary material
Below is the link to the electronic supplementary material.
Collar sign. MPR sagittal demonstrates a left traumatic hemidiaphragmatic rupture with herniation of the small bowel into the thoracic cavity causing pulmonary parenchymal collapse. A focal constriction of the bowel loops and mesentery is identified. A diaphragmatic discontinuity representing traumatic rupture is seen. Soft tissue emphysema and a left chest tube are noted. (mpg 6 045 116 kb)
Flail chest. MPR sagittal shows a multiple costal, chondro-costal, and sternal fractures. Soft tissue emphysema and pneumomediastinum are noted. Areas of parenchymal opacification representing pulmonary contusions and atelectasis. (mpg 7 650 380 kb)
About this article
Cite this article
Sangster, G.P., González-Beicos, A., Carbo, A.I. et al. Blunt traumatic injuries of the lung parenchyma, pleura, thoracic wall, and intrathoracic airways: multidetector computer tomography imaging findings. Emerg Radiol 14, 297–310 (2007). https://doi.org/10.1007/s10140-007-0651-8
Received:

Accepted:

Published:

Issue Date:

DOI: https://doi.org/10.1007/s10140-007-0651-8
Keywords
Blunt trauma

Chest

Multidetector computed tomography