Abstract
Traumatic injuries to the aorta are a significant source of morbidity and mortality in trauma patients, which highlights the importance of rapid diagnosis and treatment. Multi-detector row computed tomography has become the primary imaging modality for the imaging assessment of the polytrauma patient because it is fast, noninvasive, and the data sets can be used to create tailored multi-planar reformatted images that optimally display the location and morphology of aortic trauma and its relationship to adjacent structures. Although the classic location of blunt injury to the aorta occurs just distal to the left subclavian artery, aortic injuries may occur at any location along the aorta and in any patient population. Radiologists should be prepared to evaluate these types of injuries in nontraditional planes that are tailored to each examination and to present the data to clinicians using commercially available 3D software for purposes of surgical planning. Here, we review in pictorial form atypical aortic injuries with emphasis on multi-planar reformations.
Access options
Buy single article
Instant access to the full article PDF.
USD 39.95
Price excludes VAT (USA)
Tax calculation will be finalised during checkout.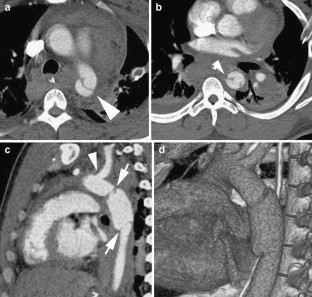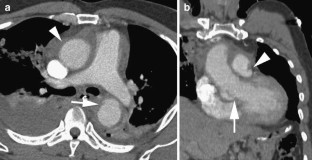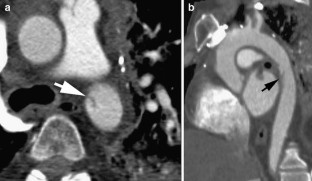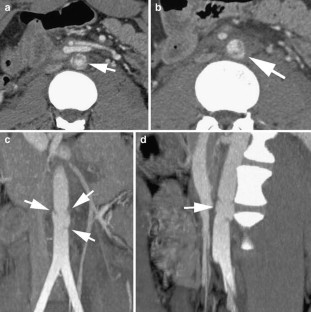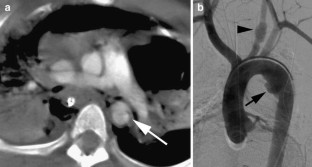 References
Parmley LR, Thomas WM, Manion WC, Jahnke EJ (1958) Non-penetrating traumatic injury of the aorta. Circulation 17:1086–1101

Feczko JD, Lynch L, Pless JE, Clark MA, McClain J, Hawley DA (1992) An autopsy case review of 142 nonpenetrating (blunt) injuries of the aorta. J Trauma 33(6):846–849

Dosios TJ, Salemis N, Angouras D, Nonas E (2000) Blunt and penetrating trauma of the thoracic aorta and aortic arch branches: an autopsy study. J Trauma 49(4):696–703

Burkhart HM, Gomez GA, Jacobson LE, Pless JE, Broadie TA (2001) Fatal blunt aortic injuries: a review of 242 autopsy cases. J Trauma 50(1):113–115

Heystraten FM, Rosenbusch G, Kingma LM, Lacquet LK (1986) Chronic posttraumatic aneurysm of the thoracic aorta: surgically correctable occult threat. AJR Am J Roentgenol 146:30–308

Bennett DE, Cherry JK (1967) The natural history of traumatic aneurysms of the aorta. Surgery 61(4):516–523

Sanborn JC, Heitzman ER, Markian B (1970) Traumatic rupture of the thoracic aorta. Roentgen-pathological correlations. Radiology 95(2):293–298

Ruberti U, Odero A, Arpesani A, Giorgetti PL, Cugnasca M, Rampoldi V, Soleri V, Morbidelli A, Selva S (1987) Acute ruptures of the thoracic aorta-personal experience. J Cardiovasc Surg 28:81–84

Patel NH, Stephens Jr. KE, Mirvis SE, Shanmuganathan K, Mann FA (1998) Imaging of acute thoracic aortic injury due to blunt trauma: a review. Radiology 209:335–348

Mirvis SE (2006) Thoracic vascular injury. Radiol Clin North Am 44(2):181–197

Creasy JD, Chiles C, Routh WD, Dyer RB (1997) Overview of traumatic injury of the thoracic aorta. Radiographics 17(1):27–45

Wintermark M, Wicky S, Schnyder P (2002) Imaging of acute traumatic injuries of the thoracic aorta. Eur Radiol 12:431–442

Ben-Menachem Y (1993) Rupture of the thoracic aorta by broadside impacts in road traffic and other collisions: further angiographic observations and preliminary autopsy findings. J Trauma 35(3):363–367

Cressman ENK, Winer-Muram HT, Farber J (2004) Traumatic intrapericardial ascending aortic rupture: CT appearance. J Thorac Imaging 19(1):45–47

Symbas PJ, Horsley WS, Symbas PN (1998) Rupture of the ascending aorta caused by blunt trauma. Ann Thorac Surg 66:113–117

Steenburg SD, Ravenel JG, Ikonomidis JS (2007) Blunt traumatic injury of the ascending aorta: multidetector CT findings in two cases. Emerg Radiol 13(4):217–221

Cimochoswki GE, Barcia PJ, DeMeester TR, Griffin LH, Fishback ME (1973) Multiple transections of the thoracic aorta secondary to blunt trauma. Ann Thorac Surg 15(5):536–540

Iannettoni MD, McCurry KR, Rodriguez JL, Williams DM, Deeb GM, Bolling SF (1994) Simultaneous traumatic ascending and descending thoracic aortic rupture. Ann Thorac Surg 57:481–484

Rizoli SB, Brenneman FD, Boulanger BR, Maggisano R (1994) Blunt diaphragmatic and thoracic aortic rupture: an emerging injury complex. Ann Thorac Surg 58:1404–1408

Murakami R, Tajima H, Ichikawa K, Kobayashi Y, Sugizaki K, Yamamoto K, Kurokawa A, Kumazaki T (1998) Acute traumatic injury of the distal descending aorta associated with thoracic spine injury. Eur Radiol 8:60–62

Malhotra AK, Fabian TC, Croce M, Weiman DS, Gavant ML, Pate JW (2001) Minimal aortic injury: a lesion associated with advancing diagnostic techniques. J Trauma 51(6):1042–1048

Roth SM, Wheeler JR, Gregory RT, Gayle RG, Parent FN, Demasi R, Riblet J, Weireter LJ, Britt LD (1997) Blunt injury of the abdominal aorta: a review. J Trauma 42(4):748–755

Marti M, Pinilla I, Baudraxler F, Simon M-J, Garzon G (2006) A case of acute abdominal aortic dissection caused by blunt trauma. Emerg Radiol 12:182–185

Michaels AJ, Gerndt SJ, Taheri PA, Wang SC, Wahl WL, Simeone DM, Williams DM, Greenfield LJ, Rodriguez JL (1996) Blunt force injury of the abdominal aorta. J Trauma 41(1):105–109

Mozingo JR, Denton IC (1975) The neurological deficit associated with sudden occlusion of abdominal aorta due to blunt trauma. Surgery 77(1):118–125

McBurney RP, Vaughn RH (1961) Rupture of the thoracic aorta due to nonpenetrating trauma. Ann Surg 153:670–680

Finkelmeyer BA, Mentzer RM, Kaiser DL, Tegtmeyer CJ, Nolan SP (1982) Chronic traumatic thoracic aneurysm. J Thorac Cardiovasc Surg 84:257–266

McClenathan JE, Brettschneider L (1965) Traumatic thoracic aortic aneurysm. J Thorac Cardiovasc Surg 50:74–78

DeBakey ME, Cooley DA, Crawford ES, Morris GC (1958) Aneurysms of the thoracic aorta. J Thorac Surg 36:393–421

Saltman AE, Svensson LG (1999) Chronic traumatic aortic pseudoaneurysm: resolution with observation. Ann Thorac Surg 67:240–241

Lowe LH, Bulas DI, Eichelberger MD, Martin GR (1998) Traumatic aortic injuries in children: radiologic evaluation. AJR Am J Roentgenol 170:39–42

Spouge AR, Burrows PE, Armstrong D, Daneman A (1991) Traumatic aortic rupture in the pediatric population. Pediatr Radiol 21:324–328

Trachiotis GD, Sell JE, Pearson GD, Martin GR, Midgley FM (1996) Traumatic thoracic aortic rupture in the pediatric patient. Ann Thorac Surg 62:724–732
About this article
Cite this article
Steenburg, S.D., Ravenel, J.G. Multi-detector computed tomography findings of atypical blunt traumatic aortic injuries: a pictorial review . Emerg Radiol 14, 143–150 (2007). https://doi.org/10.1007/s10140-007-0620-2
Received:

Accepted:

Published:

Issue Date:

DOI: https://doi.org/10.1007/s10140-007-0620-2
Keywords
Aortic injuries

Multi-detector computed tomography

Trauma