Abstract
Pyogenic myositis (pyomyositis) represents a bacterial infection of muscle, usually caused by Staphylococcus aureus that is endemic in tropical regions. Pyomyositis commonly affects patients who are immunocompromised or who have underlying chronic disorders. Lower extremity localization of infection is typical. The most common pattern of disease, however, appears to be a solitary abscess in the quadriceps musculature. Delay in accurate diagnosis is frequent and clinical deterioration can be precipitous. In view of the high associated morbidity, early imaging to detect, localize, and define disease extent is important. Magnetic resonance imaging (MRI) plays a key role in the definitive diagnosis of pyomyositis. This article provides a pictorial illustration of the spectrum of MRI findings associated with pyogenic myositis.
Access options
Buy single article
Instant access to the full article PDF.
USD 39.95
Price includes VAT (USA)
Tax calculation will be finalised during checkout.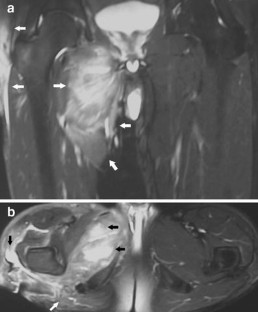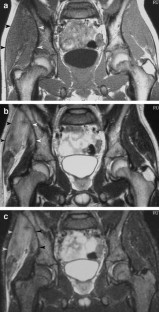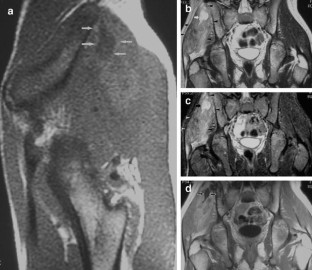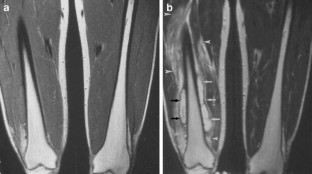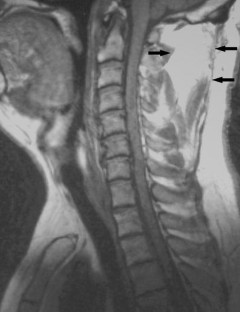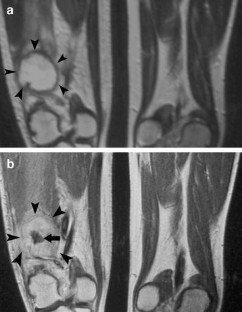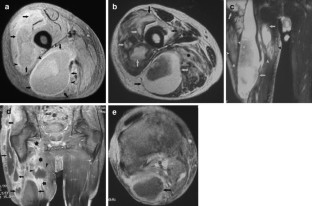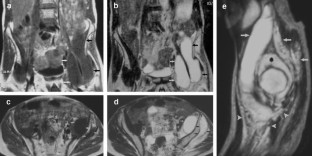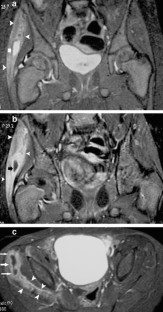 References
1.

Resnick D, Niwayama G (1995) Osteomyelitis, septic arthritis, and soft tissue infection: mechanisms and situations. In: Resnick D (ed) Diagnosis of bone and joint disorders. Saunders, Philadelphia, pp 2325–2418

2.

Theodorou DJ, Theodorou SJ, Kakitsubata Y, Sartoris D, Resnick D (2001) Imaging characteristics and epidemiologic features of atypical mycobacterial infections involving the musculoskeletal system. AJR Am J Roentgenol 176:341–349

3.

Christin L, Sarosi G (1992) Pyomyositis in North America: case reports and review. Clin Infect Dis 15:668–677

4.

Yu CW, Hsiao JK, Hsu CY, Shih T (2004) Bacterial pyomyositis: MRI and clinical correlation. Magn Reson Imaging 22:1233–1241

5.

Fox L, Geyer A, Grossman M (2004) Pyomyositis. J Am Acad Dermatol 51:308–314

6.

Hodler J, Yu J, Steinert H, Resnick D (1995) MR imaging versus alternative imaging techniques. Magn Reson Imaging Clin N Am 3:591–608

7.

Beltran J (1995) MR imaging of soft tissue infection. Magn Reson Imaging Clin N Am 3:743–751

8.

Yousefzadeh D, Schumann E, Mulligan G, Bosworth D, Young C, Pringle K (1982) The role of imaging modalities in diagnosis and management of pyomyositis. Skeletal Radiol 8:285–289

9.

Scott D, Kingsley G (2004) Use of imaging to assess patients with muscle disease. Curr Opin Rheumatol 16:678–683

10.

Chauhan S, Jain S, Varma S, Chauhan SS (2004) Tropical pyomyositis (myositis tropicans): current perspective. Postgrad Med J 80:267–270

11.

Bureau N, Chhem R, Cardinal E (1999) Musculoskeletal infections: US manifestations. RadioGraphics 19:1585–1592

12.

Trusen A, Beissert M, Schultz G, Chittka B, Darge K (2003) Ultrasound and MRI features of pyomyositis in children. Eur Radiol 13:1050–1055

13.

Restrepo CS, Lemos D, Gordillo H, Odero R, Varghese T, Tiemann W, Rivas F, Moncada R, Gimenez C (2004) Imaging findings in musculoskeletal complications of AIDS. RadioGraphics 24:1029–1049

14.

Wyatt S, Fishman E (1995) CT/MRI of musculoskeletal complications of AIDS. Skeletal Radiol 24:481–488

15.

Tehranzadeh J, Ter-Oganesyan R, Steinbach L (2004) Musculoskeletal disorders associated with HIV infection and AIDS. Part I: infectious musculoskeletal conditions. Skeletal Radiol 33:249–259

16.

Garcia J (2000) MRI in inflammatory myopathies. Skeletal Radiol 29:425–438

17.

Beauchamp N, Scott W, Gottlieb L, Fishman E (1995) CT evaluation of soft tissue and muscle infection and inflammation: a systematic compartmental approach. Skeletal Radiol 24:317–324

18.

Hernandez R, Strouse P, Craig C, Farley F (2002) Focal pyomyositis of the perisciatic muscles in children. Am J Roentgenol 179:1267–1271

19.

May D, Disler D, Jones E, Balkissoon A, Manaster B (2000) Abnormal signal intensity in skeletal muscle at MR imaging: patterns, pearls, and pitfalls. RadioGraphics 20:S295–S315

20.

Marin C, Sanchez-Alegre M, Gallego C, Ruiz Y, Collado E, Garcia J, Mardones G (2004) Magnetic resonance imaging of osteoarticular infections in children. Curr Probl Diagn Radiol 33:43–59

21.

Orlicek S, Abramson J, Woods C, Givner L (2001) Obturator internus muscle abscess in children. J Pediatr Orthop 21:744–748

22.

Theodorou DJ, Theodorou SJ, Resnick D (2001) Magnetic resonance imaging of pyogenic myositis: a variety of findings. Radiology 221:667

23.

Fan HC, Lo WT, Chu ML, Wang CC (2002) Clinical characteristics of staphylococcal pyomyositis. J Microbiol Immunol Infect 35:121–124

24.

Young J, Park Y, Choi K, Park S, Lee H (1999) MRI of tuberculous pyomyositis. J Comput Assist Tomogr 23:454–457

25.

Gordon B, Martinez S, Collins A (1995) Pyomyositis: characteristics at CT and MR imaging. Radiology 197:279–286

26.

Chiedozi LC (1979) Pyomyositis: review of 205 cases in 112 patients. Am J Surg 137:255–259
About this article
Cite this article
Theodorou, S.J., Theodorou, D.J. & Resnick, D. MR imaging findings of pyogenic bacterial myositis (pyomyositis) in patients with local muscle trauma: illustrative cases. Emerg Radiol 14, 89–96 (2007). https://doi.org/10.1007/s10140-007-0593-1
Received:

Accepted:

Published:

Issue Date:
Keywords
Pyogenic myositis

Pyomyositis

Muscle

Infection

Abscess

Magnetic resonance imaging (MRI)