Abstract
Collagen (Col) from marine organisms has been emerging as an important alternative for commercial Col and it has been considered highly attractive by the industry. Despite the positive effects of Col from marine origin, there is still limited understanding of the effects of this natural biomaterial in the process of wound healing in animal studies. In this context, the purpose of this study was to perform a systematic review of the literature to examine the effects of Col from different marine species in the process of skin tissue healing using experimental models of skin wound. The search was carried out according to the orientations of Preferred Reporting Items for Systematic Reviews and Meta-Analysis (PRISMA), and the descriptors of the Medical Subject Headings (MeSH) were defined: "marine collagen," "spongin," "spongin," "skin," and "wound." A total of 42 articles were retrieved from the databases PubMed and Scopus. After the eligibility analyses, this review covers the different marine sources of Col reported in 10 different papers from the beginning of 2011 through the middle of 2019. The results were based mainly on histological analysis and it demonstrated that Col-based treatment resulted in a higher deposition of granulation tissue, stimulation of re-epitalization and neoangiogenesis and increased amount of Col of the wound, culminating in a more mature morphological aspect. In conclusion, this review demonstrates that marine Col from different species presented positive effects on the process of wound skin healing in experimental models used, demonstrating the huge potential of this biomaterial for tissue engineering proposals.
Access options
Buy single article
Instant access to the full article PDF.
USD 39.95
Price includes VAT (USA)
Tax calculation will be finalised during checkout.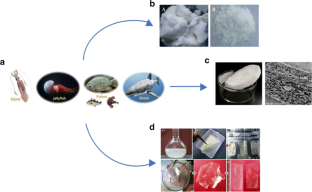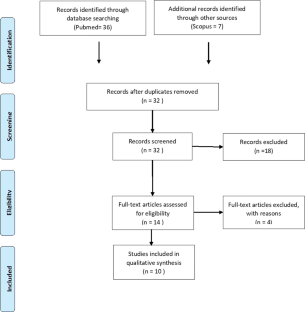 References
Al-Gharibi KA, Sharstha S, Al-Faras MA (2018) Cost-effectiveness of wound care: a concept analysis. Sultan Qaboos Univ Med J 18:e433–e439

Alves A, Marques A, Martins E et al (2017) Cosmetic potential of marine fish skin collagen. Cosmetics 4:39

Augustine R, Dominic EA, Reju I, Kaimal B, Kalarikkal N, Thomas S (2015) Electrospun poly(ε-caprolactone)-based skin substitutes: in vivo evaluation of wound healing and the mechanism of cell proliferation. J Biomed Mater Res B Appl Biomater 103:1445–1454

Badois N, Bauër P, Cheron M, Hoffmann C, Nicodeme M, Choussy O, Lesnik M, Canoui Poitrine F, Fromantin I (2019) Acellular fish skin matrix on thin-skin graft donor sites: a preliminary study. J Wound Care 28:624–628

Baldursson BT, Kjartansson H, Konrádsdóttir F, Gudnason P, Sigurjonsson GF, Lund SH (2015) Healing rate and autoimmune safety of full-thickness wounds treated with fish skin acellular dermal matrix versus porcine small-intestine submucosa: a noninferiority study. Int J Low Extrem Wounds 14:37–43

Barros MA, Cervone GLF, Costa ALS (2015) Surgical treatment of avulsion fractures at the tibial insertion of the posterior cruciate ligament: functional result. Rev Bras Ortop 50:631–637

Blanco MJ (2019) Building upon nature's framework: overview of key strategies toward increasing drug-like properties of natural product cyclopeptides and macrocycles. Methods Mol Biol 2001:203–233

Borena BM, Martens A, Broeckx SY et al (2015) Regenerative skin wound healing in mammals: state-of-the-art on growth factor and stem cell based treatments. Cell Physiol Biochem 36:1–23

Brown NJ, David M, Cuttle L et al (2015) Cost-effectiveness of a nonpharmacological intervention in pediatric burn care. Value Health 18:631–637

Bunyaratavej P, Wang H-L (2001) Collagen membranes: a review. J Periodontol 72:215–229

Carter MJ (2014) Economic evaluations of guideline-based or strategic interventions for the prevention or treatment of chronic wounds. Appl Health Econ Health Policy 12:373–389

Chalamaiah M, Dinesh Kumar B, Hemalatha R, Jyothirmayi T (2012) Fish protein hydrolysates: proximate composition, amino acid composition, antioxidant activities and applications: a review. Food Chem 135:3020–3038

Chen J, Gao K, Liu S et al (2018) Fish collagen surgical compress repairing characteristics on wound healing process in vivo. Mar Drugs 17:33

Cheng Y, Hu Z, Zhao Y et al (2019) Sponges of carboxymethyl chitosan grafted with collagen peptides for wound healing. Int J Mol Sci 20:3890

Chilakamarthi U, Kandhadi J, Gunda S, Thatipalli AR, Kumar Jerald M, Lingamallu G, Reddy RC, Chaudhuri A, Pande G (2014) Synthesis and functional characterization of a fluorescent peptide probe for non invasive imaging of collagen in live tissues. Exp Cell Res 327:91–101

Cruz MA, Fernandes KR, Parisi JR et al (2020) Marine collagen scaffolds and photobiomodulation on bone healing process in a model of calvaria defects. J Bone Miner Metab 38:639–647

Daneault A, Prawitt J, Fabien Soulé V et al (2017) Biological effect of hydrolyzed collagen on bone metabolism. Crit Rev Food Sci Nutr 57:1922–1937

Dang QF, Liu H, Yan JQ et al (2015) Characterization of collagen from haddock skin and wound healing properties of its hydrolysates. Biomed Mater 10:015022

de Vries RBM, Hooijmans CR, Langendam MW et al (2015) A protocol format for the preparation, registration and publication of systematic reviews of animal intervention studies. Evid Based Preclin Med 2:e00007

Felician FF, Yu R-HH, Li M-ZZ et al (2019) The wound healing potential of collagen peptides derived from the jellyfish Rhopilema esculentum. Chin J Traumatol 22:12–20

Fernández-Cervantes I, Rodríguez-Fuentes N, León-Deniz LV et al (2020) Cell-free scaffold from jellyfish Cassiopea andromeda (Cnidaria; Scyphozoa) for skin tissue engineering. Mater Sci Eng C 111:110748

Figueres Juher T, Basés Pérez E (2015) An overview of the beneficial effects of hydrolysed collagen intake on joint and bone health and on skin aging. Nutr Hosp 32:62–66

Gupta SS, Singh O, Bhagel PS et al (2011) Honey dressing versus silver sulfadiazene dressing for wound healing in burn patients: a retrospective study. J Cutan Aesthet Surg 4:183–187

Hoyer B, Bernhardt A, Heinemann S et al (2012) Biomimetically mineralized salmon collagen scaffolds for application in bone tissue engineering. Biomacromolecules 13:1059–1066

Hu Z, Yang P, Zhou C et al (2017) Marine collagen peptides from the skin of Nile tilapia (Oreochromis niloticus): characterization and wound healing evaluation. Mar Drugs 15:102

Jamilah B, Hartina MRU, Hashim DM, Sazili AQ (2013) Properties of collagen from barramundi (Lates calcarifer) skin. Int Food Res J 0:791–798

Khan R, Khan MH (2013) Use of collagen as a biomaterial: an update. J Indian Soc Periodontol 17:539

Khong NMH, Yusoff FM, Jamilah B et al (2018) Improved collagen extraction from jellyfish (Acromitus hardenbergi) with increased physical-induced solubilization processes. Food Chem 251:41–50

Kokabi M, Sirousazar M, Hassan ZM (2007) PVA–clay nanocomposite hydrogels for wound dressing. Eur Polym J 43:773–781

Lin C-Y, Maurice PD, Cross NB (2013) A case of pityriasis rubra pilaris associated with membranous nephropathy. Australas J Dermatol 54:e1–e3

Magnusson S, Baldursson BT (2016) Cost saving potential of acellular fish skin graft: a cost simulation study on diabetic foot ulcers. Gefasschirurgie 21:374

Marfia G, Navone SE, di Vito C et al (2015) Mesenchymal stem cells: potential for therapy and treatment of chronic non-healing skin wounds. Organogenesis 11:183–206

Matsumoto Y, Ikeda K, Yamaya Y et al (2011) The usefulness of the collagen and elastin sponge derived from salmon as an artificial dermis and scaffold for tissue engineerin. Biomed Res 32:29–36

Meyer M (2019) Processing of collagen based biomaterials and the resulting materials properties. Biomed Eng Online 18:24

Ouyang Q-Q, Hu Z, Lin Z-P et al (2018) Chitosan hydrogel in combination with marine peptides from tilapia for burns healing. Int J Biol Macromol 112:1191–1198

Parisi JR, Fernandes KR, Avanzi IR et al (2019) Incorporation of collagen from marine sponges (spongin) into hydroxyapatite samples: characterization and in vitro biological evaluation. Mar Biotechnol 21:30–37

Pozzolini M, Scarfì S, Gallus L et al (2018) Production, characterization and biocompatibility evaluation of collagen membranes derived from marine sponge Chondrosia reniformis Nardo, 1847. Mar Drugs 16:111

Qin L, Zhu B-W, Zhou D-Y et al (2011) Preparation and antioxidant activity of enzymatic hydrolysates from purple sea urchin (Strongylocentrotus nudus) gonad. LWT Food Sci Technol 44:1113–1118

Rahman MR, Islam T, Huq F et al (2019) Identification of molecular signatures and pathways common to blood cells and brain tissue of amyotrophic lateral sclerosis patients. Informatics in Medicine Unlocked 16:100193

Rastogi S, Modi M, Sathian B (2009) The efficacy of collagen membrane as a biodegradable wound dressing material for surgical defects of oral mucosa: a prospective study. J Oral Maxillofac Surg 67:1600–1606

Raz P, Brosh T, Ronen G, Tal H (2019) Tensile properties of three selected collagen membranes. Biomed Res Int 2019:5163603

Ridhanya K, Rajakumari (2019) Skin wound healing: an update on the current knowledge and concepts. Res J Pharm Tech 12:1448

Shen X-R, Chen X-L, Xie H-X et al (2017) Beneficial effects of a novel shark-skin collagen dressing for the promotion of seawater immersion wound healing. Mil Med Res 4:33

Shiratsuchi E, Nakaba M, Yamada M (2016) Elastin hydrolysate derived from fish enhances proliferation of human skin fibroblasts and elastin synthesis in human skin fibroblasts and improves the skin conditions. J Sci Food Agric 96:1672–1677

Silva T, Moreira-Silva J, Marques A et al (2014) Marine origin collagens and its potential applications. Mar Drugs 12:5881–5901

Sorg H, Tilkorn DJ, Hager S et al (2017) Skin wound healing: an update on the current knowledge and concepts. Eur Surg Res 58:81–94

Sugihara F, Inoue N, Venkateswarathirukumara S (2018) Ingestion of bioactive collagen hydrolysates enhanced pressure ulcer healing in a randomized double-blind placebo-controlled clinical study. Sci Rep 8:11403

van Baar ME, Essink-Bot ML, Oen IMMH et al (2006) Functional outcome after burns: a review. Burns 32:1–9

Veeruraj A, Liu L, Zheng J et al (2019) Evaluation of astaxanthin incorporated collagen film developed from the outer skin waste of squid Doryteuthis singhalensis for wound healing and tissue regenerative applications. Mater Sci Eng C 95:29–42

Woodrow T, Chant T, Chant H (2019) Treatment of diabetic foot wounds with acellular fish skin graft rich in omega-3: a prospective evaluation. J Wound Care 28:76–80

Yan M, Jiang X, Wang G et al (2020) Preparation of self-assembled collagen fibrillar gel from tilapia skin and its formation in presence of acidic polysaccharides. Carbohydr Polym 233:115831

Zdarta J, Antecka K, Frankowski R et al (2018) The effect of operational parameters on the biodegradation of bisphenols by Trametes versicolor laccase immobilized on Hippospongia communis spongin scaffolds. Sci Total Environ 615:784–795

Zhang W, Zheng J, Tian X et al (2019) Pepsin-soluble collagen from the skin of Lophius litulo: a preliminary study evaluating physicochemical, antioxidant, and wound healing properties. Mar Drugs 17:708
Ethics declarations
Conflict of Interest
The authors declare that they have no conflict of interest.
Additional information
Publisher's note
Springer Nature remains neutral with regard to jurisdictional claims in published maps and institutional affiliations.
About this article
Cite this article
Cruz, M.A., Araujo, T.A., Avanzi, I.R. et al. Collagen from Marine Sources and Skin Wound Healing in Animal Experimental Studies: a Systematic Review. Mar Biotechnol 23, 1–11 (2021). https://doi.org/10.1007/s10126-020-10011-6
Received:

Accepted:

Published:

Issue Date:
Keywords
Marine collagen

In vivo studies

Re-epitalization

Treatment