Abstract
In this study, the carotenoid astaxanthin was obtained by supercritical fluid extraction (SFE) from shrimp by-products (SBP). Its bioactive properties were evaluated in vitro in human normal and cancerous cells lines. The antioxidant activity of the extracted astaxanthin of the SFE fraction (ASTA) was tested in fibroblast cells (HS-68), by inducing oxidative stress and by evaluating the protective effect of the pre-treatment with different levels of ASTA against toxicity. The anti-proliferative activity was evaluated in hepatoma cells (HEP-G2), treated with increased concentrations of ASTA and measuring the effects on vitality and on some biomolecular markers related to oxidative stress, cell cycle, and apoptosis. It was found that pre-treating normal fibroblast cells with ASTA resulted in a marked increase in cell viability in a dose-dependent manner (P < 0.05) attesting its antioxidant power; in cancer cell line, increased concentrations of ASTA caused a time-dose-dependent decrease in the vitality, attesting its anti-proliferative activity (P < 0.05). The increased levels of the protein p-53 and the reduced levels of the proteins c-Jun and c-Fos at higher concentrations of ASTA, as well as, suggest the pro-apoptotic and anti-cancerous effects that this extract has on hepatocellular carcinomas, confirmed also by caspase-3 activation. These findings suggest biotechnological utilisation of marine by-products for nutraceutical and pharmaceutical applications avoiding the employment of organic solvents for extraction.
Access options
Buy single article
Instant access to the full article PDF.
USD 39.95
Price includes VAT (USA)
Tax calculation will be finalised during checkout.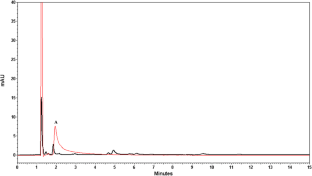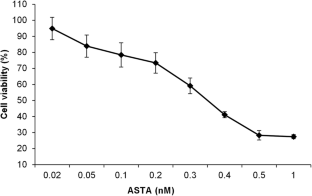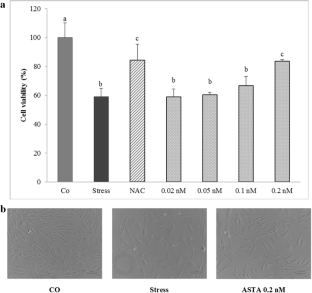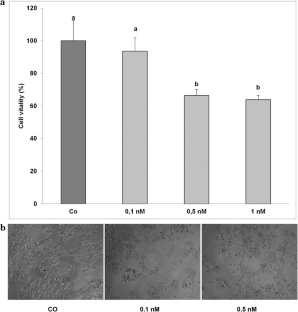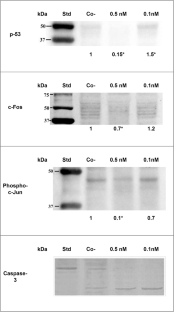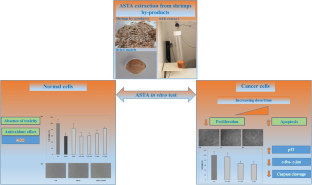 References
Abbes M, Baati H, Guermazi S, Messina C, Santulli A, Gharsallah N, Ammar E (2013) Biological properties of carotenoids extracted from Halobacterium halobium isolated from a Tunisian solar saltern. BMC Complement Altern Med 13:255

Afonso C, Bandarra NM, Nunes L, Cardoso C (2016) Tocopherols in seafood and aquaculture products. Crit Rev Food Sci Nutr 56:128–140

Baccouche B, Mbarkek S, Dellaa A, Hammoum I, Messina CM, Santulli A, Chaouacha-Chekir RB (2016) Protective effect of astaxanthin on primary retinal cells of the gerbil Psammomys obesus cultured in milieu. J Food Biochem 0:1–10

Bhuvaneswari S, Anuradha CV (2012) Astaxanthin prevents loss of insulin signaling and improves glucose metabolism in liver of insulin resistant mice. Can J Physiol Pharmacol 90:1544–1552

Blunt JW, Copp BR, Keyzers RA, Munro MH, Prinsep MR (2015) Marine natural products. Nat Prod Rep 32(2):116–211

Breithaupt DE (2004) Identification and quantification of astaxanthin esters in shrimp (Pandalus borealis) and in a microalga (Haematococcus pluvialis) by liquid chromatography-mass spectrometry using negative ion atmospheric pressure chemical ionization. J Agric Food Chem 52(12):3870–3875

Chen GG, Merchant JL, Lai PB, Ho RL, Hu X, Okada M, Huang SF, Chui AK, Law DJ, Li YG, Lau WY (2003) Mutation of p53 in recurrent hepatocellular carcinoma and its association with the expression of ZBP-89. Am J Pathol 162(6):1823–1829

D'Anneo A, Augello G, Santulli A, Giuliano M, Di Fiore R, Messina C, Tesoriere G, Vento R (2010) Paclitaxel and beta-lapachone synergistically induce apoptosis in human retinoblastoma Y79 cells by downregulating the levels of phospho-Akt. J Cell Physiol 222:433–443

De la Fuente JC, Oyarzún B, Quezada N, Del Valle JM (2006) Solubility of carotenoid pigments (lycopene and astaxanthin) in supercritical carbon dioxide. Fluid Phase Equilib 247:90–95

Eferl R, Ricci R, Kenner L, Zenz R, David JP, Rath M, Wagner EF (2003) Liver tumor development: c-Jun antagonizes the proapoptotic activity of p53. Cell 112(2):181–192

Fallah M, Bahram S, Javadian SR (2015) Fish peptone development using enzymatic hydrolysis of silver carp by-products as a nitrogen source in Staphylococcus aureus media. Food Sci Nutr 3:153–157

Fassett RG, Coombes JS (2011) Astaxanthin: a potential therapeutic agent in cardiovascular disease. Mar Drugs 9:447–465

Glasauer A, Chandel NS (2014) Targetting antioxidants for cancer therapy. Biochem Pharmacol 92:90–101

Goto S, Kogure K, Abe K, Kimata Y, Kitahama K, Yamashita E, Terada H (2001) Efficient radical trapping at the surface and inside the phospholipid membrane is responsible for highly potent antiperoxidative activity of the carotenoid astaxanthin. Biochim Biophys Acta Biomembr 1512:251–258

Guerin M, Huntley ME, Olaizola M (2003) Haematococcus astaxanthin: applications for human health and nutrition. Trends Biotechnol 21(5):210–216

Hamed I, Özogul F, Özogul Y, Regenstein JM (2015) Marine bioactive compounds and their health benefits: a review. Compr Rev Food Sci Food Saf 14(4):446–465

Herrero M, Cifuentes A, Ibañez E (2006) Sub- and supercritical fluid extraction of functional ingredients from different natural sources: plants, food-by-products, algae and microalgae. A review. Food Chem 98:136–148

Herrero M, Mendiola JA, Cifuentes A, Ibáñez E (2010) Supercritical fluid extraction: recent advances and applications. J Chromatogr A 1217:2495–2511

Ishikawa C, Tafuku S, Kadekaru T, Sawada S, Tomita M, Okudaira T, Nakazato T, Toda T, Uchihara JN, Taira N, Ohshiro K (2008) Antiadult T-cell leukemia effects of brown algae fucoxanthin and its deacetylated product, fucoxanthinol. Int J Cancer 123:2702–2712

Joerger AC, Fersht AR (2010) The tumor suppressor p53: from structures to drug discovery. Cold Spring Harb Perspect Biol 2(6):1–21

Johnson GL, Lapadat R (2002) Mitogen-activated protein kinase pathways mediated by ERK, JNK, and p38 protein kinases. Science 298(5600):1911–1912

Kandra P, Challa MM, Kalangi Padma Jyothi H (2012) Efficient use of shrimp waste: present and future trends. Appl Microbiol Biotechnol 93:17–29

Kappelmann M, Bosserhoff A, Kuphal S (2014) AP-1/c-Jun transcription factors: regulation and function in malignant melanoma. Eur J Cell Biol 93(1):76–81

Kelleher K (2005). Discards in the World's Marine Fisheries. An update. FAO Fisheries Technical Paper No 470. Rome, FAO, p131 

Kim SK, Mendis EX (2006) Bioactive compounds from marine processing by products-a review. Food Res Int 39(4):383–393

Kim J, Woolridge S, Biffi R, Borghi E, Lassak A, Ferrante P, Amini S, Khalili K, Safak M (2003) Members of the AP-1 family, c-Jun and c-Fos, functionally interact with JC virus early regulatory protein large T antigen. J Virol 77(9):5241–5252

Liu B, Chen Y, Clair DKS (2008) ROS and p53: a versatile partnership. Free Radic Biol Med 44(8):1529–1535

López M, Arce L, Garrido J, Ríos A, Valcárcel M (2004) Selective extraction of astaxanthin from crustaceans by use of supercritical carbon dioxide. Talanta 64:726–731

Lowry OH, Rosebrough NJ, Farr AL, Randall RJ (1991) Protein measurement with the Folin phenol reagent. J Biol Chem 193:265–275

Lu YP, Liu SY, Sun H, Wu XM, Li JJ, Zhu L (2010) Neuroprotective effect of astaxanthin on H2O2-induced neurotoxicity in vitro and on focal cerebral ischemia in vivo. Brain Res 1360:40–48

Manuguerra S, Caccamo L, Mancuso M, Arena R, Rappazzo AC, Genovese L, Santulli A, Messina CM, Maricchiolo G (2018) The antioxidant power of horseradish, Armoracia rusticana , underlies antimicrobial and antiradical effects, exerted in vitro. Nat Prod Res 0:1–4. Available from: https://www.tandfonline.com/doi/full/10.1080/14786419.2018.1517121

Maoka T (2011) Carotenoids in marine animals. Marine Drugs 9(2):278–293

Messina CM, Pizzo F, Santulli A, Buselic I, Boban M, Orhanovic S, Mladineo I (2016) Anisakis pegreffii (Nematoda: Anisakidae) products modulate oxidative stress and apoptosis-related biomarkers in human cell lines. Parasit Vectors 9:607

Miki W (1991) Biological functions and activities of animal carotenoids. Pure Appl Chem 63(1):141–146

Mossman T (1983) Rapid colorimetric assay for cellular growth and survival: application to proliferation and cytotoxicity assays. J Immunol Methods 65:55–63

Munro MHG, Luibrand RT, Blunt JW (1987) In: Scheuer PJ (ed) The search for antiviral and anticancer compound from marine organisms, vol 1. Bioorganic Marine Chemistry, Verlag Chemie, Berlin, pp 93–176

Nakajima Y, Inokuchi Y, Shimazawa M, Otsubo K, Ishibashi T, Hara H (2008) Astaxanthin, a dietary carotenoid, protects retinal cells against oxidative stress in-vitro and in mice in-vivo. J Pharm Pharmacol 60(10):1365–1374

Ohgami K, Shiratori K, Kotake S, Nishida T, Mizuki N, Yazawa K, Ohno S (2003) Effects of astaxanthin on lipopolysaccharide-induced inflammation in vitro and in vivo. IOVS 44(6):2694–2701

Palozza P, Torelli C, Boninsegna A, Simone R, Catalano A, Mele MC, Picci N (2009) Growth-inhibitory effects of the astaxanthin-rich alga Haematococcus pluvialis in human colon cancer cells. Cancer Lett 283:108–117

Passi S, Ricci R, Aleo E, Cocchi M (2005) Oxidative stress, aging, and aging-related diseases: (review). Prog Nutr 7(1):3–22

Radzali SA, Baharin BS, Othman R, Markom M, Rahman RA (2014) Co-solvent selection for supercritical fluid extraction of astaxanthin and other carotenoids from Penaeus monodon waste. J Oleo Sci 63(8):769–777

Sachindra NM, Bhaskar N, Mahendrakar NS (2005) Carotenoids in different body components of Indian shrimps. J Sci Food Agric 85(1):167–172

Sachindra NM, Bhaskar N, Siddegowda GS, Sathisha AD, Suresh PV (2007) Recovery of carotenoids from ensilaged shrimp waste. Bioresour Technol 98(8):1642–1646

Sánchez-Camargo AP, Martinez-Correa HA, Paviani LC, Cabral FA (2011) Supercritical CO2 extraction of lipids and astaxanthin from Brazilian redspotted shrimp waste (Farfantepenaeus paulensis). J Supercrit Fluids 56:164–173

Schlieve CR, Lieven CJ, Levin LA (2006) Biochemical activity of reactive oxygen species scavengers do not predict retinal ganglion cell survival. Invest Ophthalmol Vis Sci 47:3878–3886

Sen S, Chakraborty R, Sridhar C, Reddy YSR, De B (2010) Free radicals, antioxidants, diseases and phytomedicines: current status and future prospect. Int J Pharm Sci Rev Res 3(1):91–100

Shahidi F (2006) Maximising the value of marine by-products. Woodhead Publishing, Cambridge, p 532

Shinagawa H, Yamano M, Saijo T, Muratsugu M (2013) Protective activity of antioxidants in the hypothalamic paraventricular nucleus of chronic restraint-stressed mice. J Life Sci Res 11:1–4

Sila A, Ayed-Ajmi Y, Sayari N, Nasri M, Martínez-Alvarez O, Bougatef A (2013) Antioxidant and anti-proliferative activities of astaxanthin extracted from the shell waste of deep-water pink shrimp (Parapenaeus longirostris). Nat Prod J 3:82–89

Sila A, Ghlissi Z, Kamoun Z, Makni M, Nasri M, Bougatef A, Sahnoun Z (2015) Astaxanthin from shrimp by-products ameliorates nephropathy in diabetic rats. Eur J Nutr 54(2):301–307

Speidel D (2010) Transcription-independent p53 apoptosis: an alternative route to death. Trends Cell Biol 20(1):14–24

Stahl W, Sies H (2003) Antioxidant activity of carotenoids. Mol Asp Med 24(6):345–351

Tan M (1999) Transcriptional activation of the human glutathione peroxidase promoter by p53. J Biol Chem 274:12061–12066

Tirzitis G, Bartosz G (2010) Determination of antiradical and antioxidant activity: basic principles and new insights. Acta Biochim Pol 57(2):139–142

Tripathi DN, Jena GB (2010) Astaxanthin intervention ameliorates cyclophosphamide-induced oxidative stress, DNA damage and early hepatocarcinogenesis in rat: role of Nrf2, p53, p38 and phase-II enzymes. Mutat Res 696(1):69–80

Underwood AJ (1997) Experiments in ecology: their logical design and interpretation using analysis of variance. Cambridge University Press, Cambridge

Ventura A, Kirsch DG, McLaughlin ME, Tuveson DA, Grimm J, Lintault L, Newman J, Reczek EE, Weissleder R, Jacks T (2007) Restoration of p53 function leads to tumour regression in vivo. Nature 445(7128):661–665

Verma IM, Graham WR (1987) The fos oncogene. Adv Cancer Res 49:29–52

Wang M, Zhang J, Song X, Liu W, Zhang L, Wang X, Lv C (2013) Astaxanthin ameliorates lung fibrosis in vivo and in vitro by preventing transdifferentiation, inhibiting proliferation, and promoting apoptosis of activated cells. Food Chem Toxicol 56:450–458

Xue W, Zender L, Miething C, Dickins RA, Hernando E, Krizhanovsky V, Cordon-Cardo C, Lowe SW (2007) Senescence and tumour clearance is triggered by p53 restoration in murine liver carcinomas. Nature 445(7128):656–660

Yang Y, Kim B, Lee J-Y (2013) Astaxanthin structure, metabolism, and health benefits. J Hum Nutr Food Sci 1:1–11

Yu R, Jiao JJ, Duh JL, Tan TH, Kong ANT (1996) Phenethyl isothiocyanate, a natural chemopreventive agent, activates c-Jun N-terminal kinase. Cancer Res 56: 2954–2959

Yuan JP, Peng J, Yin K, Wang JH (2011) Potential health-promoting effects of astaxanthin: a high-value carotenoid mostly from microalgae. Mol Nutr Food Res 55:150–165

Zhang L, Wang H (2015) Multiple mechanisms of anti-cancer effects exerted by astaxanthin. Mar Drugs 13:4310–4330
Funding
The work submitted was developed within the project "Biotechnologie Marine vecteur d'innovation et qualité" BioVecQ- IEVP- 2007–2013 Cod PS1.3_08.
Ethics declarations
Competing Interests
All authors declare no conflicts of interest.
Additional information
Publisher's Note
Springer Nature remains neutral with regard to jurisdictional claims in published maps and institutional affiliations.
About this article
Cite this article
Messina, C.M., Manuguerra, S., Renda, G. et al. Biotechnological Applications for the Sustainable Use of Marine By-products: In Vitro Antioxidant and Pro-apoptotic Effects of Astaxanthin Extracted with Supercritical CO2 from Parapeneus longirostris. Mar Biotechnol 21, 565–576 (2019). https://doi.org/10.1007/s10126-019-09904-y
Received:

Accepted:

Published:

Issue Date:
Keywords
Marine bioactive compounds

Astaxanthin

Supercritical fluid extraction

Antioxidants

Anti-proliferative

Apoptosis