Abstract
With the emergence of several infectious diseases in shrimp aquaculture, there is a growing interest in the use of feed additives to enhance shrimp immunity. Recently, the use of 5-aminolevulinic acid (5-ALA), a non-protein amino acid that plays a rate-limiting role in heme biosynthesis, has received attention for its positive effect on immunity in livestock animals. To evaluate the effect of 5-ALA in the Pacific white shrimp, Litopenaeus vannamei, we conducted microarray analysis, a Vibrio parahaemolyticus immersion challenge test, an ATP level assay, and gene expression analysis of some hemoproteins and genes associated with heme synthesis and degradation. Out of 15,745 L. vannamei putative genes on the microarray, 101 genes were differentially expressed by more than fourfold (p < 0.05) between 5-ALA-supplemented and control shrimp hepatopancreas. 5-ALA upregulated 99 of the 101 genes, 41 of which were immune- and defense-related genes based on sequence homology. Compared to the control, the 5-ALA-supplemented group had a higher survival rate in the challenge test, higher transcript levels of porphobilinogen synthase, ferrochelatase, catalase, nuclear receptor E75, and heme oxygenase-1 and higher levels of ATP. These findings suggest that dietary 5-ALA enhanced the immune response of L. vannamei to V. parahaemolyticus, upregulated immune- and defense-related genes, and enhanced aerobic energy metabolism, respectively. Further studies are needed to elucidate the extent of 5-ALA use in shrimp culture.
Access options
Buy single article
Instant access to the full article PDF.
USD 39.95
Price includes VAT (USA)
Tax calculation will be finalised during checkout.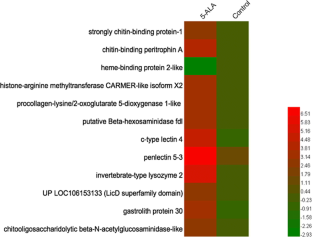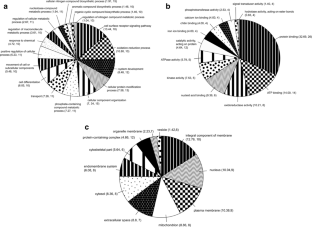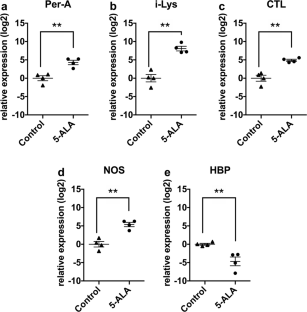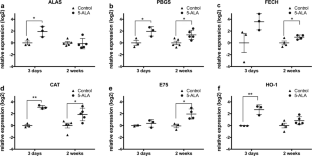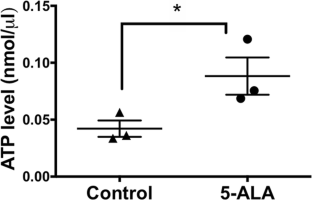 References
Alenton RR, Koiwai K, Miyaguchi K, Kondo H, Hirono I (2017) Pathogen recognition of a novel C-type lectin from Marsupenaeus japonicus reveals the divergent sugar-binding specificity of QAP motif. Sci Rep 7:45818

Angthong P, Roytrakul S, Jarayabhand P, Jiravanichpaisal P (2017) Characterization and function of a tachylectin 5-like immune molecule in Penaeus monodon. Dev Comp Immunol 76:120–131

Annalora AJ, Marcus CB, Iversen PL (2017) Alternative splicing in the cytochrome P450 superfamily expands protein diversity to augment gene function and redirect human drug metabolism. Drug Metab Dispos 45(4):375–389

Ashburner M, Ball CA, Blake JA, Botstein D, Butler H, Cherry JM, Davis AP, Dolinski K, Dwight SS, Eppig JT, Harris MA, Hill DP, Issel-Tarver L, Kasarskis A, Lewis S, Matese JC, Richardson JE, Ringwald M, Rubin GM, Sherlock G (2000) Gene Ontology: tool for the unification of biology. The Gene Ontology Consortium. Nat Genet 25(1):25–29

Atamna H (2004) Heme, iron, and the mitochondrial decay of ageing. Ageing Res Rev 3(3):303–318

Baquero F, Martínez JL, Cantón R (2008) Antibiotics and antibiotic resistance in water environments. Curr Opin Biotechnol 19(3):260–265

Barañano DE, Rao M, Ferris CD, Snyder SH (2002) Biliverdin reductase: a major physiologic cytoprotectant. Proc Natl Acad Sci U S A 99(25):16093–16098

Cabello FC (2006) Heavy use of prophylactic antibiotics in aquaculture: a growing problem for human and animal health and for the environment. Environ Microbiol 8(7):1137–1144

Cáceres L, Necakov AS, Schwartz C, Kimber S, Roberts IJ, Krause HM (2011) Nitric oxide coordinates metabolism, growth, and development via the nuclear receptor E75. Genes Dev 25(14):1476–1485

Camarillo C, Swerdel M, Hart RP (2011) Comparison of microarray and quantitative real-time PCR methods for measuring microRNA levels in MSC cultures. Methods Mol Biol 698:3–8

Chen YJ, Cho JH, Yoo JS, Wang Y, Huang Y, Kim IH (2008a) Evaluation of δ-aminolevulinic acid on serum iron status, blood characteristics, egg performance and quality in laying hens. Asian Australas J Anim Sci 21(9):1355–1360

Chen YJ, Kim IH, Cho JH, Min BJ, Yoo JS, Wang Q (2008b) Effect of δ-aminolevulinic acid on growth performance, nutrient digestibility, blood parameters and the immune response of weanling pigs challenged with Escherichia coli lipopolysaccharide. Livest Sci 114(1):108–116

Chen T, Ren C, Wang Y, Luo P, Jiang X, Huang W, Chen C, Hu C (2016) Molecular cloning, inducible expression and antibacterial analysis of a novel i-type lysozyme (lyz-i2) in Pacific white shrimp, Litopenaeus vannamei. Fish Shellfish Immunol 54:197–203

Deng W, Wang Y, Liu Z, Cheng H, Xue Y (2014) HemI: a toolkit for illustrating heatmaps. PLoS One 9(11):e111988

Dhar AK, Bowers RM, Licon KS, Veazey G, Read B (2009) Validation of reference genes for quantitative measurement of immune gene expression in shrimp. Mol Immunol 46(8–9):1688–1695

Dumont ME, Cardillo TS, Hayes MK, Sherman F (1991) Role of cytochrome c heme lyase in mitochondrial import and accumulation of cytochrome c in Saccharomyces cerevisiae. Mol Cell Biol 11(11):5487–5496

Flegel TW (2012) Historic emergence, impact and current status of shrimp pathogens in Asia. J Invertebr Pathol 110(2):166–173

Flegel TW, Lightner DV, Lo CF, Owens L (2008) Shrimp disease control: past, present and future. Diseases in Asian aquaculture VI. Fish Health Section, Asian Fisheries Society, Manila, pp 355–378

Frank J, Lornejad-Schäfer MR, Schöffl H, Flaccus A, Lambert C, Biesalski HK (2007) Inhibition of heme oxygenase-1 increases responsiveness of melanoma cells to ALA-based photodynamic therapy. Int J Oncol 31(6):1539–1545

Hagiya Y, Adachi T, Ogura S, An R, Tamura A, Nakagawa H, Okura I, Mochizuki T, Ishikawa T (2008) Nrf2-dependent induction of human ABC transporter ABCG2 and heme oxygenase-1 in HepG2 cells by photoactivation of porphyrins: biochemical implications for cancer cell response to photodynamic therapy. J Exp Ther Oncol 7(2):153–167

Han G, Li X, Zhang T, Zhu X, Li J (2015) Cloning and tissue-specific expression of a chitin deacetylase gene from Helicoverpa armigera (Lepidoptera: Noctuidae) and its response to Bacillus thuringiensis. J Insect Sci 15:95

Hara T, Koda A, Nozawa N, Ota U, Kondo H, Nakagawa H, Kamiya A, Miyashita K, Itoh H, Nakajima M, Tanaka T (2016) Combination of 5-aminolevulinic acid and ferrous ion reduces plasma glucose and hemoglobin A1c levels in Zucker diabetic fatty rats. FEBS Open Bio 6(6):515–528

Hatsugai N, Perez Koldenkova V, Imamura H, Noji H, Nagai T (2012) Changes in cytosolic ATP levels and intracellular morphology during bacteria-induced hypersensitive cell death as revealed by real-time fluorescence microscopy imaging. Plant Cell Physiol 53(10):1768–1775

Hosamani N, Reddy SB, Reddy RP (2017) Crustacean molting: regulation and effects of environmental toxicants. J Marine Sci Res Dev 7(236):2

Hossain MM, Park JW, Kim IH (2016) δ-Aminolevulinic acid, and lactulose supplements in weaned piglets diet: effects on performance, fecal microbiota, and in-vitro noxious gas emissions. Livest Sci 183:84–91

Hou J, Cai S, Kitajima Y, Fujino M, Ito H, Takahashi K, Abe F, Tanaka T, Ding Q, Li XK (2013) 5-Aminolevulinic acid combined with ferrous iron induces carbon monoxide generation in mouse kidneys and protects from renal ischemia-reperfusion injury. Am J Physiol Renal Physiol 305(8):F1149–F1157

Huang Y, Ma F, Wang W, Ren Q (2015) Identification and molecular characterization of a peritrophin-like gene, involved in the antibacterial response in Chinese mitten crab, Eriocheir sinensis. Dev Comp Immunol 50(2):129–138

Ishizuka M, Abe F, Sano Y, Takahashi K, Inoue K, Nakajima M, Kohda T, Komatsu N, Ogura S, Tanaka T (2011) Novel development of 5-aminolevurinic acid (ALA) in cancer diagnoses and therapy. Int Immunopharmacol 11(3):358–365

Jover R, Hoffmann F, Scheffler-Koch V, Lindberg RL (2000) Limited heme synthesis in porphobilinogen deaminase-deficient mice impairs transcriptional activation of specific cytochrome P450 genes by phenobarbital. Eur J Biochem 267(24):7128–7137

Kim HW, Batista LA, Hoppes JL, Lee KJ, Mykles DL (2004) A crustacean nitric oxide synthase expressed in nerve ganglia, Y-organ, gill and gonad of the tropical land crab, Gecarcinus lateralis. J Exp Biol 207(Pt 16):2845–2857

Lai HC, Ng TH, Ando M, Lee CT, Chen IT, Chuang JC, Mavichak R, Chang SH, Yeh MD, Chiang YA, Takeyama H, Hamaguchi HO, Lo CF, Aoki T, Wang HC (2015) Pathogenesis of acute hepatopancreatic necrosis disease (AHPND) in shrimp. Fish Shellfish Immunol 47(2):1006–1014

Lara-Flores M, Olvera-Novoa MA, Guzmán-Méndez BE, López-Madrid W (2003) Use of the bacteria Streptococcus faecium and Lactobacillus acidophilus, and the yeast Saccharomyces cerevisiae as growth promoters in Nile tilapia (Oreochromis niloticus). Aquaculture 216(1–4):193–201

Layer G, Reichelt J, Jahn D, Heinz DW (2010) Structure and function of enzymes in heme biosynthesis. Protein Sci 19(6):1137–1161

Leelatanawit R, Klanchui A, Uawisetwathana U, Karoonuthaisiri N (2012) Validation of reference genes for real-time PCR of reproductive system in the black tiger shrimp. PLoS One 7(12):e52677

Li X, Gong X, Zhang L, Jiang R, Li HZ, Wu MJ, Wan JY (2013) Protective effects of polydatin on septic lung injury in mice via upregulation of HO-1. Mediat Inflamm 2013:354087

Liang Y, Xu ML, Wang XW, Gao XX, Cheng JJ, Li C, Huang J (2015) ATP synthesis is active on the cell surface of the shrimp Litopenaeus vannamei and is suppressed by WSSV infection. Virol J 12(1):49

Lilly ST, Drummond RSM, Pearson MN, MacDiarmid RM (2011) Identification and validation of reference genes for normalization of transcripts from virus-infected Arabidopsis thaliana. Mol Plant-Microbe Interact 24:294–304

Liu D, Kong DD, Fu XK, Ali B, Xu L, Zhou WJ (2016) Influence of exogenous 5-aminolevulinic acid on chlorophyll synthesis and related gene expression in oilseed rape de-etiolated cotyledons under water-deficit stress. Photosynthetica 54(3):468–474

Livak KJ, Schmittgen TD (2001) Analysis of relative gene expression data using real-time quantitative PCR and the 2−ΔΔCt method. Methods 25(4):402–408

Maeda M, Shibata A, Biswas G, Korenaga H, Kono T, Itami T, Sakai M (2014) Isolation of lactic acid bacteria from kuruma shrimp (Marsupenaeus japonicus) intestine and assessment of immunomodulatory role of a selected strain as probiotic. Mar Biotechnol 16(2):181–192

Maralit BA, Komatsu M, Hipolito SG, Hirono I, Kondo H (2015) Microarray analysis of immunity against WSSV in response to injection of non-specific long dsRNA in kuruma shrimp, Marsupenaeus japonicus. Mar Biotechnol 17(4):493–501

Mateo RD, Morrow JL, Dailey JW, Ji F, Kim SW (2006) Use of delta-aminolevulinic acid in swine diet: effect on growth performance, behavioral characteristics and hematological/immune status in nursery pigs. Asian Australas J Anim Sci 19(1):97

Miandare HK, Yarahmadi P, Abbasian M (2016) Immune related transcriptional responses and performance of Litopenaeus vannamei post-larvae fed on dietary probiotic PrimaLac®. Fish Shellfish Immunol 55:671–678

Moussian B (2010) Recent advances in understanding mechanisms of insect cuticle differentiation. Insect Biochem Mol Biol 240(5):363–375

Nakaoka T, Iga M, Yamada T, Koujima I, Takeshima M, Zhou X, Suzuki Y, Ogihara MH, Kataoka H (2017) Deep sequencing of the prothoracic gland transcriptome reveals new players in insect ecdysteroidogenesis. PLoS One 12(3):e0172951

Nishio Y, Fujino M, Zhao M, Ishii T, Ishizuka M, Ito H, Takahashi K, Abe F, Nakajima M, Tanaka T, Taketani S, Nagahara Y, Li XK (2014) 5-Aminolevulinic acid combined with ferrous iron enhances the expression of heme oxygenase-1. Int Immunopharmacol 19(2):300–307

Ogura SI, Maruyama K, Hagiya Y, Sugiyama Y, Tsuchiya K, Takahashi K, Abe F, Tabata K, Okuta I, Nakajima M, Tanaka T (2011) The effect of 5-aminolevulinic acid on cytochrome c oxidase activity in mouse liver. BMC Res Notes 4:66

Otterbein LE, Bach FH, Alam J, Soares M, Tao Lu H, Wysk M, Davis RJ, Flavell RA, Choi AM (2000) Carbon monoxide has anti-inflammatory effects involving the mitogen-activated protein kinase pathway. Nat Med 6(4):422–428

Padmanaban G, Venkateswar V, Rangarajan PN (1989) Haem as a multifunctional regulator. Trends Biochem Sci 14(12):492–496

Pritykin Y, Ghersi D, Singh M (2015) Genome-wide detection and analysis of multifunctional genes. PLoS Comput Biol 11(10):e1004467

Reinking J, Lam MM, Pardee K, Sampson HM, Liu S, Yang P, Williams S, White W, Lajoie G, Edwards A, Krause HM (2005) The Drosophila nuclear receptor e75 contains heme and is gas responsive. Cell 122(2):195–207

Rocha J, Garcia-Carreño FL, Muhlia-Almazán A, Peregrino-Uriarte AB, Yépiz-Plascencia G, Córdova-Murueta JH (2012) Cuticular chitin synthase and chitinase mRNA of whiteleg shrimp Litopenaeus vannamei during the molting cycle. Aquaculture 330:111–115

Ruijter JM, Ramakers C, Hoogaars WMH, Karlen Y, Bakker O, Van den Hoff MJB, Moorman AFM (2009) Amplification efficiency: linking baseline and bias in the analysis of quantitative PCR data. Nucleic Acids Res 37(6):e45

Sasaki K, Watanabe M, Tanaka T (2002) Biosynthesis, biotechnological production and applications of 5-aminolevulinic acid. Appl Microbiol Biotechnol 58(1):23–29

Sato E, Sagami I, Uchida T, Sato A, Kitagawa T, Igarashi J, Shimizu T (2004) SOUL in mouse eyes is a new hexameric heme-binding protein with characteristic optical absorption, resonance Raman spectral, and heme-binding properties. Biochemistry 43(44):14189–14198

Sato K, Matsushita K, Takahashi K, Aoki M, Fuziwara J, Miyanari S, Kamada T (2012) Dietary supplementation with 5-aminolevulinic acid modulates growth performance and inflammatory responses in broiler chickens. Poult Sci 91(7):1582–1589

Shaik KS, Meyer F, Vázquez ÁV, Flötenmeyer M, Cerdán ME, Moussian B (2012) δ-Aminolevulinate synthase is required for apical transcellular barrier formation in the skin of the Drosophila larva. Eur J Cell Biol 91(3):204–215

Szigeti A, Bellyei S, Gasz B, Boronkai A, Hocsak E, Minik O, Bognar Z, Varbiro G, Sumegi B, Gallyas F (2006) Induction of necrotic cell death and mitochondrial permeabilization by heme binding protein 2/SOUL. FEBS Lett 580(27):6447–6454

Tassanakajon A, Somboonwiwat K, Supungul P, Tang S (2013) Discovery of immune molecules and their crucial functions in shrimp immunity. Fish Shellfish Immunol 34(4):954–967

Tellam RL, Wijffels G, Willadsen P (1999) Peritrophic matrix proteins. Insect Biochem Mol Biol 29(2):87–101

Tiwari BS, Belenghi B, Levine A (2002) Oxidative stress increased respiration and generation of reactive oxygen species, resulting in ATP depletion, opening of mitochondrial permeability transition, and programmed cell death. Plant Physiol 128(4):1271–1281

Trasviña-Arenas CH, Garcia-Triana A, Peregrino-Uriarte AB, Yepiz-Plascencia G (2013) White shrimp Litopenaeus vannamei catalase: gene structure, expression and activity under hypoxia and reoxygenation. Comp Biochem Physiol B Biochem Mol Biol 164(1):44–52

Tsiftsoglou AS, Tsamadou AI, Papadopoulou LC (2006) Heme as key regulator of major mammalian cellular functions: molecular, cellular, and pharmacological aspects. Pharmacol Ther 111(2):327–345

Untergasser A, Cutcutache I, Koressaar T, Ye J, Faircloth BC, Remm M, Rozen SG (2012) Primer3—new capabilities and interfaces. Nucleic Acids Res 40(15):e115–e115

Wang JP, Kim HJ, Chen YJ, Yoo JS, Cho JH, Kang DK, Hyun Y, Kim IH (2009a) Effects of delta-aminolevulinic acid and vitamin C supplementation on feed intake, backfat, and iron status in sows. J Anim Sci 87(11):3589–3595

Wang WN, Zhou J, Wang P, Tian TT, Zheng Y, Liu Y, Mai WJ, Wang AL (2009b) Oxidative stress, DNA damage and antioxidant enzyme gene expression in the Pacific white shrimp, Litopenaeus vannamei when exposed to acute pH stress. Comp Biochem Physiol C Toxicol Pharmacol 150(4):428–435

Wang XW, Zhang XW, Xu WT, Zhao XF, Wang JX (2009c) A novel C-type lectin (FcLec4) facilitates the clearance of Vibrio anguillarum in vivo in Chinese white shrimp. Dev Comp Immunol 33(9):1039–1047

Wang H, Ma J, Ruan L, Xu X (2009d) Cloning of a centaurin-α1 like gene MjCent involved in WSSV infection from shrimp Marsupeneaus japonicus. Fish Shellfish Immunol 26(2):279–284

Wiese M, Antebi A, Zheng H (2010) Intracellular trafficking and synaptic function of APL-1 in Caenorhabditis elegans. PLoS One 5(9):e12790

Wilson W, Lowman D, Antony SP, Puthumana J, Singh IB, Philip R (2015) Immune gene expression profile of Penaeus monodon in response to marine yeast glucan application and white spot syndrome virus challenge. Fish Shellfish Immunol 43(2):346–356

Yamada K, Sato D, Nakamura T, Amano H, Morimoto Y (2017) Unknown biological effects of l-glucose, ALA, and PUFA. J Physiol Sci 67(5):539–548

Yan L, Kim IH (2011) Evaluation of dietary supplementation of delta-aminolevulinic acid and chitooligosaccharide on growth performance, nutrient digestibility, blood characteristics, and fecal microbial shedding in weaned pigs. Anim Feed Sci Technol 169(3–4):275–280

Yao CL, Ji PF, Wang ZY, Li FH, Xiang JH (2010) Molecular cloning and expression of NOS in shrimp, Litopenaeus vannamei. Fish Shellfish Immunol 28(3):453–460

Yasumoto S, Miyanari S, Yoshimura S, Kondo M, Takahashi Y (2012) Effect of oral administration of 5-aminolevulinic acid in Japanese eel Anguilla japonica. Aquacult Sci 60(3):411–412

Zhao Y, Park RD, Muzzarelli RA (2010) Chitin deacetylases: properties and applications. Mar Drugs 8(1):24–46
Acknowledgements
This work was supported in part by Grants-in-Aid for Scientific Research from the Ministry of Education, Culture, Sports, Science, and Technology of Japan as well as by SBI Pharmaceuticals Co., Ltd.
Ethics declarations
Conflict of Interest
The authors declare that they have no conflict of interest.
About this article
Cite this article
Pedrosa-Gerasmio, I.R., Tanaka, T., Sumi, A. et al. Effects of 5-Aminolevulinic Acid on Gene Expression, Immunity, and ATP Levels in Pacific White Shrimp, Litopenaeus vannamei. Mar Biotechnol 20, 829–843 (2018). https://doi.org/10.1007/s10126-018-9852-2
Received:

Accepted:

Published:

Issue Date:
Keywords
5-aminolevulinic acid

Microarray

ATP level

Heme synthesis

AHPND