Abstract
The tiger puffer Takifugu rubripes is one of the most popular aquacultural fish; however, there are two major obstacles to selective breeding. First, they have a long generation time of 2 or 3 years until maturation. Second, the parental tiger puffer has a body size (2–5 kg) much larger than average market size (0.6–1.0 kg). The grass puffer Takifugu niphobles is closely related to the tiger puffer and matures in half the time. Furthermore, grass puffer can be reared in small areas since their maturation weight is about 1/150 that of mature tiger puffer. Therefore, to overcome the obstacles of maturation size and generation time of tiger puffer, we generated surrogate grass puffer that can produce tiger puffer gametes through germ cell transplantation. Approximately 5000 tiger puffer testicular cells were transplanted into the peritoneal cavity of triploid grass puffer larvae at 1 day post hatching. When the recipient fish matured, both males and females produced donor-derived gametes. Through their insemination, we successfully produced donor-derived tiger puffer offspring presenting the same body surface dot pattern, number of dorsal fin rays, and DNA fingerprint as those of the donor tiger puffer, suggesting that the recipient grass puffer produced functional eggs and sperm derived from the donor tiger puffer. Although fine tunings are still needed to improve efficiencies, surrogate grass puffer are expected to accelerate the breeding process of tiger puffer because of their short generation time and small body size.
This is a preview of subscription content, log in to check access.
Access options
Buy single article
Instant access to the full article PDF.
US$ 39.95
Price includes VAT for USA
Subscribe to journal
Immediate online access to all issues from 2019. Subscription will auto renew annually.
US$ 99
This is the net price. Taxes to be calculated in checkout.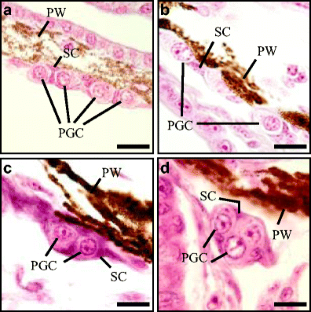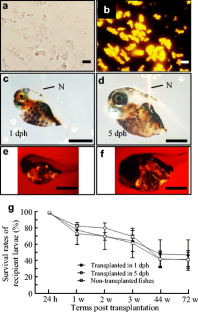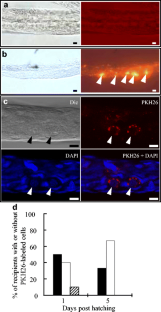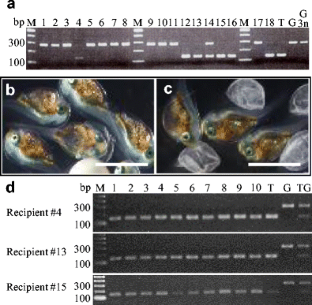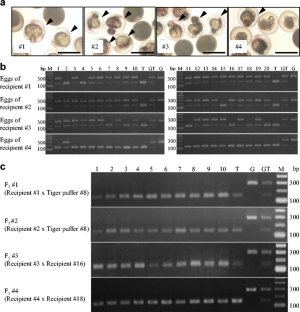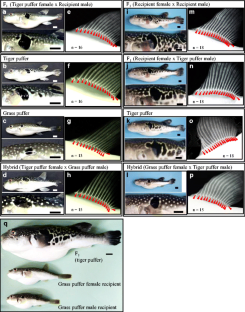 References
Aparicio S, Chapman J, Stupka E, Putnam N, Chia JM, Dehal P, Christoffels A, Rash S, Hoon S, Smit A, Gelpke MD, Roach J, Oh T, Ho IY, Wong M, Detter C, Verhoef F, Predki P, Tay A, Lucas S, Richardson P, Smith SF, Clark MS, Edwards YJ, Doggett N, Zharkikh A, Tavtigian SV, Pruss D, Barnstead M, Evans C, Baden H, Powell J, Glusman G, Rowen L, Hood L, Tan YH, Elgar G, Hawkins T, Venkatesh B, Rokhsar D, Brenner S (2002) Whole-genome shotgun assembly and analysis of the genome of Fugu rubripes. Science 297:1301–1310

Bar I, Smith A, Bubner E, Yoshizaki G, Takeuchi Y, Yazawa R, Chen BN, Cummins S, Elizur A (2015) Assessment of yellowtail kingfish (Seriola lalandi) as a surrogate host for the production of southern bluefin tuna (Thunnus maccoyii) seed via spermatogonial germ cell transplantation. Reprod Fertil Dev. https://doi.org/10.1071/RD15136

Brenner S, Elgar G, Sandford R, Macrae A, Venkatesh B, Aparicio S (1993) Characterization of the pufferfish (Fugu) genome as a compact model vertebrate genome. Nature 366:265–268

Chuda H, Matsuyama M, Ikeda Y, Matsuura S (1997) Development of the maturation- and ovulation-induction method in cultured tiger puffer Takifugu rubripes by hormone treatments. Nippon Suisan Gakkaishi 63:728–733

Hamasaki M, Takeuchi Y, Miyaki K, Yoshizaki G (2013) Gonadal development and fertility of triploid grass puffer Takifugu niphobles induced by cold shock treatment. Mar Biotechnol 15:133–144

Hayashi M, Sato M, Nagasaka Y, Sadaie S, Kobayashi S, Yoshizaki G (2014) Enrichment of spermatogonial stem cells using side population in teleost. Biol Reprod 91:23

Higuchi K, Takeuchi Y, Miwa M, Yamamoto Y, Tsunemoto K, Yoshizaki G (2011) Colonization, proliferation, and survival of intraperitoneally transplanted yellowtail Seriola quinqueradiata spermatogonia in nibe croaker Nibea mitsukurii recipient. Fish Sci 77:69–77

Kai W, Kikuchi K, Tohari S, Chew AK, Tay A, Fujiwara A, Hosoya S, Suetake H, Naruse K, Brenner S, Suzuki Y, Venkatesh B (2011) Integration of the genetic map and genome assembly of fugu facilitates insights into distinct features of genome evolution in teleosts and mammals. Genome Biol Evol 3:424–442

Kakimoto Y, Aida S, Arai K, Suzuki R (1994) Neuters occurred in methyltestosterone treated ocellated puffer Takifugu rubripes. Fish Genet Breed Sci 20:63–66

Kamiya T, Kai W, Tasumi S, Oka A, Matsunaga T, Mizuno S, Fujita M, Suetake H, Suzuki S, Hosoya S, Tohari S, Brenner S, Miyadai T, Venkatesh B, Suzuki Y, Kikuchi K (2012) A trans-species missense SNP in Amhr2 is associated with sex determination in the tiger pufferfish, Takifugu rubripes (fugu). PLoS Genet 8:e1002798

Kikuchi K, Kai W, Hosokawa A, Mizuno N, Suetake H, Asahina K, Suzuki Y (2007) The sex-determining locus in the tiger pufferfish, Takifugu rubripes. Genetics 175:2039–2042

Kise K, Yoshikawa H, Sato M, Tashiro M, Yazawa R, Nagasaka Y, Takeuchi Y, Yoshizaki G (2012) Flow-cytometric isolation and enrichment of teleost type A spermatogonia based on light-scattering properties. Biol Reprod 86:107

Koressaar T, Remm M (2007) Enhancements and modifications of primer design program primer3. Bioinformatics 23:1289–1291

Lacerda SM, Batlouni SR, Costa GM, Segatelli TM, Quirino BR, Queiroz BM, Kalapothakis E, Franca LR (2010) A new and fast technique to generate offspring after germ cells transplantation in adult fish: the Nile tilapia (Oreochromis niloticus) model. PLoS One 5:e10740

Lee S, Iwasaki Y, Shikina S, Yoshizaki G (2013) Generation of functional eggs and sperm from cryopreserved whole testes. Proc Natl Acad Sci U S A 110:1640–1645

Lee S, Seki S, Katayama N, Yoshizaki G (2015) Production of viable trout offspring derived from frozen whole fish. Sci Rep 5:16045

Lee S, Iwasaki Y, Yoshizaki G (2016a) Long-term (5 years) cryopreserved spermatogonia have high capacity to generate functional gametes via interspecies transplantation in salmonids. Cryobiology 73:286–290

Lee S, Katayama N, Yoshizaki G (2016b) Generation of juvenile rainbow trout derived from cryopreserved whole ovaries by intraperitoneal transplantation of ovarian germ cells. Biochem Biophys Res Commun 478:1478–1483

Majhi SK, Hattori RS, Rahman SM, Strüssmann CA (2014) Surrogate production of eggs and sperm by intrapapillary transplantation of germ cells in cytoablated adult fish. PLoS One 9:1–9

Matsuyama M, Chuda H, Ikeda Y, Tanaka H, Matsuura S (1997) Induction of ovarian maturation and ovulation in cultured tiger puffer Takifugu rubripes by different hormonal treatments. Suisanzoshoku 40:67–73

Miyaki K (1998) Development of the artificial hybrid pufferfishes. Bull Nagasaki Pref Inst Fish 24:27–68

Miyaki K, Tachihara K, Ebisu R, Tsukashima Y, Matsumura Y, Fujita S, Hayashida G, Tabeta O (1992) Induction of ovarian maturation of the tiger puffer, Takifugu rubripes by gonadotoropic hormone injections. Suisanzoshoku 40:439–442

Morita T, Kumakura N, Morishima K, Mitsuboshi T, Ishida M, Hara T, Kudo S, Miwa M, Ihara S, Higuchi K, Takeuchi Y, Yoshizaki G (2012) Production of donor-derived offspring by allogeneic transplantation of spermatogonia in the yellowtail (Seriola quinqueradiata). Biol Reprod 86:1–11

Morita T, Morishima K, Miwa M, Kumakura N, Kudo S, Ichida K, Mitsuboshi T, Takeuchi Y, Yoshizaki G (2015) Functional sperm of the yellowtail (Seriola quinqueradiata) were produced in the small-bodied surrogate, jack mackerel (Trachurus japonicus). Mar Biotechnol 17:644–654

Okutsu T, Suzuki K, Takeuchi Y, Takeuchi T, Yoshizaki G (2006) Testicular germ cells can colonize sexually undifferentiated embryonic gonad and produce functional eggs in fish. Proc Natl Acad Sci U S A 103:2725–2729

Okutsu T, Shikina S, Kanno M, Takeuchi Y, Yoshizaki G (2007) Production of trout offspring from triploid salmon parents. Science 317:1517

Okutsu T, Takeuchi Y, Yoshizaki G (2008a) Spermatogonial transplantation in fish: production of trout offspring from salmon parents. Fisheries for Global Welfare and Environment. TERRAPUB, Tokyo, pp 209–219

Okutsu T, Kobayashi T, Takeuchi Y, Yoshizaki G (2008b) Identification of donor-derived germ cells and spermatozoa in xenogeneic recipient using species-specific primers against vasa gene in germ cell transplantation experiments. Fish Genet Breed Sci 37:29–36

Okutsu T, Shikina S, Sakamoto T, Mochizuki M, Yoshizaki G (2015) Successful production of functional Y eggs derived from spermatogonia transplanted into female recipients and subsequent production of YY supermales in rainbow trout, Oncorhynchus mykiss. Aquaculture 446:298–302

Rashid H, Kitano H, Lee KH, Nii S, Shigematsu T, Kadomura K, Yamaguchi A, Matsuyama M (2007) Fugu (Takifugu rubripes) sexual differentiation: CYP19 regulation and aromatase inhibitor induced testicular development. Sex Dev 1:311–322

Saito T, Goto-Kazeto R, Arai K, Yamaha E (2008) Xenogenesis in teleost fish through generation of germ-line chimeras by single primordial germ cell transplantation. Biol Reprod 78:159–166

Shikina S, Nagasawa K, Hayashi M, Furuya M, Iwasaki Y, Yoshizaki G (2013) Short-term in vitro culturing improves transplantability of type a spermatogonia in rainbow trout (Oncorhynchus mykiss). Mol Reprod Dev 80:763–773

Takeuchi Y, Yoshizaki G, Takeuchi T (2004) Surrogate broodstock produces salmonids. Nature 430:629–630

Takeuchi Y, Higuchi K, Yatabe T, Miwa M, Yoshizaki G (2009) Development of spermatogonial cell transplantation in Nibe croaker, Nibea mitsukurii (Perciformes, Sciaenidae). Biol Reprod 81:1055–1063

Uno Y (1955) Spawning habit and early development of a puffer, Fugu (Torafugu) niphobles (Jordan et Snyder). J Tokyo Univ Fish 41:169–183

Yamanoue Y, Miya M, Matsuura K, Miyazawa S, Tsukamoto N, Doi H, Takahashi H, Mabuchi K, Nishida M, Sakai H (2009) Explosive speciation of Takifugu: another use of fugu as a model system for evolutionary biology. Mol Biol Evol 26:623–629

Yano A, Suzuki K, Yoshizaki G (2008) Flow-cytometric isolation of testicular germ cells from rainbow trout (Oncorhynchus mykiss) carrying the green fluorescent protein gene driven by trout vasa regulatory regions. Biol Reprod 78:151–158

Yazawa R, Takeuchi Y, Higuchi K, Yatabe T, Kabeya N, Yoshizaki G (2010) Chub mackerel gonads support colonization, survival, and proliferation of intraperitoneally transplanted xenogenic germ cells. Biol Reprod 82:896–904

Yoshikawa H, Takeuchi Y, Ino Y, Wang J, Iwata G, Kabeya N, Yazawa R, Yoshizaki G (2016) Efficient production of donor-derived gametes from triploid recipients following intra-peritoneal germ cell transplantation into a marine teleost, Nibe croaker (Nibea mitsukurii). Aquaculture. https://doi.org/10.1016/j. aquaculture.2016.05.011

Yoshizaki G, Ichikawa M, Hayashi M, Iwasaki Y, Miwa M, Shikina S, Okutsu T (2010) Sexual plasticity of ovarian germ cells in rainbow trout. Development 137:1227–1230

Yoshizaki G, Fujinuma K, Iwasaki Y, Okutsu T, Shikina S, Yazawa R, Takeuchi Y (2011) Spermatogonial transplantation in fish: a novel method for the preservation of genetic resources. Comp Biochem Physiol Part D Genomics Proteomics 6:55–61

Yoshizaki G, Takashiba K, Shimamori S, Fujinuma K, Shikina S, Okutsu T, Kume S, Hayashi M (2016) Production of germ cell-deficient salmonids by dead end gene knockdown, and their use as recipients for germ cell transplantation. Mol Reprod Dev 83:298–311
Funding Information
This study was partly supported by a Grant-in-Aid for Scientific Research (KAKENHI) (25114005) on Innovative Areas, "Mechanisms regulating gamete formation in animals," and the Ocean Resource Use Promotion Technology Development Program conducted by MEXT.
Additional information
Triploid grass puffer that received tiger puffer germ cells intraperitoneally successfully produced donor-derived tiger puffer eggs and sperm.
About this article
Cite this article
Hamasaki, M., Takeuchi, Y., Yazawa, R. et al. Production of Tiger Puffer Takifugu rubripes Offspring from Triploid Grass Puffer Takifugu niphobles Parents. Mar Biotechnol 19, 579–591 (2017). https://doi.org/10.1007/s10126-017-9777-1
Received:

Accepted:

Published:

Issue Date:
Keywords
Spermatogonial transplantation

Triploid

Grass puffer

Tiger puffer