Abstract
Biofouling results in tremendous economic losses to maritime industries around the world. A recent global ban on the use of organotin compounds as antifouling agents has further raised demand for safe and effective antifouling compounds. In this study, 49 secondary metabolites, including diterpenoids, steroids, and polyketides, were isolated from soft corals, gorgonians, brown algae, and fungi collected along the coast of China, and their antifouling activity was tested against cyprids of the barnacle Balanus (Amphibalanus) amphitrite. Twenty of the compounds were found to inhibit larval settlement significantly at a concentration of 25 μg ml-1. Two briarane diterpenoids, juncin O (2) and juncenolide H (3), were the most promising non-toxic antilarval settlement candidates, with EC50 values less than 0.13 μg ml-1 and a safety ratio (LC50/EC50) higher than 400. A preliminary structure—activity relationships study indicated that both furanon and furan moieties are important for antifouling activity. Intriguingly, the presence of hydroxyls enhanced their antisettlement activity.
This is a preview of subscription content, log in to check access.
Access options
Buy single article
Instant access to the full article PDF.
US$ 39.95
Tax calculation will be finalised during checkout.
Subscribe to journal
Immediate online access to all issues from 2019. Subscription will auto renew annually.
US$ 99
Tax calculation will be finalised during checkout.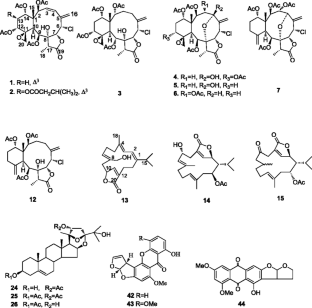 References
Barbosa JP, Fleury BG, Gama BAP, Teixeira VL, Pereira RC (2007) Natural products as antifoulants in the Brazilian brown alga Dictyota pfaffii (Phaeophyta, Dictyotales). Biochem Syst Ecol 35:549–553

Bellas J (2006) Comparative toxicity of alternative antifouling biocides on embryos and larvae of marine invertebrates. Sci Total Environ 367:573–585

Bhadury P, Wright PC (2004) Exploitation of marine algae: biogenic compounds for potential antifouling applications. Planta 219:561–578

Chambers LD, Stokes KR, Walsh FC, Wood RJK (2006) Modern approaches to marine antifouling coatings. Surf Coat Technol 201:3642–3652

Clare AS (1996) Marine natural product antifoulants: status and potential. Biofouling 9:211–229

Clare AS, Rittschof D, Gerhart DJ, Hooper IR, Bonaventura J (1999) Antisettlement and narcotic action of analogues of diterpene marine natural product antifoulants from octocorals. Mar Biotechnol 1:427–436

Dobretsov S, Dahms HU, Qian PY (2006) Inhibition of biofouling by marine microorganisms and their metabolites. Biofouling 22:43–54

Egan S, Holmstrőm C, Kjelleberg S (2001) Pseudoalteromonas ulvae sp. nov., a bacterium with antifouling activities isolated from the surface of a marine alga. Int J Syst Evol Microbiol 51:1499–1504

Fusetani N (2004) Biofouling and antifouling. Nat Prod Rep 21:94–104

Fusetani N (2011) Antifouling marine natural products. Nat Prod Rep 28:400–410

Fusetani N, Clare AS (2006) Antifouling compounds. Springer-Verlag, Berlin

Harder TN, Thiyagarajan V, Qian PY (2001) Effect of cyprid age on the settlement of Balanus amphitrite Darwin in response to natural biofilms. Biofouling 17:211–219

Hattori T, Matsuo S, Adachi K, Shizuri Y (2001) Isolation of antifouling substances from the palauan sponge Protophlitaspongia aga. Fish Sci 67:690–693

Head RM, Overbeke K, Klijnstra J, Biersteker R, Thomason JC (2003) The effect of gregariousness in cyprid settlement assays. Biofouling 19(4):269–278

Hellio C, Yebra D (eds) (2009) Advances in marine antifouling coatings and technologies. Woodhead Publishing Ltd., Cambridge, UK

Holker SE, Kagal SA (1968) 5-Methoxysterigmatocystin, a metabolite from a mutant strain of Aspergillus versicolor. Chem Commun 24:1574–1575

Khandeparker L, Anil AC (2007) Underwater adhesion: the barnacle way. Int J Adhes Adhesives 27:165–172

Kong WW, Shao CL, Wang CY, Xu Y, Qian PY, Chen AN, Huang H (2012) Diterpenoids and steroids from gorgonian Subergorgia mollis. Chem Nat Compd 48:512–515

Konstantinou IK, Albanis TA (2004) Worldwide occurrence and effects of antifouling paint booster biocides in the aquatic environment: a review. Environ Int 30:235–248

Kwong TFN, Miao L, Li X, Qian PY (2006) Novel antifouling and antimicrobial compound from a marine-derived fungus Ampelomyces sp. Mar Biotechnol 8:634–640

Jacobson AH, Willingham GL (2000) Sea-nine antifoulant: an environmentally acceptable alternative to organotin antifoulants. Sci Total Environ 258:103–110

Jia R, Guo YW, Mollo E, Gavagnin M, Cimino G (2006) Sarcophytonolides E-H, cembranolides from the Hainan soft coral Sarcophyton latum. J Nat Prod 69:819–822

Li X, Dobretsov S, Xu Y, Xiao X, Hung OS, Qian PY (2006) Antifouling diketopiperazines produced by a deep-sea bacterium, Streptomyces fungicidicus. Biofouling 22:201–208

Li YX, Zhang FY, Xu Y, Matsumura K, Han Z, Liu LL, Lin WH, Jia YX, Qian PY (2012) Structural optimization and evaluation of butenolides as potent antifouling agents: modification of the side chain affects the biological activities of compounds. Biofouling 28:857–864

Nogata Y, Yoshimura E, Shinshima K, Kitano Y, Sakaguchi I (2003) Antifouling substances against larvae of the barnacle Balanus amphitrite from the marine sponge, Acanthella cavernosa. Biofouling 19(Suppl):193–196

Omae I (2003) Organotin antifouling paints and their alternatives. Appl Organomet Chem 17:81–105

Qi SH, Zhang S, Huang H, Xiao ZH, Huang JS, Li QX (2004) New briaranes from the South China Sea gorgonian Junceella juncea. J Nat Prod 67:1907–1910

Qi SH, Zhang S, Qian PY, Xiao ZH, Li MY (2006) Ten new antifouling briarane diterpenoids from the South China Sea gorgonian Junceella juncea. Tetrahedron 62:9123–9130

Qian PY, Xu Y, Fusetani N (2010) Natural products as antifouling compounds: recent progress and future perspectives. Biofouling 26:223–234

Richmond MD, Seed R (1991) A review of marine macrofouling communities with special reference to animal fouling. Biofouling 2:151–168

Rittschof D (2000) Natural product antifoulants: one perspective on the challenges related to coatings development. Biofouling 15:119–127

Rittschof D (2001) Natural product antifoulants and coatings development. In: McClintock JB, Baker BJ (eds) Marine chemical ecology. CRC, Boca Raton, pp 543–566

Sears MA, Gerhart DJ, Rittschof D (1990) Antifouling agents from marine sponge Lissodendoryx isodictyalis Carter. J Chem Ecol 16:791–799

Sonak S, Pangam P, Giriyan A, Hawaldar K (2009) Implications of the ban on organotins for protection of global coastal and marine ecology. J Environ Manage 90:S96–S108

Sun XP, Wang CY, Shao CL, Li LA, Li XB, Chen M, Qian PY (2010) Chemical constituents of the soft coral Sarcophyton infundibuliforme from the South China Sea. Nat Prod Commun 5:1171–1174

Thiyagarajan V, Harder T, Qiu JW, Qian PY (2003) Energy content at metamorphosis and growth rate of early juvenile barnacle, Balanus amphitrite. Mar Biol 143:543–554

Thomas KV, Brooks S (2010) The environmental fate and effects of antifouling paint biocides. Biofouling 26:73–88

Townsin RL (2003) The ship hull fouling penalty. Biofouling 19(Suppl):9–15

Voulvoulis N, Scrimshaw MD, Lester JN (2002) Comparative environmental assessment of biocides used in antifouling paints. Chemosphere 47:789–795

Wahl M (1989) Marine epibiosis. 1. Fouling and antifouling—some basic aspects. Mar Ecol Prog Ser 58:175–189

Wang SS, Chen YH, Chang JY, Hwang TL, Chen CH, Khalil AT, Shen YC (2009) Juncenolides H-K, new briarane diterpenoids from Junceella juncea. Helv Chim Acta 92:2092–2100

Xu Y, He HP, Schulz S, Liu X, Fusetani N, Xiong HR, Xiao X, Qian PY (2010) Potent antifouling compounds produced by marine Streptomyces. Bioresour Technol 101:1331–1336

Zheng CJ, Shao CL, Guo ZY, Chen JF, Deng DS, Yang KL, Chen YY, Fu XM, She ZG, Lin YC, Wang CY (2012) Bioactive hydroanthraquinones and anthraquinone dimers from a soft coral-derived Alternaria sp. fungus. J Nat Prod 75:189–197

Zhou XJ, Okamura H, Nagata S (2006) Remarkable synergistic effects in antifouling chemicals against Vibrio fischeri in a bioluminescent assay. J Health Sci 52:243–251
Acknowledgments
This study was supported by a research grant (DY125-15-T-02) from the China Ocean Mineral Resources Research and Development Association, a joint research grant from the Research Grants Council of the Hong Kong Special Administrative Region and the National Natural Science Foundation of China (N_HKUST602/09 and No. 41130858), and an award (SA-C0040/UK-C001) from King Abdullah University of Science and Technology (KAUST) granted to P.Y. Qian.
Additional information
Y.-X. L. and H. W. contributed equally to this work.
Electronic supplementary material
Below is the link to the electronic supplementary material.
About this article
Cite this article
Li, YX., Wu, HX., Xu, Y. et al. Antifouling Activity of Secondary Metabolites Isolated from Chinese Marine Organisms. Mar Biotechnol 15, 552–558 (2013). https://doi.org/10.1007/s10126-013-9502-7
Received:

Accepted:

Published:

Issue Date:
Keywords
Antifouling

Antilarval settlement

Structure—activity relationship

Marine natural products

Balanus amphitrite