Abstract
The effect of ultrasonic extraction on extraction yields, cytotoxicity, and anticancer activity of Spirulina maxima was investigated in this study. Optimal extraction conditions were determined as 60 kHz frequency at 60°C for 30 min with 120 W intensity, which resulted in 19.3% of extraction yields and 19.1% of cytotoxicity on normal human cells. Yields from conventional water and ethanol extraction were 15.8% at 100°C and 8.3% at 80°C, respectively. It was found that the extracts obtained by ultrasonic extraction process selectively inhibited the digestive-related cancer cell lines, such as human stomach cancer cells, having 89% of the highest inhibition ratio and 4.5 of the highest selectivity. In adding 0.5 mg/mL of the extract, human promyelocytic leukemia cells' cell differentiation was increased 1.72 times over that of the control. Expression level of B cell lymphoma-2 from Hep3B cell was also effectively suppressed by the extract obtained at 60 kHz and 60°C, leading to the inhibition of the early step of carcinogenesis. This work suggests that anticancer activity of the extracts is due to water-soluble polysaccharides rather than proteins and is further supported by the result that the ultrasonification extraction process can efficiently extract relatively intact polysaccharides rather than digesting the proteins in S. maxima by matrix assisted laser desorption ionization-time of flight and high performance size exclusion chromatography chromatogram analyses. Therefore, ultrasonic extraction increases both extraction yield and the biological activity of S. maxima extracts, which might be useful as an alternative natural anticancer agent in the medical and food industries.
Access options
Buy single article
Instant access to the full article PDF.
US$ 39.95
Tax calculation will be finalised during checkout.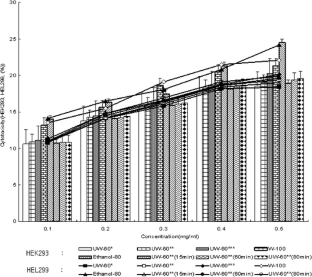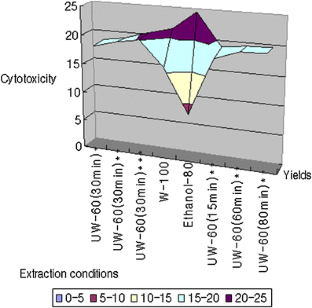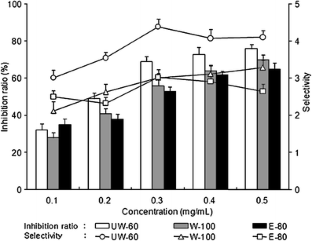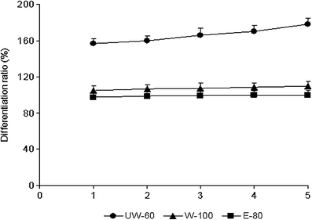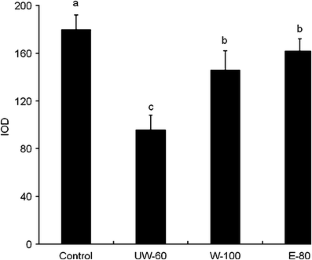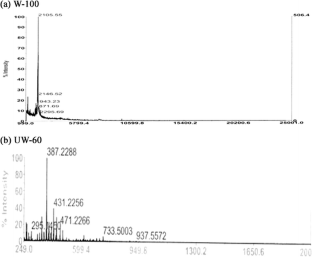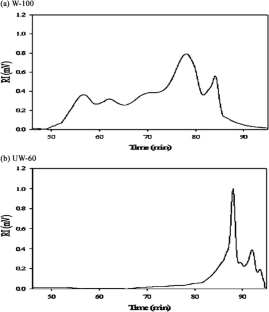 References
Ahmed N, Weidemann MJ (1995) Biochemical effect of three different inhibitors of purine/pyrimidine metabolism on differentiation in HL60 cells. Leukemia Res 19:263–273

Bao Y, Yueming J, Mouming Z, John S, Lingzhao W (2008) Effects of ultrasonic extraction on the physical and chemical properties of polysaccharide from longan fruit pericarp. Polym Degrad Stab 93:268–272

Benito A, Grillot D, Nunez G, Fernandez-Luna J (1995) Regulation and function of Bcl-2 during differentiation-induced cell death in HL-60 promyelocytic cells. Am J Pathol 146:481–490

Chen Y, Donghwa C, You SG (2008) Determination of physicochemical properties of sulphated fucans from sporophyll of Undaria pinnatifida using light scattering technique. Food Chem 111:503–507

Cho JH, Lee KM, Kim NS, Kang WH (1997) The effects of whitening components on human melanocytes in vitro. J Soc Cosmetic Sci Kor 23:115–121

Doll R, Peto R (1981) The causes of cancer, quantitative estimates of avoidable risks of cancer in the United States today. J Natl Cancer Inst 66:1191–1308

Doyle BT, O'Neill AJ, Fitzpatrick JM, Watson RWG (2004) Differentiation-induced HL-60 cell apoptosis: a mechanism independent of mitochondrial disruption? Apoptosis 9:345–352

Femenia A, Garcia-Mar M, Simal S, Rossell C, Blasco M (2001) Effects of supercritical carbon dioxide (SC-CO2) oil extraction on the cell wall composition of almond fruits. J Agric Food Chem 49:5828–5834

Grinstead GS, Tokach S, Goodband RD, Nelssen JL (2000) Effects of Spirulina platensis on growth performance of weanling pigs. Anim Feed Sci Technol 83:237–247

Ha JH, Han JG, Jeong HS, Oh SH, Kwon MC, Choi YB, Ko JR, Lee HY (2008) Enhancement of immune activities of natural water-soluble sulforaphane by nano encapsulation process. Korean J Medicinal Crop Sci 16:402–408

Haldar S, Negrini M, Monne M, Sabbioni S, Croce CM (1994) Down-regulation of bcl-2 by p53 in breast cancer cells. Cancer Res 54:2095–2097

Hamburger M, Baumann D, Adler S (2004) Supercritical carbon dioxide extraction of selected medical plants—effects of high pressure and added ethanol on yield of extracted substances. Phytochem Anal 15:46–54

Hernandez AC, Nieves I, Meckes M, Chamorro G, Barron B (2002) Antiviral activity of Spirulina maxima against herpes simplex virus type 2. Antiviral Res 56:279–285

Hwang CS, Choi JO, Kim IS (1995) Detection of bcl-2 & bax expression in the head & neck cancers. Cancer Res Treat 27:570–577

Jeong SW, Lee NK, Kim SJ, Han DS (1995) Screening of tyrosinase inhibitor from plants. Korean J Food Sci Technol 27:891–896

Jeong HS, Han JG, Ha JH, Kim Y, Oh SH, Kim SS, Jeong MH, Choi GP, Park UY, Lee HY (2009) Antioxidant activities and skin-whitening effects of nano-encapsuled water extract from Rubus coreanus Miquel. Korean J Medicinal Crop Sci 17:83–89

Kang CM, Lee HY, Kim SI (1998) Effects of triterpene acids and ginsenosides on differentiation of HL-60 promyelocytic leukemia cells. Korean J Life Sci 8:162–166

Kaufmann B, Christen P (2002) Recent extraction techniques for natural products: microwave-assisted extraction and pressurised solvent extraction. Phytochem Anal 13:105–113

Kay RA (1991) Microalgae as food and supplement. Crit Rev Food Sci Nutr 30:555–573

Kim IS, Jo JS (1993) Modulation of human fibroblast proliferation and collagen production by prostaglandin E2: association of intracelluar cyclic AMP and changes in prostaglandin E2 responsiveness. Korean Biochem J 26:40–52

Kim US, Lee KJ (2009) Extraction of genistein and formononetin from Sophora flavescens Aiton using ultrasonic wave. Korean Chem Eng Res 47:258–261

Kim HS, Kim CH, Kim JH, Kwon MC, Cho JH, Gwak HG, Hwang BY, Kim JC, Lee HY (2006a) Comparison of anticancer activities from the culture and extraction conditions of the Spirulina platensis. Korean J Microbiol Biotechnol 34:143–149

Kim HS, Kim CH, Kwon MC, Song YK, Cho JH, Gwak HG, Hwang BY, Kim JC, Lee HY (2006b) Anticancer activity of ultrasonified extracts from seawater-based culture of the microalga Spirulina platensis. J Korean Fish Soc 39:318–325

Langdon SP, Hickman JA (1987) Correlation between the molecular weight and potency of polar compounds which induce the differentiation of HL-60 human promyelocytic leukemia cells. Cancer Res 47:140–144

Lee TJ, Lee JS, Choi JE, Bae JJ, Lee TY (2002) The effect of mycolactone on the expression of Bcl-2 family genes in Hep3B hepatoma cells. J Bacteriol Virol 32:55–61

Lee JJ, Shin DH, Park SE, Kim WI, Park DI, Choi YH, Hong SH (2008) Euphorbiae humifusae sensitizes apoptosis of TRAIL-resistant human gastric adenocarcinoma AGS cells. J Life Sci 18:120–128

Nandeesha MC, Gangadhara B, Manissery JK, Venkataraman LV (2001) Growth performance of two Indian major carps, catla (Catla catla) and rohu (Labeo rohita) fed diets containing different levels of Spirulina platensis. Bioresource Technol 80:117–120

Oh SH, Han JG, Ha JH, Kim Y, Jeong MH, Kim SS, Jeong HS, Choi GP, Park UY, Kang DH, Lee HY (2009) Enhancement of immune activity of Spirulina maxima by low temperature ultrasonification extraction. Korean J Food Sci Technol 41:313–319

Qadir SA, Kwon MC, Han JG, Ha JH, Chung HS, Ahn J, Lee HY (2009) Effect of different extraction protocols on anticancer and antioxidant activities of Berberis koreana bark extracts. J Biosci Bioeng 107:331–338

Reed JC (1994) Bcl-2 and the regulation of programmed cell death. J Cell Biol 124:1–6

Reed TJ, Miyashita T, Takayama S (1996) Bcl-2 family proteins: regulators of cell death involved in the pathogenesis of cancer and resistance to therapy. J Cell Biochem 60:23–32

Seo JH, Rah JC, Choi SH, Shin JK, Min K, Kim HS, Park CH, Kim S, Kim EM, Lee SH, Lee S, Suh SW, Suh YH (2002) a-Synuclein regulates neuronal survival via Bcl-2 family expression and PI3/Akt kinase pathway. FASEB J 16:1826–1828

Sharma UK, Sharma K, Sharma N, Sharma A, Singh HP, Sinha AK (2008) Microwave-assisted efficient extraction of different parts of Hippophae rhamnoides for the comparative evaluation of antioxidant activity and quantification of its phenolic constituents by reverse-phase high-performance liquid chromatography (RP-HPLC). J Agric Food Chem 56:374–379

Shrestha RP, Weinstein Y, Bar-Zvi D, Arad SA (2004) Glycoprotein noncovalently associated with cell-wall polysaccharide of the red microalga Porphyridium sp. (Rhodophyta). J Phycol 40:568–580

Stegh AH, Barnhart BC, Volkland J, Algeciras SA, Ke N, Reed JC, Peter ME (2002) Inactivation of caspase-8 on mitochondria of Bcl-xL-expressing MCF-7-Fas cells. Role for the bifunctional apoptosis regulator protein. J Biol Chem 277:4351–4360

Thomas WD, Hersey P (1998) TNF-related apoptosis-inducing ligand (TRAIL) induces apoptosis in Fas ligand-resistant melanoma cells and mediates CD4 T cell killing of target cells. J Immunol 161:2195–2200

Yang HN, Lee EH, Kim HM (1997) Spirulina platensis inhibits anaphylactic reaction. Life Sci 61:1237–1244

Yen A, Guernsey DL (1986) Increased c-myc RNA levels associated with the precommitment state during HL-60 myeloid differentiation. Cancer Res 46:4156–4161

Youn CK, Cho HJ, Kim SH, Kim HB, Kim MH, Chang IY, Lee JS, Chung MH, Hahm KS, You HJ (2005) Bcl-2 expression suppresses mismatch repair activity through inhibition of E2F transcriptional activity. Nat Cell Biol 7:137–147

Zhang S, Zhang J, Wang C (2007) Extraction of steroid saponins from Paris polyphylla Sm. var. yunnanensis using novel ultrahigh pressure extraction technology. Pharmaceut Chem J 41:424–429
Acknowledgments
This work was supported by the Grant of the Korea Ministry of Education, Science and Technology (The Regional Core Research Program/Medical & Bio-Materials Research Consortium). Authors deeply appreciate their financial supports.
About this article
Cite this article
Oh, SH., Ahn, J., Kang, DH. et al. The Effect of Ultrasonificated Extracts of Spirulina maxima on the Anticancer Activity. Mar Biotechnol 13, 205–214 (2011). https://doi.org/10.1007/s10126-010-9282-2
Received:

Accepted:

Published:

Issue Date:
Keywords
Spirulina maxima

Ultrasonification low-temperature extraction

Anticancer activity