Abstract
Recently, deep sea water (DSW) has started to receive much attention for therapeutic intervention in some lifestyle diseases. In this study, the anti-obesity and antidiabetic effects of DSW in ob/ob mice were investigated. The animals were randomly divided into two groups with six animals: control group received tap water; the experimental group was treated with DSW of hardness 1000 for 84 days. The body weight gain after 84 days in DSW-fed group was decreased by 7% compared to the control group. The plasma glucose levels in the DSW-fed mice were substantially reduced by 35.4%, as compared to control mice. The results of oral glucose tolerance test revealed that DSW-fed groups significantly increased the glucose disposal after 84 days. DSW increased plasma protein levels of adiponectin and decreased plasma protein levels of resistin, RBP4, and fatty acid binding protein. Moreover, GLUT4 and AMP-activated protein kinase levels in skeletal muscle tissue were increased while peroxisome proliferator-activated receptor γ and adiponectin were decreased in adipose tissue of DSW-fed mice. These results suggest that the antidiabetic and anti-obesity activities of DSW were mediated by modulating the expression of diabetes- and obesity-specific molecules. Taken together, these results provide a possibility that continuous intake of DSW can ameliorate obesity and diabetes.
Access options
Buy single article
Instant access to the full article PDF.
US$ 39.95
Tax calculation will be finalised during checkout.
Subscribe to journal
Immediate online access to all issues from 2019. Subscription will auto renew annually.
US$ 79
Tax calculation will be finalised during checkout.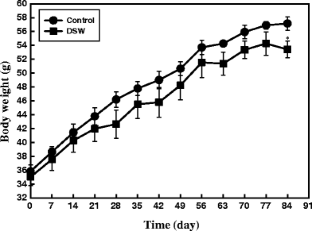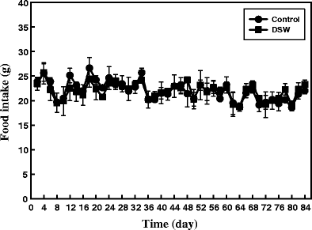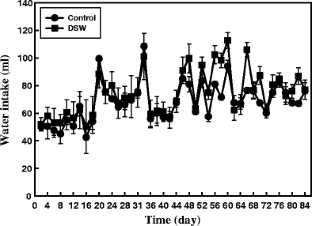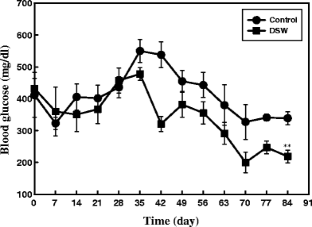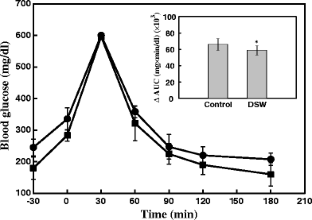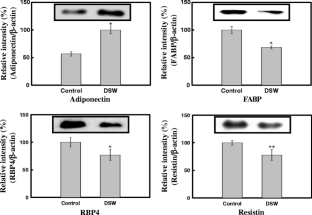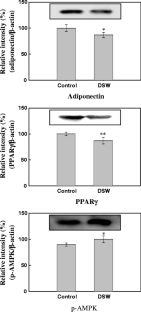 References
Arita Y, Kihara S, Ouchi N, Takahashi M, Maeda K, Miyagawa J, Hotta K, Shimomura I, Nakamura T, Miyaoka K, Kuriyama H, Nishida M, Yamashita S, Okubo K, Matsubara K, Muraguchi M, Ohmoto Y, Funahashi T, Matsuzawa Y (1999) Paradoxical decrease of an adipose-specific protein, adiponectin, in obesity. Biochem Biophys Res Commun 257:79–83

Barba G, Russo P (2006) Dairy foods, dietary calcium and obesity: a short review of the evidence. Nutr Metab Cardiovasc Dis 16:445–451

Barbagallo M, Dominguez LJ (2007) Magnesium metabolism in type 2 diabetes mellitus, metabolic syndrome and insulin resistance. Arch Biochem Biophys 458:40–47

Choi HK, Willett WC, Stampfer MJ, Rimm E, Hu FB (2005) Dairy consumption and risk of type 2 diabetes mellitus in men: a prospective study. Arch Intern Med 165:997–1003

Cnop M, Havel PJ, Utzschneider KM, Carr DB, Sinha MK, Boyko EJ, Retzlaff BM, Knopp RH, Brunzell JD, Kahn SE (2003) Relationship of adiponectin to body fat distribution, insulin sensitivity and plasma lipoproteins: evidence for independent roles of age and sex. Diabetologia 46:459–469

Corica F, Allegra A, Lentile R, Buemi M, Corsonello A, Bonanzinga S, Macaione S, Ceruso D (1999) Changes in plasma, erythrocyte, and platelet magnesium levels in normotensive and hypertensive obese subjects during oral glucose tolerance test. Am J Hypertens 12:128–136

Draznin B, Sussman K, Kao M, Lewis D, Sherman N (1987) The existence of an optimal range of cytosolic free calcium for insulin-stimulated glucose transport in rat adipocytes. J Biol Chem 262:14385–14388

Duengler F, Torremocha F, Yameogo M, Marechaud R, Hadjadj S (2006) Effect of dietary calcium intake on weight gain in type 2 diabetic patients following initiation of insulin therapy. Diabetes Metab 32:358–363

Fukami K, Nishimura S, Ogusa M, Asada M, Nishijima T (1997) Continuous culture with deep seawater of a benthic food diatom Nitzschia sp. Hydrobiologia 358:245–249

Gavi S, Stuart LM, Kelly P, Melendez MM, Mynarcik DC, Gelato MC, McNurlan MA (2007) Retinol-binding protein 4 is associated with insulin resistance and body fat distribution in non obese subjects without type 2 diabetes. J Clin Endocrinol Metab 92:1886–1890

Graham TE, Yang Q, Bluher M, Hammarstedt A, Ciaraldi TP, Henry RR, Wason CJ, Oberbach A, Jansson PA, Smith U, Kahn BB (2006) Retinol-binding protein 4 and insulin resistance in lean, obese, and diabetic subjects. N Engl J Med 354:2552–2563

Haluzik M, Haluzikova D (2006) The role of resistin in obesity-induced insulin resistance. Curr Opin Investig 7:306–311

Hataguchi Y, Tai H, Nakajima H, Kimata H (2005) Drinking deep-sea water restores mineral imbalance in atopic eczema/dermatitis syndrome. Eur J Clin Nutr 59:1093–1096

Huang S, Czech MP (2007) The GLUT4 glucose transporter. Cell Metab 5:237–252

Hwang HS, Kim SH, Yoo YG, Chu YS, Shon YH, Nam KS, Yun JW (2008) Inhibitory effect of deep sea water on adipogenesis in 3T3-L1 adipocytes. Mar Biotechnol. In press

Iglesias MA, Ye JM, Frangioudakis G, Saha AK, Tomas E, Ruderman NB, Cooney GJ, Kraegen EW (2002) AICAR administration causes an apparent enhancement of muscle and liver insulin action in insulin-resistant high-fat-fed rats. Diabetes 51:2886–2894

Jacobsen R, Lorenzen JK, Toubro S, Krog-Mikkelsen I, Astrup A (2003) Effect of short-term high dietary calcium intake on 24-h energy expenditure, fat oxidation, and fecal fat excretion. Int J Obes 29:292–301

Katsuda SI, Yasukawa T, Nakagawa K, Miyake M, Yamasaki M, Katahira K, Mohri M, Shimizu T, Hazama A (2008) Deep-sea water improves cardiovascular hemodynamics in Kurosawa and Kusanagi-Hypercholesterolemic (KHC) rabbits. Biol Pharm Bull 31:38–44

Kimata H, Tai H, Nakajima H (2001) Reduction of allergic skin responses and serum allergen-specific IgE and IgE-inducing cytokines by drinking deep-sea water in patients with allergic rhinitis. ORL Nova 11:302–303

Kimata H, Tai H, Nakagawa K, Yokoyama Y, Nakajima H, Ikegami Y (2002) Improvement of skin symptoms and mineral imbalance by drinking deep sea water in patients with atopic eczema/dermatitis syndrome (AEDS). Acta Medica (Hradec Králové) 45:83–84

Lopez-Ridaura R, Willett WC, Rimm EB, Liu S, Stampfer MJ, Manson JE, Hu FB (2004) Magnesium intake and risk of type 2 diabetes in men and women. Diabetes Care 27:134–140

Matsubayashi T, Maruyama I, Kido S, Ando Y, Nakashima T, Toyota T (1994) Effects of deep seawater on the growth of several species of marine micro-algae. J Appl Phycol 6:75–77

Miyamura M, Yoshioka S, Hamada A, Takuma D, Yokota J, Kusunose M, Kyotani S, Kawakita H, Odani K, Tsutsui Y, Nishioka Y (2004) Difference between deep seawater and surface seawater in the preventive effect of atherosclerosis. Biol Pharm Bull 27:1784–1787

Nakasone T, Akeda S (1999) The application of deep sea water in Japan. Proc 28th UJNR Aquac Panel Symp, UJNR Technical Report No. 28

Paolisso G, Barbagallo M (1997) Hypertension, diabetes mellitus, and insulin resistance. The role of intracellular magnesium. Am J Hypertens 10:346–355

Paolisso G, DiMaro G, Cozzolino D, Salvatore T, D'Amore A, Lama D, Varricchio M, D'Onofrio F (1992) Chronic magnesium administration enhances oxidative glucose metabolism in thiazide treated hypertensive patients. Am J Hypertens 5:681–686

Papakonstantinou E, Flatt WP, Huth PJ, Harris RB (2004) High dietary calcium reduces body fat content, digestibility of fat, and serum vitamin D in rats. Obes Res 11:387–394

Paradis S, Cabanac M (2005) Calcium deficiency cannot induce obesity in rats. Physiol Behav 85:259–264

Rees DA, Alcolado JC (2005) Animal models of diabetes mellitus. Diabet Med 22:359–370

Robertson DS (2006) Magnesium or calcium hypophosphite could be a treatment for obesity in humans. Medical Hypotheses 66:439–440

Sales CH, Pedrosa LFC (2006) Magnesium and diabetes mellitus: their relation. Clin Nutr 25:554–562

Saris NEL, Mervaala E, Karppanen H, Khawaja JA, Lewenstam A (2000) Magnesium: an update on physiological, clinical and analytical aspects. Clinica Chimica Acta 294:1–26

Shafrir E (1992) Animal models of non-insulin-dependent diabetes. Diabetes Metab Rev 8:179–208

Shapses SA, Heshka S, Heymsfield SB (2004) Effect of calcium supplementation on weight and fat loss in women. J Clin Endocrinol Metab 89:632–637

Sjögren A, Floren E, Nilsson A (1988) Magnesium, potassium and zinc deficiency in subjects with Type II diabetes mellitus. Acta Med Scand 224:461–465

Standard methods for the examination of water and wastewater 2-37 (1998) #2340 hardness. 20th ed. American Public Health Association/American Water Works Association/Water Environment Federation, Washington, DC, USA

Tosiello L (1996) Hypomagnesemia and diabetes mellitus. A review of clinical implications. Arch Intern Med 156:1143–1148

Ueshima S, Fukao H, Okada K, Matsuo O (2003) Suppression of the release of type-1 plasminogen activator inhibitor from human vascular endothelial cells by Hawaii deep sea water. Pathophysiology 9:103–109

Venti CA, Tataranni PA, Salbe AD (2005) Lack of relationship between calcium intake and body size in an obesity-prone population. J Am Diet Assoc 105:1401–1407

Veríssimo MIS, Oliveira JA, Gomes MTS (2007) Determination of the total hardness in tap water using acoustic wave sensors. Sens Actuators B Chem 127:102–106

Wagner G, Kindrick S, Hertzler S, DiSilvestro RA (2007) Effects of various forms of calcium on body weight and bone turnover markers in women participating in a weight loss program. J Am Coll Nutr 26:456–461

Wing RR, Blair EH, Bononi P, Marcus MD, Watanabe R, Bergman RN (1994) Caloric restriction per se is a significant factor in improvements in glycemic control and insulin sensitivity during weight loss in obese NIDDM patients. Diabetes Care 17:30–36

Worrall DS, Olefsky JM (2002) The effects of intracellular calcium depletion on insulin signaling in 3T3-L1 adipocytes. Mol Endocrinol 16:378–389

Xue B, Greenberg AG, Kraemer FB, Zemel MB (2001) Mechanism of intracellular calcium ([Ca2+]i) inhibition of lipolysis in human adipocytes. FASEB J 15:2527–2529

Yoshioka S, Hamada A, Cui T, Yokota J, Yamamoto S, Kusunose M, Miyamura M, Kyotani S, Kaneda R, Tsutsui Y, Odani K, Odani I, Nishioka Y (2003) Pharmacological activity of deep-sea water: examination of hyperlipemia prevention and medical treatment effect. Biol Pharm Bull 26:1552–1559

Zemel MB (1998) Nutritional and endocrine modulation of intracellular calcium: implications in obesity, insulin resistance and hypertension. Mol Cell Biochem 188:129–136

Zemel MB (2004) Role of calcium and dairy products in energy partitioning and weight management. Am J Clin Nutr 79:907S–912S

Zemel MB, Miller SL (2004) Dietary calcium and dairy modulation of adiposity and obesity risk. Nutr Rev 62:125–131

Zemel MB, Shi H, Greer B, DiRienzo D, Zemel PC (2000) Regulation of adiposity by dietary calcium. FASEB J 14:1132–1138

Zorzano A, Santalucia T, Palacín M, Gumà A, Camps M (1998) Searching for ways to upregulate GLUT4 glucose transporter expression in muscle. Gen Pharmac 31:705–713

Zou C, Shao J (2008) Role of adipocytokines in obesity-associated insulin resistance. J Nutr Biochem 19:277–286
Acknowledgments
This research was supported by the grant from the Basic Research Program of the Korea Science & Engineering Foundation (R01-2008-000-10277-0) and by Ministry of Maritime Affairs and Fisheries of Korean Government.
About this article
Cite this article
Hwang, H.S., Kim, H.A., Lee, S.H. et al. Anti-obesity and Antidiabetic Effects of Deep Sea Water on ob/ob Mice. Mar Biotechnol 11, 531 (2009). https://doi.org/10.1007/s10126-008-9171-0
Received:

Accepted:

Published:
Keywords
Adipocytes

Adipogenesis

Antidiabetes

Anti-obesity

Deep sea water