Abstract
Preliminary characterization of a biosurfactant-producing Azotobacter chroococcum isolated from marine environment showed maximum biomass and biosurfactant production at 120 and 132 h, respectively, at pH 8.0, 38°C, and 30‰ salinity utilizing a 2% carbon substrate. It grew and produced biosurfactant on crude oil, waste motor lubricant oil, and peanut oil cake. Peanut oil cake gave the highest biosurfactant production (4.6 mg/mL) under fermentation conditions. The biosurfactant product emulsified waste motor lubricant oil, crude oil, diesel, kerosene, naphthalene, anthracene, and xylene. Preliminary characterization of the biosurfactant using biochemical, Fourier transform infrared spectroscopy, and mass spectral analysis indicated that the biosurfactant was a lipopeptide with percentage lipid and protein proportion of 31.3:68.7.
Access options
Buy single article
Instant access to the full article PDF.
USD 39.95
Price excludes VAT (USA)
Tax calculation will be finalised during checkout.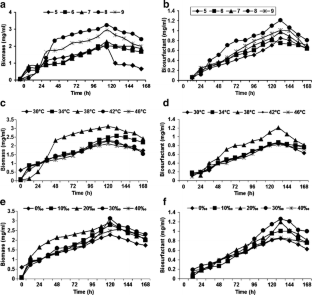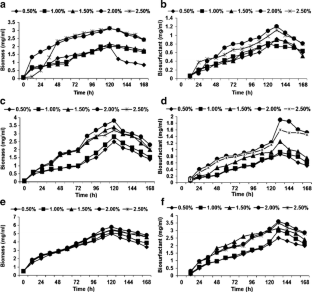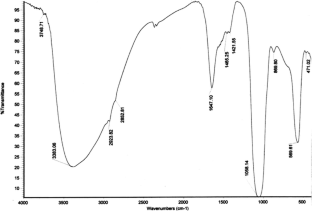 References
Banat IM, Makkar RS, Cameotra SS (2000) Potential commercial applications of microbial surfactants. Appl Microbiol Biotechnol 53:495–508

Bednarski W, Adamczak M, Tomasik J, Plaszczyk M (2004) Application of oil refinery waste in the biosynthesis of glycolipids by yeast. Bioresour Technol 95:15–18

Benson JH (1990) Microbial applications: a laboratory manual in general microbiology. WM.C. Brown, Dubuque

Das K, Mukherjee AK (2007) Comparison of lipopeptide biosurfactants production by Bacillus subtilis strains in submerged and solid state fermentation systems using a cheap carbon source: some industrial applications of biosurfactants. Process Biochem 42:1191–1199

Desai JD, Banat IM (1997) Microbial production of surfactants and their commercial potential. Microbiol Mol Biol Rev 61:47–64

Dubois M, Gilles KA, Hamilton JK, Rebers PA, Smith F (1956) Colorimetric method for determination of sugars and related substances. Anal Chem 28:350–356

Fernandez-Linares L, Acquaviva M, Bertrand J-C, Gauthier M (1996) Effect of sodium chloride concentration on growth and degradation of eicosane by marine halotolerent bacterium Marinobacter hydrocarbonoclastieus. Appl Microbiol 19:113–121

Folch JM, Lees M, Stanly HS (1956) A simple method for the isolation and quantification of total lipids from animal tissues. J Biol Chem 226:497–509

Georgiou G, Lin SC, Sharma MM (1992) Surface-active compounds from microorganism. Biotechnology 10:60–65

Goldman S, Shabtai Y, Rubinovitz C, Rosenberg E, Gutnick DL (1982) Emulsan in Acinetobacter calcoaceticus RAG-I: distribution of cell-free and cell associated cross-reacting materials. Appl Environ Microbiol 44:165–170

Kalinovskaya N, Kuznetsova T, Rashkes Ya, Mil'grom Yu, Mil'grom E, Willis R, Wood A, Kurtz H, Carabedian C, Murphy P, Elyakov G (1995) Surfactin-like structures of five cyclic despsipeptises from the marine isolates of Bacillus pumilus. Russ Chem Bull 44:951–955 (English translation)

Kuiper I, Lagendijk EL, Pickford R, Derrick JP, Lamers GEM, Thomas-Oates JE, Lugtenberg BJJ, Bloemberg GV (2004) Characterization of two Pseudomonas putida lipopeptide biosurfactants, putisolvin I and II, which inhibit biofilm formation and break down existing biofilms. Mol Microbiol 51:97–113

Li Z-Y, Lang S, Wagner F, Witte L, Wary V (1984) Formation and identification of interfacial-active glycolipids from resting microbial cells. Appl Environ Microbiol 48:610–617

Lowry OH, Rosebrough NJ, Farr AL, Randall RJ (1951) Protein measurement with the Folin phenol reagent. J Biol Chem 193:265–275

Nitschke M, Pastore GM (2004) Biosurfactant production by Bacillus subtilis using cassava processing effluent. Appl Biochem Biotechnol 112:163–172

Onwurah INE (1999) Role of diazotropic bacteria in the bioremediation of crude oil-polluted soil. J Chem Technol Biotechnol 74:957–964

Page WJ (1986) Sodium-dependent growth of Azotobactor chroococcum. Appl Environ Microbiol 51:510–514

Perfumo A, Banat IM, Canganella F, Marchant R (2006) Rhamnolipid production by a novel thermotolerant hydrocarbon-degrading Pseudomonas aeruginosa AP02-1. Appl Microbiol Biotechnol 72:132–138

Rahaman KSM, Banat IM, Thahira J, Thayumanavan T, Lakshmanaperumalsamy P (2002a) Bioremediation of gasoline contaminated soil by bacterial consortium with poultry litter, coir pith and rhamnolipid biosurfactant. Bioresour Technol 81:25–32

Rahaman KSM, Rahman TJ, McClean S, Marchant R, Banat IM (2002b) Rhamnolipid biosurfactant production by strains of Pseudomonas aeruginosa using low-cost raw materials. Biotechnol Prog 18:1277–1281

Razafindralambo H, Paquot M, Baniel A, Popineau Y, Hbid C, Jacques P, Thonart P (1996) Foaming properties of surfactin, a lipopeptide biosurfactant from Bacillus subtilis. J Am Oil Chem Soc 73:149–151

Rosenberg E, Zuckerberg A, Rubinovitz C, Gutnick DL (1979) Emulsifier of Arthrobacter RAG-I: isolation and emulsifying properties. Appl Environ Microbiol 37:402–408

Thavasi R, Jayalakshmi S, Balasubramanian T, Banat IM (2006) Biodegradation of crude oil by nitrogen fixing marine bacteria Azotobacter chroococcum. Res J Microbiol 1:401–408

Thavasi R, Jayalakshmi S, Balasubramanian T, Banat IM (2007) Biosurfactant production by Corynebacterium kutscheri from waste motor lubricant oil and peanut oil cake. Lett Appl Microbiol 45:686–691

Vasileva-Tonkova E, Gesheva V (2005) Glycolipids produced by Antarctic Nocardioides sp. during growth on n-paraffin. Process Biochem 40:2387–2391

Velikonja J, Kosaric N (1993) Biosurfactant in food application. In: Kosaric N (ed) Biosurfactants: production, properties, applications. Marcel Dekker, New York

Zajic JE, Gignard H, Gerson DF (1977) Properties and biodegradation of a bioemulsifier from Corynebacterium hydrocarbonoclasticus. Biotechnol Bioeng 91:1303–1320
Acknowledgments
We thank the authorities of Annamalai University for providing the facilities and DOD and CSIR, Government of India for financial support.
About this article
Cite this article
Thavasi, R., Subramanyam Nambaru, V.R.M., Jayalakshmi, S. et al. Biosurfactant Production by Azotobacter chroococcum Isolated from the Marine Environment. Mar Biotechnol 11, 551–556 (2009). https://doi.org/10.1007/s10126-008-9162-1
Received:

Accepted:

Published:

Issue Date:

DOI: https://doi.org/10.1007/s10126-008-9162-1
Keywords
Biosurfactant

Emulsification

Hydrocarbon

Crude oil

Waste motor lubricant oil

Peanut oil cake