Abstract
Genetic characteristics of sei whales, Balaenoptera borealis, inhabiting the western North Pacific were analyzed at 17 microsatellite loci in a total of 89 whales obtained from the area between 37°N–45°N and 147°E–166°E in 2002 (N = 39) and 2003 (N = 50). All the loci analyzed were polymorphic over the samples, some of the loci had more than 10 alleles, indicating a high level of genetic variation within samples. No significant deviation from the expected Hardy–Weinberg genotypic proportion was observed at the 17 loci in the samples. No evidence of genetic heterogeneity in allele frequencies was observed between sexes within samples as well as between the two temporally different samples, indicating a single population of sei whales inhabiting the western North Pacific. We finally tested and demonstrated that the population appeared not to suffer from genetic bottleneck as a result of population decline from past commercial whaling.
Access options
Buy single article
Instant access to the full article PDF.
USD 39.95
Price excludes VAT (USA)
Tax calculation will be finalised during checkout.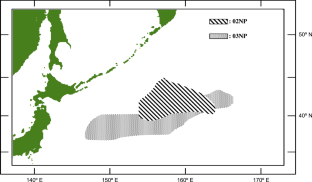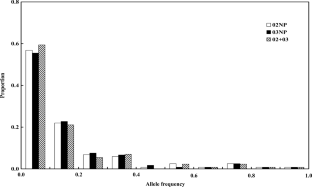 References
KR Allen (1980) Conservation and Management of Whales Washington University Press Seattle, WA

FW Allendorf (1986) ArticleTitleGenetic drift and the loss of alleles versus heterozygosity Zoo Biol 5 181–190 Occurrence Handle10.1002/zoo.1430050212

B Amos (1996) ArticleTitleLevels of genetic variability in cetacean populations have probably changed little as a result of human activities Rep Int Whal Comm 46 657–658

B Amos AR Hoelzel (1992) ArticleTitleApplication of molecular genetic techniques to the conservation of small populations Biol Conserv 661 133–144

LW Andersen EW Born R Dietz T Haug N Øien C Bendixen (2003) ArticleTitleGenetic population structure of minek whales Balaenoptera acutorostrata from Greenland, the North East Atlantic and the North Sea probably reflects different ecological regions Mar Ecol Prog Ser 247 263–280

CS Baker A Perry JL Bannister MT Weinrich RB Abernethy J Calambokidis J Lien RH Lambertsen J Urban-Ramirez O Vasquez PJ Clapham A Alling SJ O'Brien SR Palumbi (1993) ArticleTitleAbundant mitochondrial DNA variation and world-wide population structure in hump-back whales Proc Natl Acad Sci USA 90 8239–8243

M Bérubé A Aguilar D Dendanto F Larsen G Notarbartolo-di-Sciara R Sears J Sigurjónsson J Urban-Ramirez PJ Palsbøll (1998) ArticleTitlePopulation genetic structure of North Atlantic, Mediterranean Sea and Sea of Cortez fin whales, Balaenoptera physalus (Linnaeus, 1758): analysis of mitochondrial and nuclear loci Mol Ecol 7 585–599

M Bérubé H Jørgensen R Mcewing PJ Palsbøll (2000) ArticleTitlePolymorphic di-nucleotide microsatellite loci isolated from the humpback whale, Megaptera novaeanglliae Mol Ecol 9 2181–2183

FC Buchanan MK Friesen RP Littlejohn JA Clayton (1996) ArticleTitleMicrosatellites from beluga whale Delphinapterus leucas Mol Ecol 5 571–575 Occurrence Handle10.1046/j.1365-294X.1996.00109.x

JM Cornuet G Luikart (1996) ArticleTitleDescription and power analysis of two tests for detecting recent population bottlenecks from allele frequency data Genetics 144 2001–2014

de la Mare WK (1989). Report of the Scientific Committee, Annex L. The model used in the HITTER and FITTER programs (Program: FITTER.SC40). Rep Int Whal Comm 39, 150–151.

A Rienzo ParticleDi AC Peterson JC Garza AM Valdes M Slatkin NB Freimer (1994) ArticleTitleMutational processes of simple-sequence repeat loci in human populations Proc Natl Acad Sci USA 91 3166–3170

DS Falconer (1989) Introduction to Quantitative Genetics EditionNumber3 Longman Scientific and Technical Essex

R Frankham (1995) ArticleTitleEffective population size/adult population size ratios in wildlife: a review Genet Res 66 95–107 Occurrence Handle10.1017/S0016672300034455

R Frankham JD Ballow DA Briscoe (2003) Introduction to Conservation Genetics Cambridge University Press Cambridge, UK

M Goto LA Pastene (1997) ArticleTitlePopulation structure of the western North Pacific minke whale based on an RFLP analysis of the mtDNA control region Rep Int Whal Comm 47 531–537

J Horwood (1987) The Sei Whale: Population Biology, Ecology and Management Croom Helm London

J. Horwood (2002) Sei whales WF Perrin B Würsig JGM Thewissen (Eds) Encyclopedia of Ma-rine Mammals Academic Press San Diego

CR Hughes DC Queller (1993) ArticleTitleDetection of highly polymorphic microsatellite loci in a species with little allozyme polymorphism Mol Ecol 2 131–137

InstitutionalAuthorNameInternational Whaling Commission (2003) ArticleTitleReport of the Scientific Committee J Cetacean Res Manage (Suppl) 5 1–92

G Luikart J Cornuet (1998) ArticleTitleEmpirical evaluation of a test for identifying recently bottlenecked populations from allele frequency data Conserv Biol 12 228–237 Occurrence Handle10.1046/j.1523-1739.1998.96388.x

Y Masaki (1976) ArticleTitleBiological studies on the North Pacific sei whale Bull Far Seas Fish Res Lab 14 1–104

Masaki Y (1977). The separation of stock units of sei whales in the North Pacific. Rep Int Whal Commun (special issue 1), 71–79.

M Nei (1987) Molecular Evolutionary Genetics Columbia University Press New York

PJ Palsbøll M Bérubé AH Larsen H Jørgensen (1997) ArticleTitlePrimers for the amplification of tri-and tetramer microsatellite loci in baleen whales Mol Ecol 6 893–895

M Raymond F Rousset (1995) ArticleTitleGENEPOP (version 1.2): population genetics software for exact tests and ecumenicism J Heredity 83 248–249

DH Reed R Frankham (2001) ArticleTitleHow closely correlated are molecular and quantitative measures of genetic diversity: a meta-analysis Evolution 55 1095–1103

DW Rice (1998) Marine Mammals of the World: Systematics and Distribution Society for Marine Mammalogy Lawrence, KS

AP Rooney RL Honeycutt SK Davis JN Derr (1999) ArticleTitleEvaluating a putative bottleneck in a population of bowhead whales from patterns of microsatellite diversity and genetic disequilibria J Mol Evol 49 682–690 Occurrence Handle10.1007/PL00006589

J Sambrook EF Fritsch T Maniatis (1989) Molecular Cloning: A Laboratory Manual EditionNumber2 Cold Spring Harbor Laboratory Press Cold Spring Harbor, NY

RR Sokal FJ Rohlf (1995) Biometry: The Principles of Statistics in Biological Research Freeman New York

Tillman MF (1977). Estimates of population size for the North Pacific sei whale. Rep Int Whal Commun (special issue 1), 98–1406.

E Valsecchi W Amos (1996) ArticleTitleMicrosatellite markers for the study of cetacean populations Mol Ecol 5 151–156

Wada S, Numachi K (1991). Allozyme analyses of genetic differentiation among the populations and species of the Balaenoptera. Rep Int Whal Commun (special issue 13), 125–154.

S Wada M Oishi T Yamada (2003) ArticleTitleA newly discovered species of living baleen whale Nature 426 278–281 Occurrence Handle10.1038/nature02103

RC Waldick S Kraus M Brown BN White (2002) ArticleTitleEvaluating the effects of historic bottleneck events: as assessment of microsatellite variability in the endangered, North Atlantic right whale Mol Ecol 11 2241–2249 Occurrence Handle10.1046/j.1365-294X.2002.01605.x
Acknowledgments
We thank researchers and crew members participating in the 2002 and 2003 JARPNII commissioned by the Government of Japan for their effort in collecting the samples used in this study. Thanks also go to H. Oikawa and S. Azumi for their assistance in DNA extractions, and three anonymous reviewers for their valuable comments on the manuscript.
About this article
Cite this article
Kanda, N., Goto, M. & Pastene, L.A. Genetic Characteristics of Western North Pacific Sei Whales, Balaenoptera borealis, as Revealed by Microsatellites. Mar Biotechnol 8, 86–93 (2006). https://doi.org/10.1007/s10126-005-5130-1
Received:

Accepted:

Published:

Issue Date:

DOI: https://doi.org/10.1007/s10126-005-5130-1
Keywords