Abstract
Cesium (Cs+) enters environments largely because of global release into the environment from weapons testing and accidents such as Fukushima Daiichi and Chernobyl nuclear waste. Even at low concentrations, Cs+ is highly toxic to ecological receptors because of its physicochemical similarity to macronutrient potassium (K+). We investigated the uptake and accumulation of Cs+ by Arthrobacter globiformis strain 151B in reference to three similar alkali metal cations rubidium (Rb+), sodium (Na+), and potassium (K+). The impact of hexavalent chromium (Cr+6) as a co-contaminant was also evaluated. A. globiformis 151B accumulated Cs+ and Cr6+ in a time-dependent fashion. In contrast, the uptake and accumulation of Rb+ did not exhibit any trends. An exposure to Cs+, Rb+, and Cr+6 triggered a drastic increase in K+ and Na+ uptake by the bacterial cells. That was followed by the efflux of K+ and Na+, suggesting a Cs+ "substitution." Two-dimensional gel-electrophoresis of bacterial cell proteomes with the following mass-spectrometry of differentially expressed bands revealed that incubation of bacterial cells with Cs+ induced changes in the expression of proteins involved in the maintenance of cellular homeostasis and reactive oxygen species removal. The ability of A. globiformis 151B to mediate the uptake and accumulation of cesium and hexavalent chromium suggests that it possesses wide-range bioremediation potential.
Access options
Buy single article
Instant access to the full article PDF.
USD 39.95
Price excludes VAT (USA)
Tax calculation will be finalised during checkout.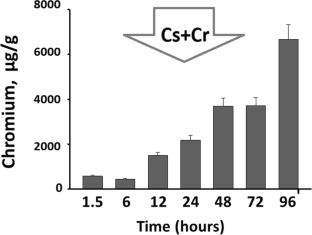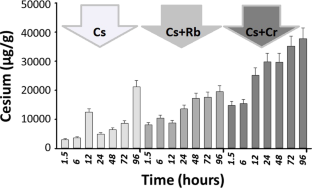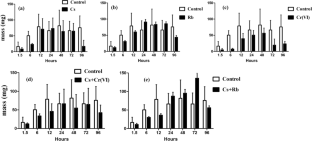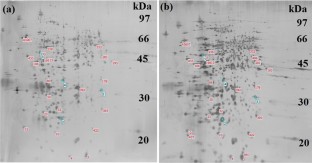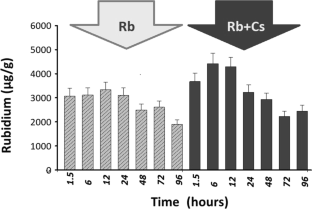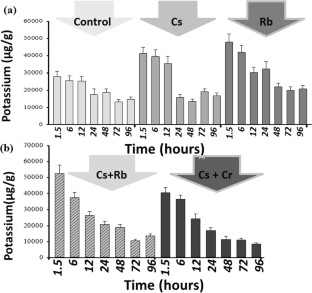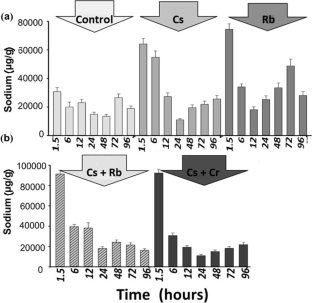 References
Adams E, Chaban V, Khandelia H, Shin R (2015) Selective chemical binding enhances cesium tolerance in plants through inhibition of cesium uptake. Sci Rep 5:1–10. https://doi.org/10.1038/srep08842

Adams E, Miyazaki T, Saito S et al (2019) Cesium inhibits plant growth primarily through reduction of potassium influx and accumulation in arabidopsis. Plant Cell Physiol 60:63–76. https://doi.org/10.1093/pcp/pcy188

Aguilar C, Vlamakis H, Losick R, Kolter R (2007) Thinking about Bacillus subtilis as a multicellular organism. Curr Opin Microbiol 10:638–643. https://doi.org/10.1016/j.mib.2007.09.006

Alberts B, Johnson A, Lewis J, et al (2002)Molecular biology of the cell. 4th edition. New York: Garland Science; Available from: https://www.ncbi.nlm.nih.gov/books/NBK21054/

Andersson CE, Mowbray SL (2002) Activation of ribokinase by monovalent cations. J Mol Biol 315:409–419. https://doi.org/10.1006/jmbi.2001.5248

Asatiani NV, Abuladze MK, Kartvelishvili TM, Bakradze NG, Sapojnikova NA, Tsibakhashvili NY, Tabatadze LV, Lejava LV, Asanishvili LL, Holman HY (2004) Effect of chromium(VI) action on Arthrobacter oxydans. Curr Microbiol 49:321–326

Asatiani N, Kartvelishvili T, Sapojnikova N et al (2018) Effect of the Simultaneous Action of Zinc and Chromium on Arthrobacter spp. Water Air Soil Pollut 229. https://doi.org/10.1007/s11270-018-4046-0

Atapaththu KSS, Rashid MH, Asaeda T (2016) Growth and oxidative stress of brittlewort (Nitella pseudoflabellata) in response to cesium exposure. Bull Environ Contam Toxicol 96:347–353. https://doi.org/10.1007/s00128-016-1736-4

Avery SV (1995a) Caesium accumulation by microorganisms: uptake mechanisms, cation competition, compartmentalization and toxicity. J Ind Microbiol 14:76–84. https://doi.org/10.1007/BF01569888

Avery SV (1995b) Microbial interactions with caesium—implications for biotechnology. J Chem Technol Biotechnol 62:3–16. https://doi.org/10.1002/jctb.280620102

Booth IR, Edwards MD, Miller S (2003) Bacterial ion channels. Biochemistry 42:10045–10053. https://doi.org/10.1021/bi034953w

Bossemeyer D, Schlosser A, Bakker EP (1989) Specific cesium transport via the Escherichia coli Kup (TrkD) K+ uptake system. J Bacteriol 171:2219–2221. https://doi.org/10.1128/jb.171.4.2219-2221.1989

Brown GR, Cummings SP (2001) Potassium uptake and retention by Oceanomonas baumannii at low water activity in the presence of phenol. FEMS Microbiol Lett 205:37–41. https://doi.org/10.1016/S0378-1097(01)00436-0

Bruins MR, Kapil S, Oehme FW (2000) Microbial resistance to metals in the environment. Ecotoxicol Environ Saf 45:198–207. https://doi.org/10.1006/eesa.1999.1860

Burger A, Lichtscheidl I (2018) Stable and radioactive cesium: a review about distribution in the environment, uptake and translocation in plants, plant reactions and plants' potential for bioremediation. Sci Total Environ 618:1459–1485

Chandrangsu P, Rensing C, Helmann JD (2017) Metal homeostasis and resistance in bacteria. Nat Rev Microbiol 15:338–350

Choudhury R, Srivastava S (2001) Mechanism of zinc resistance in Pseudomonas putida strain S4. World J Microbiol Biotechnol 17:149–153. https://doi.org/10.1023/A:1016666000384

Cook LL, Inouye RS, McGonigle TP, White GJ (2007) The distribution of stable cesium in soils and plants of the eastern Snake River Plain in southern Idaho. J Arid Environ 69:40–64

Cuello LG, Jogini V, Cortes DM, Perozo E (2010) Structural mechanism of C-type inactivation in K+ channels. Nature 466:203–208

Davies JS, Currie MJ, Wright JD, Newton-Vesty MC, North RA, Mace PD, Allison JR, Dobson RCJ (2021) Selective nutrient transport in bacteria: multicomponent transporter systems reign supreme. Front Mol Biosci 8:1–10

Djedidi S, Kojima K, Yamaya H, Ohkama-Ohtsu N, Bellingrath-Kimura SD, orothe., Watanabe I, Yokoyama T, (2014) Stable cesium uptake and accumulation capacities of five plant species as influenced by bacterial inoculation and cesium distribution in the soil. J Plant Res 127:585–597

Eisenberg D, and Crothers D (1979) Physical chemistry with applications to the life sciences (No. 541.3 E3)

Epstein W (2003) The roles and regulation of potassium in bacteria. Prog Nucleic Acid Res Mol Biol 75:293–320. https://doi.org/10.1016/S0079-6603(03)75008-9

Feile H, Porter JS, Slayman CL, Kaback HR (1980) Quantitative measurements of membrane potential in Escherichia coli. Biochemistry 19:3585–3590

Ferguson GP, Nikolaev Y, McLaggan D et al (1997) Survival during exposure to the electrophilic reagent N-ethylmaleimide in Escherichia coli: Role of KefB and KefC potassium channels. J Bacteriol 179:1007–1012. https://doi.org/10.1128/jb.179.4.1007-1012.1997

Follmann M, Becker M, Ochrombel I, Ott V, Krämer R, Marin K (2009) Potassium transport in corynebacterium glutamicum is facilitated by the putative channel protein CglK, which is essential for pH homeostasis and growth at acidic pH. J Bacteriol 191:2944–2952

Gadd GM, Griffiths AJ (1978) Microorganisms and heavy metal toxicity. Microb Ecol 4(303):317

Glasser R (1999) The water structure, effects of hydration. Chapter from book of Biophysics, 4th edn. Springer, Heidelberg, p 57

Grundling A (2013) Potassium Uptake Systems in Staphylococcus aureus: New Stories aboutt Ancient Systems. MBio 4:4–6. https://doi.org/10.1128/mBio.00407-13

Holman HYN, Perry DL, Martin MC et al (1999) Real-time characterization of biogeochemical reduction of Cr(VI) on basalt surfaces by SR-FTIR imaging. Geomicrobiol J 16:307–324. https://doi.org/10.1080/014904599270569

Ivshina IB, Peshkur TA, Korobov VP (2002) Efficient uptake of cesium ions by Rhodococcus cells. Microbiology 71:357–361. https://doi.org/10.1023/A:1015875216095

Jasper P (1978) Potassium transport system of Rhodopseudomonas capsulata. J Bacteriol 133:1314–1322. https://doi.org/10.1128/jb.133.3.1314-1322.1978

Juan CA, de la Lastra JMP, Plou FJ, Pérez-Lebeña E (2021) The chemistry of reactive oxygen species (Ros) revisited: outlining their role in biological macromolecules (dna, lipids and proteins) and induced pathologies. Int J Mol Sci. https://doi.org/10.3390/ijms22094642

Jung K, Krabusch M, Altendorf K (2001) Cs+ induces the kdp operon of Escherichia coli by lowering the intracellular K+ concentration. J Bacteriol 183:3800–3803. https://doi.org/10.1128/JB.183.12.3800-3803.2001

Kalabegishvili T, Murusidze I, Kirkesali E et al (2013) Gold and silver nanoparticles in Spirulina platensis biomass for medical application. Ecol Chem Eng S 20:621–631. https://doi.org/10.2478/eces-2013-0043

Kang SM, Jang SC, Heo NS et al (2017) Cesium-induced inhibition of bacterial growth of Pseudomonas aeruginosa PAO1 and their possible potential applications for bioremediation of wastewater. J Hazard Mater 338:323–333. https://doi.org/10.1016/j.jhazmat.2017.05.050

Kim I, Yang HM, Park CW, Yoon IH, Seo BK, Kim EK, Ryu BG (2019) Removal of radioactive cesium from an aqueous solution via bioaccumulation by microalgae and magnetic separation. Sci Rep 9:3–10

Koarashi J, Atarashi-Andoh M, Matsunaga T, Sanada Y (2016) Forest type effects on the retention of radiocesium in organic layers of forest ecosystems affected by the Fukushima nuclear accident. Sci Rep 6:1–11. https://doi.org/10.1038/srep38591

Latifi A, Ruiz M, Zhang CC (2009) Oxidative stress in cyanobacteria. FEMS Microbiol Rev 33:258–278. https://doi.org/10.1111/j.1574-6976.2008.00134.x

Linnik V, Korobova E, Brown J (2013) A historical outline of radionuclide contamination of the Yenisey floodplain based on landscape and radiometric survey. Geogr Environ Sustain 6:49–62. https://doi.org/10.24057/2071-9388-2013-6-2-49-62

Mahjoub S, Roudsari JM (2012) Role of oxidative stress in pathogenesis of metabolic syndrome. Casp J Intern Med 3:386–396

Mähler J, Persson I (2012) A study of the hydration of the alkali metal ions in aqueous solution. Inorg Chem 51:425–438. https://doi.org/10.1021/ic2018693

Marszalek P, Liu DS, Tsong TY (1990) Schwan equation and transmembrane potential induced by alternating electric field. Biophys J 58:1053–1058

Milo R, Phillips, R (2015) Cell biology by the numbers. Garland Science

Mironov KS, Sinetova MA, Shumskaya M, Los DA (2019) Universal molecular triggers of stress responses in cyanobacterium Synechocystis. Life 9:1–18. https://doi.org/10.3390/life9030067

Mosulishvili LM, Kirkesali EI, Belokobilsky AI, Khizanishvili AI, Frontasyeva MV, Gundorina SF, Opera CD (2002) Epithermal neutron activation analysis of blue-green algae Spirulina platensis as a matrix for selenium-containing pharmaceuticals. J Radioanal Nucl Chem 252:15–20

Nozadze M, Zhgenti E, Meparishvili M et al (2015) Comparative proteomic studies of Yersinia pestis strains isolated from natural foci in the Republic of Georgia. Front Public Heal 3:1–12. https://doi.org/10.3389/fpubh.2015.00239

Oh SY, Heo NS, Shukla S et al (2018) Multi-stress radioactive-tolerant Exiguobacterium acetylicum CR1 and its applicability to environmental cesium uptake bioremediation. J Clean Prod 205:281–290. https://doi.org/10.1016/j.jclepro.2018.09.077

Prindle A, Liu J, Asally M et al (2015) Ion channels enable electrical communication in bacterial communities. Nature 527:59–63. https://doi.org/10.1038/nature15709

Ram A, Lo AW (2018) Is smaller better? A proposal to use bacteria for neuroscientific modeling. Front Comput Neurosci 12:1–7. https://doi.org/10.3389/fncom.2018.00007

Ramos S, Kaback HR (1977) The electrochemical proton gradient in Escherichia coli membrane vesicles and its relationship to active transport. Biochem Soc Trans 5:23–25

Rhoads DB, Waters FB, Epstein W (1976) Cation transport in escherichia coli VIII. potassium transport mutants. J Gen Physiol 67:325–341. https://doi.org/10.1085/jgp.67.3.325

Sasaki H, Shirato S, Tahara T et al (2013) Accumulation of radioactive cesium released from Fukushima Daiichi nuclear power plant in terrestrial Cyanobacteria Nostoc commune. Microbes Environ 28:466–469. https://doi.org/10.1264/jsme2.ME13035

Schuldiner S, Kaback HR (1975) Mechanisms potentail and active transport in membrane vesicles from vesicles from Escherichia coli. Biochemistry 14:5451–5461. https://doi.org/10.1021/bi00696a011

Shaw G, Avila R, Fesenko S et al (2003) Chapter 11 Modelling the behaviour of radiocaesium in forest ecosystems. Radioact Environ 4:315–351. https://doi.org/10.1016/S1569-4860(03)80067-0

Sheahan JJ, Ribeiro-net L, Sussman MR (1992) Cesium-insensitive mutants of Arabidopsis thaliana. Plant J 3:647–656

Smirnov PR, Trostin VN (2007) Structures of the nearest surroundings of the K+, Rb +, and Cs+ ions in aqueous solutions of their salts. Russ J Gen Chem 77:2101–2107. https://doi.org/10.1134/S1070363207120043

Stautz J, Hellmich Y, Fuss MF, Silberberg JM, Devlin JR, Stockbridge RB, Hänelt I (2021) Molecular mechanisms for bacterial potassium homeostasis. J Mol Biol. https://doi.org/10.1016/j.jmb.2021.166968

Stingl K, Brandt S, Uhlemann EM, Schmid R, Altendorf K, Zeilinger C, Ecobichon C, Labigne A, Bakker EP, De Reuse H (2007) Channel-mediated potassium uptake in Helicobacter pylori is essential for gastric colonization. EMBO J 26:232–241

Stratford JP, Edwards CLA, Ghanshyam MJ, Malyshev D, Delise MA, Hayashi Y, Asally M (2019) Electrically induced bacterial membrane-potential dynamics correspond to cellular proliferation capacity. Proc Natl Acad Sci U S A 116:9552–9557

Suzuki Y, Kelly SD, Kemner KM, Banfield JF (2002) Nanometre-size products of uranium bioreduction. Nature 419:134–134. https://doi.org/10.1038/419134a

Takei T, Yamasaki M, Yoshida M (2014) Cesium accumulation of Rhodococcus erythropolis CS98 strain immobilized in hydrogel matrices. J Biosci Bioeng 117:497–500. https://doi.org/10.1016/j.jbiosc.2013.09.013

Tsibakhashvili NY, Kalabegishvili TL, Rcheulishvili AN, Murusidze IG, Rcheulishvili OA, Kerkenjia SM, Holman HYN (2009) Decomposition of Cr(V)-diols to Cr(III) complexes by arthrobacter oxydans. Microb Ecol. https://doi.org/10.1007/s00248-008-9476-6

Tsibakhashvili NY, Kalabegishvili TL, Rcheulishvili AN et al (2011) Effect of Zn(II) on the reduction and accumulation of Cr(VI) by Arthrobacter species. J Ind Microbiol Biotechnol 38(11):1803–1808. https://doi.org/10.1007/s10295-011-0967-y

Tsibakhashvili NY, Mosulishvili LM, Kalabegishvili TL, Pataraya DT, Gurielidze MA, Nadareishvili GS et al (2002b) Chromate-resistant and reducing microorganisms in Georgia basalts: their distribution and characterization. Fresenius Environ Bull 11(7):352–361

Ungar D, Barth A, Haase W, Kaunzinger A, Lewitzki E, Ruiz T, Reiländer H, Michel H (2001) Analysis of a putative voltage-gated prokaryotic potassium channel. Eur J Biochem 268:5386–5396

Valko M, Jomova K, Rhodes CJ et al (2016) Redox- and non-redox-metal-induced formation of free radicals and their role in human disease

Wackett LP, Dodge AG, Lynda BM, Ellis LBM (2004) Microbial genomics and the periodic table MINIREVIEW microbial genomics and the periodic table. Appl Environ Microbiol 70:647–655. https://doi.org/10.1128/AEM.70.2.647

Wang J, Zhuang S (2019) Removal of cesium ions from aqueous solutions using various separation technologies. Rev Environ Sci Biotechnol. https://doi.org/10.1007/s11157-019-09499-9

White PJ, Broadley MR (2000) Mechanisms of caesium uptake by plants. New Phytol 147:241–256

Yamamoto A, Yoshida S, Okumura H et al (2015) Local mat-forming cyanobacteria effectively facilitate decontamination of radioactive cesium in rice fields. J Smart Process 4:287–293. https://doi.org/10.7791/jspmee.4.287

Yang S, Han C, Wang X, Nagatsu M (2014) Characteristics of cesium ion sorption from aqueous solution on bentonite- and carbon nanotube-based composites. J Hazard Mater 274:46–52. https://doi.org/10.1016/j.jhazmat.2014.04.001

Yasunari TJ, Stohl A, Hayano RS et al (2011) Cesium-137 deposition and contamination of Japanese soils due to the Fukushima nuclear accident. Proc Natl Acad Sci U S A 108:19530–19534. https://doi.org/10.1073/pnas.1112058108

Yoshida S, Muramatsu Y, Steiner M (2000) Relationship between radiocesium and stable cesium in plants and mushrooms collected from forest ecosystems with different contamination levels. Proc 10th Symp Int Radiat Prot Assoc P11–244

Yu W, He J, Lin W et al (2015) Distribution and risk assessment of radionuclides released by Fukushima nuclear accident at the northwest Pacific. J Environ Radioact 142:54–61. https://doi.org/10.1016/j.jenvrad.2015.01.005

Zhang P, Idota Y, Yano K et al (2014) Characterization of cesium uptake mediated by a potassium transport system of bacteria in a soil conditioner. Biol Pharm Bull 37:604–607. https://doi.org/10.1248/bpb.b13-00871

Zok D, Blenke T, Reinhard S, Sprott S, Kegler F, Syrbe L, Querfeld R, Takagai Y, Drozdov V, Chyzhevskyi I, Kirieiev S, Schmidt B, Adlassnig W, Wallner G, Dubchak S, Steinhauser G (2021) Determination of characteristic vs anomalous 135Cs/137Cs isotopic ratios in radioactively contaminated environmental samples. Environ Sci Technol 55:4984–4991

Zheng J. and Trudeau MC (Eds) (2015). Handbook of Ion Channels (1st ed.). CRC Press. https://doi.org/10.1201/b18027
Acknowledgements
We acknowledge Dr. Aleksandre Rcheulishvili for helping to perform the spectral analyses.
Funding
Author Olia Rcheulishvili has received research support from Volkswagen Foundation, within the framework of the joint project "Structured Education- Quality Assurance- Freedom to Think"—#04/46 between Georg-August-University of Gottingen and Ilia State University. Other authors declare that no funds, grants, or other support were received during the preparation of this manuscript.
Additional information
This work is dedicated to my (Olia Rcheulishvili) late supervisor and dear person Dr. Nelly Tsibakhashvili.
Publisher's Note
Springer Nature remains neutral with regard to jurisdictional claims in published maps and institutional affiliations.
Supplementary Information
Below is the link to the electronic supplementary material.
About this article
Cite this article
Rcheulishvili, O., Metreveli, N., Solomonia, R. et al. Bioremediation potential of hexavalent chromium-resistant Arthrobacter globiformis 151B: study of the uptake of cesium and other alkali ions. Int Microbiol 25, 745–758 (2022). https://doi.org/10.1007/s10123-022-00258-5
Received:

Revised:

Accepted:

Published:

Issue Date:

DOI: https://doi.org/10.1007/s10123-022-00258-5
Keywords