Abstract
Candida species are opportunistic fungi that can cause mucosal or invasive infections. Especially in biofilm-related infections, resistance is very high to anifungals; therefore more effective treatment strategies are needed. Farnesol(3,7,11-trimethyl-2,6,10-dodecatriene-1-ol) is the quorum sensing (QS) signal molecule and can interact with Candida species both as a QS molecule and as an exogenous agent. The aim of this study was to investigate the effects of farnesol on both the planktonic and biofilm forms of Candida species by colorimetric, microbiological, and electron microscopic methods. Obtained results demonstrated the inhibitory effect of farnesol on the planktonic and biofilm forms of Candida. Farnesol showed a biofilm-enhancing effect at lower concentrations. TEM findings showed the membrane and wall damage, vacuolization, or granulation in cells. SEM images confirmed biofilm reduction in pre-/post-biofilm applications as a result of farnesol treatment. In conclusion, farnesol can be used as an alternative agent to reduce the Candida biofilms, with future studies.
Access options
Buy single article
Instant access to the full article PDF.
US$ 39.95
Tax calculation will be finalised during checkout.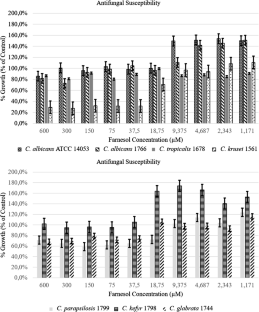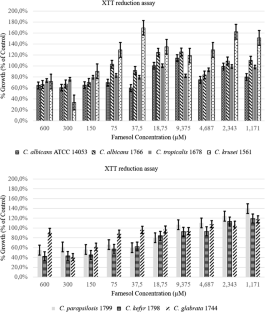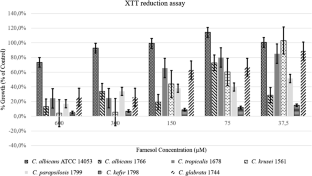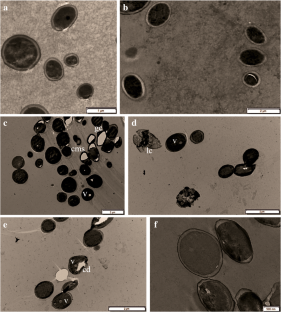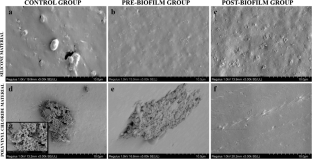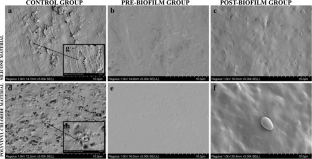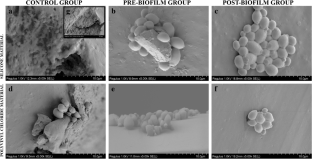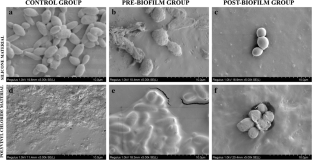 References
Bezerra CF, de Alencar Júnior JG, de Lima HR, Dos Santos ATL, Pereira da Silva JC, Gusmão da Silva T, Leal ALAB, Rocha JE, de Freitas TS, Tavares Vieira TA, Bezerra MCF, Sales DL, Kerntopf MR, de Araujo DG, Filho JMB, Peixoto LR, Pinheiro AP, Ribeiro-Filho J, Coutinho HDM, Morais-Braga MFB, Gonçalves da Silva T (2020) Antifungal activity of farnesol incorporated in liposomes and associated with fluconazole. Chem Phys Lipids 233:104987. https://doi.org/10.1016/j.chemphyslip.2020.104987

Cavalheiro M, Teixeira MC (2018) Candida biofilms: threats, challenges, and promising strategies. Front Med 5:28

Chavez-Dozal AA, Nourabadi N, Erken M, McDougald D, Nishiguchi MK (2016) Comparative analysis of quantitative methodologies for Vibrionaceae biofilms. Folia Microbiol 61(6):449–453

Clinical and Laboratory Standards Institute (National Committee for Clinical Laboratory Standards)(2002) Reference Method for Broth Dilution Antifungal Susceptibility Testing of Yeasts. Approved StandardM27-A2, 2nd ed, NCCLS: Wayne, PA, USA

Cordeiro RDA, Pereira LMG, de Sousa JK, Serpa R, Andrade ARC, Portela FVM, Evangelista AJJ, Sales JA, Aguiar ALR, Mendes PBL at al. (2019) Farnesol inhibits planktonic cells and antifungal-tolerant biofilms of Trichosporon asahii and Trichosporon inkin. Med Mycol 57(8):1038–1045

Corte L, Casagrande Pierantoni D, Tascini C, Roscini L, Cardinali G (2019) Biofilm specific activity: a measure to quantify microbial biofilm. Microorganisms 7(3):73

Decanis N, Tazi N, Correia A, Vilanova M, Rouabhia M (2011) Farnesol, a quorum-sensing molecule triggers Candida albicans morphological changes by downregulating the expression of different secreted aspartyl proteinase genes. Open Microbiol J 5:119–126

Derengowski LS, De-Souza-Silva C, Braz SV, Mello-De-Sousa TM, Bao SN (2009) Antimicrobial effect of farnesol, a Candida albicans quorum sensing molecule, on Paracoccidioides brasiliensis growth and morphogenesis. Ann Clin Microbiol Antimicrob 8(13):13

Dizova S, Bujdakova H (2017) Properties and role of the quorum sensing molecule farnesol in relation to the yeast Candida albicans. Pharmazie 72:307–312

Donlan RM (2001) Biofilm formation: a clinically relevant microbiological process. Clin Infect Dis 33(8):1387–1392

Douglas LJ (2003) Candida biofilms and their role in infection. Trends Microbiol 11(1):30–36

Fazli M, Almblad H, Rybtke ML, Givskov M, Eberl L, Tolker-Nielsen T (2014) Regulation of biofilm formation in Pseudomonas and Burkholderia species. Environ Microbiol 16:1961–1981. https://doi.org/10.1111/1462-2920.12448

Fernandes RA, Monteiro AR, Arias LS, Fernandes GL, Delbem ACB, Barbosa DB (2016) Biofilm formation by Candida albicans and Streptococcus mutans in the presence of farnesol: a quantitative evaluation. Biofouling 32(3):329–338

Ferreira AV, Prado CG, Carvalho RR, Dias KS, Dias AL (2013) Candida albicans and Non-C. albicans Candida Species: comparison of biofilm production and metabolic activity in biofilms, and putative virulence properties of isolates from hospital environments and infections. Mycopathologia 175:265–272

Hasan F, Xess I, Wang X, Jain N, Fries BC (2009) Biofilm formation in clinical Candida isolates and its association with virulence. Microbes Infect 11(8-9):753–761

Jung YY, Hwang ST, Sethi G, Fan L, Arfuso F, Ahn KS (2018) Potential anti-inflammatory and anti-cancer properties of farnesol. Molecules 23(11):2827

Katragkou A, McCarthy M, Alexander EL, Antachopoulos C, Meletiadis J, Jabra-Rizk MA, Petraitis V, Roilides E, Walsh TJ (2015) In vitro interactions between farnesol and fluconazole, amphotericin B or micafungin against Candida albicans biofilms. J Antimicrob Chemother 70(2):470–478

Kovács R, Majoros L (2020) Fungal quorum-sensing molecules: a review of their antifungal effect against Candida Biofilms. J Fungi 6(3):99

Krom BP, Levy N, Meijler MM, Jabra-Rizk MA (2016) Farnesol and Candida albicans: quorum sensing or not quorum sensing? Israel J Chem 56(5):295–301

Kunyeit L, Kurrey NK, Anu-Appaiah KA, Rao RP (2019) Probiotic yeasts inhibit virulence of non-albicans Candida species. MBio 10(5):e02307–e02319

Langford ML, Hasim S, Nickerson KW, Atkin AL (2010) Activity and toxicity of farnesol towards Candida albicans are dependent on growth conditions. Antimicrob Agents Chemother 54(2):940–942

Leonhardt I, Spielberg S, Weber M, Albrecht-Eckardt D, Blass M, Claus R, Barz D, Scherlach K, Hertweck C, Löffler J, Hünniger K, Kurzai O (2015) The fungal quorum sensing molecule farnesol activates innate immune cells but supresses cellular adaptive immunity. mBio 6(2):e00143

Lone SA, Ahmad A (2019) Candida auris—the growing menace to global health. Mycoses 62(8):620–637

Monteiro DR, Arias LS, Fernandes RA, Deszo da Silva LF, de Castilho MOVF, da Rosa TO0, Vieira APM, Straioto FG, Barbosa DB, Delbem ACB (2017) Antifungal activity of tyrosol and farnesol used in combination against Candida species in the planktonic state or forming biofilms. J Appl Microbiol 123(2):392–400

Nagy F, Vitális E, Jakab Á, Borman AM, Forgács L, Tóth Z, Majoros L, Kovács R (2020) In vitro and in vivo effect of exogenous farnesol exposure against Candida auris. Front Microbiol 11:957

Öztürk BY (2019) Intracellular and extracellular green synthesis of silver nanoparticles using Desmodesmus sp.: their Antibacterial and antifungal effects. Caryologia. Int J Cytol Cytosyst Cytogenet 72(1):29–43

Öztürk BY, Gürsu BY, Dağ İ (2020) Antibiofilm and antimicrobial activities of green synthesized silver nanoparticles using marine red algae Gelidium corneum. Process Biochem 89:208–219

Paluch E, Rewak-Soroczyńska J, Jędrusik I, Mazurkiewicz E, Jermakow K (2020) Prevention of biofilm formation by quorum quenching. Appl Microbiol Biotechnol 104(5):1871–1881

Pammi M, Liang R, Hicks JM, Barrish J, Versalovic J (2011) Farnesol decreases biofilms of Staphylococcus epidermidis and exhibits synergy with nafcillin and vancomycin. Pediatr Res 70(6):578–583

Prasad R, Kapoor K (2005) Multidrug resistance in yeast Candida. Int Rev Cytol 242:215–248

Ramage G, Saville SP, Wickes BL, López-Ribot JL (2002) Inhibition of Candida albicans biofilm formation by farnesol, a quorum-sensing molecule. Appl Environ Microbiol 68(11):5459–5463

Ramage G, Saville SP, Thomas DP, López-Ribot J (2005) Candida biofilms: an update. Eukaryot Cell 4(4):633–638

Ramage G, Martínez JP, López-Ribot JL (2006) Candida biofilms on implanted biomaterials: a clinically significant problem. FEMS Yeast Res 6(7):979–986

Rodrigues CF, Černáková L (2020) Farnesol and Tyrosol: Secondary metabolites with a crucial quorum-sensing role in Candida biofilm development. Genes 11(4):444

Rossignol T, Logue ME, Reynolds K, Grenon M, Lowndes NF, Butler G (2007) Transcriptional response of Candida parapsilosis following exposure to farnesol. Antimicrob Agents Chemother 51(7):2304–2312

Sebaa S, Boucherit-Otmani Z, Courtois P (2019) Effects of tyrosol and farnesol on Candida albicans biofilm. Mol Med Rep 19(4):3201–3209

Sharma D, Misba L, Khan AU (2019) Antibiotics versus biofilm: an emerging battleground in microbial communities. Antimicrob Resist Infect Control 8(1):1–10

Solano C, Echeverz M, Lasa I (2014) Biofilm dispersion and quorum sensing. Curr Opin Microbiol 18:96–104

Spampinato C, Leonardi D (2013) Candida infections, causes, targets, and resistance mechanisms: traditional and alternative antifungal agents. Biomed Res Int 2013:204237

Taff HT, Nett JE, Andes DR (2012) Comparative analysis of Candida biofilm quantitation assays. Sabouraudia 50(2):214–218

Wu G, Yan S (2019) Can Biofilm Be Reversed Through Quorum Sensing in Pseudomonas aeruginosa? Front Microbiol 10:1582

Xia J, Qian F, Xu W, Zhang Z, Wei X (2017) In vitro inhibitory effects of farnesol and interactions between farnesol and antifungals against biofilms of Candida albicans resistant strains. Biofouling 33(4):283–293

Yapar N (2014) Epidemiology and risk factors for invasive candidiasis. Ther Clin Risk Manag 10:95–105

Zhang L, Chang W, Sun B, Groh M, Speicher A, Lou H (2011) Bisbibenzyls, a new type of antifungal agent, inhibit morphogenesis switch and biofilm formation through upregulation of DPP3 in Candida albicans. PLoS One 6(12):e28953

Zhao LX, Li DD, Hu DD, Hu GH, Yan L, Wang Y, Jiang YY (2013) Effect of tetrandrine against Candida albicans biofilms. PLoS One 8(11)
Ethics declarations
Conflict of interest
The authors declare that they have no conflict of interest.
Additional information
Publisher's note
Springer Nature remains neutral with regard to jurisdictional claims in published maps and institutional affiliations.
About this article
Cite this article
Yapıcı, M., Gürsu, B.Y. & Dağ, İ. In vitro antibiofilm efficacy of farnesol against Candida species. Int Microbiol 24, 251–262 (2021). https://doi.org/10.1007/s10123-021-00162-4
Received:

Revised:

Accepted:

Published:

Issue Date:
Keywords
Farnesol

Biofilm

Candida

Electron microscopy