Abstract
Chickpeas, lentils, and peas are the oldest grain legume species that spread to other regions after their first domestication in Fertile Crescent, and they could reveal the rhizobial evolution in relation to the microsymbionts of wild species in this region. This study investigated the phenotypic and genotypic diversity of the nodule-forming rhizobial bacteria recovered from Pisum sativum subsp., Cicer pinnatifidum, and Lens culinaris subsp. orientalis exhibiting natural distribution in the Gaziantep province of Turkey. PCA analyses of rhizobial isolates, which were tested to be highly resistant to stress conditions, showed that especially pH and salt concentrations had an important effect on these bacteria. Phylogenetic analysis based on 16S rRNA determined that these wild species were nodulated by at least 7 groups including Rhizobium and non-Rhizobium. The largest group comprised of Rhizobium leguminosarum and Rhizobium sp. while R. pusense, which was previously determined as non-symbiotic species, was found to nodulate C. pinnatifidum and L. culinaris subsp. orientalis. In recent studies, Klebsiella sp., which is stated to be able to nodulate different species, strong evidences have been obtained in present study exhibiting that Klebsiella sp. can nodulate C. pinnatifidum and Pseudomonas sp. was able to nodulate C. pinnatifidum and P. sativum subsp. Additionally, L. culinaris subsp. orientalis unlike other plant species, was nodulated by Burkholderia sp. and Serratia sp. associated isolates. Some isolates could not be characterized at the species level since the 16S rRNA sequence similarity rate was low and the fact that they were in a separate group supported with high bootstrap values in the phylogenetic tree may indicate that these isolates could be new species. The REP-PCR fingerprinting provided results supporting the existence of new species nodulating wild ancestors.
Access options
Buy single article
Instant access to the full article PDF.
US$ 39.95
Tax calculation will be finalised during checkout.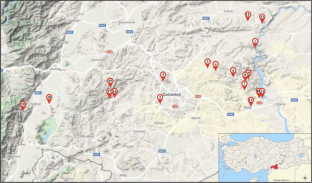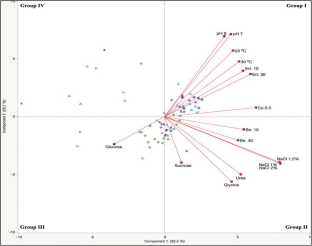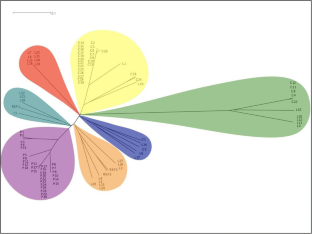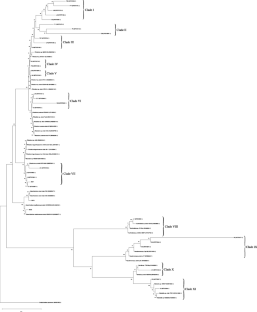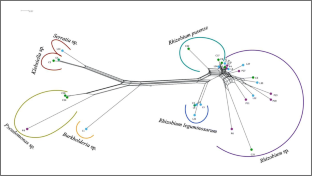 References
Abbo S, Lev-Yadun S, Gopher A (2010) Agricultural origins: centers and noncenters; a near eastern reappraisal. CRC Crit Rev Plant Sci 29:317–328

Alexandre A, Brígido C, Laranjo M, Rodrigues S, Oliveira S (2009) Survey of chickpea rhizobia diversity in Portugal reveals the predominance of species distinct from Mesorhizobium ciceri and Mesorhizobium mediterraneum. Microb Ecol 58:930–941

Amarger N, Macheret V, Laguerre G (1997) Rhizobium gallicum sp. nov. and Rhizobium giardinii sp. nov., from Phaseolus vulgaris nodules. Int J Syst Bacteriol 47:996–1006

Amsalu A, Assefa F, Hailemariam A (2012) Symbiotic and phenotypic characterization of rhizobium isolates of field pea (Pisum sativum L.) fabecae, from central and southern Ethiopia 11:163–179

Belay Z, Assefa F (2011) Symbiotic and phenotypic diversity of Rhizobium leguminosarum bv. viciae from Northern Gondar, Ethiopia. African J Biotechnol 10:4372–4379

Bernal G, Graham P (2001) Diversity in the rhizobia associated with Phaseoles vulgaris L. in Ecuadore, and comparisons with mexican bean rhizobia. Can J Microbiol. 47:526–534

Bryant D, Moulton V (2004) Neighbor-Net: an agglomerative method for the construction of phylogenetic networks. Mol Biol Evol 21:255–265

Cevheri C, Küçük Ç, Polat T (2016) Preliminary characterization of Rhizobium spp. wild broad bean isolates from South East Turkey. Mitteillungen Klosterneubg 66:82–99

Chen WM, James EK, Coenye T, Chou JH, Barrios E, de Faria SM, Elliott GN, Sheu SY, Sprent JI, Vandamme P (2006) Burkholderia mimosarum sp. nov., isolated from root nodules of Mimosa spp. from Taiwan and South America. Int J Syst Evol Microbiol 56:1847–1851

Chen WH, Yang SH, Li ZH, Zhang XX, Sui XH, Wang ET, Chen WX, Chen WF (2017) Ensifer shofinae sp. nov., a novel rhizobial species isolated from root nodules of soybean (Glycine max). Syst Appl Microbiol 40:144–149

Davis PH (1970) Flora of Turkey and the East Aegean Islands. Vol. 3. Edinburgh University Press, Edinburgh

de Bruijn FJ (1992) Use of repetitive (repetitive extragenic palindromic and enterobacterial repetitive intergeneric consensus) sequences and the polymerase chain reaction to fingerprint the genomes of Rhizobium meliloti isolates and other soil bacteria. Appl Environ Microbiol 58:2180–2187

de Lajudie P, Willems A, Nick G, Moreira F, Molouba F, Hoste B, Torck U, Neyra M, Collins MD, Lindstrom K, Dreyfus B, Gillis M (1998) Characterization of tropical tree rhizobia and description of Mesorhizobium plurifarium sp. nov. Int J Syst Bacteriol 48:369–382

De Meyer SE, De Beuf K, Vekeman B, Willems A (2015) A large diversity of non-rhizobial endophytes found in legume root nodules in Flanders (Belgium). Soil Biol Biochem 83:1–11

Depret G, Laguerre G (2008) Plant phenology and genetic variability in root and nodule development strongly influence genetic structuring of Rhizobium leguminosarum biovar viciae populations nodulating pea. New Phytol 179:224–235

Graham PH, Draeger KJ, Ferrey ML, Conroy MJ, Hammer BE, Martinez E, Aarons SR, Quinto C (1994) Acid pH tolerance in strains of Rhizobium and Bradyrhizobium, and initial studies on the basis for acid tolerance of Rhizobium tropici UMR1899. Can J Microbiol 40:198–207

Haukka K, Lindström K, Young JP (1998) Three phylogenetic groups of nodA and nifH genes in Sinorhizobium and Mesorhizobium isolates from leguminous trees growing in Africa and Latin America. Appl Environ Microbiol 64:419–426

Huson DH, Bryant D (2005) Application of phylogenetic networks in evolutionary studies. Mol Biol Evol 23:254–267

Ibanez F, Angelini J, Taurian T, Tonelli ML, Fabra A (2009) Endophytic occupation of peanut root nodules by opportunistic Gammaproteobacteria. Syst Appl Microbiol 32:49–55

Jida M, Assefa F (2011) Phenotypic and plant growth promoting characteristics of Rhizobium leguminosarum bv. viciae from lentil growing areas of Ethiopia. African J Microbiol Res 5:4133–4142

Jida M, Assefa F (2012) Phenotypic diversity and plant growth promoting characteristics of Mesorhizobium species isolated from chickpea (Cicer arietinum L.) growing areas of Ethiopia. African J Biotechnol 11:7483–7493

Jorrin B, Palacios JM, Peix A, Imperial J (2020) Rhizobium ruizarguesonis sp. nov., isolated from nodules of Pisum sativum L. Syst Appl Microbiol 43:126090

Kalkancı N, Şimşek T (2020) Efficiency status of Gaziantep soils (in Turkish). Pistachio Research Journal 8:8–11

Karaduman A, Çi̇mri̇n K (2016) Nutrient Status of Gaziantep Agricultural Soils and Their Relationships with Some Soil Properties. KSU J. Nat. Sci 19:117–129

Kawaka F, Makonde H, Dida M, Opala P, Ombori O, Maingi J, Muoma J (2018) Genetic diversity of symbiotic bacteria nodulating common bean (Phaseolus vulgaris) in western Kenya. PLoS One 13:e0207403

Kenicer G (2005) Legumes of the World. In: Lewis G, Schrire B, MacKinder B, Lock M (eds) Edinburgh Journal of Botany, UK: Kew Press, London, pp 195–196

Kim DH, Kaashyap M, Rathore A, Das RR, Parupalli S, Upadhyaya HD, Gopalakrishnan S, Gaur PM, Singh S, Kaur J, Yasin M, Varshney RK (2014) Phylogenetic diversity of Mesorhizobium in chickpea. J Biosci 39:513–517

Küçük Ç, Cevheri C (2014) Nodulation study of natural forage legume in semiarid region, Turkey. Pakistan J Biol Sci 17:535–539

Küçük Ç, Cevheri C (2016) Indole acetic acid production by Rhizobium sp. isolated from Pea (Pisum sativum L. ssp. arvense). Turkish J Life Sci 1:43–45

Küçük Ç, Kivanç M, Kinaci E (2006) Characterization of Rhizobium sp. isolated from bean. Turkish J Biol 30:127–132

Laguerre G, Mavingui P, Allard MR, Charnay MP, Louvrier P, Mazurier SI, Rigottier-Gois L, Amarger N (1996) Typing of rhizobia by PCR DNA fingerprinting and PCR-restriction fragment length polymorphism analysis of chromosomal and symbiotic gene regions: application to Rhizobium leguminosarum and its different biovars. Appl Environ Microbiol 62:2029–2036

Laguerre G, Nour SM, Macheret V, Sanjuan J, Drouin P, Amarger N (2001) Classification of rhizobia based on nodC and nifH gene analysis reveals a close phylogenetic relationship among Phaseolus vulgaris symbionts. Microbiology 147:981–993

Lalani Wijesundara TI, Van Holm LHJ, Kulasooriya SA (2000) Rhizobiology and nitrogen fixation of some tree legumes native to Sri Lanka. Biol Fertil Soils 30:535–543

Laranjo M, Machado J, Young JPW, Oliveira S (2004) High diversity of chickpea Mesorhizobium species isolated in a Portuguese agricultural region. FEMS Microbiol Ecol 48:101–107

Laranjo M, Alexandre A, Rivas R, Velázquez E, Young JPW, Oliveira S (2008) Chickpea rhizobia symbiosis genes are highly conserved across multiple Mesorhizobium species. FEMS Microbiol Ecol 66:391–400

Laranjo M, Young JPW, Oliveira S (2012) Multilocus sequence analysis reveals multiple symbiovars within Mesorhizobium species. Syst Appl Microbiol 35:359–367

Legesse S, Assefa F (2014) Symbiotic and phenotypic characteristics of rhizobia nodulating faba bean (Vicia faba) From Tahtay Koraro, Northwestern Zone Of Tigray Regional State , Ethiopia. Int J Technol Enhanc Emerg Eng Res 2:15–23

Li L, Sinkko H, Montonen L, Wei G, Lindström K, Räsänen LA (2012) Biogeography of symbiotic and other endophytic bacteria isolated from medicinal Glycyrrhiza species in China. FEMS Microbiol Ecol 79:46–68

Li YH, Wang R, Sui XH, Wang ET, Zhang XX, Tian CF, Chen WF, Chen WX (2019) Bradyrhizobium nanningense sp. nov., Bradyrhizobium guangzhouense sp. nov. and Bradyrhizobium zhanjiangense sp. nov., isolated from effective nodules of peanut in Southeast China. Syst Appl Microbiol 42:126002

Mahmoud MA, Mart D, Can C (2019) Phenotypic characterization of indigenous rhizobia nodulating chickpea in Turkey reveals high diversity. Legum Res 42:379–384

Martínez-Aguilar L, Salazar-Salazar C, Méndez RD, Caballero-Mellado J, Hirsch AM, Vásquez-Murrieta MS, Estrada-de los Santos P (2013) Burkholderia caballeronis sp. nov., a nitrogen fixing species isolated from tomato (Lycopersicon esculentum) with the ability to effectively nodulate Phaseolus vulgaris. Antonie Van Leeuwenhoek 104:1063–1071

Martínez-Romero E, Caballero-Mellado J (1996) Rhizobium phylogenies and bacterial genetic diversity. CRC Crit Rev Plant Sci 15:113–140

Mavima L, Beukes CW, Palmer M, De Meyer SE, James EK, Maluk M, Gross E, dos Reis Junior FB, Avontuur JR, Chan WY, Venter SN, Steenkamp ET (2021) Paraburkholderia youngii sp. nov. and 'Paraburkholderia atlantica' – Brazilian and Mexican Mimosa-associated rhizobia that were previously known as Paraburkholderia tuberum sv. mimosae. Syst Appl Microbiol 44:126152.

Moschetti G, Peluso AL, Protopapa A, Anastasio M, Pepe O, Defez R (2005) Use of nodulation pattern, stress tolerance, nodC gene amplification, RAPD-PCR and RFLP-16S rDNA analysis to discriminate genotypes of Rhizobium leguminosarum biovar viciae. Syst Appl Microbiol 28:619–631

Moulin L, Munive A, Dreyfus B, Boivin-Masson C (2001) Nodulation of legumes by members of the β-subclass of Proteobacteria. Nature 411:948–950

Mutch LA, Young JPW (2004) Diversity and specificity of Rhizobium leguminosarum biovar viciae on wild and cultivated legumes. Mol Ecol 13:2435–2444

Nick G, de Lajudie P, Eardly BD, Suomalainen S, Paulin L, Zhang X, Gillis M, Lindström K (1999) Sinorhizobium arboris sp. nov. and Sinorhizobium kostiense sp. nov., isolated from leguminous trees in Sudan and Kenya. Int J Syst Evol Microbiol 49:1359–1368

Nour SM, Cleyet-Marel J-C, Beck D, Effosse A, Fernandez MP (1994a) Genotypic and phenotypic diversity of Rhizobium isolated from chickpea (Cicer arietinum L.). Can J Microbiol 40:345–354

Nour SM, Fernandez MP, Normand P, Cleyet-Marel J-C (1994b) Rhizobium ciceri sp. nov., consisting of strains that nodulate chickpeas (Cicer arietinum L.). Int J Syst Bacteriol 44:511–522

Nour SM, Cleyet-Marel J-C, Normand P, Fernandez MP (1995) Genomic heterogeneity of strains nodulating chickpeas (Cicer arietinum L.) and description of Rhizobium mediterraneum sp. nov. Int J Syst Bacteriol 45:640–648

Ogutcu H, Adiguzel A, Gulluce M, Karadayi M, Sahin F (2009) Molecular characterization of Rhizobium strains isolated from wild chickpeas collected from high altitudes in Erzurum-Turkey. Rom Biotechnol Lett 14:4294–4300

Panday D, Schumann P, Das SK (2011) Rhizobium pusense sp. nov., isolated from the rhizosphere of chickpea (Cicer arietinum L.). Int J Syst Evol Microbiol 61:2632–2639

Pandya M, Naresh Kumar G, Rajkumar S (2013) Invasion of rhizobial infection thread by non-rhizobia for colonization of Vigna radiata root nodules. FEMS Microbiol Lett 348:58–65

Prakash O, Verma M, Sharma P, Kumar M, Kumari K, Singh A, Kumari H, Jit S, Gupta SK, Khanna M, Lal R (2007) Polyphasic approach of bacterial classification - An overview of recent advances. Indian J Microbiol 47:98–108

Rahi P, Giram P, Chaudhari D, diCenzo GC, Kiran S, Khullar A, Chandel M, Gawari S, Mohan A, Chavan S, Mahajan B (2020) Rhizobium indicum sp. nov., isolated from root nodules of pea (Pisum sativum) cultivated in the Indian trans-Himalayas. Syst Appl Microbiol 43:126127

Rajwar A, Sahgal M, Johri BN (2013) Legume-Rhizobia symbiosis and interactions in agroecosystems. In: Arora NK (ed) Plant microbe symbiosis: fundamentals and advances. Springer, India, pp 233–265

Ramirez-Bahena MH, Garcia-Fraile P, Peix A, Valverde A, Rivas R, Igual JM, Mateos PF, Martinez-Molina E, Velazquez E (2008) Revision of the taxonomic status of the species Rhizobium leguminosarum (Frank 1879) Frank 1889AL, Rhizobium phaseoli Dangeard 1926AL and Rhizobium trifolii Dangeard 1926AL. R. trifolii is a later synonym of R. leguminosarum. Reclassification of the strai. Int J Syst Evol Microbiol 58:2484–2490

Rashid MH, Schäfer H, Gonzalez J, Wink M (2012) Genetic diversity of rhizobia nodulating lentil (Lens culinaris) in Bangladesh. Syst Appl Microbiol 35:98–109

Rashid MH, Young JPW, Everall I, Clercx P, Willems A, Braun MS, Wink M (2015) Average nucleotide identity of genome sequences supports the description of Rhizobium lentis sp. nov., Rhizobium bangladeshense sp. nov. and Rhizobium binae sp. nov. from lentil (Lens culinaris) nodules. Int J Syst Evol Microbiol 65:3037–3045

Rivas R, Laranjo M, Mateos PF, Oliveira S, Martínez-Molina E, Velázquez E (2007) Strains of Mesorhizobium amorphae and Mesorhizobium tianshanense, carrying symbiotic genes of common chickpea endosymbiotic species, constitute a novel biovar (ciceri) capable of nodulating Cicer arietinum. Lett Appl Microbiol 44:412–418

Segovia L, Young JPW, Martinez-Romero E (1993) Reclassification of American Rhizobium leguminosarum biovar phaseoli Type I strains as Rhizobium etli sp. nov. Int J Syst Bacteriol 43:374–377

Shamseldin A, Abdelkhalek A, Sadowsky MJ (2017) Recent changes to the classification of symbiotic, nitrogen-fixing, legume-associating bacteria: a review. Symbiosis 71:91–109

Sheu SY, Chou JH, Bontemps C, Elliott GN, Gross E, dos Reis Junior FB, Melkonian R, Moulin L, James EK, Sprent JI, Young JPW, Chen WM (2013) Burkholderia diazotrophica sp. nov., isolated from root nodules of Mimosa spp. Int J Syst Evol Microbiol 63:435–441

Shiraishi A, Matsushita N, Hougetsu T (2010) Nodulation in black locust by the Gammaproteobacteria Pseudomonas sp. and the Betaproteobacteria Burkholderia sp. Syst Appl Microbiol 33:269–274

Somasegaran P, Hoben HJ (1994) Handbook for rhizobia: methods in legume-Rhizobium technology, 1st edn. Springer Verlag, New York, pp 363–372

Stackebrandt E, Goebel BM (1994) Taxonomic note: a place for DNA-DNA reassociation and 16S rRNA sequence analysis in the present species definition in bacteriology. Int J Syst Evol Microbiol 44:846–849

Stecher G, Tamura K, Kumar S (2020) Molecular evolutionary genetics analysis (MEGA) for macOS. Mol Biol Evol 37:1237–1239

Suneja P, Dudeja SS, Dahiya P (2016) Deciphering the phylogenetic relationships among rhizobia nodulating chickpea: a review. J Appl Biol Biotechnol 4:61–70

Tan A (1996) Turkey: Country report to the FAO international technical conference on plan genetic resource (Leipzig, 1996)

Tena W, Wolde-Meskel E, Degefu T, Walley F (2017) Lentil (Lens culinaris Medik.) nodulates with genotypically and phenotypically diverse rhizobia in Ethiopian soils. Syst Appl Microbiol 40:22–33

Tian CF, Wang ET, Wu LJ, Han TX, Chen WF, Gu CT, Gu JG, Chen WX (2008) Rhizobium fabae sp. nov., a bacterium that nodulates Vicia faba. Int J Syst Evol Microbiol 58:2871–2875

Vance CP (1997) Enhanced agricultural sustainability through biological nitrogen fixation In: Legocki A, Bothe H, Pühler A (eds) Biological fixation of nitrogen for ecology and sustainable agriculture. Springer-Verlag, Berlin Heilderberg, pp 179–186

Vincent JM (1970) A manual for the practical study of the root-nodule bacteria. Blackwell Scientific Publications, Oxford and Edinburgh

Weisburg WG, Barns SM, Pelletier DA, Lane DJ (1991) 16S ribosomal DNA amplification for phylogenetic study. J Bacteriol 173:697–703

Willems A, Doignon-Bourcier F, Coopman R, Hoste B, de Lajudie P, Gillis M (2000) AFLP Fingerprint analysis of Bradyrhizobium strains isolated from Faidherbia albida and Aeschynomene species. Syst Appl Microbiol 23:137–147

Wilson K (2001) Preparation of genomic dna from bacteria. Curr Protoc Mol Biol 56:2.4.1–2.4.5

Yang C, Yang J, Li Y, Zhou J (2008) Genetic diversity of root-nodulating bacteria isolated from pea (Pisum sativum) in subtropical regions of China. Sci China Ser C Life Sci 51:854–862

Zaheer A, Mirza BS, Mclean JE, Yasmin S, Shah TM, Malik KA, Mirza MS (2016) Association of plant growth-promoting Serratia spp. with the root nodules of chickpea. Res Microbiol 167:510–520

Zahir ZA, Zafar-ul-Hye M, Sajjad S, Naveed M (2011) Comparative effectiveness of Pseudomonas and Serratia sp. containing ACC-deaminase for coinoculation with Rhizobium leguminosarum to improve growth, nodulation, and yield of lentil. Biol Fertil Soils 47:457–465

Zahran HH (2001) Rhizobia from wild legumes: diversity, taxonomy, ecology, nitrogen fixation and biotechnology. J Biotechnol 91:143–153

Zahran HH, Abdel-Fattah M, Yasser MM, Mahmoud AM, Bedmar E (2012) Diversity and environmental stress responses of rhizobial bacteria from Egyptian grain legumes. Aust J Basic Appl Sci 6:571–583

Zhang JJ, Liu TY, Chen WF, Wang ET, Sui XH, Zhang XX, Li Y, Li Y, Chen WX (2012) Mesorhizobium muleiense sp. nov., nodulating with Cicer arietinum. L. Int J Syst Evol Microbiol 62:2737–2742

Zhang YJ, Zheng WT, Everall I, Young JPW, Zhang XX, Tian CF, Sui XH, Wang ET, Chen WX (2015) Rhizobium anhuiense sp. nov., isolated from effective nodules of Vicia faba and Pisum sativum. Int J Syst Evol Microbiol 65:2960–2967

Zhang J, Guo C, Chen W, de Lajudie P, Zhang Z, Shang Y, Wang ET (2018) Mesorhizobium wenxiniae sp. nov., isolated from chickpea (Cicer arietinum L.) in China. Int J Syst Evol Microbiol 68:1930–1936
Acknowledgments
This study was funded by the University of Gaziantep, Scientific Research Project Governing Unit (BAYP), with project number FEF.DT.18.09. We are very grateful to Prof. Dr. Douglas Cook, University of California (USA) for providing reference strains. We would like to thank Asst. Prof. Dr. Adile Akpınar, Asst. Prof. Dr. Kerem Özdemir, Asst. Prof. Dr. Metin Ertaş, and Research Assistant Derya İşler Ceyhan for their guidance and support during our studies.
Ethics declarations
Conflict of interest
The authors declare that they have no conflict of interest.
Additional information
Publisher's note
Springer Nature remains neutral with regard to jurisdictional claims in published maps and institutional affiliations.
Supplementary information
About this article
Cite this article
Basbuga, S., Basbuga, S., Yayla, F. et al. Diversity of rhizobial and non-rhizobial bacteria nodulating wild ancestors of grain legume crop plants. Int Microbiol (2021). https://doi.org/10.1007/s10123-020-00158-6
Received:

Revised:

Accepted:

Published:
Keywords
Rhizobium

Wild legume

Nodulation

Phenotypic diversity

Genotypic diversity

16S rRNA