Abstract
Hitherto, virtually nothing is known about the microbial communities related to the bird species in the family Corvidae. To fill this gap, the present study was conducted to provide a baseline description of the gut microbiota of wild red-billed choughs (Pyrrhocorax pyrrhocorax). In this study, microbiota from four gastrointestinal locations (oropharynx, gizzard, small intestine, and large intestine) of three wild red-billed choughs were analyzed using the Illumina MiSeq sequencing platform by targeting the V4–V5 regions of the 16S rRNA genes. The gut microbiota of the red-billed choughs were dominated by the phylum Firmicutes (59.56%), followed by Proteobacteria (16.56%), Bacteroidetes (13.86%), and Actinobacteria (7.03%), which were commonly detected in avian gut ecosystems. Genus-level compositions were found to be largely dominated by Lactobacillus (18.21%), Weissella (12.37%), Erysipelatoclostridium (6.94%), Bacteroides (6.63%), Escherichia-Shigella (5.15%), Leuconostoc (4.60%), Proteus (3.33%), Carnobacterium (2.71%), Lactococcus (1.69%), and Enterococcus (1.63%). The overall intestinal microbiota was enriched with functions related to ATP-binding cassette (ABC) transporters, DNA repair and recombination proteins, purine metabolism, ribosome, transcription factors, pyrimidine metabolism, peptidases, and two-component system. In terms of four different gastrointestinal locations, hierarchical clustering analysis and principal coordinate analysis showed that microbial communities of the oropharynx, gizzard, small intestine, and large intestine formed four separated clusters. A total of 825 OTUs and 382 genera were detected in all four gastrointestinal locations, which were considered as the major microbes in the intestines of red-billed choughs. Coexistence of lactic acid bacteria and potential pathogens in the gut environments of red-billed choughs required further investigations.
Access options
Buy single article
Instant access to the full article PDF.
USD 39.95
Price excludes VAT (USA)
Tax calculation will be finalised during checkout.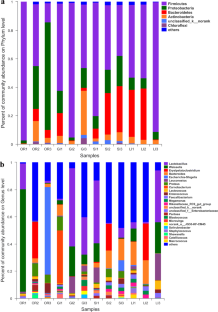 References
Allali I, Arnold JW, Roach J, Cadenas MB, Butz N, Hassan HM, Koci M, Ballou A, Mendoza M, Ali R, Azcarate-Peril MA (2017) A comparison of sequencing platforms and bioinformatics pipelines for compositional analysis of the gut microbiome. BMC Microbiol 17:194

Barbosa A, Balagué V, Valera F et al (2016) Age-related differences in the gastrointestinal microbiota of chinstrap penguins (Pygoscelis antarctica). PLoS One 11:0153215

BIG Data Center Members (2018) Database Resources of the BIG Data Center in 2018. Nucleic Acids Res 46:14–20

Burgess MD, Woolcock D, Hales RB, Waite R, Hales AJ (2012) Captive husbandry and socialization of the red-billed chough (Pyrrhocorax pyrrhocorax). Zoo Biol 31:725–735

Caporaso JG, Kuczynski J, Stombaugh J et al (2010) QIIME allows analysis of high-throughput community sequencing data. Nat Methods 7:335–336

Dewar ML, Arnould JP, Dann P, Trathan P, Groscolas R, Smith S (2013) Interspecific variations in the gastrointestinal microbiota in penguins. Microbiologyopen 2:195–204

Edgar RC (2013) UPARSE: highly accurate OTU sequences from microbial amplicon reads. Nat Methods 10:996–998

Forsythe P, Kunze WA (2013) Voices from within: gut microbes and the CNS. Cell Mol Life Sci 70:55–69

García-Amado MA, Shin H, Sanz V et al (2018) Comparison of gizzard and intestinal microbiota of wild neotropical birds. PLoS One 13:0194857

Godoy-Vitorino F, Goldfarb KC, Karaoz U et al (2012) Comparative analyses of foregut and hindgut bacterial communities in hoatzins and cows. ISME J 6:531–541

Gong J, Si W, Forster RJ et al (2007) 16S rRNA gene-based analysis of mucosa-associated bacterial community and phylogeny in the chicken gastrointestinal tracts: from crops to ceca. FEMS Microbiol Ecol 59:147–157

González-Braojos S, Vela AI, Ruiz-de-Castañeda R et al (2012) Age-related changes in abundance of enterococci and Enterobacteriaceae in Pied Flycatcher (Ficedula hypoleuca) nestlings and their association with growth. J Ornithol 153:181–188

Hadley TL (2005) Disorders of the psittacine gastrointestinal tract. Vet Clin North Am Exot Anim Pract 8:329–349

Hamilton AL, Kamm MA, Ng SC, Morrison M (2018) Proteus spp. as putative gastrointestinal pathogens. Clin Microbiol Rev 31:00085–00017

Hammons S, Oh PL, Martínez I et al (2010) A small variation in diet influences the Lactobacillus strain composition in the crop of broiler chickens. Syst Appl Microbiol 33:275–281

Hird SM (2017) Evolutionary Biology Needs Wild Microbiomes. Front Microbiol 8:725

Hird SM, Sánchez C, Carstens BC, Brumfield RT (2015) Comparative gut microbiota of 59 neotropical bird species. Front Microbiol 6:1403

Kanehisa M, Goto S, Sato Y, Furumichi M, Tanabe M (2012) KEGG for integration and interpretation of large-scale molecular data sets. Nucleic Acids Res 40:109–114

Kerbiriou C, Gourmelon F, Jiguet F, Le-Viol I, Bioret F, Julliard R (2006) Linking territory quality and reproductive success in the redbilled chough Pyrrhocorax pyrrochorax: implications for conservation management of an endangered population. IBIS 148:352–364

Kim YS, Milner JA (2007) Dietary modulation of colon cancer risk. J Nutr 137:2576–2579

Kohl KD (2012) Diversity and function of the avian gut microbiota. J Comp Physiol B 182:591–602

Kohl KD, Connelly JW, Dearing MD, Forbey JS (2016) Microbial detoxification in the gut of a specialist avian herbivore, the Greater Sage-Grouse. FEMS Microbiol Lett 363:144

Langille MG, Zaneveld J, Caporaso JG et al (2013) Predictive functional profiling of microbial communities using 16S rRNA marker gene sequences. Nat Biotechnol 31:814–821

Pickard JM, Zeng MY, Caruso R, Núñez G (2017) Gut microbiota: role in pathogen colonization, immune responses, and inflammatory disease. Immunol Rev 279:70–89

Quast C, Pruesse E, Yilmaz P et al (2013) The SILVA ribosomal RNA gene database project: improved data processing and web-based tools. Nucleic Acids Res 41:590–596

Ringø E, Hoseinifar SH, Ghosh K, Doan HV, Beck BR, Song SK (2018) Lactic acid bacteria in finfish-an update. Front Microbiol 9:1818

Roggenbuck M, Bærholm Schnell I, Blom N et al (2014) The microbiome of New World vultures. Nat Commun 5:5498

Rooks MG, Garrett WS (2016) Gut microbiota, metabolites and host immunity. Nat Rev Immunol 16:341–352

Ruiz-Rodriguez M, Lucas FS, Heeb P, Soler JJ (2009) Differences in intestinal microbiota between avian brood parasites and their hosts. Biol J Linn Soc 96:406–414

Schloss PD, Westcott SL, Ryabin T, Hall JR (2009) Introducing mothur: open-source, platform-independent, community-supported software for describing and comparing microbial communities. Appl Environ Microbiol 75:7537–7541

Segata N, Izard J, Waldron L et al (2011) Metagenomic biomarker discovery and explanation. Genome Biol 12:60

Soler JJ, Soler M (1993) Diet of the red-billed chough Pyrrhocorax pyrrhocorax in south-east Spain. Bird Study 40:216–222

Stillman RA, Bignal EM, Mccracken DI, Ovenden GN (1998) Clutch and egg size in the chough Pyrrhocorax pyrrhocorax on Islay, Scotland. Bird Study 45:122–126

Thomas F, Hehemann JH, Rebuffet E, Czjzek M, Michel G (2011) Environmental and gut bacteroidetes: the food connection. Front Microbiol 2:93

Trowitzsch S, Tampé R (2018) ABC transporters in dynamic macromolecular assemblies. J Mol Biol 430:4481–4495

van Dongen WF, White J, Brandl HB et al (2013) Age-related differences in the cloacal microbiota of a wild bird species. BMC Ecol 13:11

Ventura M, Canchaya C, Tauch A et al (2007) Genomics of Actinobacteria: tracing the evolutionary history of an ancient phylum. Microbiol Mol Biol Rev 71:495–548

Ventura M, O'Flaherty S, Claesson MJ et al (2009) Genome-scale analyses of health-promoting bacteria: probiogenomics. Nat Rev Microbiol 7:61–77

Voreades N, Kozil A, Weir TL (2014) Diet and the development of the human intestinal microbiome. Front Microbiol 5:494

Waite DW, Taylor MW (2014) Characterizing the avian gut microbiota: membership, driving influences, and potential function. Front Microbiol 5:223

Waite DW, Taylor MW (2015) Exploring the avian gut microbiota: current trends and future directions. Front Microbiol 6:673

Waite DW, Eason DK, Taylor MW (2014) Influence of hand rearing and bird age on the fecal microbiota of the critically endangered kakapo. Appl Environ Microbiol 80:4650–4658

Wang Q, Garrity GM, Tiedje JM, Cole JR (2007) Naive Bayesian classifier for rapid assignment of rRNA sequences into the new bacterial taxonomy. Appl Environ Microbiol 73:5261–5267

Wang W, Zheng S, Sharshov K et al (2016) Distinctive gut microbial community structure in both the wild and farmed Swan goose (Anser cygnoides). J Basic Microbiol 56:1299–1307

Wang Y, Song F, Zhu J et al (2017a) GSA: Genome sequence archive. Genomics Proteomics Bioinformatics 15:14–18

Wang W, Zheng S, Sharshov K et al (2017b) Metagenomic profiling of gut microbial communities in both wild and artificially reared Bar-headed goose (Anser indicus). Microbiologyopen 6:00429

Wang S, Chen L, He M et al (2018) Different rearing conditions alter gut microbiota composition and host physiology in Shaoxing ducks. Sci Rep 8:7387

Wexler AG, Goodman AL (2017) An insider's perspective: Bacteroides as a window into the microbiome. Nat Microbiol 2:S

Wexler AG, Schofield WB, Degnan PH, Folta-Stogniew E, Barry NA, Goodman AL (2018) Human gut Bacteroides capture vitamin B12 via cell surface-exposed lipoproteins. Elife 7:37138

Wilkinson TJ, Cowan AA, Vallin HE et al (2017) Characterization of the microbiome along the gastrointestinal tract of growing turkeys. Front Microbiol 8:1089

Xenoulis PG, Gray PL, Brightsmith D et al (2010) Molecular characterization of the cloacal microbiota of wild and captive parrots. Vet Microbiol 146:320–325

Yang H, Xiao Y, Gui G, Li J, Wang J, Li D (2018) Microbial community and short-chain fatty acid profile in gastrointestinal tract of goose. Poult Sci 97:1420–1428
Acknowledgments
The authors would like to express their sincere thanks to the editor in chief, editor, and anonymous reviewers for their valuable suggestions in revising the manuscript. Many thanks to Doctor Ian Mather for his kind help in revising the English in this manuscript.
Funding
The study was financially supported by the Natural Science Foundation of Qinghai Province of China (Grant No. 2018-ZJ-932Q), the National Natural Science Foundation of China (Grant No. 31701573 and 31460569), the Project of Qinghai Science & Technology Department (Grant No. 2016-ZJ-Y01), the Open Project of State Key Laboratory of Plateau Ecology and Agriculture, Qinghai University (Grant No. 2017-ZZ-21), and the project of Tao He Yuan National Wetland Park in Qinghai Province (Grant No. 2018-THY-02).
Ethics declarations
This study conformed to the guidelines for the care and use of experimental animals established by the Ministry of Science and Technology of the People's Republic of China (Approval number: 2006-398). The research protocol was reviewed and approved by the Ethical Committee of Qinghai University.
Competing Interests
The authors declare that they have no competing interests.
Additional information
Publisher's note
Springer Nature remains neutral with regard to jurisdictional claims in published maps and institutional affiliations.
Electronic supplementary material
About this article
Cite this article
Wang, W., Wang, A., Yang, Y. et al. Composition, diversity and function of gastrointestinal microbiota in wild red-billed choughs (Pyrrhocorax pyrrhocorax). Int Microbiol 22, 491–500 (2019). https://doi.org/10.1007/s10123-019-00076-2
Received:

Revised:

Accepted:

Published:

Issue Date:

DOI: https://doi.org/10.1007/s10123-019-00076-2
Keywords
Red-billed choughs

Gut microbiome

llumina Miseq platform;16S rRNA gene sequencing

Microbial communities

Gastrointestinal tract