Abstract
The enzymatic and non-enzymatic antioxidant activities of a solid-state fermentation system (SSFS) employing six basidiomycete and four ascomycete fungi on orange peel have been evaluated. Class comparisons revealed highly significant effect of fungal group on the antioxidant activity. Peroxidase activity appeared only in the basidiomycete fungi (particularly Pleurotus columbinus, Ganoderma resinaceum, and Pleurotus floridanus) whereas catalase activity appeared in the two fungal groups in favor of the ascomycetes (particularly Paecilomyces variotii and Aspergillus fumigatus). Maximal peroxidase and minimal catalase activities were found at moderate phenolic content, with extreme phenolic levels leading to low peroxidase activity but high catalase activity. Production of the non-enzymatic antioxidants (phenolics, flavonoids, reducing power, and DPPH scavenging) was in favor of the ascomycetes, which showed great native ability to synthesize flavonoids and also to release flavonoids from orange peel. The basidiomycete fungi, which have limited native ability to produce phenolics, had high ability to consume orange peel phenolics. By contrast, the ascomycete fungi exhibited great native ability for production of phenolics and low ability to consume exogenous phenolics.
Access options
Buy single article
Instant access to the full article PDF.
USD 39.95
Price excludes VAT (USA)
Tax calculation will be finalised during checkout.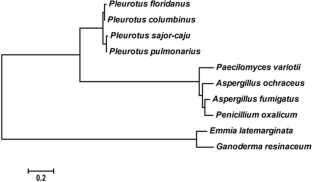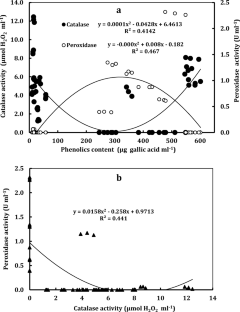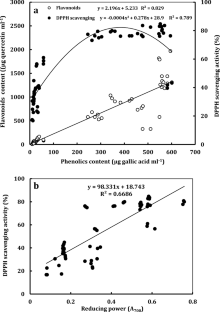 References
Ballaminut N, Yamanaka R, Machado KMG (2009) Interference of a commercial catalase preparation in laccase and peroxidase activities. Braz Arch Biol Technol 52:1193–1198. https://doi.org/10.1590/S1516-89132009000500017

Bampidis VA, Robinson PH (2006) Citrus by-products as ruminant feeds: a review. Anim Feed Sci Technol 128:175–217. https://doi.org/10.1016/j.anifeedsci.2005.12.002

Barros L, Ferreira MJ, Queiros B, Ferreira ICFR, Baptista P (2007) Total phenols, ascorbic acid, β-carotene and lycopene in Portuguese wild edible mushrooms and their antioxidant activities. Food Chem 103:413–419

Bind A, Singh SK, Prakash V, Kumar M (2014) Evaluation of antioxidants through solid state fermentation from pomegranate peels using Aspergillus niger and its antibacterial properties. Int J Pharm Biol Sci 4:104–112

Biswas MK, Biswas SB (2015) Recycling of ligno-cellulosic waste materials through oyster mushroom cultivation for sustainable food production. Ecoscan 9:655–659

Bradford MM (1976) A rapid and sensitive method for the quantitation of microgram quantities of protein utilizing the principle of protein-dye binding. Anal Biochem 7:248–254

Cai S, Wang O, Wu W, Zhu S, Zhou F, Ji B, Gao F, Zhang D, Liu J, Cheng Q (2011) Comparative study of the effects of solid-state fermentation with three filamentous fungi on the total phenolics content (TPC), flavonoids, and antioxidant activities of subfractions from oats (Avena sativa L.). J Agri Food Chem 60:507–513

Cerutti PA (1994) Oxy-radicals and cancer. Lancet 344:862–863

Chandra P, Arora DS (2016) Production of antioxidant bioactive phenolic compounds by solid-state fermentation on agro-residues using various fungi isolated from soil. Asian J Biotechnol 8:8–15

Dashtban M, Schraft H, Syed TA, Qin W (2010) Fungal biodegradation and enzymatic modification of lignin. Int J Biochem Mol Biol 1:36–50

El-Fallal AA, El-Sayed AKA, El-Esseily SR (2015) First record of two Ganoderma species from North East Nile Delta-Egypt. Mycosphere 6(3):248–259

El-Gharabawy HM, Detheridge AP, El-Fallal AA, El-Sayed AKA, Griffith GW (2016) Analysis of wood decay and ligninolysis in polyporales from the Nile Delta region of Egypt. Mycosphere 7(4):392–404

El-Komy MM, El-Fallal AA (2006) The ameliorative effect of oyster mushroom (Pleurotus pulmonarius) on lipid profile with some parameters indicative of mycocardial status in male diabetic rats. Journal of Egyptian German Society of Zoology 50A:81–99

Elmastas M, Isildak O, Turkekul I, Temur N (2007) Determination of antioxidant activity and antioxidant compounds in wild edible mushrooms. J Food Compos Anal 20:337–345

Gao H, Wang Y, Zhang W, Wang W, Mu Z (2011) Isolation, identification and application in lignin degradation of an ascomycete GHJ-4. Afr J Biotechnol 10:4166–4174

Halliwell B (1997) Antioxidants and human diseases: a general introduction. Nutr Rev 55:544–549

Halliwell B, Gutteridge JMC (1984) Oxygen toxicity, oxygen radicals, transition metals and disease. Biochem J 219:1–14

Hamdipour S, Rezazad M, Alizadeh M (2014) Production of phenolic antioxidants from apple residue using Rhizopus oligosporus. Int J Adv Biol Biomed Res 2:1937–1942

Hatano T, Kagawa H, Yasuhara T, Okuda T (1988) Two new flavonoids and other constituents in licorice root: their relative astringency and radical scavenging affects. Chem Pharm Bull 36:2090–2097

Hegazy AE, Ibrahium MI (2012) Antioxidant activities of orange peel extracts. World Appl Sci J 18:684–688

Ibrahium MI (2010) Efficiency of pomegranate peel extract as antimicrobial, antioxidant and protective agents. World J Agri Sci 6:338–344

Inácio FD, Ferreira RO, De Araujo CAV, Peralta RM, De Souza CGM (2015) Production of enzymes and biotransformation of orange waste by oyster mushroom, Pleurotus pulmonarius (Fr.) Quél. Adv Microbiol 5:1–8

Juan MY, Chou C-C (2010) Enhancement of antioxidant activity, total phenolic and flavonoid content of black soybeans by solid state fermentation with Bacillus subtilis BCRC 14715. Food Microbiol 27(5):586–591

Kawai Y, Otaka M, Kakio M, Oeda Y, Inoue N, Shinano H (1994) Screening of antioxidant-producing fungi in Aspergillus niger group for liquid-and solid-state fermentation. Bulletin of the Faculty of Fisheries Hokkaido University 45:26–31

Kheng PP, Ibrahim D, Poppe L, Szackacs G, Omar IC (2006) Production of cellullolytic enzymes by a newly isolated Trichoderma sp. FETL c3-2 via solid state fermentation grown on sugar cane baggase: palm kernel cake as substrates. Pak J Biol Sci 9:1430–1437

Kües U (2015) Fungal enzymes for environmental management. Curr Opin Biotechnol 33:268–278

Little TM, Hills FJ (1978) Agricultural experimentation: design and analysis. John Wiley and Sons Inc., New York

Luque-Rodríguez JM, de Castro ML, Pérez-Juan P (2007) Dynamic superheated liquid extraction of anthocyanins and other phenolics from red grape skins of winemaking residues. Bioresour Technol 98:2705–2713

Lv X, Zhao S, Ning Z, Zeng H, Shu Y, Tao O, Xiao C, Lu C, Liu Y (2015) Citrus fruits as a treasure trove of active natural metabolites that potentially provide benefits for human health. Chem Central J 9:68

Mansuri A, Sarmah DK, Saikia A (2018) Antioxidant properties of some common oyster mushrooms grown in North East India. Indian Phytopatholgy 70(1):98–103

Mau JL, Lin HC, Chen CC (2002) Antioxidant properties of several medicinal mushrooms. J Agric Food Chem 50(21):6072–6077

Martinez-Avila GCG, Aguilera AF, Saucedo S, Rojas R, Rodriguez R, Aguilar CN (2014) Fruit wastes fermentation for phenolic antioxidants production and their application in manufacture of edible coatings and films. Crit Rev Food Sci Nutr 54:303–311

Martínková L, Kotik M, Marková E, Homolka L (2016) Biodegradation of phenolic compounds by Basidiomycota and its phenol oxidases: a review. Chemosphere 149:373–382

Martins S, Mussatto SI, Martínez-Avila G, Montañez-Saenz J, Aguilar CN, Teixeira JA (2011) Bioactive phenolic compounds: production and extraction by solid-state fermentation. A review. Biotechnol Adv 29:365–373

Oyaizu M (1986) Studies on products of browning reactions: antioxidative activities of products of browning reaction prepared from glucosamine. Japan J Nutr 44:307–315

Paris S, Wysong D, Debeaupuis JP, Shibuya K, Philippe B, Diamond RD, Latgé JP (2003) Catalases of Aspergillus fumigatus. Infect Immun 71:3551–3562

Patel H, Gupte A (2016) Optimization of different culture conditions for enhanced laccase production and its purification from Tricholoma giganteum AGHP. Bioresources and Bioprocessing 3:1–10. https://doi.org/10.1186/s40643-016-0088-6

Philip JP, Madhumitha G, Mary SA (2011) Free radical scavenging and reducing power of Lawsonia inermis L. seeds. Asian Pacific J Trop Med 4:457–461

Pietta PG (2000) Flavonoids as antioxidants. J Nat Prod 63:1035–1042

Pourmorad F, Hosseinimehr SJ, Shahabimajd N (2006) Antioxidant activity, phenol and flavonoid contents of some selected Iranian medicinal plants. African J Biotechnol 5:1142–1145

Ramachandra M, Crawford DL, Hertel G (1988) Characterization of an extracellular lignin peroxidase of the lignocellulolytic actinomycete Streptomyces viridosporus. Appl Environ Microbiol 54:3057–3063

Ranneh Y, Ali F, Akim AM, Hamid HA, Khazaai H, Fadel A (2017) Crosstalk between reactive oxygen species and pro-inflammatory markers in developing various chronic diseases: a review. Appl Biol Chem 60:327–338

Rodrigo R, Bosco C (2006) Oxidative stress and protective effects of polyphenols: comparative studies in human and rodent kidney. A review. Comp Biochem Physiol Part C Toxicol Pharmacol 142:317–327

Schmidt CG, Furlong EB (2012) Effect of particle size and ammonium sulfate concentration on rice bran fermentation with the fungus Rhizopus oryzae. Bioresour Technol 123:36–41

Schmidt CG, Gonçalves LM, Prietto L, Hackbart HS, Furlong EB (2014) Antioxidant activity and enzyme inhibition of phenolic acids from fermented rice bran with fungus Rhizopus oryzae. Food Chem 146:371–377

Tamura K, Nei M (1993) Estimation of the number of nucleotide substitutions in the control region of mitochondrial DNA in humans and chimpanzees. Molecul Biol Evolut 10:512–526

Teranishi Y, Tanaka A, Osumi M, Fukui S (1974) Catalase activities of hydrocarbon-utilizing Candida yeasts. Agri Biol Chem 389:1213–1220

Yang XM, Yu W, Ou ZP, Ma HL, Liu WM, Ji XL (2009) Antioxidant and immunity activity of water extract and crude polysaccharide from Ficus roxburghii carica L. fruit. Plant Foods Hum Nutr 64:167–173
Acknowledgments
The authors acknowledge the kind help of Ahmad K. A. El-Sayed, Assistant Professor of Microbiology at the Faculty of Science, Damietta University in construction of the phylogenetic tree of the investigated fungal species.
Ethics declarations
Conflict of interest
The authors declare that they have no conflict of interest.
About this article
Cite this article
El-Katony, T.M., El-Dein, M.M.N., El-Fallal, A.A. et al. Effect of the taxonomic group of fungi and type of substrate on the antioxidant activity of a solid-state fermentation system. Int Microbiol 22, 203–215 (2019). https://doi.org/10.1007/s10123-018-00040-6
Received:

Revised:

Accepted:

Published:

Issue Date:

DOI: https://doi.org/10.1007/s10123-018-00040-6
Keywords