Abstract
Background
As cancer patients are surviving longer, more patients manifest brain metastases (BRMs). However, the rate of BRMs from upper gastrointestinal cancer is unclear. We therefore evaluated the frequency and prognostic effect of BRMs in this setting.
Methods
We analyzed records of 2348 patients who were treated between January 2002 and December 2016 for upper gastrointestinal cancer, including esophageal and gastroesophageal junction adenocarcinoma (EAC; proximal EAC, Siewert types I and II), esophageal squamous cell carcinoma (ESCC), and gastric adenocarcinoma (GAC; Siewert type III and stomach cancer) in our Gastrointestinal Medical Oncology Database. Frequency, risk factors, and survival after BRMs were evaluated.
Results
Of 2348 patients, 68 (2.9%) had BRMs upon follow-up. The BRM rates were as follows: proximal EAC, 4.8%; Siewert type I, 5.9%; Siewert type II, 2.2%; Siewert type III, 0.7%; ESCC: 1.2%; and stomach cancer, 0%. Among EAC patients, Siewert type I and lymph node metastases were independent the risk factors for BRMs in the multivariable analysis. The median overall survival (OS) in the 68 patients with BRMs was only 1.16 years (95% CI 0.78–1.61). However, OS for patients who had a solitary BRM, who had BRM but no other distant metastasis, or who underwent surgery or stereotactic radiosurgery favorable.
Conclusion
Patients with proximally located adenocarcinoma, or with lymph node metastases are at a higher risk for BRMs and patients fare better after treatment of isolated BRM.
This is a preview of subscription content, log in to check access.
Access options
Buy single article
Instant access to the full article PDF.
US$ 39.95
Price includes VAT for USA
Subscribe to journal
Immediate online access to all issues from 2019. Subscription will auto renew annually.
US$ 99
This is the net price. Taxes to be calculated in checkout.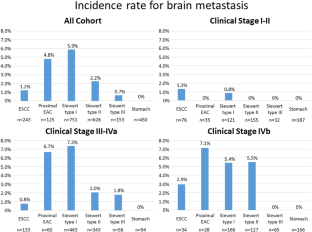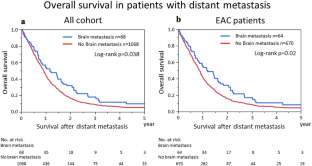 References
1.

Global Burden of Disease Cancer C, Fitzmaurice C, Allen C, Barber RM, Barregard L, Bhutta ZA, et al. Global, regional, and national cancer incidence, mortality, years of life lost, years lived with disability, and disability-adjusted life-years for 32 cancer groups, 1990 to 2015: a systematic analysis for the Global Burden of Disease study. JAMA Oncol. 2017;3:524–48.

2.

Ajani JA, D'Amico TA, Almhanna K, Bentrem DJ, Besh S, Chao J, et al. Esophageal and esophagogastric junction cancers, version 1.2015. J Natl Compr Canc Netw. 2015;13:194–227.

3.

Davis FG, Dolecek TA, McCarthy BJ, Villano JL. Toward determining the lifetime occurrence of metastatic brain tumors estimated from 2007 United States cancer incidence data. Neuro Oncol. 2012;14:1171–7.

4.

Cagney DN, Martin AM, Catalano PJ, Redig AJ, Lin NU, Lee EQ, et al. Incidence and prognosis of patients with brain metastases at diagnosis of systemic malignancy: a population-based study. Neuro Oncol. 2017;19(11):1511–21.

5.

Kothari N, Mellon E, Hoffe SE, Frakes J, Shridhar R, Pimiento J, et al. Outcomes in patients with brain metastasis from esophageal carcinoma. J Gastrointest Oncol. 2016;7:562–9.

6.

Welch G, Ross HJ, Patel NP, Jaroszewski DE, Fleischer DE, Rule WG, et al. Incidence of brain metastasis from esophageal cancer. Dis Esophagus. 2017;30:1–6.

7.

Wadhwa R, Taketa T, Correa AM, Sudo K, Campagna MC, Blum MA, et al. Incidence of brain metastases after trimodality therapy in patients with esophageal or gastroesophageal cancer: implications for screening and surveillance. Oncology. 2013;85:204–7.

8.

Amin MB, Edge S, Greene F, Byrd DR, Brookland RK, Washington MK, et al. AJCC cancer staging manual. 8th ed. New York: Springer; 2017.

9.

Ajani JA, D'Amico TA, Almhanna K, Bentrem DJ, Chao J, Das P, et al. Gastric cancer, version 3.2016, NCCN clinical practice guidelines in oncology. J Natl Compr Canc Netw. 2016;14:1286–312.

10.

Weinberg JS, Suki D, Hanbali F, Cohen ZR, Lenzi R, Sawaya R. Metastasis of esophageal carcinoma to the brain. Cancer. 2003;98:1925–33.

11.

Ogawa K, Toita T, Sueyama H, Fuwa N, Kakinohana Y, Kamata M, et al. Brain metastases from esophageal carcinoma: natural history, prognostic factors, and outcome. Cancer. 2002;94:759–64.

12.

Song Z, Lin B, Shao L, Zhang Y. Brain metastases from esophageal cancer: clinical review of 26 cases. World Neurosurg. 2014;81:131–5.

13.

Fidler IJ. The biology of brain metastasis: challenges for therapy. Cancer J. 2015;21:284–93.

14.

Cancer Genome Atlas Research N, Analysis Working Group, Asan U, Agency BCC, Women's H Brigham I Broad, et al. Integrated genomic characterization of oesophageal carcinoma. Nature. 2017;541:169–75.

15.

Limon D, Gal O, Gordon N, Katz L, Perl G, Purim O, et al. Brain metastasis in gastroesophageal adenocarcinoma and HER2 status. J Neurooncol. 2018;138:315–20.

16.

Altaha R, Crowell E, Hobbs G, Higa G, Abraham J. Increased risk of brain metastases in patients with HER-2/neu-positive breast carcinoma. Cancer. 2005;103:442–3.

17.

Patchell RA, Tibbs PA, Walsh JW, Dempsey RJ, Maruyama Y, Kryscio RJ, et al. A randomized trial of surgery in the treatment of single metastases to the brain. N Engl J Med. 1990;322:494–500.
Funding
This research was supported by generous grants from the Caporella, Dallas, Sultan, Park, Smith, Frazier, Oaks, Vanstekelenberg, Planjery, and Cantu families, as well as from the Schecter Private Foundation, Rivercreek Foundation, Kevin Fund, Myer Fund, Dio Fund, Milrod Fund, and The University of Texas MD Anderson Cancer Center (Houston, Texas, USA) multidisciplinary grant program. This research was also supported in part by National Cancer Institute Grants CA129906, CA127672, CA138671, and CA172741; by Department of Defense Grants CA150334 and CA162445 (J.A.A.); and by a grant from the Japan Society for the Promotion of Science Overseas Research Fellowships and Program for Advancing Strategic International Networks to Accelerate the Circulation of Talented Researchers (K.H.).
Ethics declarations
Conflict of interest
The authors have no potential conflicts of interest to disclose.
Additional information
Publisher's Note
Springer Nature remains neutral with regard to jurisdictional claims in published maps and institutional affiliations.
Electronic supplementary material
Below is the link to the electronic supplementary material.
About this article
Cite this article
Harada, K., Hwang, H., Wang, X. et al. Brain metastases in patients with upper gastrointestinal cancer is associated with proximally located adenocarcinoma and lymph node metastases. Gastric Cancer 23, 904–912 (2020). https://doi.org/10.1007/s10120-020-01075-3
Received:

Accepted:

Published:

Issue Date:
Keywords
Esophageal adenocarcinoma

Esophageal squamous-cell carcinoma

Gastroesophageal junction adenocarcinoma

Gastric adenocarcinoma

Brain metastases