Obesity and related risk factors in gastric cardia adenocarcinoma
Abstract
Over recent decades, the incidence of cancers of the gastroesophageal junction, including gastric cardia tumors, has increased markedly. This is a trend that has been well documented, especially in studies from the USA and northern Europe that have also demonstrated a concomitant rise in the ratio of cardia to distal gastric cancers. The rise in the prevalence of gastric cardia adenocarcinoma has been paralleled by the worldwide obesity epidemic, with almost all epidemiological studies reporting increased body mass index and obesity increase the risk of cardia cancer development. However, the strength of this association is less marked than the link between obesity and esophageal adenocarcinoma, and the mechanisms remain poorly understood. Other possible confounders of the relationship between obesity and cardia cancer include the decline in Helicobacter pylori infection and the widespread use of proton pump inhibitors, although these have rarely been controlled for in case–control and cohort studies investigating associations between obesity and cardia cancer. We review these epidemiological trends and discuss proposed mechanisms for the association, drawing attention to controversies over the difficulty of defining cardia cancer. The relative paucity of high-quality epidemiological studies from other regions of the world should prompt further investigation of this issue, especially in populations undergoing rapid socioeconomic change.
Keywords
Gastric cardia cancer 
Epidemiology 
Obesity 
Body mass index 
Helicobacter pylori
Introduction
The incidence of cancers of the gastroesophageal junction, including gastric cardia adenocarcinoma (GCA), has increased markedly over the past 50 years [1]. This rise was first emphasized in the USA and northern Europe, where a concomitant rise in the ratio of GCA to distal (noncardia) gastric cancers has also been evident [1, 2, 3], but it has also more recently been reported in many other regions of the world [4]. The increased prevalence of GCA has accompanied the global obesity epidemic, with almost all epidemiological studies reporting an association between increased body mass index (BMI) and/or obesity and the risk of GCA development.
Explaining this disturbing rise in GCA prevalence and the parallel rise in BMI and/or obesity has been a challenging and active area of research. It involves teasing out demographic and behavioral patterns that have occurred over the same timeframe, together with elucidating and testing proposed pathogenic mechanisms. In this review, we will discuss some of the most recent research on epidemiological trends and tested/proposed mechanisms for the rise in GCA prevalence. We focus here on BMI, for which there is the most evidence, but also consider other interrelated variables that may have confounded this relationship. These include an increasing prevalence of gastroesophageal reflux disease (GERD) and diabetes mellitus (DM), the decline in Helicobacter pylori infection in the Western world, and the widespread use of acid inhibitory medications, especially the proton pump inhibitors. But first, what is known of the descriptive epidemiology of gastric cancers?
Gastric cardia cancer: descriptive epidemiology
Epidemiological studies of cancer over the past few decades have revealed significant declines in death from many solid tumors in the USA, including cancers of the lung, prostate, colon, and breast. One of the most striking decreases has been for gastric cancer—from 36 and 42 deaths per 100,000 population per year in 1930 (male and female, respectively) to an estimated five and two deaths per 100,000 population per year in 2010 [4]. Among distal gastric cancers, which are the most prevalent type of gastric neoplasm, the decline was about 2.0 % per year between 1977 and 2006 [2], showing an approximately equal rate of change among whites (from 5.9 to 4.0 deaths per 100,000 population) and blacks (from 13.7 to 9.5 deaths per 100,000 population). However, for GCA, the trend is quite different—instead, there has been an increase in annual incidence, from ten cases per million population in 1973 to over 20 cases per million population in 2010 [3], including an annual increase of 5.2 % between 1973 and 1985. The rise in the annual incidence of GCA in the USA has coincided with an epidemic of esophageal adenocarcinoma (EAC), soaring from 2.5 cases per million population to nearly 30 cases per million population over the same time [3].
Similar changes have been observed in many other fully industrialized Western countries. The proportion of GCA among overall gastric cancers is currently highest in the UK (54.2 % of cases for males) and in Australia and New Zealand combined (46.4 % among males), compared with Japan and southern Europe, where GCAs comprise only 14.9 and 18.8 %, respectively, of the gastric cancer burden [3].
Gastric cancer is particularly prevalent in Southeast Asia, where China, Japan, and Korea account for 60 % of cases [5]. In Asia, gastric cancer has not shown such a marked decline as noted in Western countries [5, 6], yet, similarly to the West, the incidence of GCA has risen. One registry in Singapore reported that the gastric cardia cancer rate increased from 6.3 % of all gastric cancers in the 1968–1982 period to 20.1 % in the 2000–2005 period [7].
The gastric cardia and GCA: anatomy and definitional issues
The gastric cardia is an anatomically small (1–2 cm or smaller) region just distal to the gastroesophageal junction that is defined by branched, tubular mucous-secreting gastric glands lacking the specialized acid-secreting parietal cells and pepsinogen-secreting chief cells that characterize the oxyntic mucosa of the gastric fundus and body [8]. Because the incidence and extent of the cardiac glands were linked to excessive gastroesophageal reflux, this led Chandrosoma et al. [9] to speculate that cardiac glands may be an acquired change from esophageal squamous mucosa. However, cardiac glands were subsequently identified in most children, the newborn, and even in fetuses [10, 11, 12], suggesting that they are present from early in life, representing a functionally distinct, albeit small, anatomical region of the normal stomach.
Nevertheless, as pointed out by McColl [13], the definition of the normal cardia remains problematic. This is especially so for endoscopic biopsies, because true cardiac glands may be indistinguishable histologically from gastric metaplasia in the lower esophagus secondary to GERD, or from oxyntic mucosal glands that have undergone atrophic change (with loss of oxyntic and chief cells) due to chronic H. pylori infection. The site of the biopsy should help distinguish among these possibilities, but in the presence of a hiatal hernia, Barrett's esophagus, and a retching patient the endoscopist may not be certain which of these regions were actually sampled.
Definitional issues regarding the normal cardia, not surprisingly, translate into controversy over the definition and origins of gastric GCA (Fig. 
1
). Since the 1990s the Siewert classification system for gastroesophageal junction tumors has been in common use by surgeons and pathologists throughout the world [
14
]. In this schema, type 1 tumors are those that have their epicenter in the lower esophagus, type 2 tumors arise from an area 1 cm proximal to 2 cm distal to the gastroesophageal junction, and type 3 tumors originate 2–5 cm distally. Type 1 tumors have been generally managed like EAC, with type 3 tumors treated as for distal gastric cancer, whereas the management and staging of the type 2 tumors has been controversial. The definition of GCA according to the sixth edition of American Joint Commission of Cancer (AJCC) staging system (2002) corresponds to Siewert types 2 and 3 and to the International Classification of Diseases for Oncology (ICD-O) code C16.0. This has generally been that used in clinicopathology studies and, as will be discussed later, has been the default definition for GCA used in most of the epidemiological literature.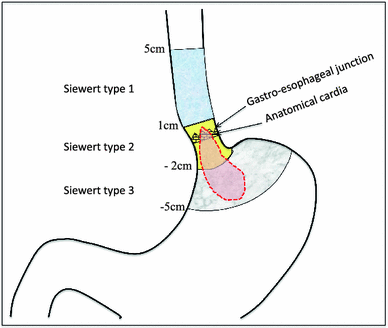 However, in the seventh edition of the AJCC cancer staging manual published in 2010 [15], gastroesophageal junction tumors were redefined significantly. In this new classification, gastroesophageal junction tumors that cross the gastroesophageal junction and that have a midpoint within the upper stomach up to 5 cm from the gastroesophageal junction (previously classified as Siewert types 2 and 3) are now considered to be esophageal cancers. According to the seventh edition of the AJCC staging system, a GCA is a tumor that either arises from a distance of at least 5 cm from the gastroesophageal junction at its midpoint or lies within 5 cm of the gastroesophageal junction but does not cross it. As might be expected, this change in classification has been somewhat controversial, and the southward (distal) migration of GCAs inherent in this redefinition has probably changed views on the pathogenesis. It is not clear exactly what led to the change in classification, although it was probably related to the realization that, in the USA, gastroesophageal junction cancers share many features with EAC, including an association with obesity and reflux disease, the presence of a normal distal gastric mucosa (without H. pylori gastritis), and similarities in their molecular genetics and prognostic staging [16, 17, 18].
It is also debatable whether this redefinition is appropriate for the GCAs occurring in Chinese patients, where reflux disease is usually absent and H. pylori gastritis is highly prevalent [19]. To add to the controversy about cancers arising from the lower esophagus and upper stomach, McColl and Going [20] have even proposed that the terms "gastroesophageal junction" and "cardia" should be discarded for tumors. In their view, if the lesion has an intestinal morphology (most of such tumors found at the gastroesophageal junction), it should be classified as either esophageal or gastric, depending on the absence of H. pylori and the presence of reflux (for an esophageal tumor), with the reverse being true for gastric tumors. This debate regarding the origins and definitions of tumors of the gastroesophageal junction is not merely academic, since the definitional problems outlined above continue to plague epidemiological and other studies that address the causes and associated factors for these tumors, as will be discussed in the following sections.
Obesity and GCA
Eleven studies have been published on the relationship between BMI and the incidence of GCA (Table 
1
). There is considerable methodological heterogeneity among these reports regarding the definition of GCA, study design (case–control vs cohort), the confounding variables entered into the analyses (e.g., most included smoking, none included
H. pylori
infection), the time interval between BMI assessment and cancer outcome, and the definition of BMI category. Only two of these reports were of Asian populations (both in China), with others from the USA and northwestern Europe. Nevertheless, nine of the 11 studies did demonstrate a positive association between increased BMI and GCA risk, with many of them describing a positive dose–response relationship.
Table 1
Summary of studies on body mass index (BMI) and gastric cardia adenocarcinoma
| Study | Population | Cardia definition | Design | Number of cases | Main findings | P for trend? |
| --- | --- | --- | --- | --- | --- | --- |
| Ji et al. [21] | China | C16.0 | C–C | 185 | Q4 vs Q1 RR 3.0 (95 % CI 1.7–5.4) for men, 1.4 (95 % CI 0.5–4.1) for women | Yes |
| Chow et al. [22] | USA | ND | C–C | 261 | Q4 vs Q1 RR 1.6.(95 % CI 1.1–2.6) | Yes |
| Lagergren et al. [23] | Sweden | 2 cm proximal, 3 cm distal to GEJ without Barrett's esophagus | C–C | 262 | Q4 vs Q1 RR 2.3 (95 % CI 1.5–3.6) for BMI > 30 kg/m2 (obese) vs 4.3 (95 % CI 2.1–8.7) for BMI < 22 kg/m2  | Yes |
| Wu et al. [30] | USA | C16.0 | C–C | 277 | Q4 vs Q1 RR ~ 1.8, irrespective of when BMI measured (current, age 20 years, or age 40 years) | Yes |
| Tran [24] | China | ND | Cohort | 1,089 | No association. Complicated study design including diet intervention | No |
| Lindblad [25] | UK | ND | C–C | 195 | BMI > 30 kg/m2 RR 1.46 (95 % CI 0.84–2.54) vs reference (BMI 20–24 kg/m2). BMI 25–29 kg/m2 RR 1.37 (95 % CI 0.89–2.1) vs reference | Yes |
| Samanic et al. [26] | Sweden | C16.0 | Cohort | 108 | No association | No |
| Merry et al. [27] | Netherlands | C16.0 | Cohort | 173 | BMI > 30 kg/m2 RR 2.73 (95 % CI 1.56–4.79) vs normal BMI (20–25 kg/m2). Also BMI increase over time associated with cardia cancer risk (2.07, 95 % CI 1.08–3.97) | Yes |
| Ryan et al. [31] | Ireland | Siewert type 3 | C–C | 64 | BMI > 30 kg/m2 vs BMI < 22 kg/m2, RR 2.7 (95 % CI 0.9–8.0) | N |
| Corley et al. [28] | USA | C16.0 | C–C | 105 | BMI > 30 kg/m2 RR 2.04 (95 % CI 0.99–4.21) vs BMI 18.5–25 kg/m2 | ? |
| Abnet et al. [29] | USA |   | Cohort | 307 | BMI 30–35, RR 1.70 (95 % CI 1.22–2.36); BMI > 35 kg/m2 RR 2.40 (95 % CI 1.60–3.80) vs BMI 18.5–25 kg/m2 | Yes |
The earliest report of BMI and GCA was a case–control study conducted by Ji et al. [21] in 1997 that evaluated 185 cases of GCA diagnosed between 1988 and 1989 in Shanghai, China. Overall the OR was 3.0 (95 % CI 1.7–5.4) among men in the fourth (highest) quartile of BMI compared with the first quartile. No BMI trend was found in the small number of cases among the women. The following year, Chow et al. [22] reported on a total of 292 cases in a similarly designed study from three states in the USA. Although GCA was not precisely defined in that publication, Chow et al. described a statistically significant trend for GCA risk across the BMI quartiles, for men and women combined. These studies confirmed that, early in the obesity epidemic, there was an empirical suggestion of a correlation between BMI and GCA incidence.
Framing a definition to calculate relative risk among obese and nonobese study participants has had methodological variability, with some authors choosing to calculate relative risk among study participants, and others opting to stratify BMI from predefined categories. Lagergren et al. [23] calculated odds ratios (ORs) using both methods, reporting statistical significance for each [OR 2.3, 95 % confidence interval (CI) 1.5–3.6, for fourth quartile vs first quartile and OR 4.3, 95 % CI 2.1–8.7, for BMI > 30 kg/m2 vs BMI < 22 kg/m2]. Nevertheless, the comparator group in each analysis was the thinnest patients, rather than normal-weight patients. Several other studies calculated ORs based on a referent of BMI-defined normal, thus excluding the leanest subgroup of patients [23, 24, 25, 26, 27, 28, 29].
The largest study in the USA drew from data in the US NIH–AARP registry, a cohort of 480,475 patients across six US states between 1995 and 1996, in which 307 incident cases of GCA have been reported after about 20 years [29]. The study authors defined GCA using the standard ICD-O C16.0 definition and analyzed their results using WHO-defined criteria of normal BMI (18.5 kg/m2 to less than 25 kg/m2) for reference. They found that obese (BMI from 30 kg/m2 to less than 35 kg/m2) and morbidly obese (BMI > 35 kg/m2) patients had 84 and 269 % (both statistically significant) elevated risk of GCA incidence (OR 2.69, 95 % CI 1.77–4.09). The trend, using standardized BMI categories, has been confirmed in other US studies. For example, Corley et al. [28] compared normal BMI and obese patients in a case–control study of 105 GCA cases. The results were broadly similar to those of Abnet et al. [29], with an OR of 2.04 (95 % CI 0.99–4.21) for obese individuals. Merry et al. [27] evaluated 173 patients in a cohort population from the Netherlands, reporting an even stronger and statistically significant correlation of obesity with WHO-defined normal BMI, with an OR of 2.73. This was the only study that also calculated ORs for BMI change since age 20 years, reporting an OR of 2.07 (95 % CI 1.08–3.97).
Among the 11 studies in Table 1, only two did not report a statistically significant relationship between BMI and GCA risk [24, 26]. The very large study of 1,089 cases by Tran [24] was also complicated by a dietary supplement intervention, making interpretation of the results problematic. Samanic et al. [26] reported on multiple cancer subtypes in a Swedish cohort population of 389,000 individuals, including only 5 % women. In that study of 108 incident cases of ICD-O-defined GCA, there was no correlation with BMI, in contrast to another study from Sweden [23].
It is noteworthy that of the ten publications in Table 1 that also addressed distal gastric cancer concurrently, nine found no correlation between BMI and distal gastric cancer. Despite the methodological heterogeneity, the absence of statistical significance seems to be consistent. The study of Wu et al. [30] was the only one to find a borderline correlation with distal gastric cancer, for 443 patients (1.43, 95 % CI 1.0–2.1) when looking at the fourth quartile at age 20 years (compared with low BMI in the first quartile). However, the study was limited by a changing definition of GCA and some cases that were reclassified as noncardia tumors, thus skewing the correlation.
There were nine studies of GCA that also included epidemiological data on EAC in the same cohort or population [22, 23, 24, 25, 26, 28, 29, 30, 31], showing a generally stronger link between EAC and BMI than between GCA and BMI [22, 24, 26, 29, 31]. In general, this meant both higher calculated ORs and a higher degree of statistical certainty for the obese and the overweight when compared with normal-weight individuals. For example, Chow et al. [22] found ORs in the third and fourth quartiles of 2.0 and 3.0 (both significant) for EAC, whereas they found an OR of only 1.8 for the fourth quartile for GCA. These results are overall consistent with the meta-analysis of the relationship between overweight/obesity and EAC and GCA by Turati et al. [32]. In that report, obesity (BMI > 30 kg/m2) was associated with a relative risk of 2.73 (95 % CI 2.16–3.46) for EAC, but only 1.93 (95 % CI 1.52–2.45) for GCA. Similarly, overweight (BMI 25–30 kg/m2) was associated with a relative risk of 1.87 (95 % CI 1.61–2.17) for EAC but only 1.40 (95 % CI 1.18–1.66) for GCA. However, as discussed previously, these summary statistics by Turati et al. do include considerable study design heterogeneity and variable cancer site definitions. And the picture becomes even more skewed as, over time, the pathological definitions of GCA have evolved and varied between studies.
Finally, it is appreciated that the BMI (as defined by either WHO criteria or study-set quartiles) is only one way to measure obesity. Two studies have evaluated alternative anthropometric methods [28, 32]. Corley et al. [28] measured anterior–posterior diameter (a marker for central adiposity) and did not find any statistical significance with GCA, but did with EAC for a diameter of more than 25 cm versus a diameter of less than 20 cm (OR 3.47, 95 % CI 1.29–9.33). O'Doherty et al. [33] evaluated another metric, waist-to-hip-ratio, in 191 cases of GCA and 253 cases of EAC, reporting statistical significance with the fourth quartile (vs the first quartile) for GCA (OR 2.22, 95 % CI 1.43–3.47) and for the third quartile and the fourth quartile for EAC (ORs 1.51 and 2.01, respectively). These alternative methods of measuring obesity serve to confirm the use of BMI as a metric to measure incident cancer risk epidemiologically.
Obesity-related risk factors in GCA
Possible mechanisms linking obesity with GCA
Obesity is a risk factor for many types of malignancy, and there are multiple mechanisms linking obesity to the promotion of gastrointestinal carcinogenesis in general [63]. The biochemical mechanisms linking obesity to cancer include hyperinsulinemia, increased levels of insulin-like growth factors (IGFs), and altered IGF/IGF-binding protein ratios that promote cell division and inhibit apoptosis [63]. IGF-1 receptors are found throughout the gastrointestinal tract, especially in the gastric mucosa. Growth factors emitted from adipocytes, so-called adipokines, include leptin and adiponectin. On the one hand, leptin participates in the cellular growth cascade, inhibiting apoptosis and promoting cell proliferation and angiogenesis, whereas adiponectin, expressed in differentiated adipocytes, opposes proliferation and angiogenesis, has anti-inflammatory properties, and its level is usually decreased in obesity [63]. The adiponectin level has been reported to be lower in patients with GCA than in control subjects [64, 65]. A subclinical state of increased inflammation is common in obesity, perhaps driven by changes in the intestinal microbiome [63].
The mechanisms by which these risk factors contribute to GCA carcinogenesis specifically has been little studied, except for in relationship to gastroesophageal reflux. Mechanical forces, altered by increased adiposity, can lead to elevations in intra-abdominal pressure applied to the lower esophageal sphincter. Elevated intra-abdominal pressure has been thought to predispose toward upward flow of gastric content. The predisposition to GERD from altered pressures, in turn, may predispose to carcinogenesis at the gastroesophageal junction. However, because GERD is more tightly linked to EAC than to GCA, most prior mechanistic research focused on the contribution of excessive gastric reflux to esophageal carcinogenesis. As discussed earlier, GCA may be part of the same spectrum of disease as EAC, at least in the West.
In this respect, recent findings on events at the cardia in reflux may be relevant to the pathogenesis of both EAC and GCA. Of particular interest is the report by Robertson et al. [66], who evaluated a group of 51 middle-aged subjects without a hiatal hernia or H. pylori infection to determine correlations between obesity, as determined by waist size and abdominal magnetic resonance imaging, and cardiac mucosal length, inflammation of the distal lower esophageal sphincter scored pathologically, pH, and other measurements of gastroesophageal function. In that study, inflammatory cells were found to be present in the cardia in all cases, irrespective of BMI, but the obese subjects had more proximal acid reflux and a longer cardia length (2.5 mm vs 1.75 mm in the normal BMI cases, p = 0.008). Conceivably, this lengthening may encourage the expansion and outward migration of cardia progenitor cells into the gastroesophageal junction, thereby promoting gastroesophageal junction neoplasia [67].
Since some patients treated for GERD fail to respond to acid-suppressing therapy, there has been interest in the contribution of nonacidic gastric contents to the development of GERD and its complications. Potentially important components of this refluxate are bile acids, including cholic acid, chenodeoxycholic acid, and the secondarily dehydroxylated deoxycholic acid [68]. Bile acids may be especially relevant in the origin of gastroesophageal junction cancers, since they have recently been shown to also induce signaling pathways with metabolic consequences [69, 70].
The data on the effects of bile acids on the cardia are limited. One case–control study evaluated 192 patients without H. pylori infection, reporting an association between metaplasia and excessive bile reflux that did not reach statistical significance [71]. Another group of investigators evaluated 66 patients undergoing gastroscopy for heartburn or regurgitation, reporting no correlation between proximal stomach bile acid exposure and the severity of carditis or esophagitis [72]. Thus, the effects of bile on the gastric cardia are uncertain, and further studies on the role of bile acid reflux in cardia cancer are warranted.
Conclusions
Over the past 30 years, two epidemiological trends of obesity and of an increase in GCA prevalence and lower EAC prevalence have moved almost in parallel. For GCA, the link with obesity is clear, although it is not as strong a risk factor for GCA development as it is for EAC development. Nevertheless, the epidemiology of GCA is much closer to that EAC than it is for distal gastric cancers. Although there are major issues with the definition of GCA and even some debate concerning whether GCAs are truly a distinct entity [20], the association of GCA with obesity that we have reviewed deserves further investigation, especially outside the USA and northwestern Europe, where almost all epidemiological association studies have been conducted thus far.
Further exploration of the mechanisms linking obesity to the promotion of GCA development is also important because this might identify factors amenable to modification. Most current evidence points to reflux, mechanical forces of elevated intra-abdominal pressure, diet, and/or endocrinological mechanisms as risk factors for both EAC and GCA, but more detailed analysis including attention to the site of origin of GCA may be of value in defining whether there is a unique pathogenic pathway for GCA carcinogenesis.
Copyright information
© The International Gastric Cancer Association and The Japanese Gastric Cancer Association 2014