Abstract
The search for the Garden of Eden has been going on for centuries. However, no one has yet attempted to associate it with the occurrence of a specific natural type of vegetation. We are also not aware what its current state and chances of survival are. In this work, we try to define the vegetation of Paradise, to visualize its past and predict its future in a climate-changing world. We selected 941 vegetation samples meeting the criteria extracted from biblical descriptions and assigned them to 12 different woody and grove vegetation types. Based on the analysis of functional traits (the fruiting type as well as the start, end and duration of the fruiting and flowering season), taxonomic and ethnobotanical diversity, we found that the most probable archetype of Eden's vegetation is the Pistacia khinjuk grove. The identification and preservation of the vegetation in which Man found safe shelter at the dawn of civilization is of fundamental importance for all humanity, and thus, we model its past extent and future perspectives. We found that Adam and Eve's refuge may disappear during our children's lifetime.
Access options
Buy single article
Instant access to the full article PDF.
USD 39.95
Price excludes VAT (USA)
Tax calculation will be finalised during checkout.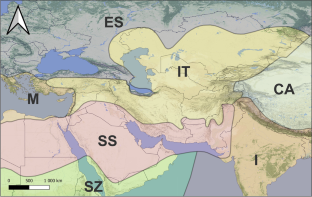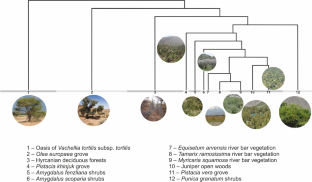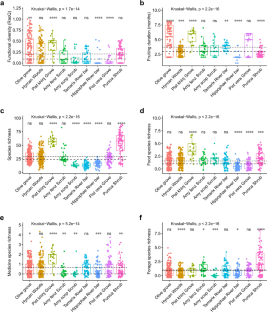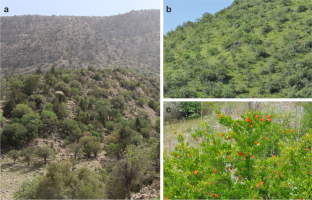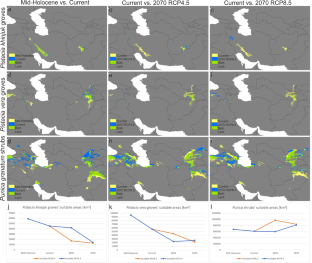 References
Abkenar KT, Salehi A, Bagheri J, Ravanbakhsh H (2013) Some ecological properties of Pistacia atlantica Desf. in Khojir national park of Iran. Chinese J Appl Environ Biol 19:415–420. https://doi.org/10.3724/SP.J.1145.2013.00415

Abutaha MM, El-Khouly AA, Jürgens N, Oldeland J (2020) Plant communities and their environmental drivers on an arid mountain, Gebel Elba, Egypt. Veg Classif Surv 1:e38644. https://doi.org/10.3897/VCS/2020/38644

Adamo N, Al-Ansari N, Sissakian VK, Knutsson S, Laue J (2018) Climate change: consequences on Iraq's Environment. J Earth Sci Geotech Eng 8:43–58

Adamovič L (1902) Die Sibljak-Formation, ein wenig bekanntes Buschwerk der Balkanländer. Bot Jahrbücher für Syst Pflanzengeschichte und Pflanzengeographie 1–29

Ambarlı D, Naqinezhad A, Aleksanyan A (2020) Grasslands and shrublands of the middle east and the Caucasus. In: Goldstein MI, DellaSala DA, DiPaolo DA (eds) Encyclopedia of the world's biomes. Volume 3: Forests – trees of life. Grasslands and shrublands – sea of plants. Elsevier, Amsterdam, pp 714–724

Anwar R, Rabbani M (2001) Natural occurrence, distribution and uses of Pistacia species in Pakistan. In: Padulosi S, Hadj-Hassan A (eds) Project on underutilized Mediterranean species. Pistacia: towards a comprehensive documentation of distribution and use of its genetic diversity in Central & West Asia, North Africa and Mediterranean Europe. IPGRI, Rome, pp 45–48

Bahrani MJ, Yeganeh M, Heidari B (2010) Distribution of Pistachio mutica F. & M. as influenced by topographical factors and soil properties in mountain areas of Western Iran. Int J Ecol Environ Sci 36:37–43

Botta-Dukát Z (2005) Rao's quadratic entropy as a measure of functional diversity based on multiple traits. J Veg Sci 16:533–540. https://doi.org/10.1111/j.1654-1103.2005.tb02393.x

Breckle S-W (2007) Flora and vegetation of Afghanistan. Basic Appl Dryland Res 2:155–194. https://doi.org/10.3119/0035-4902(2006)108[370:FAVOCG]2.0.CO;2

Brice WC (1981) Historical atlas of Islam. Brill Academic Publishers, Leiden

Büntgen U, Myglan V, Ljungqvist F, McCormick M, Di Cosmo N et al (2016) Cooling and societal change during the Late Antique Little Ice Age from 536 to around 660 AD. Nat Geosci 9:231–236. https://doi.org/10.1038/ngeo2652

Chazan M (2017) World prehistory and archaeology: pathways through time. Routledge, New York

Cheng H, Zhang H, Spötl C, Baker J, Sinha A et al (2020) Timing and structure of the Younger Dryas event and its underlying climate dynamics. Proc Natl Acad Sci U S A 117:23408–23417. https://doi.org/10.1073/pnas.2007869117

Chew SC, Sarabia D (2016) Nature–culture relations: early globalization, climate changes, and system crisis. Sustain 8:78. https://doi.org/10.3390/su8010078

Chytrý M, Otýpková Z (2003) Plot sizes used for phytosociological sampling of European vegetation. J Veg Sci 14:563–570. https://doi.org/10.1111/j.1654-1103.2003.tb02183.x

Chytrý M, Tichý L (2003) Diagnostic, constant and dominant species of vegetation classes and alliances of the Czech Republic: a statistical revision. Folia Sci Nat Univ Masaryk Brun 108:1–231

Curry A (2008) Just don't call it the Garden of Eden. Sci 319:280. https://doi.org/10.1126/science.319.5861.280

Danin A (1988) Flora and vegetation of Israel and adjacent areas. In: Tom-Tov Y, Tchernov E (eds) The zoogeography of Israel. Junk Publishers Dordrecht, Dordrecht, pp 18–42

Dawson JW (1895) The Rivers of Eden. Sci 1:575–576. https://doi.org/10.1126/science.1.21.575

Dengler J, Berg C, Jansen F (2005) New ideas for modern phytosociological monographs. Ann Di Bot 5:193–210. https://doi.org/10.4462/annbotrm-9220

Djamali M, De Beaulieu J-L, Miller NF, Andrieu-Ponel V, Ponel P et al (2009) Vegetation history of the SE section of the Zagros Mountains during the last five millennia; a pollen record from the Maharlou Lake, Fars Province. Iran Veg Hist Archaeobot 18:123–136. https://doi.org/10.1007/s00334-008-0178-2

Djamali M, Akhani H, Andrieu-Ponel V, Braconnot P, Brewer S et al (2010) Indian summer monsoon variations could have affected the early Holocene woodland expansion in the Near East. Holocene 20:813–820. https://doi.org/10.1177/0959683610362813

Djamali M, Brewer S, Breckle SW, Jackson ST (2012) Climatic determinism in phytogeographic regionalization: a test from the Irano-Turanian region, SW and Central Asia. Flora Morphol Distrib Funct Ecol Plants 207:237–249. https://doi.org/10.1016/j.flora.2012.01.009

Dyderski MK, Paź S, Frelich LE, Jagodziński AM (2018) How much does climate change threaten European forest tree species distributions? Glob Chang Biol 24:1150–1163. https://doi.org/10.1111/gcb.13925

Erdős L, Ambarlı D, Anenkhonov OA, Bátori Z, Cserhalmi D et al (2018) The edge of two worlds: a new review and synthesis on Eurasian forest-steppes. Appl Veg Sci 21:345–362. https://doi.org/10.1111/avsc.12382

Fayvush GM, Aleksanyan AS (2016) Habitats of Armenia. Institute of Botany - National Academy of Sciences of the Republic of Armenia, Yerevan

Fern K (1997) Plants for a future: edible and useful plants for a healthier world. Permanent Publications, Hampshire. https://pfaf.org. Accessed 13 April 2021

Fern K (2019) Useful temperate plants. http://temperate.theferns.info. Accessed 13 April 2021

Fick SE, Hijmans RJ (2017) WorldClim 2: new 1-km spatial resolution climate surfaces for global land areas. Int J Climatol 37:4302–4315. https://doi.org/10.1002/joc.5086

Fleitmann D, Burns SJ, Mudelsee M, Neff U, Kramers J et al (2003) Holocene forcing of the Indian monsoon recorded in a stalagmite from Southern Oman. Sci 300:1737–1739. https://doi.org/10.1126/science.1083130

Frey W, Probst W (1986) A synopsis of the vegetation of Iran. In: Kiirschner H (ed) Contributions to the vegetation of Southwest Asia. TAУO, Beih, pp 9–24

Ghazanfar SA, McDaniel T (2016) Floras of the middle east: a quantitative analysis and biogeography of the flora of Iraq. Edinburgh J Bot 73:1–24. https://doi.org/10.1017/S0960428615000244

Ghazanfari H, Namiranian M, Sobhani H, Mohajer RM (2004) Traditional forest management and its application to encourage public participation for sustainable forest management in the Northern Zagros mountains of Kurdistan Province. Iran Scand J for Res 19:65–71. https://doi.org/10.1080/14004080410034074

Gholizadeh H, Naqinezhad A, Chytrý M (2020) Classification of the Hyrcanian forest vegetation, Northern Iran. Appl Veg Sci 23:107–126. https://doi.org/10.1111/avsc.12469

Gianguzzi L, Bazan G (2019) The Olea europaea L. var. sylvestris (Mill.) lehr. Forests in the Mediterranean area. Plant Sociol 56:3–34. https://doi.org/10.7338/pls2019562/01

Gros-Balthazard M, Battesti V, Ivorra S, Paradis L, Aberlenc F et al (2020) On the necessity of combining ethnobotany and genetics to assess agrobiodiversity and its evolution in crops: A case study on date palms (Phoenix dactylifera L.) in Siwa Oasis. Egypt Evol Appl 13:1818–1840. https://doi.org/10.1111/eva.12930

Hennekens SM, Schaminée JHJ (2001) TURBOVEG, a comprehensive data base management system for vegetation data. J Veg Sci 12:589–591. https://doi.org/10.2307/3237010

Hijmans RJ, Cameron SE, Parra JL, Jones PG, Jarvis A (2005) Very high resolution interpolated climate surfaces for global land areas. Int J Climatol 25:1965–1978. https://doi.org/10.1002/joc.1276

Hill MO (1979) TWINSPAN: A FORTRAN program for arranging multivariate data in an ordered two-way table by classification of the individuals and attributes. Cornell University, Ithaca, New York, US, Section of Ecology and Systematics

Huet P-D (1700) Situation du Paradise Terrestre. Retrieved from https://library.artstor.org/asset/SS36044_36044_23459422. Accessed 22 April 2022

Jalili A, Jamzad Z (1999) Red data book of Iran: a preliminary survey of endemic, rare and endangered plant species of Iran. Research Institute of Forests and Rangelands, Tehran

Kattge J, Bönisch G, Díaz S, Lavorel S, Prentice IC et al (2020) TRY plant trait database – enhanced coverage and open access. Glob Change Biol 26:119–188. https://doi.org/10.1111/gcb.14904

Kaya ÖF, Cansaran A, Yildinm C (2010) A syntaxonomical investigation of forest and pseudomaquis on transitional area in the central Black Sea region (Amasya, Turkey). Acta Bot Gall 157:469–482. https://doi.org/10.1080/12538078.2010.10516223

Kheshti M (2020) Protect Iran's Zagros forests from wildfires. Science 369:1066. https://doi.org/10.1126/science.abd2967

Khoshbakht K, Hammer K (2006) Savadkouh (Iran) – an evolutionary centre for fruit trees and shrubs. Genet Resour Crop Evol 53:641–651. https://doi.org/10.1007/s10722-005-7467-8

Kozhoridze G, Orlovsky N, Orlovsky L, Blumberg DG, Golan-Goldhirsh A et al (2015) Geographic distribution and migration pathways of Pistacia - present, past and future. Ecography 38:1141–1154. https://doi.org/10.1111/ecog.01496

Lawler A (2007) Middle Asia takes center stage. Science 317:586–590. science.317.5838.586

Lovejoy TE (2019) Eden no more. Sci Adv 5:eaax7492. https://doi.org/10.1126/sciadv.aax7492

Maechler M, Rousseeuw P, Struyf A, et al (2019) cluster: cluster analysis basics and extensions. R package version 2.1.0

Manafzadeh S, Salvo G, Conti E (2014) A tale of migrations from east to west: the Irano-Turanian floristic region as a source of Mediterranean xerophytes. J Biogeogr 41:366–379. https://doi.org/10.1111/jbi.12185

Manafzadeh S, Staedler YM, Conti E (2017) Visions of the past and dreams of the future in the Orient: the Irano-Turanian region from classical botany to evolutionary studies. Biol Rev 92:1365–1388. https://doi.org/10.1111/brv.12287

Memariani F, Akhani H, Joharchi MR (2016) Endemic plants of Khorassan-Kopet Dagh floristic province in Irano-Turanian region: diversity, distribution patterns and conservation status. Phytotaxa 249:31–117. https://doi.org/10.11646/phytotaxa.249.1.5

Michl T, Dengler J, Huck S (2010) Montane-subalpine tall-herb vegetation (Mulgedio-Aconitetea) in central Europe: large-scale synthesis and comparison with northern Europe. Phytocoenologia 40:117–154. https://doi.org/10.1127/0340-269X/2010/0040-0377

Mittermeier RA, Gil PR, Hoffman M, Hoffmann M, Pilgrim J (2005) Hotspots revisited: earth's biologically richest and most threatened terrestrial ecoregions. Conservation International, UK

Moore AM, Hillman GC (1992) The Pleistocene to Holocene transition and human economy in Southwest Asia: the impact of the Younger Dryas. Am Antiquity 57:482–494. https://doi.org/10.2307/280936

Mucina L, Bültmann H, Dierßen K, Theurillat J-P, Raus T et al (2016) Vegetation of Europe: hierarchical floristic classification system of vascular plant, bryophyte, lichen, and algal communities. Appl Veg Sci 19:1–264. https://doi.org/10.1111/avsc.12257

Neumann F, Schölzel C, Litt T, Hense A, Stein M (2007) Holocene vegetation and climate history of the northern Golan heights (Near East). Veg Hist Archaeobot 16:329–346. https://doi.org/10.1007/s00334-006-0046-x

Nowak A, Nowak S, Nobis M (2011) Distribution patterns, ecological characteristic and conservation status of endemic plants of Tadzhikistan - a global hotspot of diversity. J Nat Conserv 19:296–305. https://doi.org/10.1016/j.jnc.2011.05.003

Nowak A, Nobis M, Nowak S, Gębala M, Nobis A (2017) Phytosociology and ecology of deciduous forests in Tajikistan (Middle Asia). Phytocoenologia 47:67–94. https://doi.org/10.1127/phyto/2017/0084

Nowak A, Świerszcz S, Nowak S, Hisorev H, Klichowska A et al (2020) Red List of vascular plants of Tajikistan – the core area of the Mountains of Central Asia global biodiversity hotspot. Sci Rep 10:6235. https://doi.org/10.1038/s41598-020-63333-9

Nowak A, Nobis M, Nowak S, Kotowski M, Klichowska E et al (2022) Syntaxonomy and ecology of thermophilous deciduous open woodlands and scrub vegetation in Tajikistan (Middle Asia). Dendrobiology 87:47–68. https://doi.org/10.12657/denbio.087.004

Nowak A, Nobis M, Nowak S, Nobis A, Wróbel A et al (2020a) Illustrated flora of Tajikistan and adjacent areas. Polish Academy of Sciences, Botanical Garden Center for Biological Diversity Conservation and Polish Botanical Society, Warsaw-Cracow-Opole

Nowak A, Nowak S, Nobis M (2020b) The Pamir-Alai Mountains (Middle Asia: Tajikistan). In: Noroozi J (ed) Plant biogeography and vegetation of high mountains of Central and South-West Asia. Plant and Vegetation, vol 17. Springer International Publishing, Cham, pp 1–42

Nowak A, Świerszcz S, Naqinezhad A, Aleksanyan A, Fayvush G et al (2021) Data from: is the vegetation archetype of the Garden of Eden located in the Irano-Turanian region and safe against climate change? Figshare Digital Repository. 10.6084/m9.figshare.14730876

Phillips SJ, Dudík M (2008) Modeling of species distributions with Maxent: new extensions and a comprehensive evaluation. Ecography 31:161–175. https://doi.org/10.1111/j.0906-7590.2008.5203.x

Phillips SJ, Anderson RP, Schapire RE (2006) Maximum entropy modeling of species geographic distributions. Ecol Modell 190:231–259. https://doi.org/10.1016/j.ecolmodel.2005.03.026

Platt DE, Haber M, Dagher-Kharrat MB, Douaihy B, Khazen G et al (2017) Mapping post-glacial expansions: the peopling of Southwest Asia. Sci Rep 7:40338. https://doi.org/10.1038/srep40338

Pourreza M, Shaw JD, Zangeneh H (2008) Sustainability of wild pistachio (Pistacia atlantica Desf.) in Zagros forests. Iran for Ecol Manage 255:3667–3671. https://doi.org/10.1016/j.foreco.2008.01.057

R Core Team (2020) R: a language and environment for statistical computing

Roberts N (2002) Did prehistoric landscape management retard the postglacial spread of woodlands in Southwest Asia? Antiquity 76:1002–1010. https://doi.org/10.1017/S0003598X0009181X

Rohl D (1998) Legend: the genesis of civilisation. Century, London

Roleček J, Tichý L, Zelený D, Chytrý M (2009) Modified TWINSPAN classification in which the hierarchy respects cluster heterogeneity. J Veg Sci 20:596–602. https://doi.org/10.1111/j.1654-1103.2009.01062.x

Safarov N (2006) Third National Report on biodiversity conservation in Tajikistan. Dushanbe

Sagheb-Talebi K, Pourhashemi M, Sajedi T (2014) Forests of Iran: a treasure from the past, a hope for the future. Springer, Berlin/Heidelberg

Salama FM, El-Ghani MMA, El-Tayeh NA, Galal HK, El-Naggar S (2018) Vegetation analysis and species distribution in the lower tributaries of Wadi Qena in the Eastern Desert of Egypt. Jordan J Biol Sci 11:407–418

Sales F, Hedge IC (2013) Generic endemism in South-West Asia: an overview. Rostaniha 14:22–35. https://doi.org/10.22092/BOTANY.2013.101306

Scafi A (2006) Return to the sources: Paradise in Armenia. In: Scafi A (ed) Mapping paradise: a history of heaven on earth. British Library-University of Chicago Press, London-Chicago, pp 317–322

Sebastiano S, Guglielmo MF, Marcello M (2017) Resilience of Mediterranean forests to climate change. In: Fuerst-Bjeliš B (ed) Mediterranean identities: environment, society, culture. IntechOpen, London, pp 263–282

Sheibani A (1996) Distribution, use and conservation of pistachio in Iran. In: Caruso T, Barone E (eds) Taxonomy, distribution, conservation and uses of Pistacia Genetic Resources. IPGRI, Palermo, Rome, pp 51–56

Sinha A, Kathayat G, Weiss H, Li H, Cheng H et al (2019) Role of climate in the rise and fall of the Neo-Assyrian Empire. Sci Adv 5:eaax6656. https://doi.org/10.1126/sciadv.aax6656

Soucek S (2000) A History of Inner Asia. Cambridge University Press, Cambridge

Stanyukovich KW (1982) Rastitelnost [Vegetation]. In: Saidmuradow CM, Stanyukovich KW (eds) Tadzhikistan. Priroda i prirodnye resursy. Izdatelstvo Donish, Dushanbe, TJ, pp 358–435

Stevens LR, Wright HE, Ito E (2001) Proposed changes in seasonality of climate during the Lateglacial and Holocene at Lake Zeribar. Iran Holocene 11:747–755. https://doi.org/10.1191/09596830195762

Świerszcz S, Nobis M, Nowak S, Kotowski M, Klichowska E et al (2022) Syntaxonomy and ecology of mesophilous scrub vegetation in Tajikistan(Middle Asia). Phytocoenologia (in Press). https://doi.org/10.1127/phyto/2022/0395

Takhtajan A (1986) Floristic Regions of the World. University of California Press, Berkeley

Tichý L (2002) JUICE, software for vegetation classification. J Veg Sci 13:451–453. https://doi.org/10.1111/j.1654-1103.2002.tb02069.x

Tsiourlis G, Konstantinidis P, Xofis P (2007) Taxonomy and ecology of phryganic communities with Sarcopoterium spinosum (L.) Spach of the Aegean (Greece). Isr J Plant Sci 55:15–34. https://doi.org/10.1560/IJPS.55.1.15

van Dyk P (2014) In search of Eden: a cosmological interpretation of Genesis 2–3. Old Testam Essays 27:651–665

Weiss H, Courty MA, Wetterstrom W, Guichard F, Senior L et al (1993) The genesis and collapse of third millennium North Mesopotamian civilization. Science 261:995–1004. https://doi.org/10.1126/science.261.5124.995

Westhoff V, van der Maarel E (1973) The Braun-Blanquet approach. In: Whittaker RH (ed) Ordination and classification of communities. W. Junk, The Hague, pp 617–726

White F, Léonard J (1991) Phytogeographical links between Africa and Southwest Asia. Flora Vegetatio Mundi 9:229–246

Zevit Z (2013) What really happened in the Garden of Eden? Yale University Press, New Haven and London

Zohary M (1973) Geobotanical foundations of the Middle East. Volumes 1 & 2. Gustav Fischer Verlag, Stuttgart

Zohary M (1982) Plants of the bible. Cambridge University Press, Cambridge

Zohary M, Orshan G (1956) Ecological studies in the vegetation of the Near East Deserts II Wadi Araba. Vegetatio 7:15–37

Zohary M, Orshansky G (1949) Structure and ecology of the vegetation in the Dead Sea region of Palestine. Palest J Bot Jerusalem Ser 4:177–205

Zohary D, Hopf M, Weiss E (2012) Domestication of plants in the old world: the origin and spread of domesticated plants in Southwest Asia, Europe, and the Mediterranean Basin. Oxford University Press
Acknowledgements
We are grateful F. Illarionova from the Nature Protection Team, Dushanbe, for assistance and help in organizing surveys in Middle Asia. We would like to thank the Erasmus team of the University of Opole for their support in organizing expeditions to Iran. Many thanks to the anonymous Reviewers and the Editor for the valuable comments that improve the manuscript considerably.
Funding
The research was funded by the National Science Centre, Poland, grant no. 2018/29/B/NZ9/00313 and 2020/04/X/NZ8/00032 and partially supported by grant no. 2017/25/B/NZ8/00572.
Additional information
Communicated by Wolfgang Cramer
Publisher's note
Springer Nature remains neutral with regard to jurisdictional claims in published maps and institutional affiliations.
Supplementary Information
Below is the link to the electronic supplementary material.
About this article
Cite this article
Nowak, A., Świerszcz, S., Naqinezhad, A. et al. Is the vegetation archetype of the Garden of Eden located in the Irano-Turanian region and safe against climate change?. Reg Environ Change 22, 75 (2022). https://doi.org/10.1007/s10113-022-01929-9
Received:

Accepted:

Published:

DOI: https://doi.org/10.1007/s10113-022-01929-9
Keywords