Abstract
The Mediterranean region is expected to be a hotspot for climate change, making the resilience of farming systems a major challenge. Some studies have used quantitative models at the farm scale to analyze the resilience of farming systems but with little involvement of stakeholders. We used a participatory approach with local actors on the Saïs plain of Morocco to design possible future states and qualitatively assess the resilience of typical farm types (FTs) experiencing major change. Our approach combined individual interviews of farmers and local actors, mainly public, with participatory collective meetings to identify representative FTs and their performance, project their evolutions and future performance in the face of change, and evaluate their resilience. Performance, defined according to literature, interviews and meetings, included different types of capital, income, yields, markets, support of public policies, and water access. Four FTs were considered: highly irrigated horticulture (FT1), rainfed cereals (FT2), partly irrigated cereal-legumes (FT3), and mostly irrigated fruit-tree/horticulture (FT4). The primary driver for FT2 and FT3 was climate change; for FT1 and FT4, it was limiting access to water resources. Participants designed more diversified systems for all FTs in relation to those changes. Rankings of FT performance did not change between current and future states. Performance did not evolve significantly, but FT4 was seen as the most resilient and FT2 the least. These qualitative results differ somewhat from other studies mobilizing quantitative approaches, but they highlight the potential of local adaptation to limit the impacts of global change on vulnerable agriculture.
Access options
Buy single article
Instant access to the full article PDF.
US$ 39.95
Tax calculation will be finalised during checkout.
Subscribe to journal
Immediate online access to all issues from 2019. Subscription will auto renew annually.
US$ 79
Tax calculation will be finalised during checkout.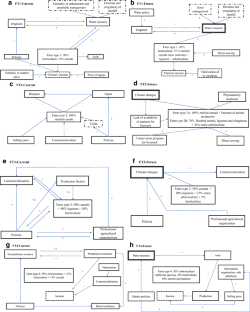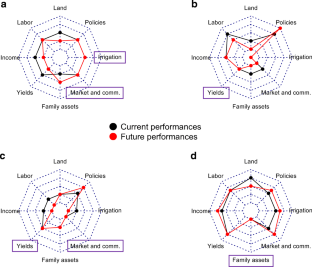 References
Altieri MA, Nicholls CI, Henao A, Lana MA (2015) Agroecology and the design of climate change-resilient farming systems. Agron Sustain Dev 35(3):869–890. https://doi.org/10.1007/s13593-015-0285-2

Ameur F, Amichi H, Kuper M, Hammani A (2017) Specifying the differentiated contribution of farmers to groundwater depletion in two irrigated areas in North Africa. Hydrogeol J 25(6):1579–1591. https://doi.org/10.1007/s10040-017-1569-1

Ansari LE, Chenoune R, Yigezu YA, Gary C, Belhouchette H (2020) Trade-offs between sustainability indicators in response to the production choices of different farm household types in drylands. Agronomy 10(7):998. https://doi.org/10.3390/agronomy10070998

Baccar M, Bouaziz A, Dugué P, Le Gal P-Y (2017) Shared environment, diversity of pathways: dynamics of family farming in the Saïs Plain (Morocco). Reg Environ Chang 17:739–751. https://doi.org/10.1007/s10113-016-1066-4

Baccar M, Bouaziz A, Dugué P, Gafsi M, Le Gal P-Y (2018) The determining factors of farm sustainability in a context of growing agricultural intensification. Agroecol Sust Food 43(4):386–408. https://doi.org/10.1080/21683565.2018.1489934

Bar M (2011) Indicateurs de vulnérabilité, résilience, durabilité et viabilité des systèmes d'activité au Lac Alaotra, Madagascar. Mémoire CERDI. https://agritrop.cirad.fr/564353/1/document_564353.pdf. Accessed 13 November 2020

Berriane M (2002) Le maillon interieur: la région de Fès-Meknès. In: Troin JF (ed) Maroc: régions, pays, territoire. Maisonneuve et Larose, Paris, pp 133–151

Branco JM, Ferreira FA, Meidutė-Kavaliauskienė I, Banaitis A, Falcão PF (2019) Analysing determinants of small and medium-sized enterprise resilience using fuzzy cognitive mapping. J Multi-Criteria Dec Anal 26(5–6):252–264. https://doi.org/10.1002/mcda.1662

Bregaglio S, Hossard L, Cappelli G, Resmond R, Bocchi S et al. (2017) Identifying trends and associated uncertainties in potential rice production under climate change in Mediterranean areas. Agric For Meteorol 237:219–232. https://doi.org/10.1016/j.agrformet.2017.02.015

Castel A, Faysse N, El Hirch A, Rinaudo JD (2014). Vulnérabilité, résilience et capacité à se développer des exploitations agricoles familiales dans le périmètre irrigué de Bittit (plaine du Saïss). Alternatives Rurales 2:73–84. http://alternatives-rurales.org/wp-content/uploads/2014/11/AltRur2Vuln%C3%A9rabilit%C3%A9ExploitationsBittitPourImp.pdf. Accessed 13 November 2020

Choptiany JMH, Phillips S, Graeub BE, Colozza D, Settle W et al. (2017) SHARP: integrating a traditional survey with participatory self-evaluation and learning for climate change resilience assessment. Clim Dev https://doi.org/10.1080/17565529.2016.1174661

Delmotte S, Couderc V, Mouret JC, Lopez-Ridaura S, Barbier JM et al. (2017) From stakeholders narratives to modelling plausible future agricultural systems. Integrated assessment of scenarios for Camargue, Southern France. Eur J Agron 82:292–307. https://doi.org/10.1016/j.eja.2016.09.009

Dendoncker N, Boeraeve F, Crouzat E, Dufrene M, Konig A et al. (2018) How can integrated valuation of ecosystem services help understanding and steering agroecological transitions? Ecol Soc. https://doi.org/10.5751/ES-09843-230112

Dougill AJ, Fraser EDG, Reed MS (2010) Anticipating vulnerability to climate change in dryland pastoral systems: using dynamic systems models for the Kalahari. Ecol Soc https://www.ecologyandsociety.org/vol15/iss2/art17/

Faysse N (2015) The rationale of the green Morocco plan: missing links between goals and implementation. J North African Stud 20(4):622–634. https://doi.org/10.1080/13629387.2015.1053112

Faysse N, Rinaudo J-D, Bento S, Richard-Ferroudji A, Errahj M et al. (2014) Participatory analysis for adaptation to climate change in Mediterranean agricultural systems: possible choices in process design. Reg Environ Chang 14:57–70. https://doi.org/10.1007/s10113-012-0362-x

Filahi S, Tramblay Y, Mouhir L, Diaconescu EP (2017) Projected changes in temperature and precipitation indices in Morocco from high-resolution regional climate models. Int J Climatol 37(14):4846–4863. https://doi.org/10.1002/joc.5127

Fofack R, Kuper M, Petit O (2015) Hybridation des règles d'accès à l'eau souterraine dans le Saïss (Maroc) : entre anarchie et Léviathan. Etudes rurales 196:127–150. https://doi.org/10.4000/etudesrurales.10427

Gameroff T, Pommier P (2012) Diagnostic agraire d'une petite région de la plaine du Saïss : quelles dynamiques agraires à partir des conditions différenciées d'accès à l'eau. Mémoire AgroParisTech. https://hal-univ-tlse3.archives-ouvertes.fr/GIP-BE/dumas-00876335v1. Accessed 13 November 2020

Giorgi F, Lionello P (2008) Climate change projections for the Mediterranean region. Glob Planet Change 63(2–3):90–104. https://doi.org/10.1016/j.gloplacha.2007.09.005

Gouttenoire L, Cournut S, Ingrand S (2013) Participatory modelling with farmers groups to help them redesign their livestock farming systems. Agron Sustain Dev 33(2):413–424. https://doi.org/10.1007/s13593-012-0112-y

Grasso M, Feola G (2012) Mediterranean agriculture under climate change: adaptive capacity, adaptation, and ethics. Reg Environ Chang 12(3):607–618. https://doi.org/10.1007/s10113-011-0274-1

Gray SA, Zanre E, Gray SR (2014) Fuzzy cognitive maps as representations of mental models and group beliefs. In: Papageorgiou EI (ed) Fuzzy cognitive maps for applied sciences and engineering. Springer, Berlin, Heidelberg, pp 29–48

Gray SA, Gray S, De Kok J, Helfgott AE, O'Dwyer B et al. (2015) Using fuzzy cognitive mapping as a participatory approach to analyze change, preferred states, and perceived resilience of social-ecological systems. Ecol Soc 20(2):11. https://doi.org/10.5751/ES-07396-200211

Harmanny KS, Malek Ž (2019) Adaptations in irrigated agriculture in the Mediterranean region: an overview and spatial analysis of implemented strategies. Reg Environ Chang 19(5):1401–1416. https://doi.org/10.1007/s10113-019-01494-8

James T, Brown K (2019) Muck and magic: a resilience lens on organic conversions as transformation. Soc Natur Resour 32(2):133–149. https://doi.org/10.1080/08941920.2018.1506069

Khatri-Chhetri A, Pant A, Aggarwal PK, Vasireddy VV, Yadav A (2019) Stakeholders prioritization of climate-smart agriculture interventions: evaluation of a framework. Agr Sys 174:34–31. https://doi.org/10.1016/j.agsy.2019.03.002

Lallau B, Thibaut E (2005) La resilience en débat : quel avenir pour les agriculteurs en difficulté́ ? Revue d'études en agriculture et environnement 90:79–102. https://doi.org/10.22004/ag.econ.207778

Lejars C, Courilleau S (2015) Impact du développement de l'accès à l'eau souterraine sur la dynamique d'une filière irriguée. Le cas de l'oignon d'été dans le Saïs au Maroc. Cah Agric 24:1–10. https://doi.org/10.1684/agr.2014.0729

Maharjan SK, Maharjan KL, Tiwari U, Sen NP (2017) Participatory vulnerability assessment of climate vulnerabilities and impacts in Madi Valley of Chitwan district, Nepal. Cogent Food Agric 3:1310078. https://doi.org/10.1080/23311932.2017.1310078

Marzin J, Bonnet P, Bessaoud O, Ton-Nu C (2017) Etude sur l'agriculture familiale à petite échelle au Proche-Orient et Afrique du Nord. Synthèse. http://www.fao.org/family-farming/detail/fr/c/471479/. Accessed 13 November 2020

Mathevet R, Etienne M, Lynam T, Calvet C (2011) Water management in the Camargue biosphere reserve: insights from comparative mental models analysis. Ecol Soc 16(1):43. https://doi.org/10.5751/ES-04007-160143

Meuwissen MPM, Feindt PH, Spiegel A, Termeer CJ, Mathijs E et al. (2019) A framework to assess the resilience of farming systems. Agric Syst 176:102656. https://doi.org/10.1016/j.agsy.2019.102656

Molle F, Tanouti O, Faysse N (2019) Morocco. In: Molle F, Sanchis-Ibor C, Avella-Reus L (eds) Irrigation in the Mediterranean, Technologies, Institutions and Policies. Springer International Publishing, pp 51–88. https://doi.org/10.1007/978-3-030-03698-0

Mrabet R, Moussadek R, Fadlaoui A, Van Ranst E (2012) Conservation agriculture in dry areas of Morocco. Field Crop Res 132:84–94. https://doi.org/10.1016/j.fcr.2011.11.017

Nera E, Paas W, Reidsma P, Paolini G, Antonioli F et al. (2020) Assessing the resilience and sustainability of a hazelnut farming system in Central Italy with a participatory approach. Sustainability 12:343. https://doi.org/10.3390/su12010343

Olazabal M, Pascual U (2016) Use of fuzzy cognitive maps to study urban resilience and transformation. Environ Innov Soc Transit 18:18–40. https://doi.org/10.1016/j.eist.2015.06.006

Paeth H, Born K, Girmes R, Podzun R, Jacob D (2009) Regional climate change in tropical and northern Africa due to greenhouse forcing and land use changes. J Clim 22(1):114–132. https://doi.org/10.1175/2008JCLI2390.1

Parsonson-Ensor C, Saunders C (2011) Exploratory research into the resilience of farming systems during periods of hardship. In: New Zealand Agricultural and Resource Economics Society Conference, pp 25–26

Quarouch H, Kuper M, El Hassane A, Bouarfa S (2014) Eaux souterraines, sources de dignité et ressources sociales : cas d'agriculteurs dans la plaine du Saïss au Maroc. Cah Agric 23(3):158–165. https://doi.org/10.1684/agr.2014.0699

Rao CS, Gopinath KA, Prasad JVNS, Prasannakumar SAK (2016) Climate resilient villages for sustainable food security in tropical India: concept, process, technologies, institutions, and impacts. Adv Agron 140:101–214. https://doi.org/10.1016/bs.agron.2016.06.003

Reidsma P, Ewert F, Boogaard H, van Diepen K (2009) Regional crop modelling in Europe: the impact of climatic conditions and farm characteristics on maize yields. Agric Syst 100:51–60. https://doi.org/10.1016/j.agsy.2008.12.009

Reidsma P, Ewert F, Alfons OL, Leemans R (2010) Adaptation to climate change and climate variability in European agriculture: the importance of farm level responses. Eur J Agron 32:91–102. https://doi.org/10.1016/j.eja.2009.06.003

Riva MJ, Baeza J, Bautista S, Christoforou M, Daliakopoulos IN et al.(2018) How does land management contribute to the resilience of Mediterranean forests and rangelands? A participatory assessment. Land Degrad Dev 29(10):3271–3735. https://doi.org/10.1002/ldr.3104

Rivington M, Matthews KB, Bellocchi G, Buchan K, Stöckle CO et al. (2007) An integrated assessment approach to conduct analyses of climate change impacts on whole-farm systems. Environ Model Softw 22(2):202–210. https://doi.org/10.1016/j.envsoft.2005.07.018

Shapiro-Garza E, King D, Rivera-Aguirre A, Wang S, Finley-Lezcano J (2020) A participatory framework for feasibility assessments of climate change resilience strategies for smallholders: lessons from coffee cooperatives in Latin America. Int J Agr Sustain 18(1):21–34. https://doi.org/10.1080/14735903.2019.1658841

Smit B, Pilifosova O (2001) Adaptation to climate change in the context of sustainable development and equity. In: McCarthy JJ (ed) Climate change 2001: impacts, adaptation and vulnerability. IPCC working group II. Cambridge University Press, Cambridge, pp 877–912

Souissi I, Boisson JM, Mekki I, Therond O, Flichman G et al. (2018) Impact assessment of climate change on farming systems in the South Mediterranean area: a Tunisian case study. Reg Environ Chang 18(3):637–650. https://doi.org/10.1007/s10113-017-1130-8

Swanson D, Hiley J, Venema HD (2007) Indicators of adaptive capacity to climate change for agriculture in the prairie region of Canada. IISD, Winnipeg

van den Belt M, Kenyan JR, Krueger E, Maynard A, Roy MG et al. (2010) Public sector administration of ecological economics systems using mediated modelling. Ann N Y Acad Sci 1185:196–210. https://doi.org/10.1111/j.1749-6632.2009.05164.x

van Vliet M, Kok K, Veldkamp T (2010) Linking stakeholders and modellers in scenario studies: the use of fuzzy cognitive maps as a communication and learning tool. Futures 42(1):1–14. https://doi.org/10.1016/j.futures.2009.08.005

Walker B, Holling CS, Carpenter S, Kinzig A (2004) Resilience, adaptability and transformability in social–ecological systems. Ecol Soc 9(2):5. https://doi.org/10.5751/ES-00650-090205

Zarei Z, Karami E, Keshavarz M (2020) Co-production of knowledge and adaptation to water scarcity in developing countries. J Environ Manag 262:110283. https://doi.org/10.1016/j.jenvman.2020.110283
Acknowledgements
This study was carried out within the SEMI-ARID project (ARIMNET2 research program) founded by the French Agency of Research (ANR) and MESRSFC (Morocco). We thank all farmers and actors who kindly participated in this study.
Additional information
Publisher's note
Springer Nature remains neutral with regard to jurisdictional claims in published maps and institutional affiliations.
Highlights
• A participatory approach was used to study farm resilience after a shock.
• Shocks differed according to farm type, but were all related to water.
• Mental models were used with local actors to design future farming systems.
• Performance was assessed according to eight complementary indicators.
• According to local actors, all farm types would adapt, suggesting a good resilience.
Communicated by Wolfgang Cramer
Supplementary information
About this article
Cite this article
Hossard, L., Fadlaoui, A., Ricote, E. et al. Assessing the resilience of farming systems on the Saïs plain, Morocco. Reg Environ Change 21, 36 (2021). https://doi.org/10.1007/s10113-021-01764-4
Received:

Accepted:

Published:
Keywords
Performances

Farm types

Diversification

Climate change

Water scarcity

Participatory approach